This savory sauce is one of my go to recipes for when I am craving pasta. Just don't call it Bolognese sauce. Everyone will get upset with you! (Jump directly to the recipe.)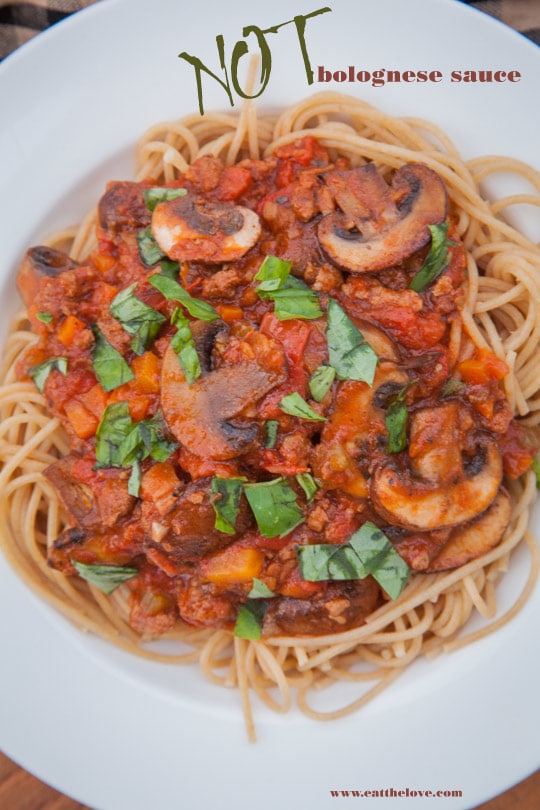 There are something things I try not to talk about on the internet. Abortion. Religion. Politics (definitely no politics, especially in a presidential election year…though if you know me at all, you probably know how I feel about the candidates). Mostly it's because I live in a bubble where most of the people I am friends with have similar viewpoints to me. Or maybe that's a falsity created by the algorithms of Twitter and Facebook. They funnel and "curate" my feed so that I only see things that I agree with more and more. Suddenly any sense of diversity is utterly lost. I miss the days of just being able to see whatever my friends (of all backgrounds) would just post whatever they want; even those posts that I don't agree with.
Of course, this also means I (mostly) avoid seeing people posting really offensive and disrespectful things as well. Sure I may have a token racist or xenophobic person floating in my follows or friends on one of my various networks, but I rarely see those posts from them. But all this got me thinking about the blessings and the curses of social media. Before the big wide world of social media we actually had face-to-face or phone-to-phone conversations with people, allowing us to discuss other various differences. Of course, I know that the world has changed immensely since I was in college, I can't help miss that sort of interaction.
Right now the one social media platform that I'm enjoying the most is Snapchat. Those who are on it and use it regularly understand why, but those who aren't, view it suspiciously with serious side eyes. For them, it's the social media platform for 15 year olds to send sext messages back and forth. But for me, it's the only platform that allows me not only to interact with people through video (making tone SO MUCH more easy to distinguish, something incredibly hard to do with status updates and 140 characters tweets) but it's not highly curated like other platforms. Instagram has become a firehose of beautiful images of unattainable lives and their Snapchat knock off IG Stories sounds good in theory but usually are incredibly boring. Facebook is where you occasionally chat with that 7th grade friend that you haven't seen since she moved away. But Snapchat, because of its ephemeral nature, allows people to casual post stuff without worrying about it becoming a permanent part of their internet history. Why would anyone want to communicate without archiving it? Because not everything and every thought is worth archiving.
The best way I try to explain Snapchat to people who aren't on it, is to compare it to talking on the phone when we were kids. When we were kids and teenagers, we spent hours on the phone, chatting and talking about pretty much anything and everything and nothing at all. There's no record of it and there's no reason to have that record. We talked to each other because it was fun and that's it. And Snapchat is basically the same thing. Because there's no way to tell how popular someone is on their feed (there's no like button, there's no way to see how many followers a person has) basically there's no social pressure to be awesome, amazing and utterly pinteresting, 24-7. Instead, you get to be who you are, with bad hair day and the occasional bad lighting. Snapchat feels more real to me. It feels like Instagram when it FIRST started and everyone was just posting bad photos taken with their phone. It feels like Twitter circa 2010 when people were on there chatting away and having fun. It feels more real.
I share a hodgepodge of things on Snapchat from the food I'm making, San Francisco and random events that I am going to, as well as just random snapshots from my life. Lately I've even been using it as a video diary of my life. I download it every night so I have an archive of the snaps, useful as I just got back from a 5-week vacation that had me going all the way to Alaska via Vancouver as well as Indiana to visit AJ's family. If people want to watch where I go (including some amazing National Parks in Washington, some gorgeous places in Oregon as well as Vancouver and the Alaska panhandle) then Snapchat is where they tune in.
I've met a number of folks from around the world from all walks of life. Andy lives in Amsterdam and we've chatted a number of times, even getting coffee when he's in town. Evan lives just outside Seattle and draws illustrations and designs on his Snapchat, as well as shares snaps of kids and his bunny. And Kristen does a daily coffee talk (which I did a takeover of a couple of month ago) where she virtually has conversations with friends from across the country, as if her and them were having coffee together. The ability to meet and connect with people across the world reminds me of magic of social media…before it became work for me and other bloggers.
Before I left for my vacation months ago I shared a recipe for a pasta sauce that I love on Snapchat. It's based off a more traditional Bolognese sauce recipe but I refuse to label it as such. I talked about this on Snapchat, how I don't want to call it a Bolognese sauce. Like politics, or religion the phrase "Bolognese sauce" is utterly polarizing. No matter what the recipe version you have in hand, there is always some other Bolognese sauce recipe that is TRULY the authentic one, the one that was passed down by generations and it's the REAL Bolognese sauce. And it doesn't matter what recipe you share, there will be some other version that is more real. More authentic. Just more.
My version of pasta sauce, the one I shared on Snapchat, is decidedly NOT Bolognese sauce, though its based on a traditional version. But it's also something that I love to make (and eat) and do fairly often in my household. And as I snapped it, I got a direct message from my friend Elizabeth, who lives in Italy, and who has written 7 books on Italian food. She was horrified by one ingredient that I added! I completely understand. It's completely unorthodox. But I'm not tied to traditions when it comes to food and in the end this pasta sauce is awesome. (By the way, Elizabeth is awesome and you should totally follow her. Her snaps of Italy and the food she makes are amazing).
In the end, my love affair with Snapchat might fade away, much like my infatuation with Twitter. Already Instagram has introduced their "Instagram Stories" which are a blatant copy of Snapchat, further fracturing my audience there and I can feel the pull (though I haven't succumbed yet – why are IG stories more boring than Snapchat? I don't know, but they are). But this recipe for Not Bolognese sauce will endure beyond my interest in the new social media platform. I've made this Not Bolognese sauce so many times but I've never blogged about it because I was fearful of what folks will say. But with some encouragement and the fact that folks on Snapchat really wanted the recipe, here it is. Weird ingredients and all.
Not
Bolognese Sauce

(AKA the All Purpose Pasta Meat Sauce)

By Irvin Lin

There will be one or two ingredients in here that will horrify most traditional Italian folks, specifically my inclusion of Asian fish sauce. But don't be turned off by this addition. It now only adds an extra punch of umami (you know, the amazing flavor that is in Parmesan cheese and mushrooms) but it melds into the dish without you even noticing it. But if it really freaks you out, just think of it as if you had added a little anchovy paste to the pasta sauce. It's basically the same thing. Also, in case you didn't notice, this sauce is NOT Bolognese sauce. 😉
Ingredients
4 tablespoon (57 g) unsalted butter
3 ounces (85 g) pancetta, chopped
6 large cloves of garlic, minced
3 medium stalks celery, finely chopped
3 medium carrots, finely chopped
1 medium yellow onion, chopped
3 medium shallots, chopped
12 ounces (349 g) ground beef
4 ounces (115 g) ground pork
4 ounces (115 g) hot Italian sausage
1 teaspoon kosher salt, divided
1/2 teaspoon fresh ground pepper
1/4 teaspoon ground cinnamon
1/8 teaspoon ground clove
3 pounds (1360 g) Roma tomatoes, chopped
1 cup whole milk
1 1/2 teaspoon Asian fish sauce (see note above)
1/2 teaspoon dried oregano
1/2 teapsoon dried basil
1/4 to 1/2 cup red wine, chicken stock or water (optional)
1 tablespoon olive oil
8 ounces (225 g) Cremini mushrooms, sliced
1 tablespoon soy sauce
2 tablespoon chopped fresh basil
Directions
1. Place the butter, pancetta and garlic in large sauté pan or dutch oven. Cook on medium heat until the butter is melted and the garlic starts to smell fragrant, about 30 seconds. Add the celery, carrots, onions and shallots. Cook until the onions soften and start to turn yellow, about 3 to 4 minutes.
2. Add the beef, pork and sausage to the pan and increase heat to high, stirring and cooking until the meat has browned. Add half the salt, pepper, cinnamon and cloves and stir in.
3. Reduce the heat down to medium and add the tomatoes. Cook for 15 minutes then add the milk. Cook for an additional 15 minutes then add the fish sauce, oregano, basil and the remaining salt. Reduce the heat to a bare simmer, then let the sauce cook for 2 to 3 hours uncovered. Stir the sauce every 15 to 20 minutes. If the sauce starts to thicken too much and looks dry, add 1/4 cup of red wine, chicken stock or water to the sauce to thin it out.
4. While the sauce is simmering, heat the olive oil in medium sized pan on high. Once it is shimmery hot, add the mushrooms to the pan and reduce the heat to medium. Sprinkle the soy sauce over the mushrooms and cook until soft, about 5 to 7 minutes. Set aside.
5. Once the sauce is nearly done, cook the pasta of your choice to serve the sauce over. Right before the serving, stir the cooked mushrooms and the basil into the sauce. Plate and serve with grated Parmesan cheese.
Makes enough sauce for 6 to 8 servings.