This turkey and noodle recipe has thick hand rolled noodles, making it my go-to favorite turkey leftover recipe! (Jump directly to the recipe.)
As a food writer and blogger there are occasions that I end up with leftovers. Occasions! I laugh, because I really mean ALL. THE. TIME. Really. Take for instance turkey. I've already made and eaten 3 turkeys this season and Thanksgiving isn't even here yet. And though my partner AJ adores turkey (and I do too) sometimes I feel like I need a break from just eating plain turkey one more time. That's when I reach for one of those "leftover ideas" in the recipe archive. This time I opted for Turkey and Noodles, a simple variant of the classic comfort food Chicken and Noodles. I kind of love the recipe so much that I could roast a turkey just so I could make this dish!
Turkey and noodles is pretty similar to turkey and dumplings (or chicken and dumplings), though obviously these starchy thick noodles are thinner than dumplings. Making noodles probably seems daunting for some folks, especially if you have never made pasta or don't have a pasta machine but hand rolling these noodles are just as easy as making pie crust. Actually it's easier and result in thick toothsome noodles for the recipe. Think of them more like a cross between the thin dry noodles you buy in the bag and thick dumplings. If I were Rachael Ray I'd come up with an awesome portmanteau like "Noomplings" or "Dumdles" but I can't go there. I just can't.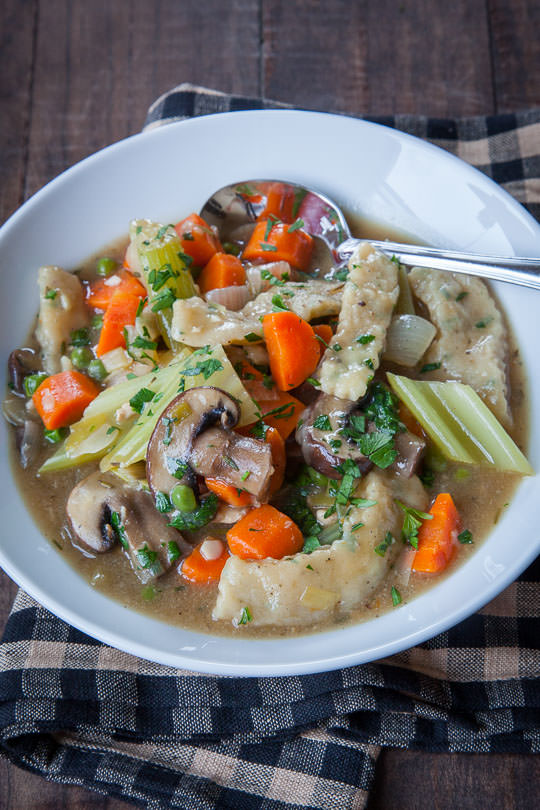 But I CAN go to a place where I eat a bowl of this turkey and noodles over and over again. For me, this is the ultimate comfort food. Thick and rich broth (made from turkey stock that I happen to have an abundance of, but feel free to use store bought chicken broth) and some carrots and peas. This is the sort of recipe that you can reach for when you want to something warm in a blistering cold evening when the sun sets at 4pm. And yes, I live in San Francisco where blistering cold is anything under 60ºF for me but it's all relative. Now excuse me while I go and serve myself up another serving of this turkey and noodles.
Turkey and Noodles (my favorite turkey leftover recipe)
By Irvin Lin
This comfort food is perfect for leftover turkey meat from Thanksgiving or if you have leftover meat from a roast chicken. Making the noodles isn't any more difficult than make pie crust or dumplings. Just make the noodles ahead of time (about an hour) to rest. The end result is comfort food at it's best.
Radically adapted from Elizabeth Falkner's Cooking Off the Clock
Ingredients
Handmade noodles
1 3/4 cup (245 g) all-purpose flour
1 tablespoon chopped flat leaf parsley
1 teaspoon baking powder
1 teaspoon kosher salt
1/2 teaspoon fresh ground black pepper
2 large eggs
1/2 cup heavy cream
extra all-purpose flour for dusting
Stew
2 tablespoon olive oil
1 medium onion, chopped
2 medium cloves garlic, minced
1 medium leek, white and 1-inch of the green, sliced into 1/2-inch pieces
2 medium carrots, peeled and sliced into 1/2-inch chunks
2 medium celery, sliced into 1/2-inch chunks
1/2 pound brown mushrooms, sliced
4 cups turkey or chicken stock
1/4 cup vermouth
3 springs fresh thyme
1 spring fresh rosemary
1 bay leaf
2 teaspoon kosher salt
1 teaspoon fresh ground pepper
2 tablespoon unsalted butter
1 tablespoon soy sauce
Heavy pinch of ground allspice
1 cup frozen peas
2 cups (1 pound) shredded or cut up roasted turkey or chicken meat
Salt and pepper to taste
extra chopped parsley for garnish
Directions
1. Make the noodles by combining 1 1/2 cups of the flour, parsley, baking powder, salt and pepper in a bowl. Stir vigorously with a balloon whisk until thoroughly mixed together. In a small bowl or glass measuring cup beat together the eggs and cream until well blended and pour over the flour. Stir with a spatula until a dough forms.
2. Dust a clean surface with half the remaining flour (2 tablespoons) the scoop the noodle down onto the flour. Sprinkle the remaining flour on top and knead the dough with the palms of your hand until the dough comes together and is no longer sticky. Roll the out with a rolling pin until it's about 1/8-inch thick. Cut the dough into strips of 3 x 1/2-inch thick noodles. Dust with flour and let sit, uncovered for 1 hour to dry out.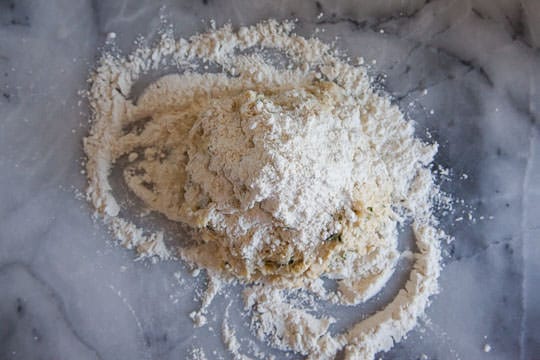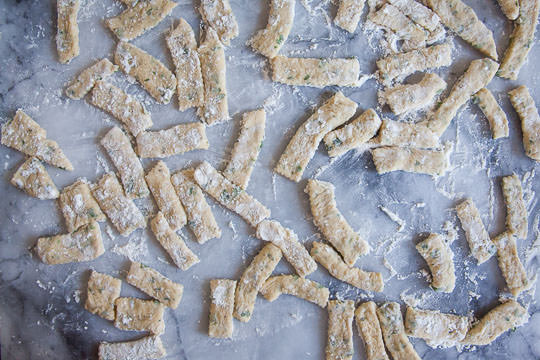 3. While the noodles are resting, prep the stew ingredients. Once the noodles are ready, add the olive oil with the garlic in a large stockpot or Dutch oven and cook on high heat until it starts to shimmer. Lower the heat to medium and add the onions and leeks and cook for 1 minute, stirring constantly. Add the carrots, celery and brown mushrooms and cook, stirring constantly, for 3 to 5 minutes or until the vegetables start to soften just slightly.
4. Add the turkey stock, vermouth, thyme, rosemary, bay leaf, salt and pepper. Bring to a boil then lower heat to a simmer and cook for 5 minutes. Add the noodles to the pot (any flour coating the noodles will thicken the stock) and cover, letting them cook for 5 minutes more. Stir the stew gently, trying not to tear any of the noodles, then add the peas, butter, soy sauce, allspice, peas and cooked turkey. Carefully stir to incorporate then cook for another 2 to 3 minutes. Taste and adjust seasoning. Sprinkle with parsley and serve.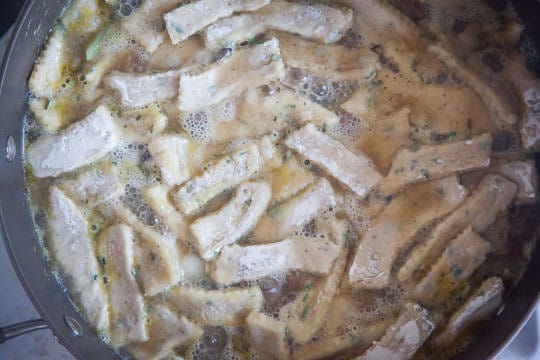 Serves 4 to 6 people.
If you like this Turkey and Noodles recipe, check out some other uses for turkey leftovers from around the web:
Taste and Tell's Mexican Turkey Breakfast Pizza
Oh Sweet Basil's Ultimate Leftover Turkey Club
Gimme Some Oven's Turkey Enchiladas
Simply Recipes' Turkey Stroganoff
Steamy Kitchen's Turkey Congee Rice Porridge