This made-from-scratch Cheeseburger Pasta is loosely inspired by a box mix that I used to make in college, but is WAY better! (Jump directly to the recipe.)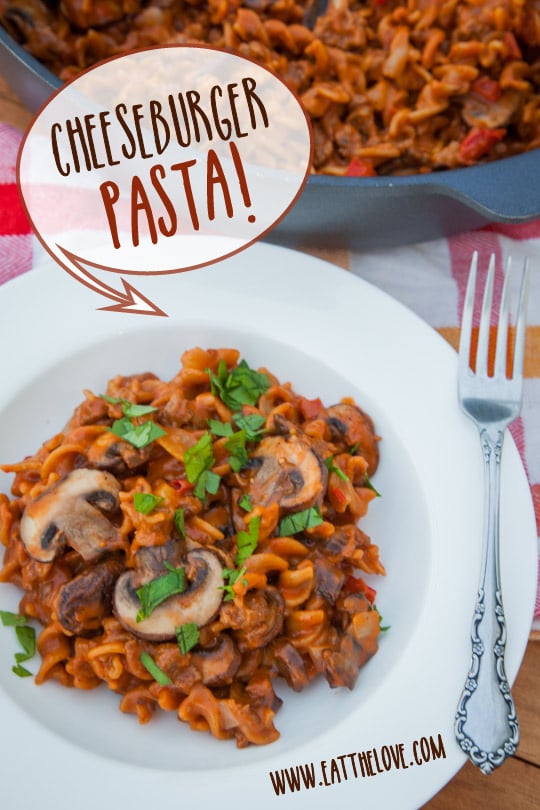 True confession time. Growing up my mom was a pretty awesome cook making sure that we had a hot homemade meal at home every single night. And though I took a class in high school called "Senior Survival" which was basically a crash-course one-semester class where we learned to do laundry, sew a button on a shirt and write a check, I basically flunked the cooking part of the class. My mom always made my meals for me, and though I adored baking (had there been a baking part of the class, I would have aced that), I was a crap cook. So once I moved out to my first apartment, sophomore year of college, I lived on box prepackaged food. And being a poor college student, that meant a lot of runs to the discount Big Lots down the street to pick up boxes of Hamburger Helper's Cheeseburger Pasta.
Of course, years have passed since those days of mixing powdered MSG spiked seasoning packs and dry pasta. I started this here blog, took a few culinary classes here and there and, yes, even wrote a cookbook that is coming out in November. But the pull of the boxed cheeseburger pasta is pretty strong. Not that I have ever really been tempted to make them again. I know the weird chemical tang of those boxed spiced mixes probably wouldn't be as tasty to my palate now as they were back when I was a starving college art student.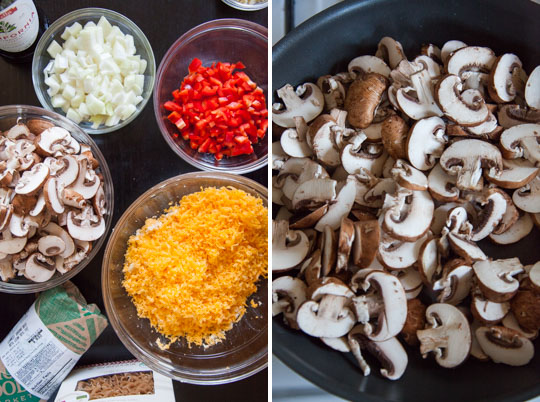 But in the past year or two, I've been hacking together my own version of the cheeseburger pasta. It's not the same, not even close. It doesn't have that metallic tin-like aftertaste and headache-inducing sodium overload the boxed stuff does. But it does have a hearty serving of both tomato and cheese that makes it pretty darn addictive. As, typical of me, I've been tweaking and tweaking the recipe again and again. And I've never been fully convinced that I should to blog about. But then I did a Snapchat recipe post about it about couple of month ago and I realized that if I keep on making it for myself (and, obviously, the folks who watch me on Snapchat), I should probably just share it on my blog. So here you go. And yes, my secret inner college art student is ever so pleased that I have come full-circle and am making this again.
Cheeseburger Pasta
By Irvin Lin
This cheeseburger pasta is inspired by Hamburger Helper's Cheeseburger Macaroni, but it's definitely a step up in flavor. This isn't a copy-cat recipe, so don't expect to make this at home and be dazzled at how much it tastes like your boxed mix. Instead, I took the idea of cheeseburger pasta and just tweaked until I landed on a tomato-cheesy pasta dish recipe that I find myself going back to again and again. Don't be scared of the long ingredient list. Most of it is standard cupboard and pantry stuff that you probably already have and the recipe comes together pretty fast.
Loosely adapted from a recipe by Foodie Crush.
Ingredients
2 tablespoon olive oil, divided
6 medium garlic cloves, minced
1 medium onion, chopped
1 medium red pepper, chopped
1 pound (455 g) ground beef
2 cups chicken broth
2 cups water
6 ounces (170 g) tomato paste
3/4 teaspoon ground cumin
1/4 teaspoon ground cinnamon
1/4 teaspoon ground cloves
1 teaspoon kosher salt
1 teaspoon fresh ground pepper
1 pound (455 g) Rotini pasta
8 ounces (225 g) mushrooms, sliced
3 tablespoon butter
3 tablespoon all-purpose flour
1 cup milk
1 cup shredded sharp Cheddar cheese
1 cup grated Dubliner cheese
chopped fresh parsley for garnish
Directions
1. Heat 1 tablespoon of olive oil in a large sauté pan until shimmering hot. Lower heat to medium and add the garlic and cook for 30 seconds or until fragrant. Add the onions and red pepper and cook until they start to soften, about 2 minutes. Add the ground beef and brown until cooked thoroughly and the onions are translucent, about 5 to 10 minutes. Add the chicken broth, water, tomato paste, spices, salt, pepper and pasta. Bring to boil, then lower the heat to a simmer and cook, stirring frequently, until the pasta is al dente, about 10 to 12 minutes depending on the pasta.
2. Meanwhile, heat the remaining olive oil in a large saute pan until shimmering hot. Add the mushrooms to the pan and cook, stirring frequently, until done, about 5 minutes. Add to the pasta pan along with any accumulated liquid. Remove the pasta from the heat once it's done.
3. Return the mushroom pan to the heat and place the butter and flour in it. Cook, stirring frequently, until the butter melts and the flour dissolves into a paste. Cook until the paste (called a roux) turns golden brown. Drizzle the milk into the roux, stirring constantly with a whisk. The milk should thicken. Add the cheese and stir until it melts and a smooth cheese sauce forms. Pour the cheese into the cooked pasta sauté pan and fold in to coat. Garnish with chopped parsley.
Makes enough for 4 to 6 servings.