These easy-to-make ham and Parmesan waffles are a great special occasion (or really any day) breakfast or brunch on the regular sweet waffles. (Jump directly to the savory waffle recipe.)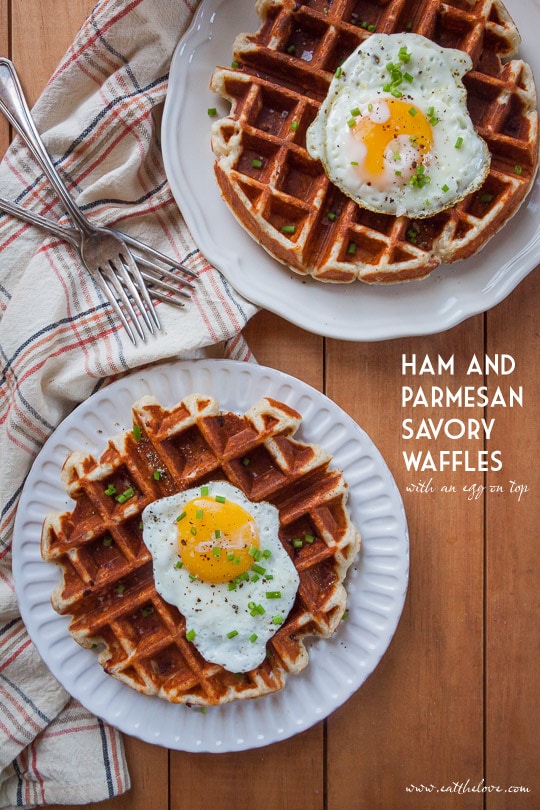 This post was sponsored by Bisquick. I'm teaming up with Bisquick to bring you fun and innovative recipes using Bisquick. I was compensated for this post and for developing the recipe. However all opinions below are completely my own and not endorsed by Bisquick.
Lately I've been trying to get my waffle maker out more. It's one of those pieces of kitchen equipment that takes up a lot of room and we keep it stored away in the back of the pantry. But if I had my way (and enough room) I'd keep it out on the counter to use more often. As it is I feel like I need to take it out more because if I own it, I should use it. Otherwise it's just taking up valuable real estate in my tiny apartment (even if it it's stored away). Thankfully I've recently discovered the joys of the savory waffle, which lead me to create these ham and Parmesan waffles.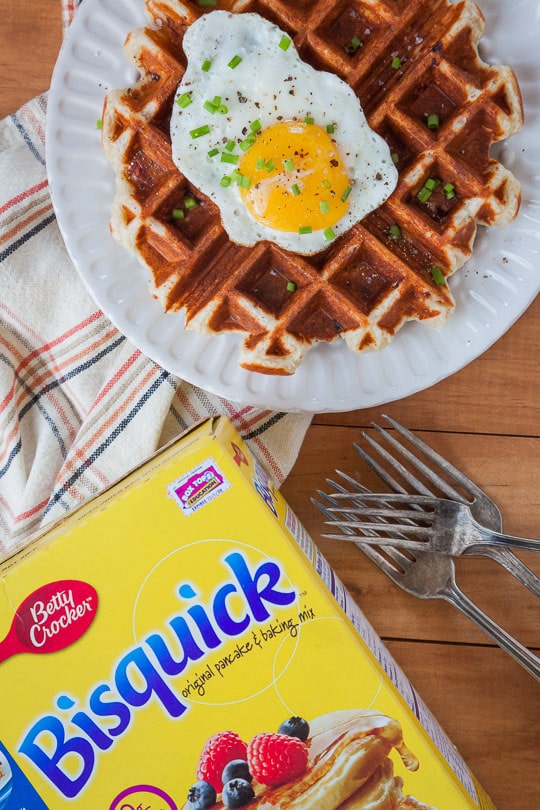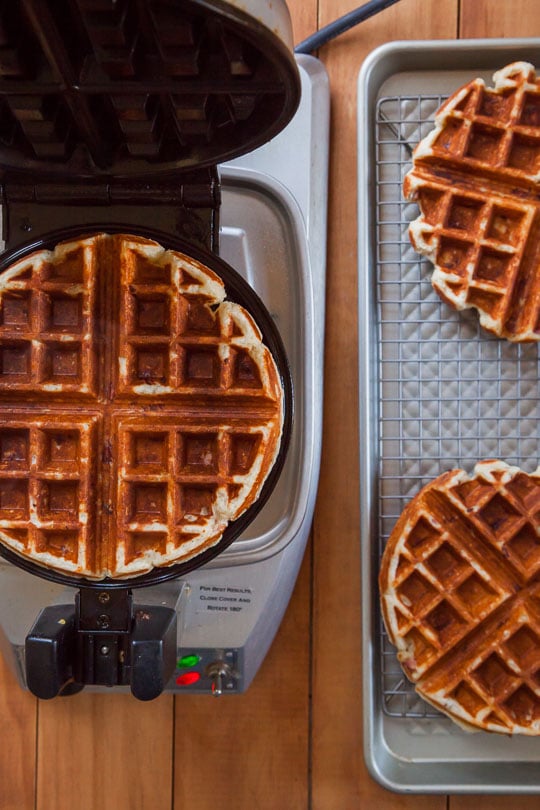 Certainly I am not the first person to discover or create savory waffles. The combination of sweet and savory (with waffles) is evident in the popularity of chicken and waffles. But the waffles often served with friend chicken is the usual sweet waffles, often times served with maple syrup or encrusted with Swedish pearl sugar (the crunchy white sugar chunks and flakes that I adore). But a true savory waffle, like my ham and Parmesan waffles only has a hint of sweetness, which comes from the touch of sugar in the Bisquick mix and the glaze from the ham. To push it truly in the savory direction, I serve these waffles up with a fried egg (over-easy) and let the runny yolk act as the sauce for the waffles.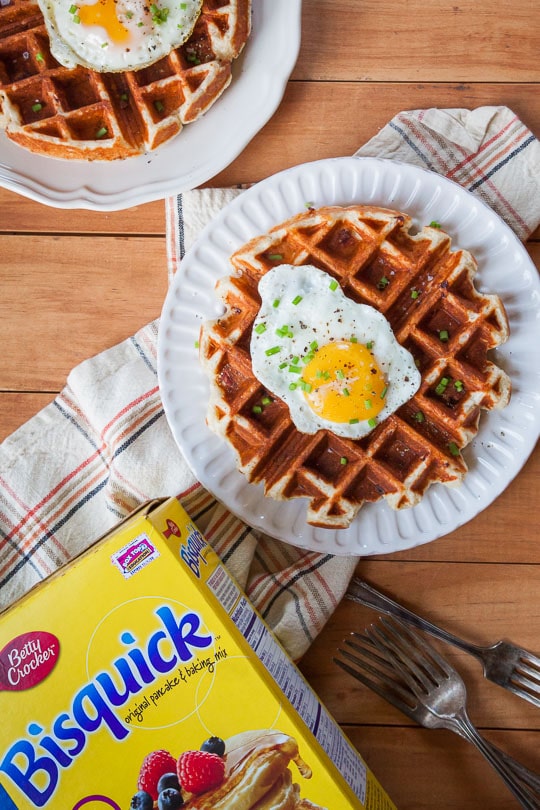 Of course, I'm not the only person who's grown to love savory waffles in this household. My partner AJ's eye's lit up when he saw what I was making in the kitchen, and decided that he needed to have them for dinner. I've long been an advocate of "breakfast for dinner" but I can rarely convince AJ to do it. Looks like I now know how to convince on that one!
Ham and Parmesan Waffles with a Fried Egg
By Irvin Lin
These easy-to-make savory waffles are a great twist on the classic waffles. I like to use big chunks of ham in the waffle (from a spiral cut, glazed ham) but you can use chopped deli ham if you'd like. The Parmesan cheese is the reason for that, as it browns a bit and give a salty deep crunch to the waffles. Fry the eggs while the waffles are cooking, and keep them warm on a plate under a piece of foil. Or place the waffles on top of a wire rack on a baking sheet in the oven set to 200ºF after they are done and fry the eggs immediately afterwards to serve on the waffles.
Ingredients
Waffle batter
2 cups (280 g) Bisquick
1 cup (125 g) grated Parmesan cheese
1/2 teaspoon fresh ground black pepper
1/2 teaspoon granulated garlic
1 1/3 cups buttermilk
2 tablespoon extra virgin olive oil
1 large egg
1 cup (140 g) diced ham
To assemble
4 over-easy fried eggs
4 teaspoons chopped chives
Salt and pepper to taste
Directions
1. Place the Bisquick, Parmesan cheese, pepper and granulated garlic in a large bowl. Use a balloon whisk and vigorously stir the dry ingredients together until they are well blended and uniform in color.
2. Mix the buttermilk, olive oil, and egg in a glass measuring cup with a fork until well blended. Make an indention in the center of the dry ingredients and pour the wet ingredients into it. Using a large rubber spatula, fold the ingredient together until a batter forms. Add the ham and fold a few more times to distribute.
3. Heat your waffle iron and cook the waffles as per your machine's instructions. Serve with a fried egg on top of each waffle. Sprinkle with chives, salt and pepper.
Makes 4 Belgian-style waffles.