These Savory Sweet Potato Waffles with Garlic Crème Fraîche make an incredible breakfast or brunch item for Easter or anytime of the year! (Jump directly to the recipe.)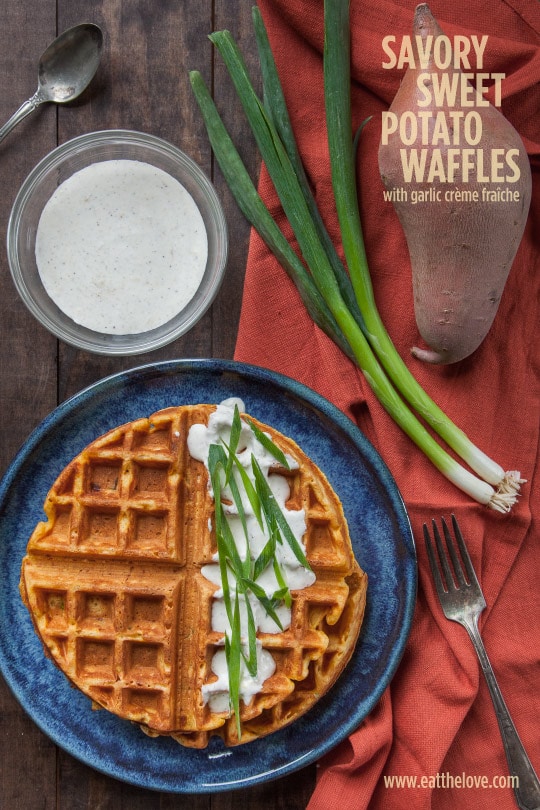 This post was sponsored by the California Sweetpotato Council. I'm teaming up with the California Sweetpotato Council to create an awesome sweet potato recipe. I was compensated for this post and for developing the recipe. However all opinions below are completely my own and not endorsed by the California Sweetpotato Council.
My mom has a love of sweet potatoes that you cannot believe. Though I like sweet potatoes in almost all their forms, I'm not the fanatic that my mom is. But once the California Sweetpotato Council reached out to me to collaborate on a project, I realized I need to up my sweet potato game and whipped up these Savory Sweet Potato Waffles, which just blew my socks off.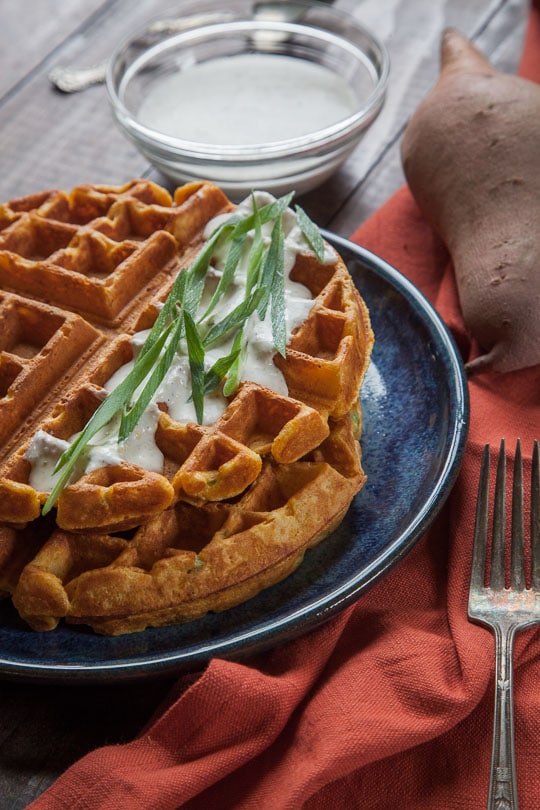 Savory waffles aren't anything new to the world. Nearly every waffle and breakfast book has a recipe for them. But I haven't found much out there for savory sweet potato waffles, which is shame. Sweet potatoes are pretty awesome, slightly sweet in flavor (thus their name) but also packed full of all sorts of nutrients (include Vitamin A in the form of beta-carotene, the same stuff that gives carrots their orange color). But I'll be honest and tell you I'm not as interested in the nutrients as I am in the flavor. And the California ones are pretty on point, I think it has to do with the warm and dry climate where they grow, in the sandy San Joaquin Valley. I love that most of the sweet potatoes in California are still family grown as well as cured in the ground, instead of picked and shed cured. It means they last longer when I buy them and then forget I have them in the pantry.
But honestly, once I developed this savory waffle, I realized I probably won't be leaving those sweet potatoes lingering for very long in my kitchen. The slightly sweetness of the sweet potato layered with the savory cheese, green onions and garlic in the batter makes for an incredibly brunch dish, perfect for Easter or really any weekend breakfast/brunch. And though it sounds a bit fussy to make, the garlic and shallot crème fraiche drizzle over the waffle is a must. You can make it ahead of time (up to 3 days) and it brings the waffles up to the next level! I can't wait to serve them to my mom. She'll flip over these.
Savory Sweet Potato Waffles with Garlic Crème Fraîche
By Irvin Lin
These savory sweet potatoes are perfect for a special breakfast or brunch all year round. You can skip the garlic crème fraîche if you want, but I would highly recommend making it. You can make it ahead of time and not worry about it if you want and if you don't have crème fraîche, you can substitute sour cream or Greek-style yogurt instead. I used a rasp grater to grate the shallots and garlic but if you don't have one, feel free to just finely chop or mince the shallot and garlic. If you don't have Pecorino Romano feel free to substitute Parmesan in it's place, just add an additional 1/4 teaspoon of salt to the batter.
Ingredients
Waffle Batter
2 medium (1 1/4 lbs or 565 g) sweet potatoes
1 3/4 cup (245 g) all-purpose flour
1/4 cup (35 g) cornstarch
4 teaspoon baking powder
1 ounce Pecorino Romano cheese, grated (see headnote above for substitution)
2 green onions, finely chopped
1/2 teaspoon kosher salt
1/2 teaspoon fresh ground pepper
1 1/2 cups whole milk
1/4 cup (57 g) unsalted butter, melted
2 large eggs, separated
2 medium garlic cloves, grated or minced
Garlic Crème Fraîche
1 medium garlic clove, grated or minced
1 small shallot, grated or minced
zest and juice of 1 medium lemon
1/2 cup crème fraîche (see headnote above for substitution)
1/2 teaspoon kosher salt
1/2 teaspoon fresh ground pepper
For Garnish (optional)
1 green onion, sliced diagonally
Directions
1. Peel and chop the sweet potatoes into 1-inch cubes and put in a steamer basket. Place the steamer basket in a pot of simmering water (making sure the basket isn't submerged in the water) and cover. Steam sweet potatoes for 18-20 minutes or until they are tender with a fork. Empty the sweet potatoes into a bowl and mash with a fork. You can do this a day ahead and just refrigerate the sweet potatoes (unmashed or already mashed).
2. While the sweet potatoes are cooking, make the garlic crème fraîche by placing the garlic, shallots, lemon zest and juice in a small bowl. Let sit for 10 minutes for the garlic and shallots to soften, then stir in the crème fraîche, salt and pepper. Cover and refrigerate while you make the rest of the batter.
3. Place the flour, cornstarch, baking powder, cheese, green onions, salt and pepper in a large bowl and stir with a balloon whisk until all ingredients are evenly distributed. Place 1 cup of the mashed sweet potatoes (reserve the remaining sweet potatoes for another use), milk, butter, egg yolks, and garlic in a small bowl and stir with a balloon whisk until well blended. Place the egg whites in the bowl of a stand mixer fitted with the whisk attachment and whip until soft peaks form.
4. Pour the wet ingredients into the dry ingredients and fold together with a large spatula. Once the dry ingredients are mostly incorporated, add the beaten egg whites and fold until a batter forms.
5. Heat your waffle iron and cook the waffles as per your machine's instructions. Serve with garlic crème fraîche and garnish with green onion slivers.
Makes 5 to 6 Belgian-style waffles.