This easy marble cake recipe is one of the best ever. I should know. I'm about to write a book on the subject of marbled, swirled and layered desserts. (Jump directly to the recipe.)
If you haven't figured it out by the title of the blog post or by my summary sentence above, I've got a major announcement. I'm writing a cookbook! Some of you may already know about it, as it's been one of those "badly kept secrets". It's already been announced in publishing industry newsletters and websites but now I'm finally officially announcing it here on Eat the Love!
My book is called Marbled, Swirled and Layered, an Exploration of Flavor, Color and Texture and it's a baking cookbook about flavor combinations. It'll have recipes for swirled brownies, layered cookie bars, marbled cakes and much more. All with fabulous flavor combinations and easy step-by-step technique photos. Each recipe (nearly all of which have never appeared on this blog) will also have alternative recipes and suggestions for different flavor combinations using the same basic recipe so you can truly make the desserts your own.
In addition there'll be a chapter on how to convert all the recipes to gluten free using commercial available gluten-free flour mixes as well as custom blend gluten-free flour mixes. I'll also be sprinkling in baking tips and other information on how to improve your baking and punch up the flavor on all your baked goods.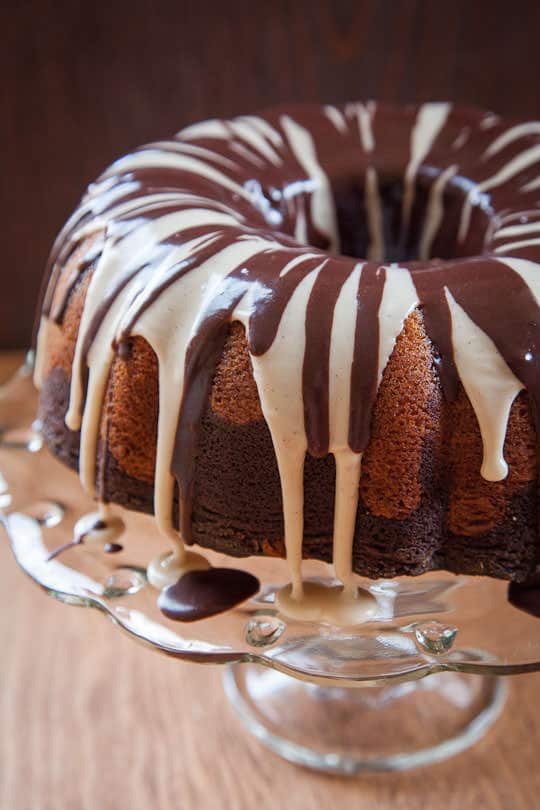 My agent (the amazing Stacey Glick of Dystel & Goderich Literary Management) sold my book last month, right before Christmas (Best. Christmas. Ever.) and now I'm in full-blown recipe developing mode. The book is scheduled for Fall of 2015 [Edited: actually it's been moved out to Fall of 2016], to be released by Houghton Mifflin Harcourt and edited by the fabulous Justin Schwartz. If you're not familiar with the Houghton Mifflin Harcourt, perhaps you're familiar with some of their authors like Dorie Greenspan, Rose Levy Beranbaum, Francois Payard and my pastry idol Sherry Yard. And soon to be me. Whaaat?!?! Yes!!! It's true.
I have grandiose plans to continue posting here on the blog, though you might be seeing savory dishes appearing more often (like my popular Chicken Wings Week, which apparently everyone seemed to like). But if I disappear for a little bit of time here and there, fear not faithful readers. It's because I'm in the trenches, creaming sugar, browning butter and cracking eggs (or more like digging out the little bits of shell that fell into the batter and washing ground in cookie dough out of my shirt). I'll probably also be doing a call for recipe testers in the next few months so keep an eye out for that. I want to make sure my recipes work for all levels of bakers and in all sorts of kitchens! In the meanwhile, check out this Marble Cake recipe with Meyer Lemon and Chocolate. It's adapted from a recipe that I'm developing for the cookbook and I think it's pretty fantastic.
Marble Cake Recipe with Meyer Lemon and Chocolate
By Irvin Lin
This marble cake recipe combines Meyer lemons (a beautifully fragrant cross between regular lemons and oranges) with chocolate. If you can't find Meyer lemons (when in season, usually available in upscale grocery stores like Whole Foods) feel free to substitute regular lemons or oranges in its place. Adding the cocoa to the boiling water in the recipe "blooms" the chocolate flavor and makes it more pronounced than just adding the cocoa straight into the batter. The touch of instant coffee also helps boosts the chocolate but if you don't have any on hand and don't feel like running to the store for it, just leave it out.
Ingredients
Cake Batter
zest from 2 Meyer lemons
3/4 cup whole milk
1/4 cup Meyer lemon juice
2 1/2 cups (500 g) white granulated sugar, divided
1/2 cup (50 g) natural cocoa powder (not Dutch-processed)
1/4 cup golden syrup or light corn syrup
1/2 cup boiling hot water
3 teaspoon vanilla extract, divided
1 teaspoon instant coffee
1 cup (225 g or 2 sticks) unsalted butter at room temperature
4 large eggs
1 teaspoon baking powder
1 teaspoon baking soda
1/2 teaspoon sea salt
2 3/4 (385 g) cups all-purpose flour
Vanilla glaze
2 to 2 1/2 cups (240-300 g) confectioners' (powdered) sugar
1/4 cup whole milk
1 teaspoon vanilla paste or vanilla extract
Chocolate glaze
1 cup (120 g) confections' (powdered) sugar
2 tablespoons natural cocoa (not Dutch-processed)
2 tablespoon whole milk
Directions
1. Preheat an oven to 350˚F and generously grease and flour a standard size bundt pan. Place pan on a rimmed baking sheet for easy removal from oven. Zest the Meyer lemons into the bowl of a stand mixer fitted with the paddle attachment. Squeeze the Meyer lemons to get 1/4 cup and add the whole milk to the juice. Stir and set aside to thicken.
2. Make a chocolate syrup by combining 1/2 cup (100 g) sugar, cocoa powder, golden syrup or corn syrup, hot water, 1 teaspoon vanilla extract and instant coffee together in a small pan. Heat over the stove on medium high heat until the sugar dissolves. Remove from heat and let cool while you make the cake batter.
3. Place the butter, remaining sugar and remaining vanilla extract in the bowl with the Meyer Lemon zest. Cream together until fluffy, about two minutes on medium speed. Add the eggs, one at a time, beating to incorporate each egg before adding the next one. Add the baking powder, baking soda and salt to the butter and beat to incorporate.
4. Add 1 cup of the flour and beat to incorporate into the batter then add 1/2 cup of the lemon milk and beat to incorporate. Repeat with the flour and lemon milk, ending with the 3/4 cup flour. Be sure to beat to incorporate the ingredients before adding the next ingredient.
5. Spoon 1/3 of the batter into the pan with the chocolate syrup. Stir to mix. Spoon 1/2 of the remaining batter into the prepared bundt pan. Add the chocolate batter on top of the batter. Spoon the remaining lemon batter on top of the chocolate batter. Using a butter knife, swirl the batter together in a "figure eight" pattern throughout the pan once (don't over mix, you want to marble not blend). Place in oven and bake for 50-60 minutes or until a toothpick inserted into the center comes out clean. Let sit in the pan for 45 minutes (or until the cake pan is still warm to the touch but not hot) and invert onto a wire rack to cool completely.
6. Once cake has cooled completely, move to cake stand and prepare the vanilla glaze by sifting the confectioners' sugar into a medium bowl. Add the milk and vanilla paste or vanilla extract and stir with a fork. If the glaze is too thin, add more confectioners sugar, a tablespoon at a time. If the glaze is too thick, add more milk a teaspoon at a time. Drizzle the glaze over the cake. Once you've used up the vanilla glaze, make the chocolate glaze (you can use the same bowl) by sifting the confectioners' sugar and the cocoa into the bowl and adding the whole milk. Again if it is too thin, add more confectioner's sugar, too thick add more milk. Drizzle the chocolate glaze over the vanilla glaze and let set before serving.
Makes 1 bundt cake, serves 12.
If you like this marble cake recipe, check out some of my other marbled and swirled recipes on this blog:
Pumpkin Cheesecake Brownies
Raspberry Cookie Bars with White Chocolate Chunks
Marbled Bread with Chocolate Chai and Orange Brioche Loaf
Blueberry Citrus Brownies, Gluten Free
Passion Fruit, Green Tea and White Chocolate Cookies
And while you at it, feel free to follow me over on Pinterest, where I've started a Marbled Swirled and Layered board for recipe inspirations!