Learn how to make a holiday charcuterie board, the perfect grazing board to entertain, or as an easy, no-cook meal at home.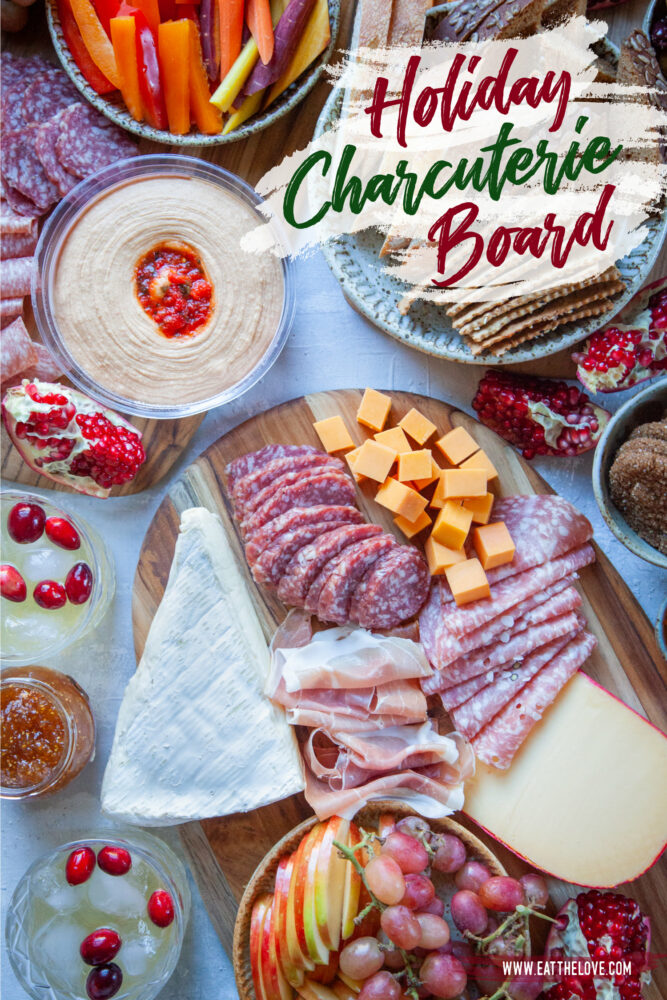 This post was sponsored by Safeway. I was compensated for this post and for developing the recipe. However, all opinions below are completely my own.
It's the holidays and I'm excited to be teaming up with Safeway and Boar's Head to make a holiday charcuterie board! One of the best things about charcuterie boards is how easy they are to make, and how impressive they are for folks. I'm a huge fan of Boar's Head products because they're super fresh and only use the highest quality ingredients. Boar's Head wants to simplify making charcuterie boards even more, because sometimes looking at all the options for a charcuterie board can be intimidating. They suggest doing a two-two-two formula, of two cheeses, two charcuterie meats, and two other items to round it out. Simple right?
My favorite thing about doing a grazing or charcuterie board is how customizable they are. If you're serving the charcuterie board as part of a larger meal or entertaining with a spread of other items, the two-two-two formula is awesome. It simplifies entertaining and allows you to spend more time on other dishes or entrees, or just socializing. It's also a great formula if you just want to make a simple dinner at home with no cooking for a couple or a small family. Assemble the board and dinner is served!
For a bigger crowd or if the charcuterie board is all you're serving as the meal, feel free to max it out though! I tend to be a maximizer. The more the better for me! So, I start adding on more stuff to graze, including fruits, vegetables, dips and even cookies (I mean, it IS a holiday charcuterie board, cookies seem like a good idea). Here's some suggestions on making your own grazing board for the season.
Cheeses
If you're sticking to two cheeses, I recommend going with crowd pleasing popular ones. A soft cheese like French Brie is always a popular one and is appreciated on all charcuterie boards. I can't imagine a charcuterie board without it!
From there I try to pair the soft cheese with a hard cheese. Cheddar cheese is one of my favorites. Cheddar comes in a variety of versions, ranging from mild to sharp, with various origins and makes, including Irish, Wisconsin, Vermont and Canadian. You can even go with a smoked version if you want to add in a wild card. They all have their own flavor profiles and it's always fun to try.
Beyond Cheddar, cheeses like Colby Jack, Havarti, Gouda, Gruyere, Swiss, and Monterey Jack are all great ones to have on a cheese board or charcuterie plate. If you go beyond two cheese, consider a goat cheese, a hard cheese like Parmigiana Reggiano, a blue cheese or a flavored cheese like a Havarti with Dill or a Monterey Jack with caramelized onions to mix it up.
Charcuterie
With meats on a charcuterie board, there's no rules! You can pick up a few variety packs, which make life easy, or you can pick the cured meat you like ala carte. I usually go with a salami whole sausage to slice up, as well as pre-sliced prosciutto.
If you opt to go beyond the two charcuterie meats, consider a peppered salame or a spicy sopressata to give the charcuterie a little bit more kick. I like to buy thinner cut charcuterie meat, along with the uncut sausages that I can cut thicker, to give a little bit of variety, as well as intrigue and texture on the board.

The Other Two
Feel free to pick and choose from any of these other two categories if you are simplifying your charcuterie board. Or maximize and pick a bunch!
Bread and Crackers
Though I can TOTALLY eat my cheese and cured meat by themselves, most folks aren't animals like me and want a vehicle to place the cheese and meat on. I usually provide a softer bread, as well as a hard one like a cracker or pretzel, on my board. A couple of types of bread are always fun to provide, like a sourdough bagette or a whole wheat baguette.
Crackers come in a variety of flavors. You can make your own or just pick one from the store. I tend to veer toward more neutral flavored ones like sesame or salt but if you are feeling adventurous or know your friends will love a stronger flavored cracker, experiment. If you have room, buy two or three crackers to match the flavors of the cheese and charcuterie.
If you have friends with dietary restrictions, consider providing gluten free crackers, bread or thin jicama slices for them to use, and make sure to separate out those crackers on their own plate or board to avoid cross-contamination.
Fruits and Vegetables
For the holiday season, I try to use seasonal fruits that make the board look festive. Consider pomegranates, apples, pears, or mandarin orange segments for a holiday board. Dried fruit like figs, apricots, cranberries, or oranges are also fun to add in.
I also often include some vegetables to round out the board. Carrots, radishes, endive, bell peppers, celery are all great additions to a holiday charcuterie board. Salty cured vegetables like olives, gherkins, or other pickled vegetables can also be a great addition.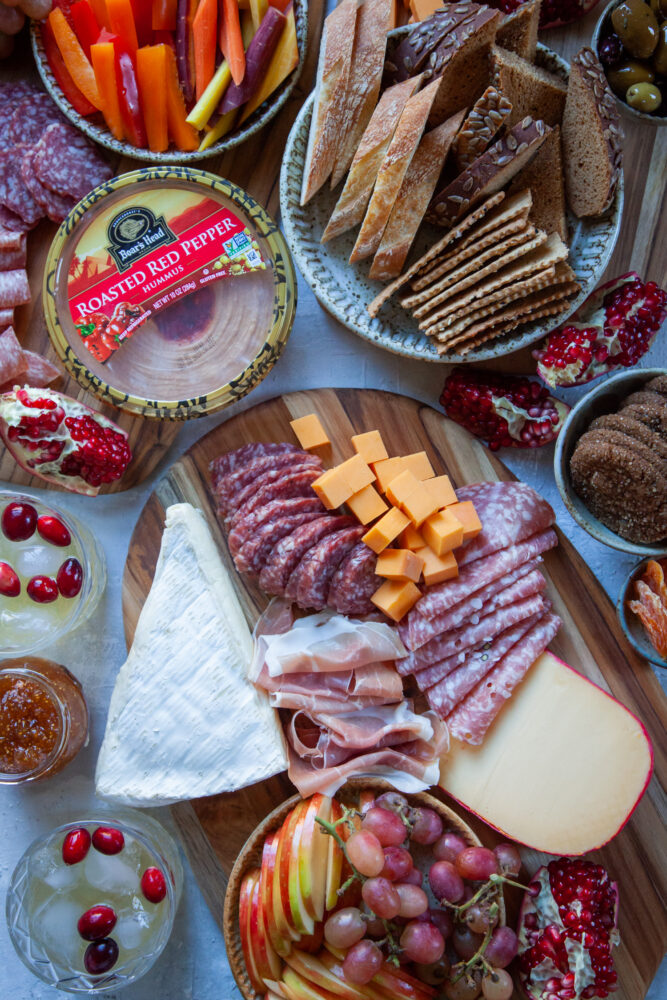 Dips
I'm a fan of adding a dip or spread to the board as well. It rounds out the spread and makes it feel more like a party. I've used Boar's Head hummus (they make a variety of versions like the roasted red pepper version that I used in this board), as well tzatziki, French onion dip, Spinach dip (all of which Boar's head also makes) or made my own dip like my Turkish carrot dip to add to the board. Pick a flavor that matches and goes with your theme. Hummus is fairly neutral but can be jazzed up with various flavors. Tzatizki and French onion dip are more specific in flavor. I might add in tzatziki if I'm serving up feta on my board, while I might choose French onion dip if I'm going with a more American cheddar cheese.
I also sometimes add in condiments like honey, mustards and jams. Fig and quince jams in particular are a great spread for a holiday party. They go well with cheeses. And if you add in pretzels or pretzel crisps to your board, you might want to also consider adding a mustard, which pairs well with them.
Nuts and Sweet
Finally, I often will add a bowl of nuts, whether it's mixed nuts or candied pecans. Dark chocolate is also a classic sweet to add into a charcuterie board. Just makes sure to use squares or cut up chunks to make them into edible bite size bits.
And because this is a holiday, I'll add in a holiday cookie. Ginger molasses is always a great cookie to have a grazing board because the strong ginger flavor can cut through the fatty charcuterie and cheese. But chocolate crackle cookies, pistachio and cranberry cookies or eggnog cookies are a great addition to have on a board.
Holiday Charcuterie Board
Making a holiday charcuterie board is easy and infinitely customizable. Pick two (or more) cheese, charcuterie and additional items for the board, and then serve. Add in smaller extra items like fruit and nuts to the board, to fill in gaps to give the sense of bounty and plentifulness. This is my go-to recipe for a charcuterie board, but feel free to mix it up. I have more suggestions and hints in the sections above.
Ingredients
1/2

pound

Boar's Head French Brie

1/2

pound

Boar's Head Cheddar

any kind

1/2

pound

additional Boar's Head cheese

like Gouda, Swiss, Blue Cheese,

6

ounces

thinly sliced cured meat

like Boar Head's Prosciutto

7

ounces

cured whole sausage

like Boar Head's Uncured Bianco D'Oro Italian Dry Salame

7

ounces

additional cured meat

like Boar Head's Pepper Salame, Sopressata or Capocollo

1

apple

sliced

1

pomegranate

cut open

1

bunch grapes

1/2

pound

carrots

peeled and cut into sticks

1

bell pepper

cut into sticks

8

ounces

crackers

8

ounces

baguette bread

1/2

cup

olives

1/2

cup

jam or honey

8

ounces

Boar's Head hummus

I used roasted red pepper hummus but use your favorite

Cookies or chocolate
Instructions
Take a wooden, ceramic, or slate charcuterie board and add the cheese and cured meat to the board. Slice the cheese and/or charcuterie if necessary or desired.

Add apples, pomegranates, and grapes to the board, filling in the gaps and holes in the board.

Add a small bowl of olives, jam and hummus to the board. If there isn't room, place them next to the board. Add cookies or chocolate to the board as well.

Serve within two hours.