These slightly salty and funky Pistachio Cranberry Cookies are made with brown butter and a secret ingredient that makes them super addictive! (Jump directly to the recipe.)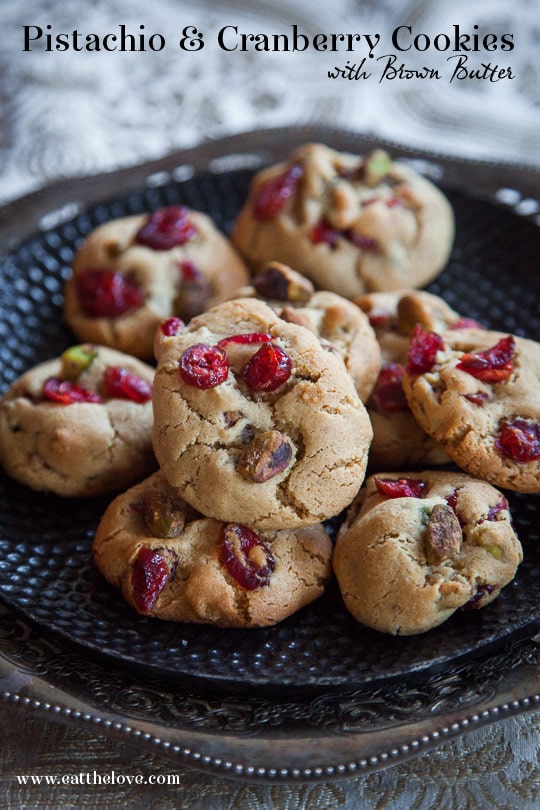 Everyone has his or her own traditions for the holidays. For me, it's throwing our annual holiday party, completely with numerous baked goods and a glazed ham. This year, we opted to go with a Star Wars themed holiday party (based on the much maligned Star Wars Holiday Special that aired back in 1978) because the new Star Wars movie, episode 7: the Force Awakens, was released this past weekend. Also my partner AJ is obsessed with Star Wars. This was the perfect excuse for me to photoshop our heads on top of Luke and Han Solo for our invite, a job that I did a little TOO well because most people didn't even notice us in the photo. I also baked 16 different desserts including one of my new favorites, Pistachio Cranberry Cookies with Brown Butter. These salty sweet funky bombs are awesome. Seriously.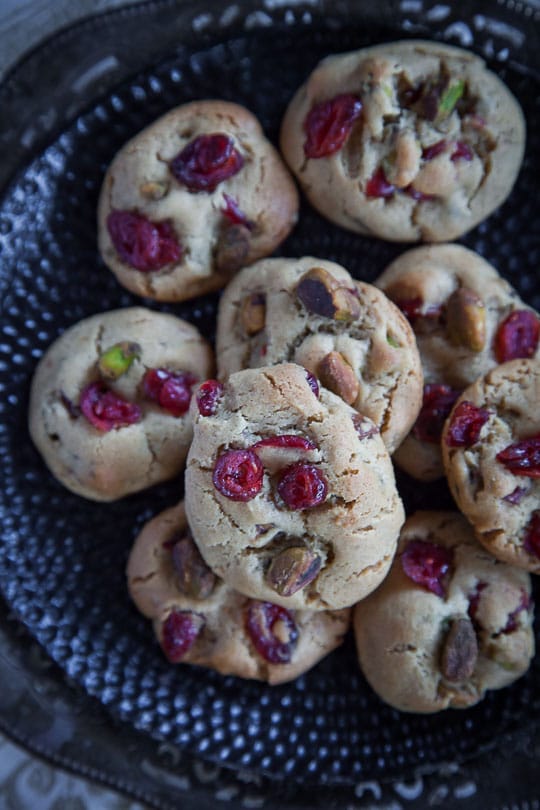 The party started at 5pm and, as usual, AJ and I weren't ready. But for whatever reason, this year pretty much EVERYONE decided to show up exactly at 5pm. By 5:15 we had a packed place and I was still running around plating food. Does this happen to you guys? It was rather insane! I barely had a chance to put down the last plate of brownies before folks started digging in. And I thought I was doing so well with my timing. But apparently not.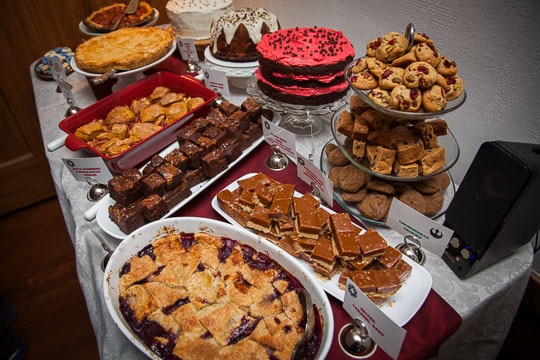 The party was awesome though. Less folks than previous years, I was able to actually say hello to most folks and have an actual conversation with a number of people I hadn't send all year long! 2015 has been a bit of a lost year for me, with the cookbook writing and AJ's cycling accident. But I'm really hoping 2016 will be the year that I reclaim my life. The party was part of that plan by getting me back into baking for baking sake. I had a great time with the desserts and making up names for a few of them to give them a Star Wars name to fit the theme of the party.
R2-D2 Pandowdy (Pear and Blueberry Pandowdy)
Gingerbread Cookies
Jar Jar Binks Bars (Blondie Bars)
Meyer Lemon Pistachio Crust Cheesecake
Landspeeder Pie (Apple Slab Pie)
Caramel Cream Cheese Brownies
Dagobah Swamp Cake (Vanilla and Butterscotch Lapsang Souchang Layer Cake)
Pumpkin Spice Chocolate and Vanilla Marble Bundt Cake
Darth Malt Chocolate Cake
Lemon Blackberry Chess Pie
Death Star Lemon Shaker Tart
Oatmeal Wookie Cookies
Salted Caramel Bars
Pistachio Cranberry Cookies with Brown Butter
Apple Cranberry Pumpkin Biscuits Cobbler
Mexican Chocolate Pecan Pie
Of course I also had a selection of cheeses from Kerrygold who generously donated cheese and butter for this party! I adore Kerrygold when I bake and their cheese is just fantastic. And there were olives from Mezzetta as well, which was lovely. They had sent me some samples last month and I was excited to share them with everyone at the party. And, of course, AJ's ham, which people were raving about. AJ is always baffled by this as he just buys it at Costco but apparently people have never had a Costco ham before? I overheard someone say that it was the best ham he had ever had. Ha!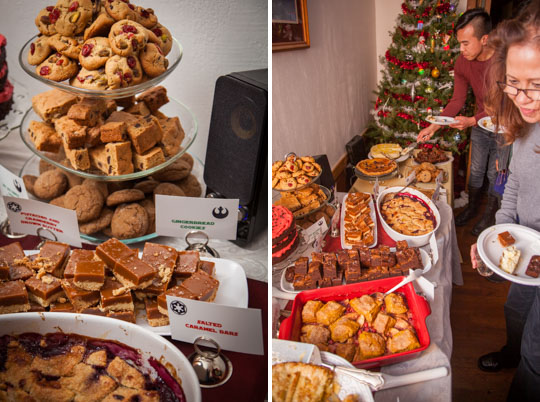 Before I knew it though, the party was over. Folks had left to go off to dinner or to another party and AJ and I were left to our own devices, to clean up and snack on leftovers. Another party, another year gone by. And this past weekend we saw annual holiday party. Happy Life Day Everyone!
Pistachio Cranberry Cookies with Brown Butte
By Irvin Lin
These little cookies have a salty funky undertone that is just subtle enough to keep people guessing as to what the secret ingredient is. But not too funky that it turns people off! For those people who love that combination of salty and sweet this holiday cookie is perfect. The secret is to use a small bit of miso paste, which sounds totally weird but works really well with the brown butter and the pistachio. Use mellow white miso paste (shiromiso) though. The darker red type (akamiso or inakamiso) is too salty and assertive for this cookie.
Ingredients
1 3/4 cups (245 g) all-purpose flour
1/4 cup powdered non-fat dry milk
3/4 teaspoon baking powder
1/2 teaspoon baking soda
1/2 teaspoon kosher salt
10 tablespoons (140 g or 1 1/4 sticks) unsalted butter
1 1/4 cup (275 g) packed dark brown sugar
1 large egg
1 tablespoon white miso paste (see headnote above)
1 tablespoon vanilla extract
1 cup pistachios (shelled)
1/2 cup dried cranberries
Directions
1. Preheat the oven to 350ºF. Line baking sheets with parchment paper or a silicon mat.
2. Place the flour, milk, baking powder, baking soda and salt in a large bowl and stir vigorously with a balloon whisk until well blended and all the ingredients are evenly distributed.
3. Place the butter in a large pan and cook over medium-high heat until the butter has melted and started to foam. Lower the heat to medium-low and continue to cook until the fat solids start to brown. Turn off the heat and continue to swirl the butter in the pan until the residual heat of the pan turns the fat solids golden brown and the butter starts to smell nutty. Pour the browned butter into the bowl of a stand mixer fitted with the paddle attachment. Add the brown sugar to the bowl and beat until the sides of the bowl are cool to the touch, about 2 to 3 minutes.
3. Add the egg, miso paste and vanilla extract to the bowl and beat to blend. Add half the dry ingredients, beating to incorporate before adding the second half the dry ingredients. The dough should be stiff. Add the pistachios and dried cranberries and beat just to mix in.
4. Spoon out heaping tablespoons of the dough and roll them into balls. They should be the size of a big walnut. Place on the baking sheet and repeat. Bake in the oven 9 to 11 minutes or until the dough just starts to brown around the edges, don't over bake. Remove from oven and let sit on the baking sheet for 5 minutes before moving to a wire rack to cool completely.
Makes 32 cookies.
If you like these pistachio cranberry cookies, check out some other cookies that I have on my blog:
Chocolate and Chocolate Chip Pistachio Cookies
Chocolate Crackle CookiesSpeculaas
The Best Christmas Cookie (Glazed Cookies with Orange, Cinnamon and Cloves)
White Chocolate Peppermint Cookies with Sea Salt
Eggnog Cookies
And check out some holiday cookies from around the web:
Nutmeg Nanny's Molasses Ginger Raisin Cookies
Evil Shenanigans' Mocha Mint Cookie Cups
Cafe Delites' Nutella Stuffed Deep Dish Gingerbread Cookie
Melanie Makes' Cheesecake Stuffed Chocolate Peanut Butter Cookies
A Latte Food's Hot Chocolate Thumbprint Cookies