These eggnog cookies are easy to make and have a crispy crunchy sugar coating that makes them a great holiday treat! (Jump directly to the recipe.)
It seems like a cruel joke but when I went to check to see how much eggnog I had left, I noticed one something. The expiration date was December 24th, the day BEFORE Christmas! Did the company intentionally do that knowing that OCD people like myself would drink up the entire carton and then have to run out and get more for Christmas day itself? It seemed rather cruel if you ask me. Which meant I had to do something to use up most of the carton before Christmas. Something, other than just drink it, because as much as I love some me some 'nog that stuff is crazy rich for me. So I decided eggnog cookies were just meant to be.
Of course, it turns out my partner AJ is rather indifferent to eggnog . I asked him whether he liked it or not and he just shrugged at me and said he could take or leave it. He was eggnog agnostic… "eggnostic," if you will. I think that's a bit sad. But these cookies might be the solution to his indifference because once he took a bite his eyes lit up and he seemed pretty happy to reach for another one.
Now eggnog cookies are pretty perfect for this time of year. There's a sense of obligation around now for food bloggers to actually post cookie recipes for the holidays. After all I posted 12 of them last year! But this year, I've been insanely busy with other stuff. Like featuring my huge stack of cookbooks, like featuring my holiday gift guide, like making meatloaf and such. Last week was a bit of a blog never-ending for me. So baking up a simple batch of these cookies was rather soothing for me. Happy holidays folks!
Eggnog Cookies
By Irvin Lin
Because of the addition of eggnog, this dough is pretty moist. Make sure to wet your hands when you roll the dough out into balls. It will keep the dough from sticking to your hands. It will also slightly dissolve the sugar you are rolling the cookie dough balls in, creating more of a crunchy "glaze" like effect on the cookie. I use rum extract which has a punchier rum flavor than rum itself when baking as well as freshly grated nutmeg on top to give it that holiday cheer. If you don't have either, just omit the rum (or use the same amount of actual rum) and use ground nutmeg in the jar. But the freshly grated stuff really is great! Take note this cookie bakes at 300˚F for a longer period of time.
Adapted from Holiday Cookies by the editors of the Chicago Tribune (an awesome book that I featured in Day 3 of my Holiday Cookbook Roundup).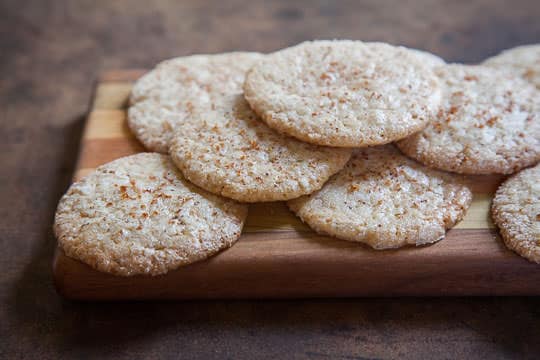 Ingredients
Cookie Dough
3/4 cup (170 g or 1 1/2 sticks) unsalted butter at room temperature
1 cup (200 g) white granulated sugar
1/4 cup (55 g) dark brown sugar
1 teaspoon ground nutmeg
1 teaspoon baking powder
1/4 teaspoon kosher salt
1 teaspoon vanilla extract
1 teaspoon rum extract
2 large egg yolks
2 1/4 cups (315 g) all-purpose flour
1/2 cup eggnog
To assemble
about 3/4 cup white granulated sugar
Fresh grated nutmeg (about one whole nutmeg or 2 teaspoon ground nutmeg)
Directions
1. Preheat the oven to 300˚F. Line a baking sheet with a silpat or piece of parchment paper.
2. Place the butter, both sugars, nutmeg, baking powder, salt, vanilla and rum extract all in the bowl of a stand mixer fitted with a paddle attachment. Cream together until the butter starts to stick to the side of the bowl and looks uniform sandy brown in color. Add the egg yolks, one at a time, beating to make sure the first one is incorporated before adding the next one.
3. Add the flour, and on the slowest speed start to mix together until the butter starts to incorporate the flour. The dough should look a bit pebbly and dry. Drizzle the eggnog into the bowl while it is on slow speed. Once all the eggnog is added, increase speed to medium and beat until completely incorporated. The dough should be fairly moist.
4. Place the white sugar for coating the cookie in a small bowl. Fill another bowl with a water to wet your hands. Wet your hands and scoop out tablespoons of the dough and roll into 1" round balls, about the size of a small walnut. Roll the ball in the sugar, then place on the baking sheet. Repeat, setting the cookies about 2 inches apart. Repeat until the baking sheet is filled. Dry your hands with a paper towel and then, using the palm of your hands, flatten the balls so they are small disks on the baking sheet. Sprinkle lightly with the fresh grated nutmeg. Bake in the oven for 20-23 minutes or until the edges start to get golden brown. Let cool on the baking sheet for five minutes before moving to a wire cooling rack.
Makes 60 cookies.
If you like these eggnog cookies, check out some of the cookies I posted about last year in my 12 cookies of Christmas:
Chocolate Crackle Cookies
Chewy Oatmeal Cookies with Dried Blueberries and Crystallized Ginger
Gluten Free Ginger Snaps
Butterscotch Cookies with Triple Chocolate Chips
Chocolate Double Rye Cookies
Hermit Cookies with Brown Sugar Icing, Dried Cherries and Crystallized Ginger
Chocolate Shortbread Cookies, Aztec Style
Chocolate Chip Oatmeal Cookies with Hazelnuts
Lemon Cookie Bars with Pomegranate Seeds
Mocha Cookies with Dark Chocolate and Pistachios (Gluten Free)
Caramel Bars with Salted Roasted Cashews (and Gluten Free option)
Best Christmas Cookie Recipe – Glazed Little Orange Cookies with Cinnamon and Cloves
And if you really love eggnog, check out some of these other eggnog recipes:
My Eggnog Pancakes
My Triple Layer Holiday Spice Cake with Eggnog Frosting
Baked by Rachel's Eggnog Cranberry Swirl Cheesecake Bars
Nutmeg Nanny's Eggnog Martini
Food Doodle's Eggnog Meringues
Table for Two's Overnight Eggnog French Toast Bake
Simply Recipes Eggnog Pound Cake