This amazing strawberry lemon shortcake has as unique trick in the way you prepare the strawberries, making this dish above and beyond the usual dessert. (Jump directly to the recipe.)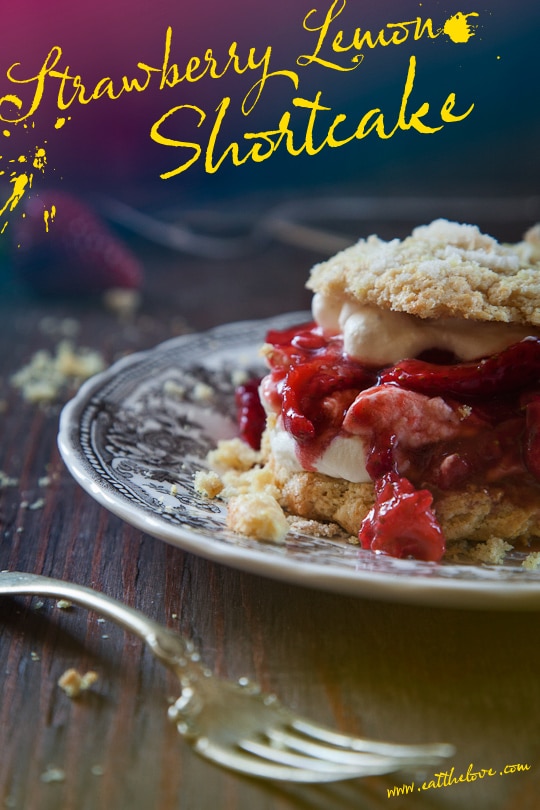 The lamb ribs were marinating in a glass bowl when we walked into the kitchen and warmth radiated from both the convection oven and the woman standing behind the kitchen island. Suzanne, the cook, immediately started apologizing for the mess in the kitchen, while her husband Ray began serving up afternoon cocktails to everyone who wanted one. I automatically felt at home in my friend Damon's dad and stepmom's house, and inspired by all the food being created in front of my eyes. Despite all the fancy pants food that I get to eat because of this blog, there's nothing like a good home cooked meal. And there's nothing I love more than hanging out with friends (new and old) and eating throughout the day. In fact, the desserts Suzanne created for the Easter feast stayed in my mind for the remainder of my trip to Los Angeles, and the minute I got home to San Francisco, I found myself in my kitchen whipping up a batch of Strawberry Lemon Shortcake because of it.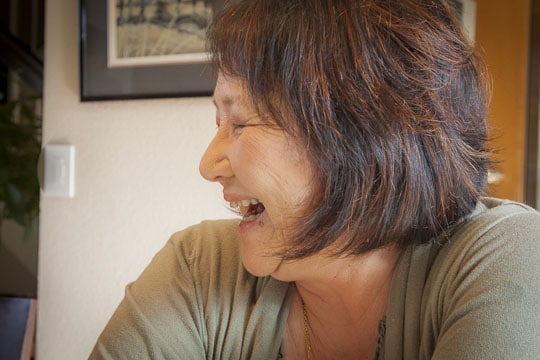 One of the downsides of having a blog that revolves around food, photography and travel is people expect you to have extravagant fine dining tastebuds. Visiting friends ask you where the best baked goods can be found in the city (my kitchen?). Loved ones expect you to bring along baked goods wherever you go (in a recent ski trip that I had to bail at the last minute due to illness, apparently no one brought any desserts or sweets expecting me to provide them). And when you get invited to a meal at a friend's home, all of sudden the host starts to fret that the food isn't fancy enough for you. That last issue flared up when I went to my friend Damon's stepmom and dad's home for Easter supper with Suzanne wondering if her food wasn't fancy enough for me. She had nothing to worry about, as the food was fantastic fabulous and plenty fancy.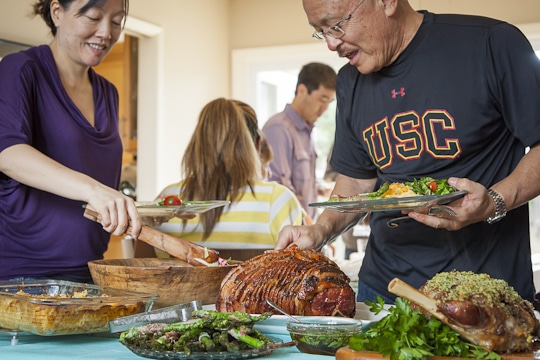 I've been hearing about Suzanne and her amazing cooking forever from Rita and Damon. I've even eaten leftovers that they have brought home from their family meals. But I've never actually had a chance to attend a meal first hand so I was thrilled that I could be down in Southern California for Easter and tag along with them to Orange County, where Suzanne and Ray (Damon's dad) live. Of course, the meal was pretty astounding, starting with an adorable Easter egg hunt for the kids (Easter really is more fun when children are involved) and ending with both a lemon bundt cake and strawberry shortcake with a dash of Grand Marnier for the adults.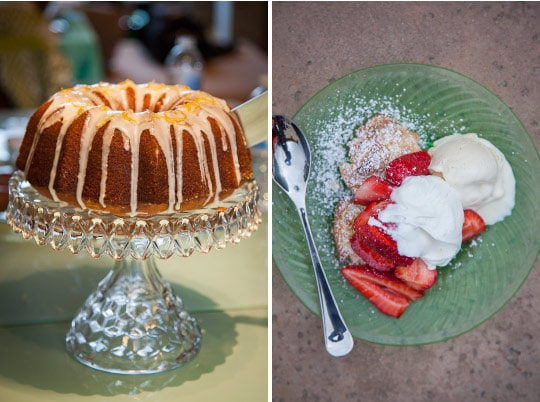 In between the egg hunt and the dessert was the spiral ham (which was anything but obligatory, glazed with homegrown blood orange marmalade from their tree in back), roasted lamb with mint sauce, asparagus wrapped in prosciutto, mac & cheese and antipasto salad. Oh and the above mentioned lamb ribs. Those were the appetizer. Yes, we had lamb ribs as an appetizer. Sadly they disappeared too fast for me to take a photo. Or it might have been I was too busy eating them to bother to take a photo. I can't remember.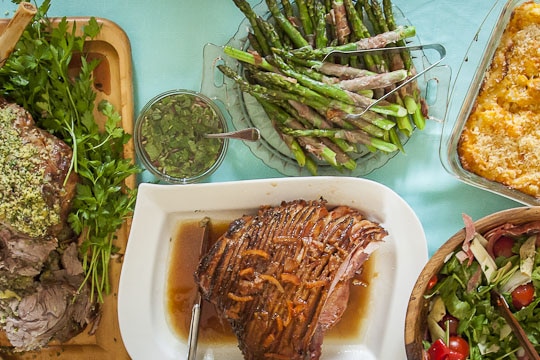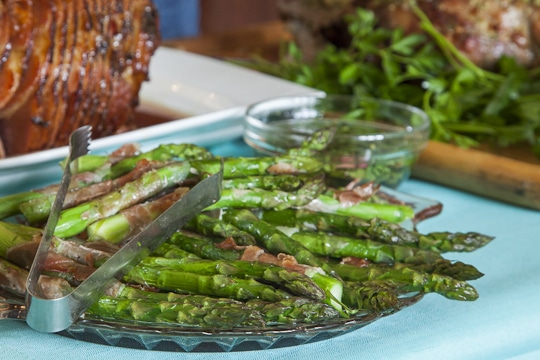 Rita has tried to wrangle recipes from Suzanne before but it's always seems an uphill struggle, mostly because Suzanne, like most naturally talented home cooks, goes by feel when she makes her food. I asked her what she put in her strawberry shortcake biscuits and she just looked at me blankly and said, you know… flour, butter and sugar. I felt a bit foolish after I asked that, hoping there was some special secret ingredient that made it taste so good. Perhaps food just tastes better when someone else makes it for you in front of your eyes. Rita has recently, however, been able to get Suzanne to give a few cooking lessons to her and her husband's cousins. Lucky!
In the end, I was just happy to just be able to have meal at the home of Suzanne and Ray. Nothing is more inspiring or makes me happier than eating food that someone else has prepared with love. After all this blog is called Eat the Love for a reason.
Strawberry Lemon Shortcake
By Irvin Lin
I've shared a recipe for strawberry shortcake right when I started this blog, but it's a classic dessert that deserves a revisit. This version adds a touch of tart lemon in the shortcake, inspired by the lemon bundt cake that Suzanne also made, giving a nice balance to the fruity strawberries. A touch of balsamic vinegar gives a nice acidity and makes the strawberries taste extra sweet. By the way, the extra step of hand tearing the strawberries is important, because when you slice them up, they tend to get slippery. Breaking them apart with your fingers means the torn strawberry piece sit in the whipped cream as opposed to sliding all over the place. Just make sure to wear an apron or a dark shirt as strawberry juice might squirt all over the place!
Inspired by two Suzanne Nagami desserts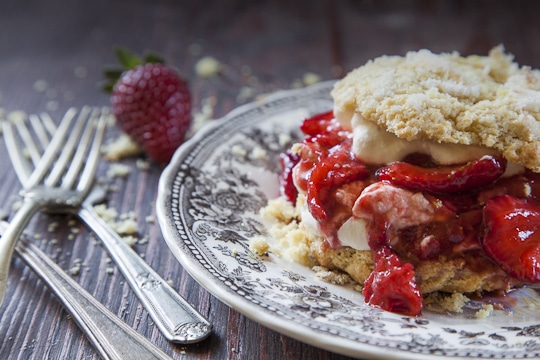 Ingredients
Strawberry Filling
1 lb (4 cups or 450 g) strawberries
2 tablespoons granulated white sugar
1 teaspoon balsamic vinegar
Whipped Cream
1/2 vanilla bean or 2 teaspoon vanilla extract
1 cup chilled heavy whipping cream
1 tablespoon granulated white sugar
Shortcake Dough
1/2 cup whole milk
1 tablespoon fresh squeezed lemon juice
1 1/4 cup (175 g) all purpose flour
1/4 cup (45 g) yellow cornmeal
3 tablespoon (40 g) white granulated sugar
1 1/2 teaspoon baking powder
1 teaspoon baking soda
1/4 teaspoon sea salt
zest of 1/2 a medium lemon
1/4 cup (57 g or 1/2 stick) cold unsalted butter
1 large egg yolk
For top of Shortcake
2 tablespoons granulated white sugar
zest of 1/2 a medium lemon
1 large egg white
Directions
1. Take 1/3 of the strawberries and cut the green tops off and then crush them in a medium nonreactive (glass or ceramic) bowl with a fork or potato masher. Add the remaining strawberries to the bowl and tear them up with your fingers into bite size pieces, making sure any juice that is produced falls into the bowl. Sprinkle the sugar and balsamic vinegar over the strawberries and toss to coat. Let sit for at least 30 minutes or up to three hours before using.
2. Split the 1/2 vanilla bean (if using) lengthwise and scrape the seeds into the heavy cream. If using the vanilla extract add that instead of the seeds. Add the sugar and stir to dissolve. Add the empty vanilla pod to the heavy cream to steep and cover with plastic wrap. Let chill in the fridge while you make the shortcake.
3. Place the whole milk and lemon juice together in a glass measuring cup an stir together. Set aside. Place the flour, cornmeal, sugar, baking powder, baking soda, salt and lemon zest in a large mixing bowl. Cut up the butter into 1/2 inch chunks, sprinkle over flour and toss to coat. Flatten the cubes of butter with your fingers until all the butter has been smashed. Start rubbing and squeezing the butter and flour together with your fingers until the butter is broken into small pieces, about the size of a pea.
4. Add the egg yolk to the thickened lemon milk and stir with a fork until incorporated. Drizzle over the dry ingredients and toss with a fork until it starts to come together. Once all the dry ingredients are incorporated and a dough forms, cover with plastic wrap and refrigerate for 30 minutes.
5. While the dough is chilling, preheat the oven to 425˚F. Line a baking sheet with silpat or parchment paper. Divide the dough into 4 parts and gently form into disks. Place onto the baking sheet. Add the lemon zest to the granulated sugar and rub together between your fingers. Beat the egg white until frothy and then brush over each shortcake dough. Sprinkle the lemon sugar over the top of each dough round. Bake in the oven for 12-15 minutes or until the edges of the shortcakes start to turn golden brown. Take out from the oven and place the baking sheet on a wire rack. Cool for ten minutes.
6. While the shortcakes are cooling, take the heavy cream from the fridge and remove the vanilla pod (you can rinse & dry it off and use it for another purpose if you'd like). Whip the heavy cream, by hand or by machine, until soft peaks form and double in volume. Assemble the dessert by first splitting the shortcake in half lengthwise with a serrated knife, then spooning the whipped cream on the bottom half of the shortcake and the strawberries on top of the whipped cream. Place the top of the shortcake over the strawberries. Serve immediately.
Makes 4 strawberry shortcakes