So you're probably wondering what I did with those slow roasted strawberries that I posted previously here on Eat the Love. Turns out I made two things with them for the Bake Sale for Japan that Samin organized. And though it didn't turn out exactly as I had mentally imagined them to be, I was pretty happy with the way they looked. I present to you my first item. Lemon Honey Slow Roasted Strawberry Cheesecake Bars, inspired by the Japanese Flag.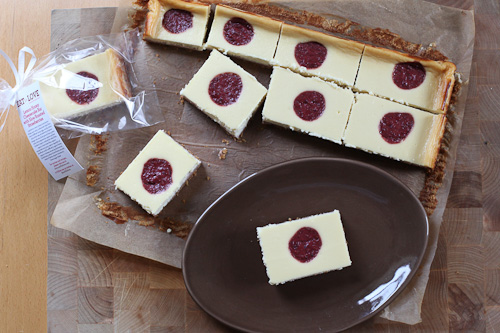 I had been playing with the idea of trying to replicate the Japanese flag in a dessert form for awhile. I had thought of sugar cookies, or blondies with a cherry center, or brownies with white frosting and strawberries in the middle. But then I thought back to my Japanese Castella post and how even though the sponge cake doesn't have any cheese in it, it's sometimes inexplicably referred to as a cheesecake. And then I realized, I just needed to make cheesecake bars with a red center dot. A basic and simple solution, and really, who doesn't love a cheesecake you can eat out of hand?
Making them, I really wanted a second layer of strawberry flavored cheesecake underneath the top layer of "plain" cheesecake but the strawberry layer didn't quite show up as much as I had hoped. At least the flag idea came across, and the flavor of the roasted strawberries, coupled with the wildflower honey and subtle lemon scent really made these bars pretty fantastic, if I do say so myself.
That said, I dropped them off at the Bi-Rite Market location around 10 am, along with another one of my items (I'll be blogging about that later) as well as donations by Heather of Souffle Days (some awesome looking pistachio blondies as well as salted caramel & bacon brownies) as well as Theresa, One_Fork on Twitter, (blueberry bundt cakes and banana breads). They were both going out of town this weekend but wanted to donate, so I had them drop off items to me ahead of time. Of course, by the time I showed up, the Bi-Rite Market location was HOPPING with people and donations. And the baked goods, all of them, looked amazing.
That's sort of the point when I got all neurotic and thought to myself, oh wait a minute, I hope my cheesecake bars are decent enough to sell on this table of amazingness! So I was pretty pleased that the minute my cheesecake bars hit the table someone immediately picked it up and bought one. Whoo hoo! Turns out it was a co-worker of Anita of Desserts First who bought it. Yay!
The food blogging community was out in full force as well as the local companies of San Francisco. I ran into Anita of Desserts First, as well as Nimisha of Club Dine in and we ended up going and getting brunch together. Later I had heard that Sabrina of the Tomato Tart donated food as did Sean of Hedonia/Punk Domestics and Vanessa of DIY Delicious. Annelies of La Vie En Route was up in the SPQR location volunteering there and a number of restaurants and bakeries up in that area donated food as well.
There were physical bake sales all over the San Francisco Bay Area and apparently the BiRite Market area had so much donated, that they started to disperse the goods to other locations in the city. So it's very possible if you donated something to the Bi Rite location it ended up in the SPQR location or even up in Marin, East Bay or South Bay!
All total, Samin tweeted that she thinks the bake sale across the US raised over $100,000 How amazing is that!?! Never underestimate the power of a cookie! Or cake. Or Pie.
Or cheesecake bar as it is. I'm pleased to have been a part of fundraising efforts like these. If you haven't had a chance, you can still make a donation. Visit the First Giving page and click the donation button to donate to help the Japanese victims of the earthquake and tsunami. Because every little bit counts.
Lemon Honey Slow Roasted Strawberry Cheesecake Bars, inspired by the Japanese Flag
These cheesecake bars are meant to look like the Japanese flag. If you don't want to get that fussy, or don't have a need to make each bar look like it has a red dot on it, I would suggest just taking the strawberry puree and spoon it on top of the cheesecake and then swirling it around with a knife. It's just as elegant and way easier to do.
Crust
9 oz of graham crackers (roughly 11 graham crackers)
2 tablespoons packed brown sugar
Zest of 1 medium lemon
6 tablespoons melted unsalted butter
Cheesecake Filling
1 cup of slow roasted balsamic red wine strawberries, divided (recipe here)
20 oz (2 1/2 bricks) of cream cheese, at room temperature
4 oz (1/2 cup) mascarpone cheese, at room temperature
4 tablespoons all purpose flour, divided
3/4 cup wildflower honey
3 large eggs, at room temperature
4 oz (1/2 cup) sour cream
2 tablespoons fresh squeezed lemon juice (strained so it is pulp free)
1 teaspoon vanilla extract
1. Preheat an oven to 325˚F. Take a 13"x9" pan and lightly spray the bottom and side with cooking oil. Then fit a piece of parchment paper into the pan, with two inches overhanging the sides. The oil will allow the paper to stick to the pan, while the paper itself will make it easy to life the cheesecake bars out of the pan without having to dig them out.
2. Place the graham crackers in a food processor and crush until you have a fine powder. You should have 1 1/2 cups of graham cracker crumbs. Place the brown sugar and lemon zest in the food processor with the crumbs and pulse three or four times to blend in. Then turn the processor on, and slowly drizzle the melted butter into the graham cracker crumbs until they start to clump together.
3. Pour the crumbs into the prepared pan, and press it evenly down creating a flat even coating of graham cracker crumbs. If you need to, you can use the bottom of a flat glass to pat it down further.
4. Place the pan with the crumbs in the oven for five minutes or until the crust starts to get fragrant and brown a little.
5. Pull the pan out and let it cool while you prepare the cheesecake filling.
6. Wipe out the food processor and place the 1 cup of slow roasted balsamic red wine strawberries in it. Puree the strawberries. Take out 1/2 a cup and place aside, leaving half a cup in the food processor.
7. Place the cream cheese, mascarpone cheese, and 3 tablespoons of flour in the bowl of a standing mixer, fitted with a paddle attachment. Beat until blended and fluffy. Add the honey and beat until incorporated. Add the eggs, one at a time beating between additions until each is incorporated. You may want to scrape down the sides with a large spatula between each addition.
8. Mix the sour cream, lemon juice and vanilla together in a small bowl until well blended. Then add it to the cheesecake batter and blend until incorporated.
9. Measure out 1 cup of the cheesecake batter and pour it into the strawberry puree that is still sitting in the food processor. Pulse until the batter is smooth, and the batter is light lavender. Add the remaining 1 tablespoon of flour and pulse until incorporated.
10. Pour the batter into the pan with the graham cracker crust. Using an offset spatula or butter knife, spread the strawberry cheesecake filing to create a thin layer all over the bottom of the pan, covering the entire graham cracker crust. Then, carefully, spoon the remaining "plain" cheesecake filling on top of the strawberry one being careful not to disturb it too much. Then using a clean offset spatula or butter knife carefully smooth out the plain cheesecake filling on top covering up the strawberry cheesecake filling.
11. Take the remaining 1/2 cup of strawberry puree that you had set aside and pour it into a ziplock bag. Seal the bag and cut a small corner off the bag. They carefully squeeze a dollop of the strawberry puree onto the cheesecake filling, thus creating the red dot. Do this in a four by four grid.
12. Bake the cheesecake for 40 minutes or until the sides of the cheesecake start to look golden, puffy, and the center is only slightly wobbly. The cheesecake will deflate, sink a little and set while it cools.
13. Once baked, let the cheesecake cool to room temperature and then refrigerate overnight.
Makes 16 servings.