This ribs in the oven recipe means you can have deep flavorful barbecue ribs year round with minimal work and effort! (Jump directly to the recipe.)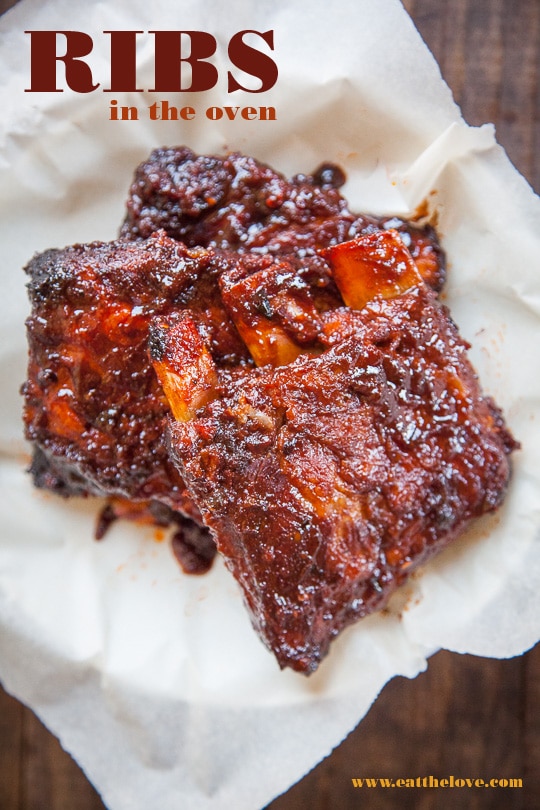 "I hope ribs are OK for dinner" I said to AJ as I had picked some up on sale at the grocery store. His eyes widen in excitement and that was all the answer I needed from him. I had been making a version of David Lebovitz' caramel ribs ever since I got his book My Paris Kitchen last year. But I have yet to blog about it mostly because each time I make it, I tweak the recipe more to my personal liking. Also because we usually end up eating the ribs immediately, which means I never get around to actually photographing them! But this time I was determined to take at least one or two photos of them before we ate them. This ribs in the oven recipe is pretty darn fabulous.
I'll tell you that I'm a sucker for good ribs. I grew up in St. Louis where pork ribs are king. In fact, there's a cut of ribs called St. Louis ribs that I tend to buy. Sometimes called spare ribs, the St. Louis cut ribs are meatier with a higher fat ratio. The baby back ribs (sometimes called Loin Back ribs) are smaller, less meaty but more tender and often slightly more expensive. I love both styles, but being from St. Louis my loyalties (and wallet) are with the St. Louis style.
Of course, as with all recipes, I took David's version and deconstructed the heck out of it. His version uses ketchup as well as a touch of Dijon mustard. I skipped the ketchup and using tomato paste as well as adding fish sauce (for a little umami kick) and a Thai hot chili sauce called Naam Phrik Phao, which is also used in the Pok Pok Wings recipe you can find here on my blog. It's easy to make or you can buy it at an Asian grocery store. Or, if you want, you can easily just substitute sriracha sauce or another hot sauce of your choice. No big deal. Don't expect these ribs to taste Asian though. These aren't teriyaki ribs at all. The BBQ sauce just has a rich complex sweet and spicy flavor from all the ingredients.
Ribs in the Oven Recipe
By Irvin Lin
Don't be scared of the long list of ingredients. The ribs comes together faster than you think with most of cook time as "walk away" time as the ribs roast in the oven. Most of the ingredients you should have in your household and the few "exotic" ingredients you might not have (fish sauce and roasted Thai chili paste) can be found at an Asian grocery store or a well stocked upscale grocery store. If you can't find fish sauce, just use 2 more tablespoons of soy sauce and omit the salt. If you can't find the Thai chili paste, use whatever hot sauce you have around or just use 1 tablespoon of red chili flakes. I've made these ribs so many times that it's rather ridiculous that I haven't blogged about them. It's my go-to ribs recipe. Considering how much AJ likes ribs, I make ribs fairly often too. Probably too often now that I think of it. But no one's complaining about it in this household.
Adapted from David Lebovitz recipe in My Paris Kitchen
Ingredients
3/4 cup (150 g) granulated white sugar
1/4 cup (55 g) coconut palm sugar (or packed dark brown sugar)
3/4 cup (180 mL) beer (any type)
1/4 cup (60 mL) American whiskey
3 tablespoons balsamic vinegar
10 tablespoons (6 ounces or 170 g) tomato paste
1 inch piece ginger, peeled and minced
3 large cloves minced or pressed garlic
2 tablespoon dark soy sauce
2 tablespoon fish sauce (see headnote above)
1 tablespoon Naam Phrik Phao, roasted thai chili paste (recipe here, or another hot sauce, see headnote above)
1 teaspoon smoked paprika
1 teaspoon freshly ground black pepper
1 teaspoon kosher salt
1/2 teaspoon ground cumin
1/2 teaspoon ground coriander
5 pounds (2 1/4 Kg) St. Louis style pork ribs, cut into 3 or 4 rib sections
Directions
1. Preheat the oven to 350˚F. Place the white sugar in a large heavy oven safe Dutch oven, preferably cast iron. Turn the heat to medium high and cook the sugar, stirring occasionally with a heat proof spatula or wooden spoon, until the sugar starts to darken and caramelize. Turn the heat off and let the residual heat caramelize the sugar until it darkens to a deep brown, the color of an old penny. Turn the heat off.
2. Sprinkle the coconut palm sugar or dark brown sugar over the caramel and stir carefully as it bubbles up. Slowly drizzle a little bit of the beer over the caramel (it will bubble and steam up) and stir in. Continue to drizzle the beer in small amounts, stirring to incorporate. Add the whiskey in the same manner. Add the balsamic vinegar and stir to incorporate.
3. Add the tomato paste, minced ginger, garlic, soy sauce, fish sauce, Naam Phrik Phao, paprika, pepper, salt, cumin and coriander to the pot. Turn back on and stir to mix in. Don't worry if there are some hardened caramel chunks. Continue to cook until the barbecue sauce is mostly smooth (if there are still some chunks of caramel, that's ok). Add the pork ribs, turning them in the sauce to coat. Cover the pot and place in the oven.
4. Roast the ribs in the oven 1 1/2 to 2 hours, turning the ribs every half hour or so, until the rib meat is soft and tender. Remove the lid from the pot and roast for an additional 30 minutes after that, until the sauce has thickened and the top of the ribs have charred a bit. Serve with the barbecue sauce on the side.
Serve 4 to 6 people.
If you like this ribs in the oven recipe, check out these other ribs recipes from around the web.
She Wears Many Hats' Chipotle Baby Back Ribs Recipe
Use Real Butter's Chinese Stye Hoisin Barbecue Ribs
Chef Dennis' Slow Cooker Ginger Beer Barbecue Baby Back Ribs
Lick my Spoon's Kahlua Coffee Baby Back Ribs
Foodie Crush's Raspberry Chipotle BBQ Ribs