This luscious summer fruit pie is packed with plums, peaches, cherries and topped with a crunchy spicy crumb topping that tastes like glorious summertime. (Jump directly to the recipe.)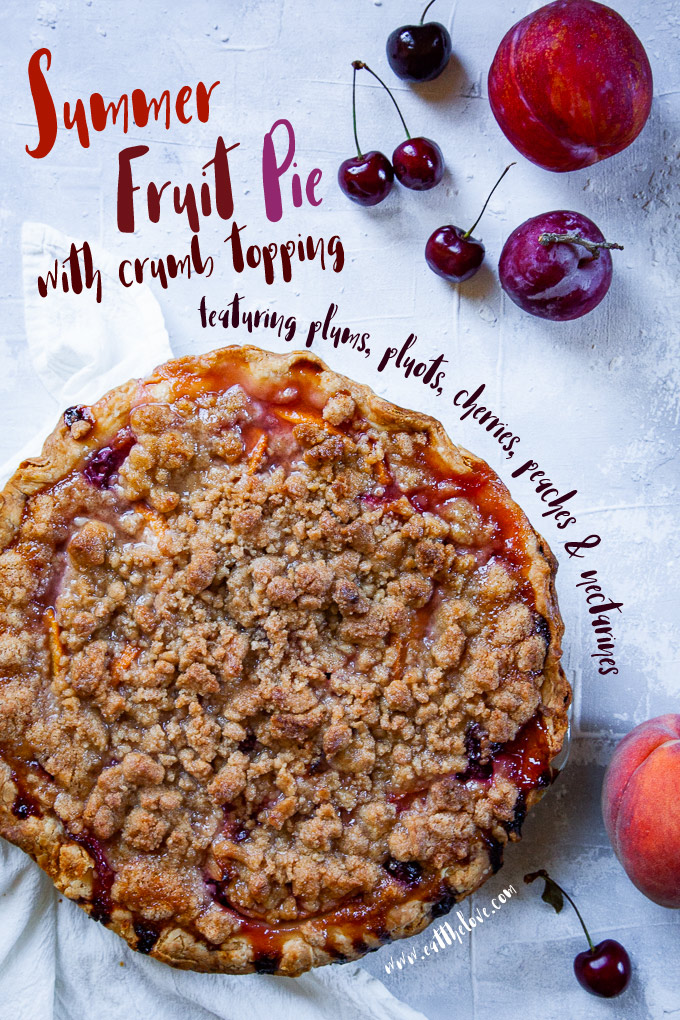 September is officially here, Labor Day has arrived, and I can't wear white pants anymore. Not that I really wore white pants that often (I'm gay but not THAT gay) but I always like to keep my fashion options open. I've been home for nearly a month from my cross-country road trip but you probably would never know that from my Instagram Stories. I think I'm still in Mid-July with my daily uploads on IG Stories, slowly working my way up from D.C. to Maine then eventually back home. At this rate, I'll be back in San Francisco sometime for Christmas. But despite the proliferation of pumpkin popping up EVERYWHERE on my social feed (thank you everyone for at least waiting until September, because I just can't with pumpkin in August), technically summer isn't over yet. According to Google summer doesn't end until September 22! So I'm holding onto the season with this Summer Fruit Pie.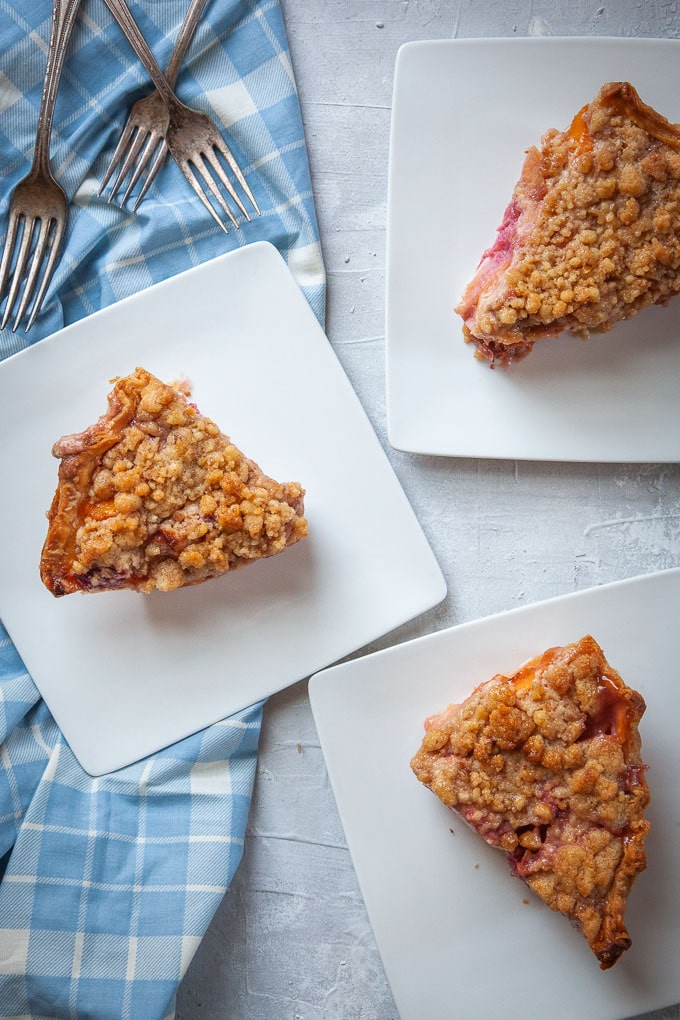 Recently I taught a class at the San Francisco Cooking School on Summer pies. Normally the class is done a little earlier in the season. But I wasn't available earlier (are you tired of hearing me talk about my road trip? Sorry/Not Sorry about that) so we pushed the class to the end of August. And though there was a nectarine raspberry pie that I taught in the class, when I went to make a demo example pie ahead of time (which I like to do for all my classes) I realized that I had limited nectarines in my house but plenty of other summer stone fruit like plums, peaches, pluots (a plum/apricot hybrid) and late season cherries. So the summer fruit pie was born.
Despite how much everyone loves the way woven crusts and Instagram worthy double crust pies look, one of my absolutely favorite toppings for pie (and really for any baked good) is a crumb topping. I shower crumbs on everything, from to coffee cake and muffins to my babka in my cookbook Marbled, Swirled, and Layered to even cookies. Bakery streusel crumbs, with their slightly crunch and subtle spice may not look as sexy as the highly decorated cut out crust that garner 1000s of likes but the taste just makes me happy.
So I'm going to have a big slice of this pie for breakfast now and enjoy the last weeks of summer. As everyone else dives into their pumpkin spice lattes, I'm going to grab one more bag of pluots and peaches at the store. Fall may have started for everyone else, but summer is still here for me.
Summer Fruit Pie with Crumb Topping
This summer stone fruit pie can be made with a combination of any sort of summer stone fruit like nectarines, peaches, plums, pluots, apricots or cherries. Just adjust the amount of tapioca starch to accommodate the juiciness of the fruit. If the fruit is more ripe or you notice more juice at the bottom of the mixing bowl with fruit, add more tapioca. If less juicy, use less starch. If you choose peaches, you will want to peel them but if you use any other fruit (including nectarines) no need to peel at all! I prefer using tapioca starch (sometimes called tapioca flour) for the filling of a pie. It is a more neutral flavor starch and can be found at most upscale grocery stores or online. But if you don't have access to it or don't want to buy yet another ingredient, you can substitute out the same amount of cornstarch. You might need to bake the pie a little longer, as cornstarch needs higher heat to set than tapioca starch.
Ingredients
Pie Dough
1 3/4

cups

all-purpose flour

245 g

1

tablespoon

granulated sugar

1/2

teaspoon

kosher salt

10

tablespoons

cold unsalted butter

140 g or 1 1/4 sticks

6 to 8

tablespoons

ice cold water
Filling
8

cups

sliced summer stone fruit

like nectarines, plums, cherries (see headnote above)

3/4

cup

granulated sugar

150 g

6 to 8

tablespoons

tapioca starch

see headnote above

Juice and zest of 1/2 lemon

1/2

teaspoon

ground cinnamon
Streusel
1

cup

all-purpose flour

140 g

1/2

cup

granulated sugar

100 g

1/4

cup

Turbinado sugar

60 g

1

teaspoon

ground cinnamon

1/2

teaspoon

ground ginger

1/4

teaspoon

kosher salt

6

tablespoons

unsalted butter

melted

1

teaspoon

vanilla extract
Instructions
Make the crust by placing the flour, sugar and salt in a large bowl. Stir with a whisk. Cut the butter into 1/2-inch chunks. Sprinkle over the dry ingredients and toss to coat. Using your fingers, press and smash the cubes into small bits, about the size of peas (but flat, not round).

Sprinkle 6 tablespoons of water into the bowl and stir with a fork until it starts to get shaggy. Sprinkle more water, a tablespoon at a time, if the dough looks too dry. Once the dough starts to look shaggy, start to toss and massage it with the palms of your hand to incorporate the dry ingredients. Pat into a 1-inch thick disk. Cover with plastic wrap and chill in the refrigerator 1 hour or overnight.

Preheat oven to 400°F. Take the chilled dough out of the fridge place on a clean surface dusted with flour. If the dough feels too cold and firm, let it stand at room temperature for 5 to 10 minutes to warm up. Starting from the center, roll the dough toward the edge of the disk in all directions to form a round pie crust. Try not to roll back and forth but rather center out, rotating the dough in the beginning to keep it from sticking to the surface. You can add more flour to the top and bottom of the dough/work surface if necessary.

Roll the dough out to about 12 inches in diameter for a standard 9-inch pie or tart pan. Fold the dough into quarters and move the dough to the pie pan and unfold. Or loosely roll the dough over the rolling pin and unroll over the pie pan. Try not to stretch the dough as you do this. Trim the excess dough around the pan so you have about 1-inch of overhang then fold the dough into the pan edge and decoratively crimp the edges.

Place sliced and pitted summer stone fruit, sugar, 6 tablespoons tapioca starch, lemon juice and zest lemon and cinnamon in a large bowl. Gently mix the filling ingredients together, then pour into the pie crust. Add additional tapioca starch if necessary. Place pan on a rimmed baking sheet to catch any overflowing juices.

Bake for 30 minutes. While the pie is baking making the streusel by placing all the dry ingredients, flour, both sugars, spices, and salt in a medium sized bowl. Stir with a balloon whisk until all the ingredients are evenly distributed and uniform in color. Mix together the melted butter with the vanilla and then drizzle over the dry ingredients, tossing with a fork until they clump together and get crumbly. Cover and refrigerate until use.

Once the 30 minutes is up, remove the pie from the oven and sprinkle the crumb topping over the filling, breaking up any really big large chunks (but make sure there are still some nice size chunks in there). Turn the oven down to 375°F and continue to bake until the fruit juices are thickened and bubbling through the crumb topping, 35–45 minutes longer. If the crumb topping looks like it is browning too much, cover it with foil to keep it from browning as the pie filling cooks. Let the pie cool completely before slicing, about 4 hours.
Nutrition