A couple of weeks ago I had one of those random dreams where everything seemed to make sense in dreamworld logic, only upon awakening, to discover that it was complete nonsense. I'm not sure if it was the NyQuil I had taken to get myself to sleep (just as I was finally getting better from my cough, AJ came down with a cold and passed it on to me) or my crazy brain trying to crack through the stuffy headedness of my clogged sinuses but my unconsciousness seemed in overdrive. Why was there a penguin in my dream? Did that penguin really requesting that I make him cherry muffins or the little corn husk doll that he was holding would die an ugly death? And didn't the penguin know that cherries aren't in season right now? Of course, in his defense, it's quite possible that the penguin is from Chile, where cherries actually are in season. Nevertheless, I woke up with an overwhelming urge to bake cherry muffins. So I whipped up these Cherry Pistachio Meyer Lemon Cornmeal Muffins with Streusel Topping.
I'm not one to think too much of my dreams. I often times don't remember them, though when I do, they are usually entertaining. I used to keep a dream diary next to my side of the bed, in it's own special place on top my faux antique dark stained vaguely Asian inspired wooden bedside stand. I would immediately grab the book whenever I woke up and could remember the dream, scrawling in barely legible handwriting the elusive dream, thinking that it would somehow to give me some sort of insight into my subconscious. But I think I ended up abandoning the habit out of sheer laziness. That or I had one too many dreams about a mysterious sister to Kylie Minogue (no, not her younger lesser known sister Danni, but yet another third sister) that was a disco diva singing hit star by day and a clandestine secret agent by night. Yes, the third Minogue sister was a spy. Not much interpretation needed in that particular dream. It was obvious that I was a screaming homosexual that watched too much spy television like Alias and Burn Notice.
But I digress, as I oft do. I'm not sure what exactly the penguin in my dreams represented, though I think I can place the corn husk doll in the dream from a creepy corn husk doll that used to live in my partner AJ's parent's attic. Thankfully it's not there anymore, but AJ and I would visit his family for the holidays, staying in the spare bedroom up in the attic, and just hope that the corn husk doll wouldn't come alive as they often do in ersatz Stephen King stories, strangling us in our sleep. Why the penguin in my dreams would think that I cared if the doll lived or died is beyond me.
That said, these dream-inspired muffins pretty much hit the spot for me. It's been awhile since I've baked muffins and I have to admit the combination of cherry, pistachio and cornmeal really was pretty inspired, whether they came from a threatening penguin or not. The cornmeal came from the corn husk doll, the cherries from the penguin, and the pistachios, well I don't know where they came from. One of those mysteries of my subconscious I guess. Much like the mystery of how in the heck did that penguin hold up the corn husk doll? It's not like penguins have opposable thumbs or anything.
Special thanks to Oregon Fruit Product Co. for sending me some of their canned fruit as samples to play with.
Cherry Pistachio Meyer Lemon Cornmeal Muffins with Streusel Topping
By
Irvin Lin
These dream inspired muffins use cherries that aren't in season right now. So I used canned cherries provided by Oregon Fruit Product Co. That said, if cherries happen to be in season where you are, feel free to use pitted fresh cherries (sweet works, but sour is even better). Otherwise pick up a can of sour cherries or use frozen pitted cherries. Just drain them/defrost them before use.
I baked these in a tall (king sized) muffin tin with tulip muffin cups, which yields 10 muffins. Just bake them the same temperature for a couple more minutes if you want to use the tall muffin tins. The directions below, however, are for a regular sized muffin tin, where you'll get 12 muffins.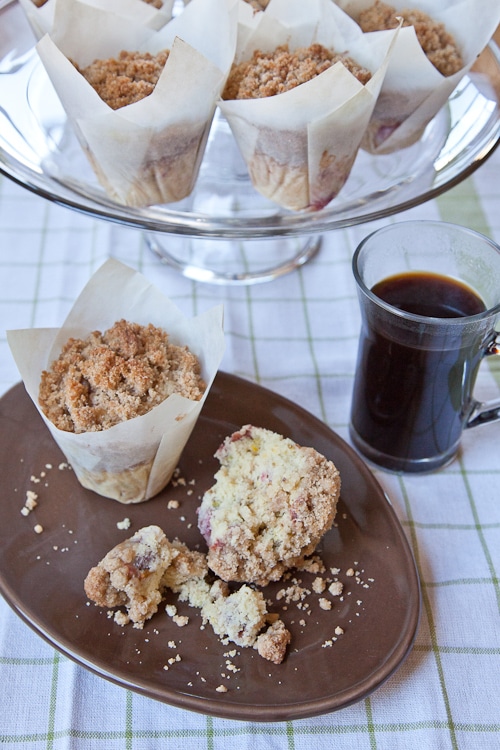 Muffin Batter
280 g (2 cups) all purpose flour, divided
90 g (1/2 cup) cornmeal
1 tablespoon baking powder
1/2 teaspoon sea salt
zest of 1 meyer lemon
1/2 cup sour cream
1/4 cup extra virgin olive oil
1/4 cup meyer lemon juice (juice from 1 medium meyer lemon)
1 large egg
1 teaspoon vanilla extract
1/2 teaspoon almond extract
1 cup white granulated sugar
275 g (1 cup) sour cherries, well drained or thawed
60 g (1/2 cup) shelled & chopped pistachios
Streusel Topping
140 g (1 cup) all purpose flour
55 g (1/4 cup) turbinado sugar
55 g (1/4 cup) white granulated sugar
60 g (1/4 cup) dark brown sugar
1/4 teaspoon cinnamon
1/4 teaspoon cardamom
1/4 teaspoon sea salt
85 g (6 tablespoon) unsalted butter, melted
1. Preheat oven to 350˚F. Line a regular muffin tin with paper cups or spray generously with cooking oil.
2. Place 245 g (1 3/4 cups) flour, setting aside 35 g or 1/4 cup flour for use later, along with the cornmeal, baking powder, salt and zest in a large mixing bowl. With a balloon whisk, stir vigorously until well blended and uniform in color.
3. Place the sour cream, olive oil, meyer lemon juice, egg, vanilla extract, and almond extract in a medium mixing bowl. Beat with balloon whisk until well blended. Add the sugar and mix to incorporate.
4. Scrape the wet ingredients into the dry ingredients with a large spatula. Gently fold the batter together, until most of the dry ingredients are incorporated. It's okay if there are some dry pockets of flour, as you don't want to overmix the batter.
5. Toss the cherries with the reserved flour to coat. Fold the cherries and chopped pistachios into the muffin batter until just incorporated and distributed. Divide the batter into the prepared muffin tins.
6. Make the streusel topping by placing the flour, sugars, spices and salt in a medium mixing bowl. Drizzle the butter over the dry ingredients, tossing with a fork until the topping starts to come together in clumps. Sprinkle the clumps of streusel topping over the muffins evenly.
7. Bake in the oven for 24-28 minutes or until a toothpick inserted in the middle of a muffin comes out clean. Let cool in the muffin tins for 10 minutes before moving them to a wire rack to cool completely.
Makes 12 muffins.