Hey there. How's it going? As usual things have been rather busy here in Eat the Love land. But I wanted to let you all know about a project I've been working on with a bunch of other food bloggers. You may have already heard about it, but it's called Nudie Foodies: Food Bloggers Peel for Japan. It's a fundraising book and calendar with all the proceeds going to support the victims of the Japanese earthquake. It features some awesome food bloggers, all of us donating a recipe and peeling down to our birthday suits.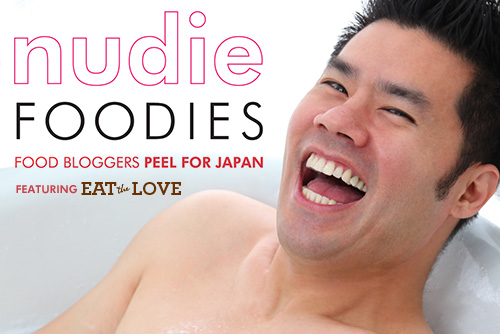 I've donated a recipe for my Slow Roasted Strawberry Blood Orange Spiced Icebox Pie with Almond Scented Crust and White Chocolate Whipped Cream, which I developed exclusively for the book and calendar. it's pretty fantastic if I do say so myself.
The list of food bloggers are pretty amazing, and I'm honored and flattered to be included with them. I've also created a promo video, which has some outtakes from the photoshoot. if you want to see the actual final photo, again you'll have to buy the book, but hopefully the video will wet your appetite.
[youtube vyNL7viVV_c nolink]
In the meanwhile you can hit the up the Nudie Foodie website to find out more information about the project, as well as check out more info about how I felt about being asked to participate, as well as check out all the amazing food bloggers that are participating. And you can follow the Nudie Foodies on twitter at @nudiefoodies. Thanks for all your support!