Is it possible to have TOO many cookbooks? Many of my fellow cookbook obsessed friends will say no but my partner would probably disagree. Especially seeing the towering stack of books on my desk, threatening to fall over on me. But this fall was an amazing time for cookbooks with some brilliant ones being released and that just meant the stack got higher and higher as I tried in vain to figure out a place for them in our tiny apartment. So many books stacked up since my last cookbook roundup from the summertime in fact, that I've broken up my end-of-year cookbook roundup into THREE days (be sure to bounce back here this week for the other two roundups). Here's today's first stack of awesome cookbooks that I can't live without. And to make it even MORE special, I'm giving away THREE cookbooks to one lucky reader! Stick around or scroll to the end of the post to find out how to win Hand Made Baking by Kamran Siddiqi; A Boat, a Whale & a Walrus by Renee Erickson; and Mrs. Wheelbarrow's Practical Pantry by Cathy Barrow! [This giveaway is closed!]
Kamran Siddiq's blog The Sophisticated Gourmet is one of my all time favorite blogs out there. So it's not surprise that his cookbook Hand Made Baking was one of my most anticipated. Turns out it did NOT disappoint. With elegant and gorgeous photography as well as personal anecdotes sprinkled throughout the book, this book feels like having an old friend over for coffee. Or, as Kamran would have it, his easy-peasy brioche, take it and go cookies and curiously chewy oatmeal-raisin cookies along with the coffee. Warm and inviting like a fresh baked chocolate snickerdoodle, these recipes beg to be made immediately and served to a friend or love done.
I am madly in love with the book A Boat, a Whale & a Walrus. Written by a James Beard nominated restaurateur, Renee Erickson, I was fully expecting this book to be one of those gorgeous but inaccessible cookbooks full of expensive ingredients and time consuming preparations. I was right about the gorgeous part but totally wrong about the rest. With stories and menus that are warm and approachable, this is the sort of book I can crawl into bed with and fall asleep to, dreaming of manila clams and roasted rhubarb. Sure occasionally there is a left field idea (rose petal harissa? How cool is that!) that pushes beyond the everyday but each balanced dish seems pretty easy to make without being ordinary. I love the stories, the headnotes and generous side bars that explain some of the ingredients (like what vermouth is or how to pick a crab). For all those people who love to read cookbooks as novels, this is the book for you.
Mrs. Wheelbarrow's Practical Pantry by Cathy Barrow is practically a bible for food preservation. Though there are plenty of books out there that teach you how to pickle, how to make jams and how to cure bacon, this book is so much more than that. With clearly and easy instructions on everything from pressuring canning chicken stock to making and processing tomato puree, the basics are all accounted for. Beyond that there are recipes for how to make homemade condensed split pea soup, to shelf stable duck confit (apparently it's good for up to two years on the shelf!) to smoking salmon this book has it all. Thrown in are recipes for how to use the shelf stable preserved food like pappardelle with smoked salmon and spinach, fish sticks with tartar sauce, and hulu skirt steak. If the zombie apocalypse ever comes, this is the book you want on your shelf!
I ran across the book Bitter by Jennifer McLagan when I shopping at a small little store in Portland. The hauntingly beautiful cover photo as well as the concept of a whole cookbook focusing on the flavor of bitter immediately intrigued me. Bitter is one of those flavors that we as humans are wired to reject because it often signifies poison or food that has gone bad. But as our tastes mature, bitter notes in coffee, chocolate and alcohol cocktails have definitely become sought out. With recipes focusing on greens (like the bitter greens ravioli), citrus (grapefruit tart) and beer (mussels in beer) bitter no longer sounds scary. In fact, I'm ready to dive right into some of the stunning recipes (white asparagus with blood orange sauce looks like a showstopper) and try them out.
Smoke & Spice by Cheryl and Bill Jamison is both a new and old book, having been initially released 20 years ago. Selling over 1 million copies, the James Beard award-winning book has been reworked with 50 new recipes. Though wintertime isn't traditionally the time for outdoor cooking, leafing through the pages of the book makes me long for better weather so I can start slow smoking some meat and vegetables. Recipes like the Martini Leg of Lamb (a gin scented lamb), Honey of a Lobster Tail and White Pizza with Vegetable Confetti are all calling my name! Thankfully I just inherited a giant kettle grill from my downstairs neighbor who is moving which means I can start truly barbecuing when we get a break from the cold and wet weather.
True confession. I've never been to France. For someone who has travelled a whole heck of a lot in his life (including a year in Europe in a high school) I never made there. It's my secret shame as a food writer. Nothing makes me realize this giant éclair shaped hole in my food experience like flipping through a book like My Little French Kitchen by Rachel Khoo. With beautiful photos of France as well as accessible recipes like praline brioche, chocolate basque beret, and carrot tarte tatin that don't require culinary school training I feel like I can live vicariously through this cookbook. Well, until I get my passport renewed that is.
Food bloggers are a funny bunch. We obsess about food, we photograph food, we talk about food, we live for food. And if we're lucky, we get to write a cookbook using all those skills. Jessica Merchant of the blog How Sweet It Is has an absolute love of food that shines through with her first book Seriously Delish. BBQ chicken and sweet corn pizza, roasted pork and pineapple baked taquitos, obsessed with cheese mac & cheese, these are the comfort food recipes that makes me wish she lived closer to invite me over for dinner. I mean come on, she has a recipe for chorizo and balsamic brussel sprout nachos! But since Jessica lives across the country, this cookbook is going to have to do (but Jessica if I ever find myself in Pittsburgh, I'm totally inviting myself over for dinner – you have been warned).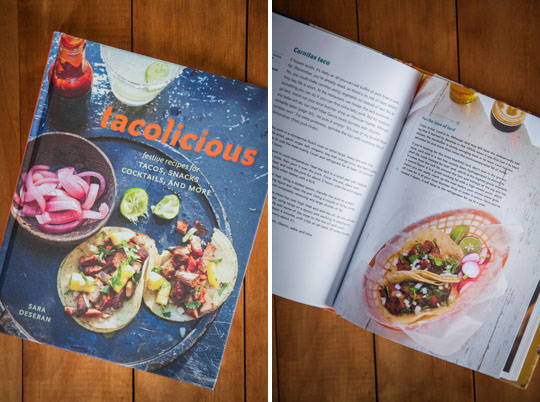 I live four blocks away from Tacolicious and it's an internal struggle everyday not to run down there and grab some tacos for lunch. Thankfully their book Tacolicious means I can actually save the trip (and a little cash) by making their updated contemporary versions of tacos at home. Potato and homemade chorizo tacos, lamb adobo tacos and achiote pulled pork tacos recipes are all winners but the secret to their addictive salsa that you get when you sit down (fresh mint and rice vinegar!) is worth the price of the book alone. The bright photography and festive recipes for drinks, snacks and (of course) the tacos makes this a great addition to anyone's cookbook bookshelf.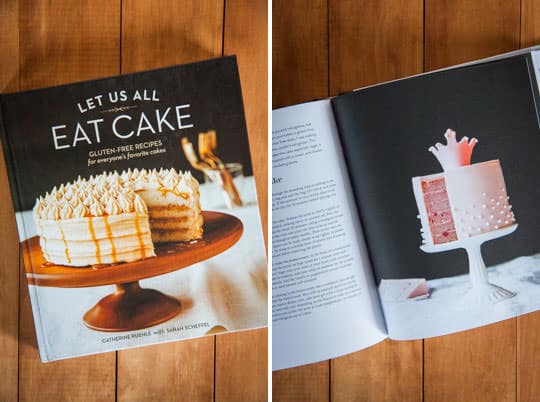 A friend of mine once stated in his Facebook update that the ratio between person and cake is always skewed toward too many people and not enough cake. The book Let Us All Eat Cake is here to fix that problem with 60 cakes adapted and designed for the gluten free community. I'm a huge fan of baking for my gluten free friends and each cake in the book, like her Hummingbird cake, the pink princess cake and her white Christmas Bûche de Noël look as good or even better than the gluten full kinda. I love the idea that these cakes are completely familiar but built from the ground up to be gluten free. Even those people who can eat wheat (that would be me) can benefit from her tips and tricks on decorating the sweet treats.
Mediterranean Vegetarian Feasts by Aglaia Kremezi lives up to its name with 150 recipes for those seeking plant-based dishes. As a lot of people I know are moving away from meat-centric dishes, this is the sort of approachable cookbook that I love to recommend to them. A cookbook that celebrates food and that also happens to be vegetarian focused, without he weird meat substitutes, is how to win people over to a plant-based diet. Creative easy-to-make dishes like linguine with spicy lentils and caramelized onions or fresh fava beans with coriander seeds, garlic and cilantro are the sort of meals that burst with flavor without apologizes. Dishes like orange, olive and baby leek salad with verjus-tarragon dressing and nettle soup with mushrooms and yogurt are the sort of meals that I could make for my partner, an avowed meat eater, and he wouldn't even notice that they were vegetarian. If everyone made fabulous food like this, who cares if there's meat in it or not?
The minute I saw the cover of Huckleberry cookbook by Zoe Nathan with the gorgeous loaf of brioche with fresh blueberries spilling out, I knew I was sold on the book. Not that I need to be sold on a book with recipes form the café in Santa Monica that I visit every single time I go to LA. And I go to LA an awful lot mind you. But there's something about Huckleberry that calls me every time. Though they have fabulous lunchtime meals (I'm partial to their monte cristo sandwich – which there is a recipe included in the book) it's the baked goods that get me every time. They were the inspiration my caramel bars with salted cashews here on the blog. Their chocolate chocolate teacake is a must whenever I'm down there. And the blueberry cornmeal cake is one of my favorites. And yes all those recipes (and more) are in the book. I can't wait to work my way through every single recipe!
I kind of love the idea of the Monday Morning Cooking Club. A gathering of six women on a Monday morning to talk recipes, cook together and create a community around food. Their second book The Feast Goes On, has a warmth and heart to the recipes that I adore. With comfortable recipes like slow-roasted tomato sauce for spaghetti, glazed Asian duck, and potato latkes, this is food from the heart of the Jewish kitchen. With six different chapters created by six different people, ranging from topics like lunchtime, comfort, tradition and everyday, these recipes are the ones that nearly everyone who loves to cook will grow to love, the sort of go-to recipes that I can see being passed on to friends and loved ones.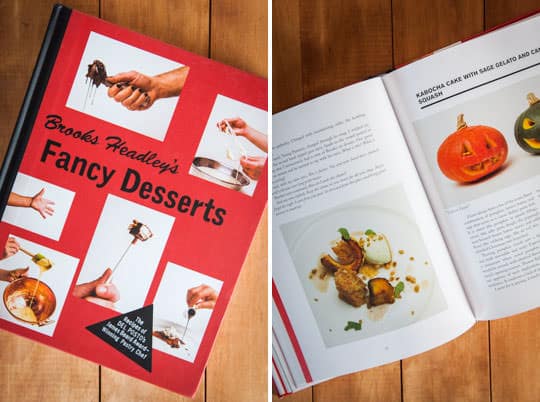 Brooks Headley's Fancy Desserts is not your typical dessert cookbook. In fact, it's not your typical cookbook at all. There are no ridiculously full page food porn photos to entice you into making a recipe that has 72 different ingredients that can only be mailed ordered from a culinary store with a incomprehensible French name. The forward of the book isn't written by a famous chef who's tasting menu costs hundreds of dollars, that is if you can even score a reservation at all. There are no whimsically twee stories about plucking farm fresh fruit from the tree with a slightly overcast gray sky casting cool shadows on the hand in the accompanying photo. Instead you have a book with straightforward ideas from a stellar pastry chef that used to be in a number of hardcore punk rock and indie bands. The introduction is written by Steve Albini (the producer of Nirvana, the Pixies and other seminal 90s punk bands). The recipes range from simple straightforward candied nuts with lots of salt, saffron wedding cookies, and tiramisu to fancier fine dining plated desserts like toasted fennel cake and pickled green strawberries; sweet pea cake with macerated strawberries; strawberry gelato and candied split peas; and lemon ginger curd with rhubarb and polenta chips. In between the recipes are stories and photos from life in a punk rock band, excerpts from zines made on the fly and lots of hilariously colorful language. It's not for everyone, but those who grew up listening to their punk rock 7" singles will devour this book.
Sequels are always a tough thing, especially when the original is so highly acclaimed. Plenty More by Yotam Ottolenghi is the perfect example. How do you follow up a book that everyone pretty much claims to be the best ever? Those who are fans of his first book Plenty won't have much to complain about with the second. Zucchini "baba ghanoush", candy beets with lentils and yuzu, peas with sorrel and mustard, fava bean spread with roasted garlic ricotta nothing in this book is going to surprise people who have love his first one. But for those who can't get enough of the first book, or for the odd duck out there that doesn't have his first one, this book doesn't disappoint.
My partner AJ and I have often talked about if we were to ever retire from San Francisco where would go. Honestly the only place we can think to go would be Sonoma or Napa up in wine country. A New Napa Cuisine by Christopher Kostow certainly helps with that argument. The chef behind The Restaurants at Meadwood does a masterful job of telling the stories of the food and the people behind the food in Napa. With luscious photography, the recipes are definitely aspirational with detailed instructions on dishes that most people won't attempt unless they have a weekend set aside and access to a specialty food source. But never mind that, as just looking at sparsely beautiful photos and reading descriptive titles of dishes like daylily wild onion spot prawn caviar, lamb in clay black lime pistachio or pork seaweed tomatillo oyster is enough to imagine what it tastes like. Retirement may not be in my future anytime soon but this weighty coffee table will do for now.
I still have glorious memories of my 10 day trip to Argentina years ago. I can go on and on about the breathtaking scenery of Iguazu Falls or the stunning architecture of Buenos Aires. But if there is one thing I can pinpoint that would draw me back is the beef, or to be specific the grilled beef. So it comes as no surprise that South American chef Francis Mallmann's new book Mallmann On Fire is a book dedicated to cooking food on an open fire. From beef to fish to chicken to vegetables, the lush photos and enticing recipes make me want to dive in immediately. Recipes like grilled short ribs with vinegar glazed charred endive, duck breast with balsamic vinegar and asparagus, and octopus in an iron box with chard, green beans, tomatoes and eggs sound like the sort of food that everyone needs in their life. Coupled with the stunning photographs, this is the sort of book for everyone who is looking to kick their grilling and outdoor cooking up a notch.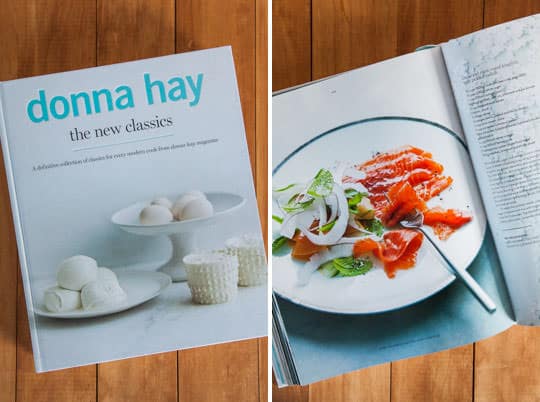 Donna Hay's The New Classics came out last year overseas but was finally released here in the US a couple of months ago. And it's exactly what you expect. Each page is a stunningly photograph of ridiculously delicious food that looks impossibly beautiful. But then you read the recipes accompanying the dishes and you realize that actually the food can be made, well some of them anyway. With recipes range from fairly easy to more moderate (with a few dipping into difficult but definitely not impossible for mere mortals) this is the sort of book that belongs both on your coffee table AND in your kitchen (if you can stand to get it dirty that is). Simple straightforward instructions on how to poach a chicken is followed by recipes for orange and juniper roast duck, while cheesecake swirl brownies go head to head with raspberry and ginger cheesecake slices. The New Classics lives up to it's name delivering updated classic recipes along with new contemporary recipes that will soon be classics.
[This giveaway is closed!]
I'm giving away a copy of Hand Made Baking by Kamran Siddiqi; A Boat, a Whale & a Walrus by Renee Erickson; and Mrs. Wheelbarrow's Practical Pantry by Cathy Barrow to one lucky reader! All you need to do is leave a comment below telling me what your favorite holiday dish. Do you immediately gorge on chocolate crackle cookies when the holidays comes? Do you adore roasted turkey? Or do you dream about cranberry sauce all year long? Tell me what you love and you could win a copy of these three awesome books!
The Fine Print
By leaving a comment below to enter, you are agreeing to the Official Rules.
▪ NO PURCHASE NECESSARY.
▪ VOID WHERE PROHIBITED.
▪ You must be over the age of 18..
▪ This contest is only open to U.S. Citizens. Sorry non-US people!.
▪ The contest starts as of today, and will run until Monday, December 15th, 2014, 9am PST..
▪ The combined retail value of everything is about $104.95..
▪ The winner will be chosen by a randomly selected comment. All comments will be numbered and I will use Random.org to pick a random number..
▪ The number of eligible comments below determines the odds of winning..
▪ If there's a problem with contacting the winner, I reserve the right to award everything to someone else randomly chosen. So in other words, make sure you type in your correct email address if you want the membership and respond within a week to me when I contact you or I'll give everything to someone else..
▪ The prize is being delivered directly from the publishers. If they have not delivered the prize to you within three weeks of me notifying you of winning, please reach out to me again and I will do follow up to make sure everything is OK. Please keep in mind we are all human and things happen. I will do everything within my power to make sure the prize is delivered in a timely manner.
Special thanks to Artisan, Chronicle Books, Fourth Estate, Harper Collins, Harvard Common Press, Houghton Mifflin Harcourt, Sasquatch Books, Stewart Tabori & Chang, Ten Speed Press, W.W. Norton & Company for providing review copies of the books featured above. I was not compensated for this post and all opinions above are completely my own. And extra special thanks to Chronicle Books, Sasquatch Books and W. W. Norton for providing an copy to giveaway to one reader. You guys are the best!
[This blog post has affiliate links, which means if you click through to purchase a book, I get a small percentage of the sales, at no cost to you. If you are uncomfortable with this, feel free to go directly to Amazon.com and search for the book or item of your choice.]