Print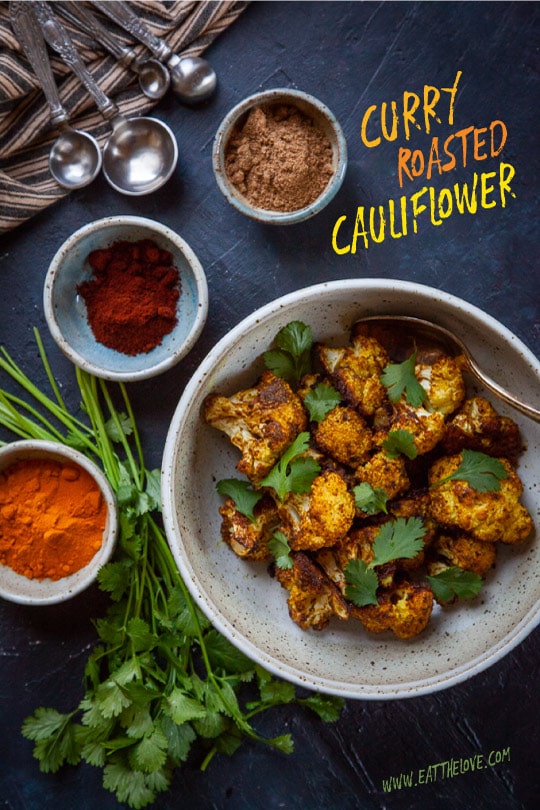 Curry Roasted Cauliflower
This easy vegetable side dish can be prepped in less than 10 minutes active time and on the table in 30 minutes later. I use coconut oil, which adds a subtle coconut flavor to the dish but feel free to substitute extra virgin olive oil if you don't have any coconut oil in the pantry.
1

large cauliflower

about 2 to 2 1/2 pounds

3

tablespoons

extra virgin coconut oil

or olive oil

1

teaspoon

ground cumin

1

teaspoon

ground coriander

1/2

teaspoon

ground cardamom

1/2

teaspoon

ground turmeric

1/2

teaspoon

paprika

1/2

teaspoon

fresh ground pepper

1/2

teaspoon

kosher salt
Preheat the oven to 425°F. Lightly spray a rimmed baking sheet with cooking oil.

Break the cauliflower down into florets and smaller stems and place in a large bowl. Save the leaves for another purpose (the leaves are edible and can be used just like cabbage).

Place the coconut oil in a microwave safe bowl. Cook on high in the microwave, in 10 second burst, until liquid.

Add the spices to the oil and stir to combine.

Drizzle spiced oil over the cauliflower florets and toss to coat. Pour onto pan and arrange in a single layer.

Roast in the oven for 30 minutes or until the cauliflower is tender and easily pierced with a fork. Garnish with cilantro leaves and serve immediately.