This orange scented, spiced apple and cranberry pie has almond butter in the crust making it one of the most flavorful and best pies for the holiday season! (Jump directly to the recipe.)
This post was sponsored by the Lindsay Olives. I was compensated for this post and for developing the recipe. However, all opinions below are completely my own and not endorsed by Lindsay Olives.
Recently, on Instagram, I posted a question about Thanksgiving pies. I was curious if folks were more Team Pumpkin Pie or Team Pecan Pie. Of course, unsurprisingly, most folks were team BOTH pies. Because the more pies the better! But a few folks also commented or direct messaged me a third option that I left out. APPLE PIE. Which I completely understand, as I'm a huge fan of apple pie too. It seemed like such an egregious mistake on my part that I had to make up for it by whipping up this awesome Apple and Cranberry Pie with Almond Butter Crust.
Truth be told, I'm TEAM PIE when it comes to desserts. Pretty much ANY pie. Not that I don't love cake. But give me a slice of pie pretty much any day of the year and I'm happy. But too often the one thing that gets neglected in making decent pie the crust. Pie crust is a pretty basic when it comes to the ingredients, flour, butter, salt and water. But that also means the pie crust tends to taste kind of boring, even if you do a great job of making it flaky and tender.
But there are so many ways to flavor the pie crust as well! Sure you can add some spirits like bourbon, rum or flavored vodka as part of the liquid. Or you can sprinkle some spices like cinnamon or ginger in it. But one of my favorite tricks is substituting out some of the butter for almond butter. Lindsay has a new almond butter that is incredibly smooth and creamy and works perfectly in this crust.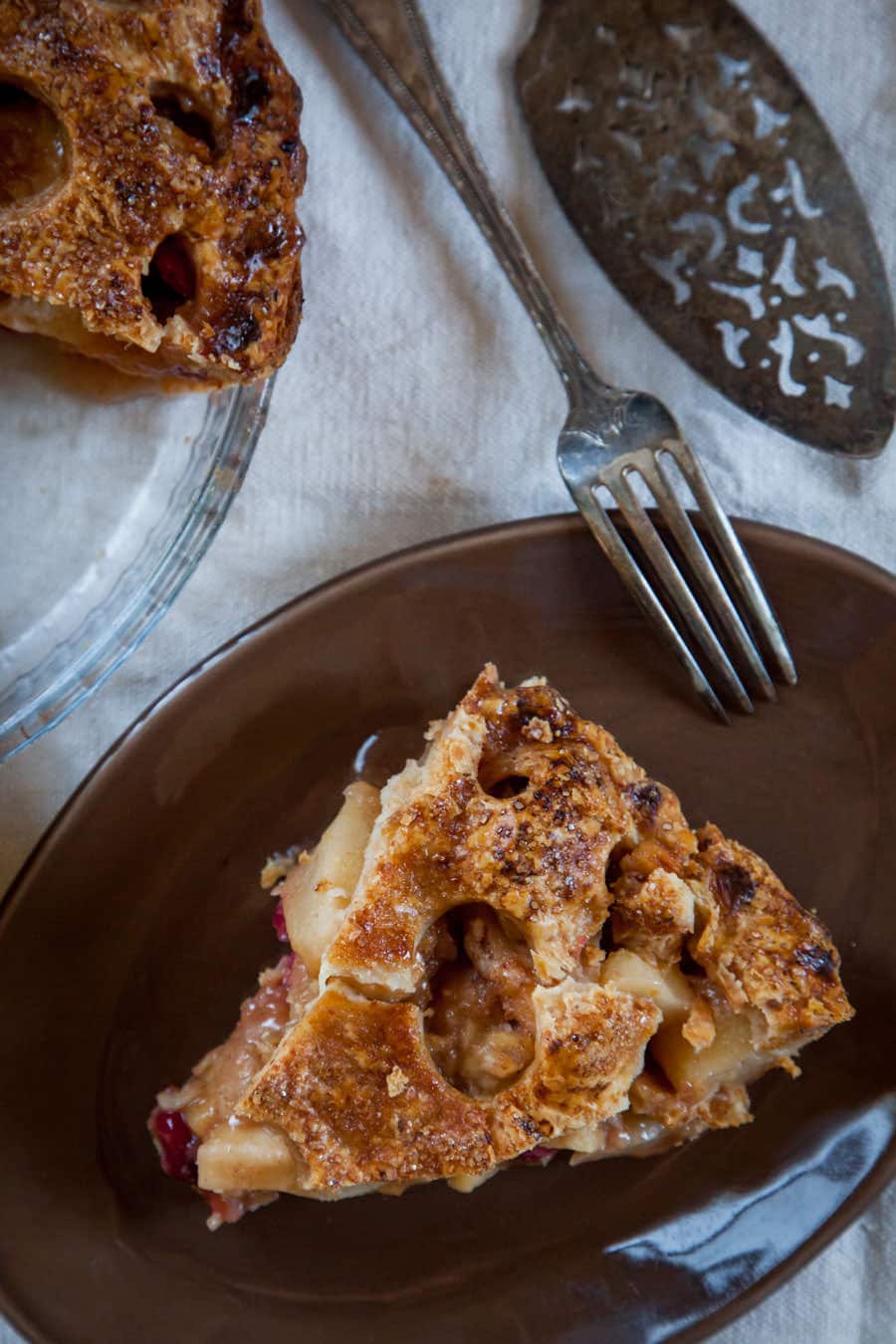 And, of course, almond goes so well with apple and cranberry. Sure you can just spread a bit of almond butter directly out of the jar onto the apple slice and eat it. But once you taste the almond butter in this pie crust, you'll never go back to boring same-old apple pie!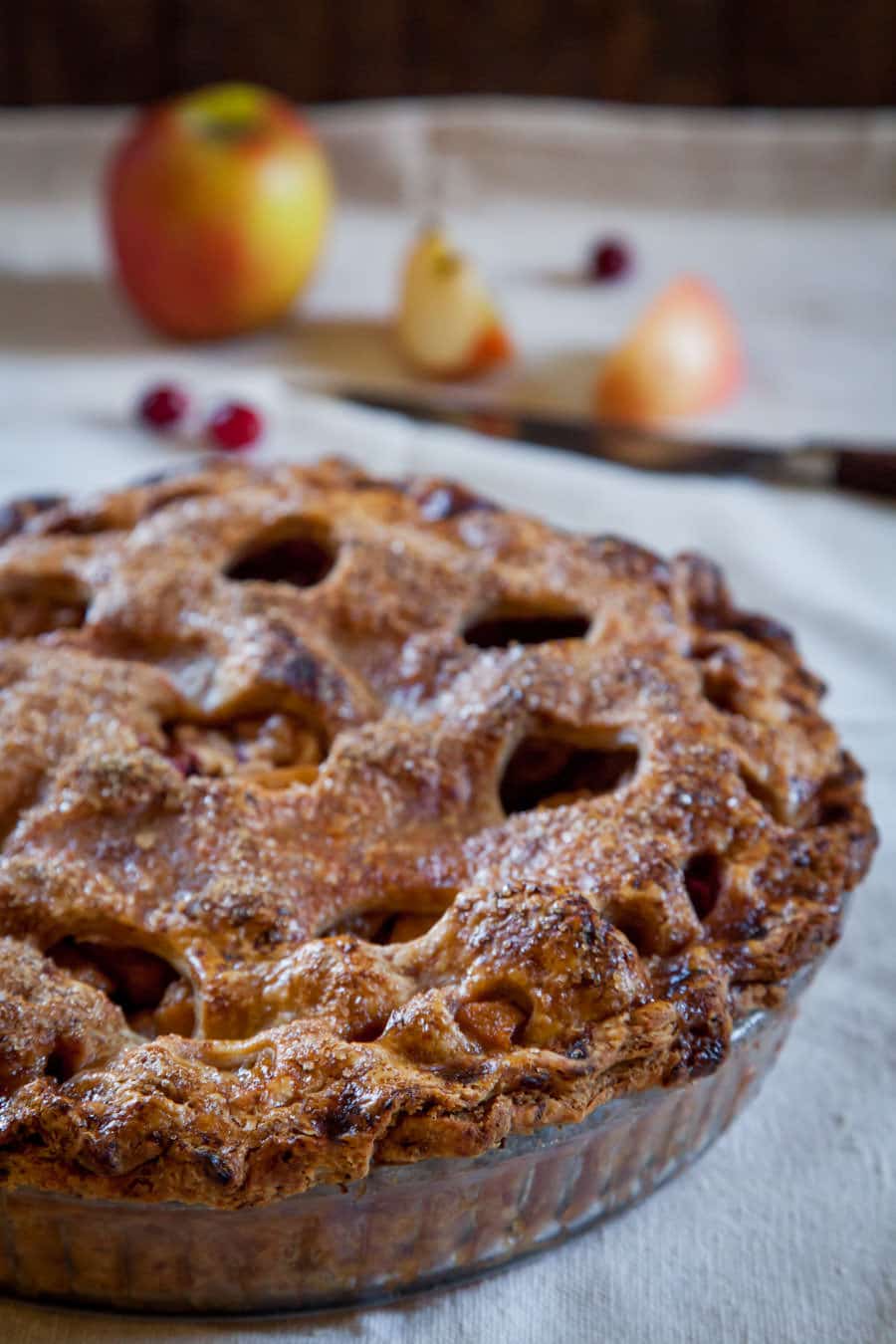 Lindsay is hosting a "Sharing the Harvest" sweepstakes where you get 4 chances to win a Harvest prize pack of Lindsay products and a $50 gift card. Entering is as easy as answer a question like "what's your favorite fall appetizer?" Bounce on over to their website or Instagram page to learn more about it and to enter!
Apple and Cranberry Pie with Almond Butter Crust
This sweet and tart apple and cranberry pie has hints of orange in the filling as well as a nutty almond pie crust made with almond butter. The recipe is unique in that you making the filling first, then let it sit around for about 90 minutes or while you make the pie crust and let it chill in the fridge to firm up. It sounds unusual, but this allows the liquid to seep out of the apples reducing them in size and reducing those weird "gaps" in the pie when they cook down in the baking. Try to pick a variety of apples like Granny Smith, Jazz, Honeycrisp, Gala, Braeburn or whatever you can find. I bake the pie extra-long, to make sure the apples are cooked and tender, which means I also have to cover the top of the pie crust with aluminum foil halfway through baking. It seems like an extra step but it's worth the effort in the end! Just make sure to allow for plenty of time to bake the pie, or make the pie filling and crust the day before if you want and just chill in the refrigerator
Ingredients
Filling
4

pounds

apples

1815 g or about 12 medium, see headnotes above

1/4

cup

fresh squeezed orange juice

zest from 1 medium orange

1

cup

packed light brown sugar

220 g

1 1/2

teaspoon

ground cinnamon

3/4

teaspoon

ground ginger

1/4

teaspoon

ground nutmeg

1/2

teaspoon

kosher salt

2

cups

fresh cranberries

6 1/2 ounces or 185 g

1/4

cup

all-purpose flour

35 g
Crust
3 1/4

cups

all-purpose flour

455 g

1

teaspoon

kosher salt

1 1/2

cups

unsalted butter

340 g or 3 sticks

1/2

cup

Lindsay Classic Creamy Almond Butter

135 g

2/3

cup

cold water
To assemble
1

egg yolk

1 to 2

tablespoons

Turbinado sugar

or sparkling sugar or granulated white sugar
Instructions
Directions
Make the filling by first setting aside two of the apples. Peel, core and cut the remaining apples into 8 wedges. Peel, core and quarter the remaining two apples, then grate them through the hole of a large box grater. Place all apples wedges and grated apples in a bowl with the orange juice, zest, brown sugar, cinnamon, ginger, nutmeg and salt. Gently mix and fold with a large spatula to coat apple wedges and then cover with plastic wrap and set aside while you make and chill the pie crust for 90 minutes or overnight in the fridge.


Make the crust by placing the flour and salt in a large bowl. Cut the butter into 1/2-inch chunks and add to the bowl. Add the Lindsay Classic Creamy Almond Butter. Toss together with a fork, to coat the butter chunks and almond butter.


Using your fingers, smash the butter into small bits, about the size of peas. While you do this, you will also inadvertently blend the almond butter into the flour as well. Continue doing this until all the butter it smashed to small bits. Then drizzle the cold water over the mixture and toss with a fork or spatula until the water starts to absorb and a shaggy dough forms. Continue massage the mixture with your hands until a dough forms.


Split the dough in half then flatten each half into a disk, about an inch thick. Tightly wrap each disc in plastic wrap then refrigerate for 1 hour or overnight.


Stir the apples once or twice while the dough is chilling. Once the dough is chilled, roll one of the disks out into a 12-inch disk on a well-floured clean surface. Fit the dough into a 9-inch glass pie pan, trimming excess dough, leaving about an inch overlay. Add the fresh cranberries and the flour to the filling and stir to coat. Pour into the pie shell.


Roll the second disk out into a 12-inch disk on a well-floured clean surface. Cut some decorative holes into the disk and then fit over the pie filling. Seal the dough together by decoratively crimping them together with your fingers. Place back in the fridge for 30 minutes to chill further. Meanwhile preheat the oven to 425°F.


Once the pie has chilled, beat the egg yolk with one tablespoon of water. Brush egg wash on the top crust then sprinkle the Turbinado sugar over the pie. Place the pie on a rimmed baking sheet to catch any drips and bake for 20 minutes. Reduce the heat to 375°F and bake an additional 30 to 40 minutes or until the top of the pie is golden brown. Pull the pie out of the oven and cover the top of the pie with aluminum foil to prevent further browning and place back in the oven and bake for additional 45 minutes to 60 minutes, or until the filling is bubbling hot or an instant read thermometer inserted in the middle reads about 180-185°F. Let cool to room temperature before serving.
Nutrition