Once again, the first Wednesday of the month rolls around and the fine folks of the Gluten Free Ratio Rally all decide to post around a common item. This month's baked good is scones, hosted by the amazing Lauren of CeliacTeen. There was no actual set ratio for the scone given this time (though a few ratios were suggested), so I dug around and looked at some of my old recipes and created my own ratio. With a couple of trial runs, I'm thrilled to present to you a savory scone for your breakfast enjoyment, the Green Garlic, Bacon and Thyme Scone with White Pepper Maple Glaze.
Compared to some of the other baked goods I've worked on, the scone recipe came about pretty easily. I only had to make a couple of test rounds before I was happy with the recipe. So happy that AJ turned to me, after taking a bite and proclaimed to me "It's breakfast in a bite!" and that was only the first test batch round.
There's something nice about taking a break from the sugary sweet baked delights that I normally do. I've been buried knee deep in desserts and sweets lately and when I realized that the Gluten Free Ratio Rally was coming up, I knew that I wanted to do something savory based. Scones, the overlooked lovechild between a muffin and a biscuit in the baking world, were the perfect thing to play with.
I came across these new (to me) green garlic at the local organic neighborhood shop. Where have you been all my life green garlic? It's a young Spring version of garlic, milder than actual garlic and similar in texture to a green onion or scallion. Think of a fresh green version of garlic, and you have an idea of what it taste like. You can get it at farmer's markets and produce stands and it's definitely worth tracking down. It's wonderful in sauces and soups, and it's fantastic in these scones, as it doesn't have the harsh bite of garlic, and really brightens up the flavor.
The green garlic along with the thyme, really lighten up the scone. These aren't heavy, they aren't dry and they aren't sandy or crumbly like some scones that I've had at coffee shops. They're delicate and have a wonderful crumb, with hint of smoke from the bacon and a touch of maple syrup sweetness on top to compliment everything else. Think hand held breakfast, but not in a scary hockey puck fast food sort of way. More of an amazing wholesome breakfast (well as wholesome as bacon can be I guess) all bundled up into one tiny little triangle wedge. In short, they are the perfect thing to reach for in the Spring morning, with the sun shining bright on your kitchen counter and your freshly brewed cup of coffee is steaming hot.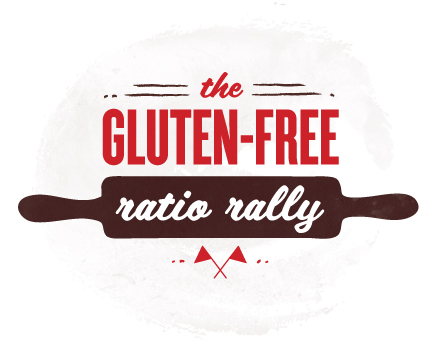 For those who don't know, the Gluten Free Ratio Rally is a group of bakers who are baking the same item each month, gluten free, based on a ratio. There are a number of awesome bakers who are involved. Pop on over to this month's host, CeliacTeen and check out all the fantastic other creations or follow the hashtag #gfreerally on Twitter.
Green Garlic, Bacon and Thyme Savory Scones with White Pepper Maple Glaze
What's great about savory scones is that you can play with different flours than you normally wouldn't use with a sweet baked good. For instance garbanzo bean flour. I used to think I hated that flour as it hogged the stage, acting like a diva and taking up the spotlight in any baked good I used it in. But then I realized it just didn't play well with sugar and sweetness. It was a salty savory sort of actress. Put it in a savory baked good, it mellows out and fades into the background, become part of the ensemble. Now I'm going to start reaching for it, even when I don't bake gluten free but want a savory depth to my baked goods. One thing to note about potato and garbanzo bean flours, they both are hygroscopic flours, meaning they suck up water. I've compensated by adding more sour cream and an egg yolk. You may need to adjust the ratio if you use different flours.
By the way, the maple glaze on top of the scones add just a hint of sweetness, that works really well with the bacon. I originally tried it with black pepper and though it tasted decent, the dark spots on the glaze made it the glaze look a little bit too much like turkey gravy. Not appealing. The white pepper solved this problem AND gave the maple glaze an allusive sharp bite that only white pepper has, helping to balance the sweetness. You don't need too much glaze, just enough to add a bit of shiny sweetness.
Final Savory Scone Ratio: Egg: 1.4 (one egg, one egg yolk) Flour: 2.65 Fat: 1 Liquid: 2 (using sour cream or yogurt)
Scone
230 g (3/4 cup) full fat sour cream
2 tablespoon flaxmeal
2 large eggs
2 large egg yolks
8 oz of thick cut bacon
2 medium green garlic stalks
100 g (3/4 cup) corn starch
60 g (1/4 cup plus 2 tablespoons) potato flour (not potato starch)
60 g (1/4 cup plus 3 tablespoons) millet flour
80 g (3/4 cup) garbanzo bean flour (sometimes called chickpea flour, gram flour or besan) plus more for dusting and forming scones
1 teaspoon salt
1 teaspoon freshly ground black pepper
2 tablespoon chopped fresh thyme
113 g (1/2 cup, 1 stick) unsalted butter
1 egg white plus 1 tablespoon of water for pastry glaze
Maple Glaze
1 tablespoon butter
3 tablespoon maple syrup (grade B if available)
57 g (1/2 cup) confectioners' (powdered) sugar, sifted
1 teaspoon white pepper
1. Preheat the oven to 350˚F. Line a baking sheet with a silpat or piece of parchment paper.
2. Place the sour cream, eggs and egg yolk in a small bowl and stir in the flaxmeal until incorporated. Put aside to let the flax meal absorb some of the liquid.
3. Cut off the white part and 1 inch of the green part of the green garlic stalk (discarding the rest of the stalk). Then slice lengthwise and chop the green garlic into 1/2 inch slices. You should have roughly 1 cup. Then chop the bacon into small 1/4 inch pieces and cook them in a skillet on medium heat until just crispy and the edges are starting to carmelize. Then place the chopped green garlic in the same skillet and sauté it with the bacon until fragrant, about 1 minute longer. Remove from heat and place in a bowl lined with paper towels to absorb bacon oil.
4. Place the corn starch, potato flour, millet flour, garbanzo bean flour, salt, pepper and thyme in a large mixing bowl. Taking a balloon whisk, vigorously stir the dry ingredients until well blended and uniform in color.
5. Cut the butter into 1/2 inch cubes and add them to dry ingredients. Using your hand, rub the butter into the dry ingredients, until the mixture starts to look pebbly. Add the bacon and green garlic to the dry ingredients and stir with a large spatula to evenly distribute.
6. Add the sour cream & egg wet ingredients, and using a spatula, mix to create a dough. It will be wet and sticky, but since there is no gluten to toughen the flour, you don't have to worry about overmixing.
7. Generously sprinkle a flat surface with garbanzo bean flour and then scrape the dough onto the flour. Split in half and roll one part of the dough around on the flour and then flatten into a disk, about 6 inches in diameter. Cut the disk into 6 pie wedge pieces. Repeat with the second half, using more garbanzo bean flour if needed.
8. Beat together the egg white and 1 tablespoon of water until foamy. Place the scones about two inches apart on the baking sheet. Brush each scone with the egg wash and bake in the preheated oven for 18 – 20 minutes, or until the top of the scone starts to get golden brown and a toothpick inserted into the middle comes out clean.
9. After the scones are done, leave them on the baking sheet to cool a little bit and make the glaze by combining the maple syrup and the butter in a microwave safe bowl and microwaving it for 30 seconds. Be careful that the maple syrup doesn't boil over. Pull out the syrup and stir until the butter is melted. If it isn't warm enough to melt all the butter, microwave for another 15 seconds. If you prefer, you can also heat the syrup and butter on a stovetop until the butter melts. Add the sifted confectioners' sugar and the white pepper and stir until smooth.
10. Once the glaze is done, move the scones to a cooling rack. While the scones are still warm, brush the glaze over them, to thinly coat the top. Serve warm or let cool to room temperature.
Makes 12 scones