It's always a dash to the finish line for me when it comes to the Daring Baker's Challenge. And though I always ALWAYS vow to myself that I'll make it WAY ahead of time… I never do. This month was no different, except for the fact that I checked into the challenge to see what I needed to make and it was a panna cotta. Which meant it needed to chill for eight hours in the fridge, which meant I couldn't just make it last minute. Or could I? That's what ice water baths are for! So I present to you my latest Daring Baker's Challenge, a vanilla bean and blood orange panna cotta with orange caramel sauce and orange cardamom hazelnut dark chocolate Florentines made at the last minute. The February 2011 Daring Bakers' challenge was hosted by Mallory from A Sofa in the Kitchen. She chose to challenge everyone to make Panna Cotta from a Giada De Laurentiis recipe and Nestle Florentine Cookies.
Of course, as always, I wanted to do more with the challenge; more layers, more contrasting flavors, more funky shapes for the cookies. *sigh* But this is what I came up with last minute. Groping around in the kitchen, I saw that AJ had picked up some blood oranges (we affectionately call them bloody oranges because our friend Ben once called them that) at the local grocery store. I love bloody oranges. I wonder how they would taste in a panna cotta? Only one way to find out!
AJ was suitably impressed. He personally loves milk, cream and all things dairy, so the idea of a dessert that is pretty much just milk is sugar and flavoring was fabulous (this explains his eternal love for ice cream). For me, I had never made panna cotta before, much less tasted one before (What? How is that possible? But nope, never had one) but now I know what I've been missing. Creamy, smooth and sweet in my mouth, I wanted to swoon with my first bite. I could go on, but it would just get more obscene so I shall stop.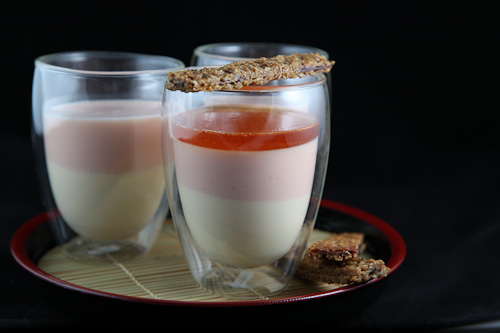 To accompany the layered vanilla bean and blood orange panna cotta, I made an orange caramel sauce with a touch of allspice and orange hazelnut dark chocolate Florentines. The caramel added a sharp bite of sweetness slightly tempered by the orange juice and a contrast to the other two cream layers. The cookies were a nice touch; dark and crunchy to balance the light and creamy. At one point AJ turned to me and said "OK. I have to stop now. I've eaten too many cookies." Best compliment ever.
Panna cotta, by the way, is super easy to make. Way easy. I love how versatile it is and how you can just add any old flavor you want to it. Even more fun was photographing them. AJ and I had a blast trying to figure out the best way to photograph the layered dairy creation. In the end, AJ took a photo directly above with all the props that I added (whoo! I get to be food stylist!). It's our ode to Saveur Magazine. Normally I would call it "the money shot" but I'm going to refer to it as "the Penny shot" – after Penny de los Santos.
Thanks Daring Bakers for the challenge! Can't wait until next time!
Vanilla Bean and Blood Orange Panna Cotta (naturally gluten free)
By Irvin Lin
Though I was supposed to use the recipe from Giada De Laurentiis, I opted to go to with my Professional Baking book by Wayne Gisslen, as part of my Pro Baking project. The recipe is dead easy. I've created two variations based on it, a vanilla bean and a blood orange. Explanations on how to layer it is below as well. You can easily double (or even triple) the recipe for the vanilla bean or the blood orang panna cotta and skip the layering. Keep in mind the caramel sauce makes triple the amount needed, so feel free to adjust it or just save it for another use (like over ice cream!).
Panna Cotta recipe adapted from Professional Baking 5th Edition by Wayne Gisslen.
The Florentines are radically reworked from the original Nestle Florentine Cookies.
The Caramel Sauce is based off of a Sherry Yard recipe from her book The Secrets of Baking.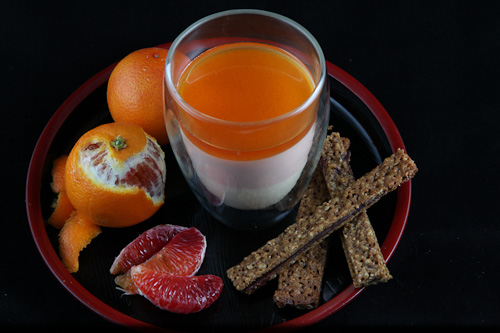 Ingredients
Vanilla Bean Panna Cotta
1 teaspoon powdered gelatin
4 teaspoons cold water
3/4 cup (150 g) whole milk
3/4 cup (150 g) heavy cream
1/4 cup + 1 tablespoon granulated white sugar
1/2 teaspoon vanilla extract
1/2 vanilla bean
Blood Orange Panna Cotta
Adapted from Professional Baking 5th Edition by Wayne Gisslen
1 teaspoon powdered gelatin
1/4 cup (50 g) of blood orange juice, divided
1/2 cup (100 g) whole milk
3/4 cup (150 g) heavy cream
1/4 cup + 1 tablespoon granulated white sugar
1/4 teaspoon of lemon extract (optional)
All Spice Orange Caramel Sauce (naturally gluten free)
1/2 cup fresh squeezed orange juice, strained without pulp
1/2 cup water, divided
1 cup plus 2 tablespoons granulated white sugar, divided
1/4 teaspoon all spice
2 tablespoons light corn syrup
Orange Cardamom Hazelnut Dark Chocolate Florentines (gluten free)
1/2 cup (65 g) hazelnuts
1 1/2 cup (120 g) quick oats (make sure to use certified gluten free if that is a concern)
1/4 cup (35 g) oat flour (make sure to use certified gluten free if that is a concern)
3 tablespoons + 1 teaspoon (30 g) sorghum flour
3 tablespoons (30 g) sweet rice flour
2 tablespoons (18 g) golden flax meal
Zest of 2 medium blood oranges
1/2 teaspoon cardamom
1/4 teaspoon sea salt
1/2 cup + 3 tablespoons (150 g) unsalted butter
2 tablespoons heavy cream
1/4 cup molasses (not blackstrap)
1 teaspoon vanilla extract
4 oz of dark chocolate (make sure to use certified gluten free if that is a concern)
Directions
1. Make the vanilla panna cotta by placing the powdered gelatin in a small bowl and then pour the cold water over it to let it soften. Place the milk, cream, sugar and vanilla extract into a medium pan. Split the vanilla bean lengthwise and scrape the seeds out of the pod into the milk. Put the scraped out pod into the milk. Cook the milk on medium until the sugar has dissolved and small bubbles start to form on the sides of the pan. Do not let the milk boil. Turn off the heat and add the gelatin. Stir to dissolve the gelatin. Remove the vanilla bean pod. Pour into molds or glasses and chill until set, about 6-8 hours or overnight.
2. Make the blood orange panna cotta by placing the powdered gelatin in a small bowl and then add 4 teaspoons of blood orange juice into the bowl to let it soften. Place the remaining blood orange juice, milk, cream, sugar and lemon extract if using into a medium pan. Cook the milk on medium until the sugar has dissolved and small bubbles start to form on the sides of the pan. Do not let the milk boil. Turn off the heat and add the gelatin. Stir to dissolve the gelatin. Pour gently over the set vanilla panna cotta and chill until set.
3. Make the caramel by placing the orange juice, 1/4 cup water, 2 tablespoons sugar and all spice into a small pan. Heat until the sugar is dissolved and the mixture boils. Remove from heat and cover. Place 1 cup of sugar, remaining 1/4 cup water, and corn syrup in a large pot. Turn the heat on to medium and cover the pot. Let the sugar cook for 4 minutes. Remove the cover from the pot and turn the heat onto medium high (if you are adept at making caramel, you can turn it to high). Watch the sugar carefully. It will be bubbling. The bubbles should grow bigger and that's when you need to watch it turn to caramel.
4. Cook the sugar until it starts to caramelize. I like to bring my caramel past golden brown to near mahogany but that can be dangerous if you don't have experience making caramel. You want to watch the sugar carefully and once it starts to turn brown, swirl the pan around to evenly cook it. You can always pull it off the stove and then put it on again, but if you over cook the caramel you have to start from scratch.
5. Once the sugar has turned golden brown (about 345˚F on a candy thermometer if you want to use it) turn off the heat and swirl it around to make sure all the sugar is evenly cooked, and then place it on a stable surface (another burner if you are using electric, or the same burner with the gas turned off). Then pour the orange juice into the caramel. Be careful as it will bubble and steam, don't get burned!
6. Once the caramel settles down, stir the mixture with a heatproof spatula or wooden spoon. If there are bits of caramel that have not dissolved, you can heat the caramel up again to dissolve them back into the syrup. The caramel will thicken as it cools. Pour the caramel over the panna cotta right before serving.
7. Make the Florentines by preheating an oven to 375˚F (190˚C). Line two baking sheets with silpats or parchment paper.
8. Place hazelnuts into a food processor and process until the hazelnuts are finely ground. Be careful that you don't grind them into hazelnut butter though. Pour ground hazelnut meal, quick oats, oat flour, sorghum flour, sweet rice flour, flax meal, zest, cardamon and salt into a large mixing bowl. Using a whisk, vigorously stir until well blended.
9. Melt butter in a medium pan over medium heat. Once melted, remove from heat, add the heavy cream, molasses and vanilla. Stir until well mixed, and pour into dry mixture. Using a spatula or wooden spoon mix the cookie dough until the butter is incorporated. Since there is no gluten or wheat, there is no fear of overworking the dough.
10. Form small tablespoon size balls of the dough and then flatten with the palm of your hand. Place on the lined baking sheets at least 3 inches apart (these suckers spread!) and then bake for 7 to 9 minutes or until the edges are golden brown and the cookies have spread out. Cool the cookies on the baking sheet for at least ten minutes or preferably until completely cool then move to a cooling rack.
11. While the cookies are cooling, chop the dark chocolate into small 1/4 inch chunks. Then melt it by placing it in the microwave for 30 second intervals, stirring between intervals. Once the cookies are completely cooled, turn them over, and smear a small amount of melted chocolate on the bottom of one of them, and then place the other one bottom side down on top of it, bottom to bottom sandwiching the cookies. Repeat with the remaining cookies. Refrigerate for 10 minutes or so until the chocolate solidifies, gluing the cookies together.
Makes 4 desserts with leftover cookies and caramel sauce.