These easy-to-make sweet and tart lemon lime bars have crushed pistachios in the crust and will give you a huge smile when you bite into them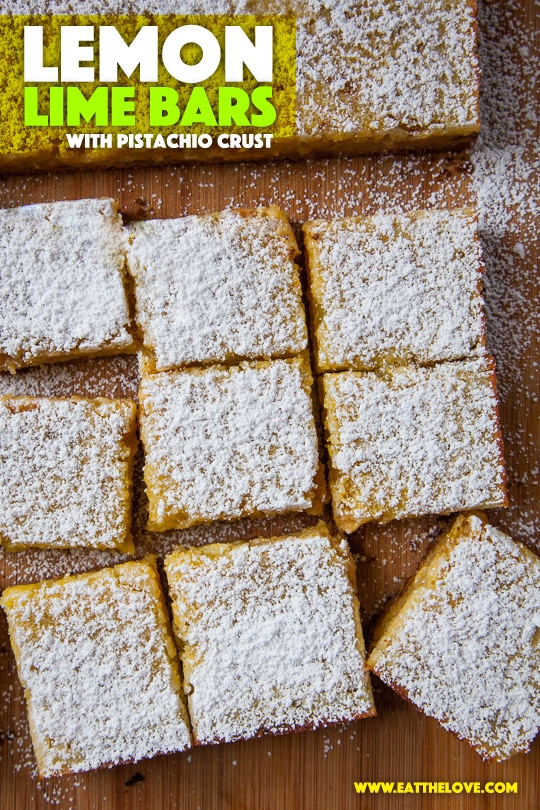 This post was sponsored by Bisquick. I'm teaming up with Bisquick to bring you fun and innovative recipes using Bisquick. I was compensated for this post and for developing the recipe. However all opinions below are completely my own and not endorsed by Bisquick.
California has been in a drought for what seems like forever but with all the rain that we've been undergoing, I think we might finally be coming out of it. It's been raining now stop here in San Francisco for what feels like months. And that means I usually hunker down in the kitchen and cook and bake. And though winter feels like a time for heavy chocolate desserts, when I want something bright, I reach for the citrus. Which is how I ended up making these bright and tart lemon lime bars with pistachio crust. (Jump directly to the recipe.)
Despite the poor weather, I realize that I am particularly lucky living in San Francisco. Not only is it a beautiful gorgeous city but my local grocery store (BiRite Market) always has an annual winter explosion of citrus. Though I grew up with the basic navel oranges, lemons, limes and grapefruit, but all of sudden I have a dizzying array of citrus, from Cara Cara oranges to Meyer lemons to Finger limes to Buddha's Hand. These are fruits that I never even knew existed growing up in the Midwest. But now I almost take them for granted. Almost.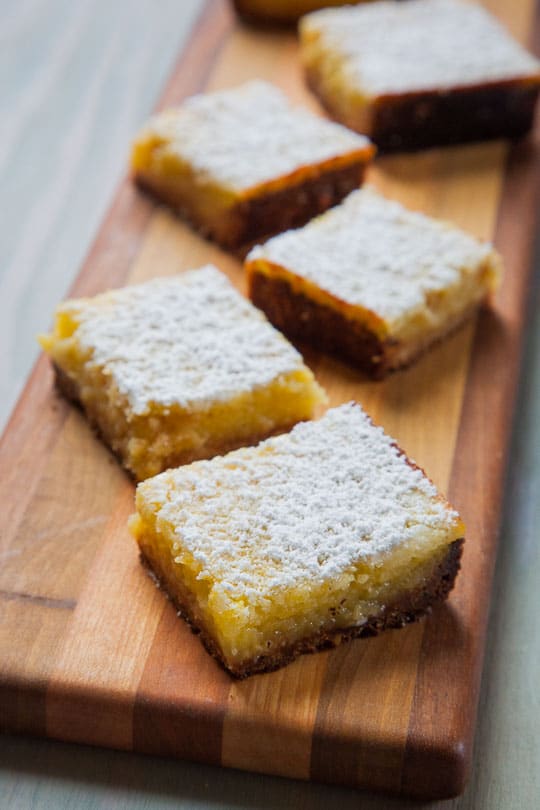 In the end, I reached for the classic everyday lemon and limes (Eureka lemons and Persian limes if you want to know the specific names for them). These are the citrus fruits that you can get at every grocery store. But if you're lucky enough to have a high end grocery store or farmers market that offers a larger selection of citrus, try to substitute out Meyer lemons or Bergamot oranges for the lemon and Key limes for the lime. Meyer lemons will give you a sweeter bar, while Bergamot oranges will give you a heady perfumed scented sourness while Key limes will give you an intense lime flavor that cuts through the grayest of bad weathers. But know that even if you can't get ahold of those specialized citrus, the lemons and limes you have access to will still create a wonderfully bright baked good.
Lemon and Lime Bars with Pistachio Crust
By Irvin Lin
I added a touch of pistachios to the crust to give the bottom of these bars a little texture and nutty flavor. If you don't like nuts or are allergic, leave them out and increase the Bisquick mix by 1/4 a cup. Regular grocery store lemons and limes are perfect for these bars, but if you do come across specialty citrus like Meyer lemons, Bergamot oranges, or Key limes feel free to substitute. These bars need to chill overnight in the fridge before serving so plan accordingly.
Ingredients
Crust
1/2 cup (57 g) powdered sugar
1 1/2 cup (210 g) Bisquick
1/2 cup (115 g or 1 stick) unsalted butter at room temperature
1/2 cup (75 g) shelled pistachios
Filling
2 1/4 cups (450 g) sugar
1/2 cup (70 g) Gold Medal all-purpose flour
zest of 2 lemons
zest of 2 limes
1/2 cup + 2 tablespoons fresh squeezed lemon juice
1/2 cup fresh squeezed lime juice
6 whole eggs
1 egg yolk
1/8 teaspoon kosher salt
Directions
1. Preheat the oven to 350ºF. Lightly spray a 9 x 13 baking pan with cooking oil.
2. Sift the powdered sugar into the bowl of stand mixer fitted with the paddle attachment. Add the Bisquick and stir dry ingredients together with a balloon whisk. Cut the butter into 1/2-inch cubes and add to the bowl.
3. Place the pistachios in a freezer ziplock bag, seal it, and then crush the nuts with the rolling pin. Add them to the bowl.
4. Turn the mixer on the lowest speed and continue to stir until the butter has broken down into small pieces and the mixture looks sandy. Increase the speed to medium low and continue to mix until the dough starts to form into small round bits. This will take awhile and you might think it won't get there. You can increase the speed if you want to hurry the process but if ingredients start to fly out of the bowl, lower the speed again.
5. Once the dough starts to clump together, dump the dough into the baking pan and evenly distribute the clumps on the bottom of the pan. Then, using your hands press the clumps down into a thin, flat, even layer of crust on the bottom of the pan. Line the pan with a piece of parchment paper and then fill with pie weights, dry rice or uncooked beans to weigh it down.
6. Bake for 20 to 25 minutes, or until the dough edges start turn golden brown.
7. While the crust is baking, make the filling by placing all the ingredients in the bowl of the stand mixer (no need to clean it). Mix together slowly until all ingredients are combined.
8. Once the dough is done baking, remove the weights by lifting the parchment paper up from the pan and moving the paper filled with the weights to a heatproof bowl. Pour the filling directly onto the hot crust, and then place back in the oven. Reduce heat to 300ºF and bake an additional 30 to 35 minutes or until the center of the lemon bars no longer jiggle.
9. Let cool in the pan to room temperature, then refrigerate overnight. Dust with powdered sugar, then cut and serve directly from the fridge.
Makes 24 bars.