So lets talk Pancakes. Yesterday was National Pancake Day and I'm not sure who or what organization deemed March 1st as a day to eat pancakes, but I'm not going to complain as I love homemade pancakes. So, when Shauna over at Gluten Free Girl pinged me, along with a number of gluten free bloggers (yeah yeah, I'm not really a gluten free blogger, but more on that later) to see if we wanted to participate in a new project – The Gluten Free Ratio Rally, with the first project being pancakes, I was totally for it. My result: Quinoa Cornmeal Lemon Honey Pancakes with Rosemary infused Maple Syrup.
Gluten free pancakes have come a long way. Growing up I ate the requisite Bisquick pancakes that my mom made with Aunt Jemima pancake syrup. Nowadays Bisquick has a gluten free box mix and Bob's Red Mill also has a gluten free pancake mix. I'm sure they'll do in a pinch.
But I'm not one for prepackaged mixes anymore. I'm a little bit older and a little bit more sophisticated with my food. And, in truth, it takes an extra ten minutes to make them from scratch. Ten minutes and the pancakes are ten times as good. True story.
But I have a confession to make. And you should already know this. I'm not gluten free. In fact I love bread, the kind that is made with wheat flour. The kind that gluten intolerant, gluten allergic, wheat allergic and celiac people can't eat. But I have a few friends (and a few readers – but I count you all as my friends as well) who are gluten free or wheat allergic so I was thrilled to be a part of inaugural group for the Gluten Free Ratio Rally project.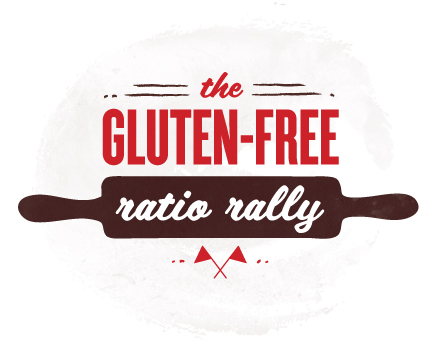 Amazing logo by Anile Prakash
What is this rally? Each month we'll be working on an item that uses standard ratios for the item. This month is pancakes, hosted by Shauna over at Gluten Free Girl and the ratio most people worked with is based off of Michael Rulhman's ratio for pancakes 4 – 4 – 2 –1. Four parts flour, four parts liquid, two parts eggs, one part fat. In baking percentages that would be 100% flour, 100% liquid 50% eggs and 25% fat.
Now ratios sounds scary (ooh math!) but they aren't. There's super easy. Think about it. With the ratio, if you use 100 grams of flour, then you'll use 100 grams of liquid, 50 grams of eggs, and 25 grams of fat. You can scale it up or down when you need to. Making pancakes for yourself? Make a small batch. Hosting a huge brunch? Scale it up. No more being tied down to a recipe, you can make your own on the fly.
And here's the best part, ratios work with gluten free flours too. Sure you have to add a binder because of the lack of gluten (xanthan gum, guar gum if you like, or flax meal seed or chia seed if you want to stay more natural and gums don't play well with your system) but the ratio is the same.
Of course, anyone that has visited Shauna over at Gluten Free Girl or who've just googled or visited any number of gluten free blogs out there, knows that people who can't eat gluten are not want for good food. In fact there is SO much good food that is naturally gluten free that sometimes I wonder why I bother to make "substitution" gluten free food for people. I'm of the camp that if you are vegetarian, don't bother with the "soy bacon" just go and eat a pancakes for breakfast. But I realize that some people just miss what they can't have.
Which is why I love to make food for my celiac/vegan/kosher/allergic whatever friends. The idea that I can make something for those people and they can eat it and look at me in wonder, saying "This is so good!" is music to my ears. Not "This is so good for gluten free!" or "This is so good for vegan!" but just plain "This is so good!"
That's what I want to hear. That's what EVERYONE wants to hear when they make food. No one wants to hear a compliment that comes with a condition. When you hear "This is so good for gluten free!" what that really means is "Most gluten free food I've had tastes like crap but this is actually passable. So I am going to compliment you on it!" Or at least that is what I hear.
I strive for "This is so good!" No conditions, no backhanded compliments. And when Shauna asked me to be part of the initial group for the Gluten Free Ratio Ralley, I was honored to be included, even if I was one of the few (perhaps the only one?) in the group that could eat gluten.
Shauna, of course, has dubbed me "honorary gluten free" and I take that badge with pride. And these pancakes? When I made them, AJ took one bite, looked at me and said "Now those. Those I would eat a whole plate of. Those are so good."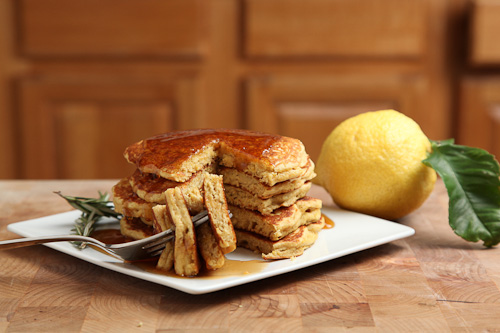 The Gluten Free Ratio Rally has some awesome people involved. Check out this list of amazing posts and what everyone came up with using the basic ratio.
Tara at A Baking Life made Whole Grain Supper Pancakes
Lauren at Celiac Teen made Whole Grain, Egg Free, Vegan Convertible Pancakes
Karen at Cooking Gluten-Free made MultiBlend Gluten Free Pancakes
Silvana at Dishtowel Diaries made Sticky Cinnamon Swirl Pancakes with Maple Icing
Lisa at Gluten Free Canteen made Potato Pancakes
Britt at GF in the City made Teff Spice Pancakes
Shauna at Gluten-Free Girl and the Chef made Whole Grain Gluten Free Pancakes
Kate at Gluten-Free Gobsmacked made Hazelnut and Dried Cherry Pancakes
Jenn at Jenn Cuisine made Hazelnut/Coconut Pancakes
Erin at The Sensitive Epicure made Oatmeal Buckwheat Pancakes with Bananas
Carol at Simply Gluten-Free made Maple Oat Bacon Pancakes
Quinoa Cornmeal Lemon Honey Pancakes
by

Irvin Lin
If you've never played with quinoa flour it's wonderful. Slightly woodsy and herby, it's the arty reserved kid sister of amaranth flour, sitting in the back of the room, wearing all black looking nerdy chic in her big chunky glasses. It pairs wonderfully with honey, which brings out some of the floral notes, and lemon, which tames some of the hints of grass that people always complain about with quinoa. The cornmeal gives the pancakes a little bit of crunch and texture.

I've written this recipe as a normal recipe for you to follow. After the recipe I explain the background behind the ratio and what it means and how to substitute if you wish.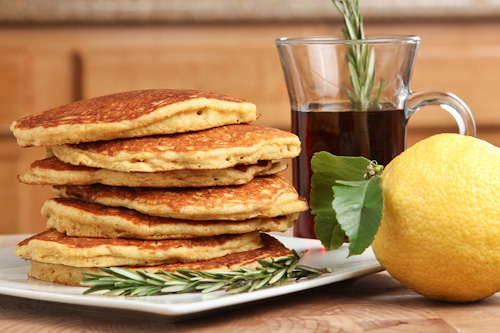 1/4 cup plus 2 tablespoon (60 g) quinoa flour
2 tablespoon plus 2 teaspoon (36 g) yellow corn meal
1/4 cup plus 2 tablespoon (60 g) corn starch
1/4 cup plus 2 tablespoon (60g) potato starch (not potato flour)
2 tablespoon plus 2 teaspoon (30 g) oat flour (make sure they are certified gluten free)
2 teaspoon baking soda
1 teaspoon salt
zest from two lemons
1 cup buttermilk
2 tablespoons lemon juice
2 large eggs
4 tablespoon (1/2 stick) unsalted butter, melted
1 teaspoon vanilla
2 tablespoons honey
1/4 cup (30 g) golden flax meal
1. In a large bowl mix the quinoa flour, corn meal, corn starch, potato starch, oat flour, baking soda salt and lemon zest vigorously with a whisk until evenly distributed.
2. In a medium bowl combine the buttermilk, lemon juice, eggs, butter, vanilla, and honey. Whisk to combine. Add the flax meal and whisk again.
3. Take a large skillet or griddle and lightly grease the pan with a thin coating of oil or butter. Don't use too much. One of the reasons that the first round of pancakes tend to burn is because people use too much oil or butter on the pan. You want a very thin amount. I used to grease my pan by adding a little oil, and then take a paper towel and wipe up all the excess, leaving just thin film on the pan. Now I just rub a little refrigerated butter on the cold pan first and wipe up any excess butter with a paper towel. Turn on the heat to high until a little water flicked onto the pan skittles across. Then reduce the heat down to medium low.
4. Pour the liquid into the large mixing bowl with the dry flours. Mix the two together. Since you don't have to worry about gluten you don't have to worry about overmixing the batter, but you don't want to mix it and then let the batter sit around for the pan to heat up. The minute the wet liquid hits the dry liquid the baking soda is activated so be sure to preheat the pan first.
5. Pour 1/4 cup of the batter onto the pan/griddle. Cook until the sides start to look dry and the top has bubbles forming and slowly popping. Flip the pancake and cook the other side until golden brown.
Makes 10 pancakes.
Rosemary infused Maple Syrup
by

Irvin Lin
Rosemary is a lovely herb. You have to be careful with it though, as too much of it will make your products taste like dirt. Or at least that was the warning I got from the lovely Michael Procopio over at Food for the Thoughtless. Michael gets around so you all should heed his warning. However this maple syrup does not taste like dirt. It really works well with the quinoa pancakes, bringing out the subtle woodsy flavors in the quinoa and maple syrup.

This rosemary maple syrup was inspired by a visit to the restaurant O Bar down in West Hollywood. I went there ages ago with AJ right after he arrived from doing the AIDS Lifecycle. My friend Emmie was working there at the time and I embarrassed her immensely. I can't remember what it was I said, but it was something very insulting to the chef. That said, I DO remember the rosemary maple syrup they served with their fried chicken and pumpkin waffles. It's dead simple to make, you just need to have fresh rosemary and real maple syrup. Don't try it with grocery store pancake syrup (which is basically sugar water with a little maple flavoring) and dried rosemary. It'll taste like dirt.
1 cup of maple syrup
2 sprigs (about 3 inches each) of fresh rosemary
1. Put the maple syrup and rosemary in a small pot. Bring to a boil and then lower the heat so the maple syrup gently simmers.
2. Cover the pot and simmer for five minutes. Discard the rosemary and serve immediately. If you want it more rosemary flavor simmer for another two or three minutes. If you want less, simmer for two or three minutes less.
Serve with Quinoa Cornmeal Lemon Honey Pancakes
Ratio explanation
The Ruhlman pancake ratio is a 4 – 4 – 2 – 1 ratio taken from his book Ratio. Four parts flour, four parts liquid, two parts eggs, one part fat.
This is the flour portion of the ratio.
1/4 cup plus 2 tablespoon (60 g) quinoa flour
2 tablespoon plus 2 teaspoon (36 g) yellow corn meal
1/4 cup plus 2 tablespoon (60 g) corn starch
1/4 cup plus 2 tablespoon (60g) potato starch (not potato flour)
2 tablespoon plus 2 teaspoon (30 g) oat flour (make sure they are certified gluten free)
This totals 246 grams of flour. If you want to still make quinoa cornmeal pancakes but aren't concerned about them being gluten free, just substitute the 150 g of corn starch, potato starch and oat flour with all purpose flour (about 1 cup plus 1 tablespoon) and leave the quinoa and cornmeal as is. If you can't tolerate oat, substitute rice flour or sorghum flour for it. If you are out of potato starch use more corn starch or tapioca starch instead. As long as you use the same gram amount you're fine to swap flours and starches.
This is the liquid part. It's roughly the same amount as the flour portion.
1 cup buttermilk
2 tablespoons lemon juice
If you don't have buttermilk you can use whole milk if you want (though the buttermilk goes really well with the lemon and the quinoa). If you are dairy allergic or vegan, use a milk substitute of your choice like almond milk, rice milk, soy milk, oat milk, coconut milk, hemp milk or any number of other alternative milks, there are myriad of choices. If you like your pancakes a little thicker, use a little less liquid. If you like them thinner, than add more liquid.
This is the egg part.
2 large eggs
If you are vegan or egg allergic, try creating an egg substitute by using 1/4 cup soy, rice or coconut yogurt mixed with 1 tablespoon of flax meal or chia seeds per egg. So for this recipe, you'd want to use 1/2 cup of soy, rice or coconut yogurt and additional 2 tablespoons of flax meal.
This is the fat part.
4 tablespoons (1/2 stick) of unsalted butter melted
If you don't want to use butter you can use vegan buttery stick, canola oil, olive oil (which would actually be very tasty), coconut oil or even bacon fat (even tastier!).
Final note.
You'll notice that I used baking soda in my pancakes. That's because it interacts with the acidity of the buttermilk, lemon juice and honey to create carbon dioxide (and thus makes the pancakes rise when you cook them). If you decide to make your pancakes without buttermilk and the other acidic ingredients use 2 teaspoons of baking powder instead.