By now, if you follow my blog, you've read about my slow roasted strawberries in balsamic vinegar and red wine. You've read about me using them for the Bake Sale for Japan and creating the Lemon Honey Slow Roasted Strawberry Cheesecake Bars inspired by the Japanese Flag. But I alluded to a second item I created for the bake sale. Well, the second item was in fact a gluten free item, something I've been tinkering with for our Gluten Free Ratio Rally. After a couple of flops in the kitchen department (yes, I make flops) I finally created something worth blogging about, Gluten Free Glazed Meyer Lemon Muffins filled with Slow Roasted Balsamic Red Wine Strawberry Jam.
Now everyone likes a good bake sale. But not everyone can eat everything at a bake sale. Luckily, here in San Francisco, there's a number of "alternative" bakers that bake for all walks of life, whether it's vegan, healthy living, or gluten free. But since the Gluten Free Ratio Rally was coming up, with the theme around quick breads and muffins, I thought I would tinker with the ratio and come up with a decent muffin worth selling for a good cause (the bake sale total, by the way, is currently at $124,120.38 which is amazing).
What is the Gluten Free Ratio Rally? It's a group of bloggers that have banned together to create original recipes based on ratios, (or percentages of ingredients), that allow for near infinite variations. When you bake gluten free, you aren't confined to just all purpose wheat flour, you get to play with numerous types of flours, that all bring something different to the recipe. The ratio itself helps you substitute flours. For examples, you run out of rice flour, you can substitute the same amount of sorghum or quinoa flour and you'll get a similar resulting baked good (though probably a different flavor as each flour has it's own flavor profile). Ratios help free you from recipes. Or, conversely, help you create you own. This month's Gluten Free Ratio Rally is hosted by Silvana over at Silvana's Kitchen, where we tasked to create our own quick breads or muffins.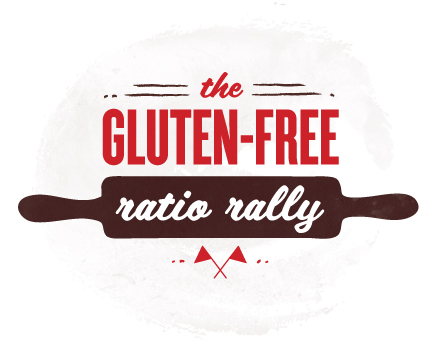 The original ratio that we were given was from Michael Ruhman's book Ratio. It's a great book, but sadly the ratio gave me baked goods that tasted more like cake than muffins. What's the difference? Well muffins have a rougher bigger crumb, and cakes have a softer more delicate crumb. A good muffin to me, has a bit of a bite, something to chew on (without being tough or dry) while a good cake is soft and sweet, and melts in your mouth. And perhaps it was the flours I used initially, but the first recipe I worked with had a great soft texture, but with a more molasses tang to it than I wanted for a sweet lemon muffin and the batter was way too thin to actually hold the strawberry filling.
So it was back to the drawing board. Someone in the group had posted the ratio from the Gisslen Professional Baking book – the same book that I am slowly trying to work my way through. It uses more flour in the ratio than the Ruhlman one. Sounds like a promising start.
Turns out I liked the Gisslen ratio much better. I used gluten free certified oat flour, which is one of those flours that not everyone can tolerate in the gluten free world. But the beauty of the ratio, is that you can sub your own flours in if you can't do oat. What I like about oat though, is that it gives you the bite and chew of a breakfast muffin that I was looking for. Rounding it out I used a neutral flavored white rice flour and some corn starch.
One the issues with gluten free baking, of course, is that it doesn't have gluten in it. Some people use xanthan gum or guar gum to substitute for the gluten, but lately I've been trying to figure out a way to bake gluten free without the gums. I like the idea of natural ingredients that add something to the mix, not just stickiness. But I didn't want to use flax seeds as it give a nuttiness that usually I like, but not with this muffin. The chia seed probably would have been a good mix if I had made these into lemon poppyseed muffins, as the black chia seeds would have been hidden between the poppyseeds. Sadly I was out of poppy seeds.
So I used a little trick of mine, that I discovered a year ago. I used an extra egg yolk instead. The lecithin in the egg yolk helps bind the flours together in a natural way, helping the natural gumminess of the oats stick the muffin crumb together. Both the white rice flour and the cornstarch are fairly neutral in flavor as well, letting the Meyer lemon and slow roasted strawberry flavors come through.
The best part of the muffins for me though, was when I decided I wanted to make the muffins a little bit special. We eat with our eyes first, and then our mouths, as they always say, and I was hoping the muffins would stand out a little bit in what was sure to be a crowded bake sale. Oh boy, was it a super crowded bake sale!
But how do you take the lowly muffin and make it extra special? I'm trying not to make my baked goods utterly ridiculously overloaded with ingredients and flavors. Yes, I know I have a habit of doing that with my recipes. But I do want to make all my recipes just a touch more unique. I guess that meant making a lemon glaze AND some carmelized candied Meyer lemons slices for a decorative touch.
I love Meyer lemons. They have that gorgeous perfumey sweet scent when you slice into them. AJ affectionately calls them L'oranges because their flavor is a cross between a lemon an orange with just a hint of floral honey. I haven't used a lot of them this season, mostly because I've been trying to keep up with our lemon tree in our backyard, but when I saw the gorgeous L'oranges at the McEvoy Olive Company's store (where they had just pulled them off their trees the day before) in the Ferry Building, I knew I had to snag some.
But I decided I wanted to go with a regular Eureka lemons for the glaze. I wanted something more tart and sour than the sticky sweet meyer lemon. And regular Eureka lemons (the lemons that you usually find in the store, and the ones that are growing on my tree in the backyard) are a great foil to the Meyer lemon flavor, really boosting the tart sour citrus in the muffins.
Of course, the super thin sliced Meyer lemons, coated in sugar and oven roasted to carmelize and candify (yes I just made up the word candify, apologizes to the word police), made for a wonderful decorative topping to the muffin as well as added a little extra sweet top spot to the muffin.
In the end, the muffins seemed pretty popular at the bake sale. Whether it was the fact that they were one of the few gluten free items, or because of the carmelized candied Meyer lemon slice on top, I don't know. All I know is my friend Mary, who was volunteering all day, told me they were selling pretty well. I'm just glad to be doing my part, helping out the victims of the Japanese Earthquake, and helping out everyone else by participating in the Gluten Free Ratio Rally.
For more Gluten Free Ratio Rally quick bread and muffin recipes check out these participants of the rally and (if you are on Twitter) follow the thread #gfreerally:
If you'd like you can join us. You don't have to be gluten free. I certainly am not, but gluten free baking will make you a better baker. Trust me on this one. I wouldn't be baking the way I do, if I didn't bake gluten free now and then.
Gluten Free Glazed Meyer Lemon Muffins

filled with Slow Roasted Balsamic Red Wine Strawberry Jam

By Irvin Lin

Imagine a jelly filled donut. Then imagine it as a muffin. That's basically the idea behind these filled muffins. You need a thicker batter to suspend the strawberries inside, so that will account for why I prefer Gisslen Professional Baker's ratio over Ruhlman's Ratio. Gisslen's Professional Baking ratio states a quick bread or muffin has a ratio of flour:1.00, sugar:0.55, eggs:0.32, liquid:0.70 and fat:0.37. This means that the weight of the flour (total flours) would be 310 g or 1.00 in the ratio. Pulling out the calculator you can figure that the sugar is 55% of the flours, equaling 170 g, eggs at 32% would be 100g (or two large eggs), liquid (the milk and lemon juice) at 70% would be 220g, and the fat (butter) at 37% would be 113 g. It's a specific ratio, but it worked for this jam filled muffin, and I was happy with the results. If you want to play with it, feel free and let me know what you ended up with!

By the way, if you can't find Meyer lemons you can certainly use regular lemons. I'm must a little obsessed with Meyer lemons is all.
I got the original idea for a jam filled muffin from Sheila Lukin's USA cookbook.
Ingredients
Carmelized Candied Meyer Lemon
1 medium size meyer lemon
1/2 cup (100 g) white granulated sugar
Strawberry Filling
1/2 cup of slow roasted balsamic red wine strawberries (recipe here)
1 1/2 teaspoons arrowroot starch or cornstarch
Muffin
1 cup + 1 tablespoon (100 g) oat flour
1 cup + 2 tablespoons (150 g) white rice flour
1/4 cup + 2 tablespoons (60 g) cornstarch
zest of 2 meyer lemons, finely grated
3/4 cup (170 g) white granulated sugar
1 tablespoon of baking powder
1 teaspoon of salt
3/4 cup (6 fl oz or 170 g) of whole milk
1/4 cup (2 fl oz or 60 g ) Meyer lemon juice
2 large eggs
1 large yolk
1 teaspoon of pure vanilla extract
1/2 cup (115 g or 1 stick) unsalted butter, melted and cooled
Lemon Glaze
1/4 cup (2 fl oz or 60 g) of fresh squeezed Eureka (regular) lemon juice
1 1/2 cup (175 g) of confectioners' sugar, sifted
1 1/2 teaspoon unsalted butter
Directions
1. Make the candied Meyer lemons by first preheating an oven to 350˚F. Thinly slice the meyer lemon (try to cut them as thin as possible while keeping them whole rounds). Toss them gently with the white sugar and let macerate in a bowl for about five minutes. In the meanwhile, line a rimmed baking sheet with a silpat or aluminum foil lightly sprayed with cooking oil.
2. Once the lemon slices have started to juice up, take the slices and place them on the baking sheet about an inch apart. Then bake them in the oven for about 5 to 7 minutes, or a bit longer, depending on how thick and how large the slices are. You want the sugar to start to caramelize a bit, but be careful, as the slices will burn fast once they do. A minute can make a difference between caramelized and burnt. If in doubt, pull them out sooner rather than later, as the smaller rounds will burn before the larger ones even start to brown and the edge ones will caramelize faster than the middle ones.
3. While the lemon slices are baking prepare the strawberry jam by mixing them with the arrowroot starch/cornstarch in a small bowl. Set aside. Once the lemons are done, leave them to cool on the baking sheet and leave the oven on at 350˚F. Line a regular sized muffin tin with paper muffin cups.
4. In a medium mixing bowl, place the oat flour, rice flour, cornstarch, lemon zest, sugar, baking soda and salt. Take a whisk and vigorously stir the dry ingredients together until uniformly blended. In another medium mixing bowl, place the milk, lemon juice, eggs, egg yolk, vanilla, melted butter. Take a whisk and vigorously stir the wet ingredients together until uniformly blended.
5. Pour the wet ingredients into the dry ingredients, and using a large spatula or wooden spoon, mix the batter together until wet. You don't have to worry if there are lumps in the mix – that's perfectly acceptable in a muffin. That said, you also don't have to worry if you overmix, as there isn't gluten to there to make the muffin too tough.
6. Spoon about 2 tablespoons of batter into the prepared muffin tins. Then place a tablespoon of the strawberry jam in the middle of the muffin tin. Then spoon another 2 tablespoons of batter on top of the jam, filling the muffin cups about a 1/2" to 1/4" from the top. Bake in the preheated oven for 18 to 20 minutes or until the top of the muffin is golden brown and a toothpick inserted into the middle one comes out clean. Don't worry if the top of the muffins are a bit crisp from the white flour. They will soften a bit once you glaze them. Let them cool in the pan for about 10 to 15 minutes. Then remove to a wire rack until room temperature.
7. While the muffins are baking, prepare the glaze by combining the lemon juice, confectioners' sugar and butter in a microwave safe bowl. Microwave for 30 second intervals, until the confectioner's sugar is dissolved and the butter has melted. Be sure to whisk between each microwaving. You can also do this on the stove over very low heat. I just find the microwave easier. Let the glaze cool. It should be a slight opaque white color and the thickness of a icing glaze (thin enough to drizzle, but not too thin that it runs). If it isn't add a tablespoon of confectioners' sugar at a time until it achieves the right consistency. Cover with plastic wrap until the muffins are cool.
8. Once the muffins are cool, spoon the glaze over the muffins, covering the entire top of the muffin and drizzling a little of it down the sides (this will help to cover up any broken muffins edges that might have stuck to the muffin tin). Then place a carmelized candy lemon slice on top of the muffin in the glaze, "gluing" it to the muffin. Let dry for an hour or overnight and then serve.
Makes 12 muffins.