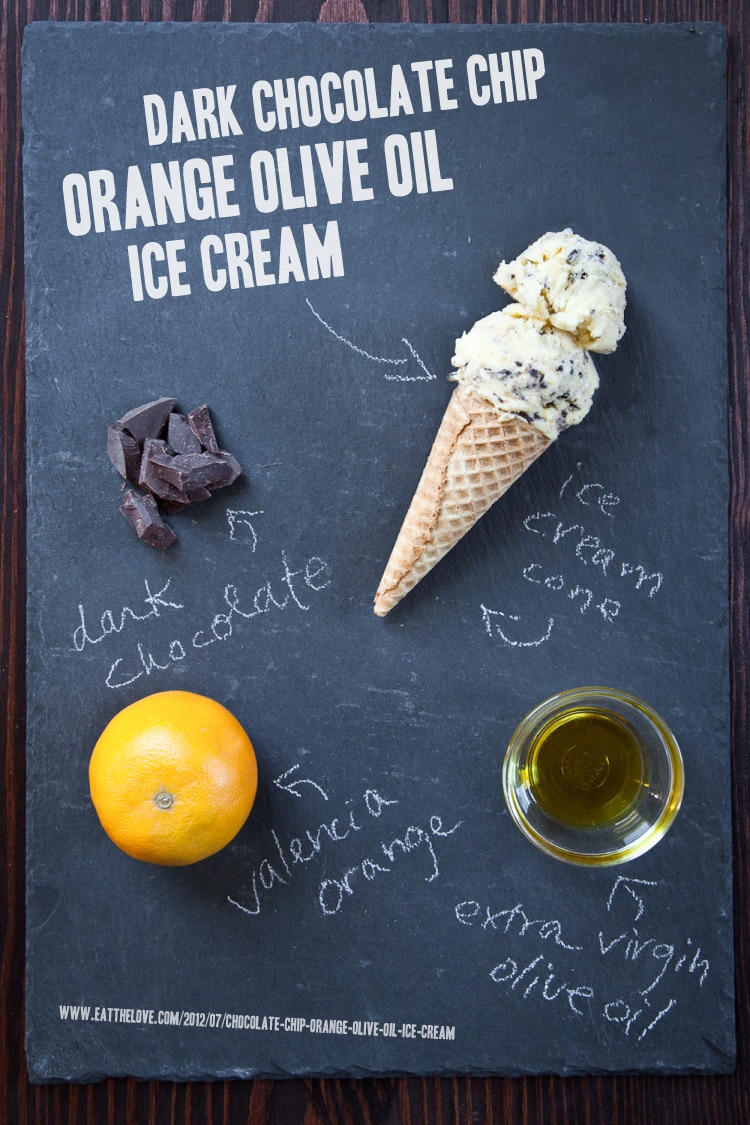 It's summertime, which means my mind immediately turns to ice cream, like the Dark Chocolate Chip Orange Olive Oil Ice Cream you see above you. The beautiful thing about ice cream is that is a blank slate for flavor combinations. With the explosion of artisan ice cream shops featuring innovative options, ice cream is no longer limited to just chocolate, vanilla or strawberry. Nowhere has the small batch ice cream shop been more prevalent than San Francisco. Not that it hasn't always been home to wonderful scoops shops, from Mitchell's to Swensen's to Double Rainbow. But in the past five years, shops like Humphry Slocombe, Mr. and Mrs. Miscellaneous, Three Twins and Smitten Ice Cream have opened up all over San Francisco, serving up fantastic flavors with fresh ingredients. Of course, leading the pack (in my mind at least, other San Franciscans swear their own allegiance) is Bi-Rite Creamery, where I've been a loyal customer since they opened.
Truth be told, though I swear brand allegiance to Bi-Rite, you really can't go wrong getting a scoop of ice cream from any of the small shops I mentioned above in San Francisco. Each has their own sensibilities, from the edgy flavors of Humphry Slocombe (their signature flavor is Secret Breakfast, bourbon and cornflakes) to the fun and often boozy inspired scoops at Mr. and Mrs. Miscellaneous (Ballpark is a punch combo of red skinned peanuts, chocolate covered pretzels and Anchor Steam Beer, only available during baseball season) to the whimsical Three Twins (bright and comforting Lemon Cookie makes me warm fuzzy with each lick) to the near instant super smooth Smitten Ice Cream (liquid nitrogen frozen Tcho Chocolate ice cream is like chocolate silk on your tongue). However, Bi-Rite is my go to ice cream shop, and not just because it's a block away from my apartment.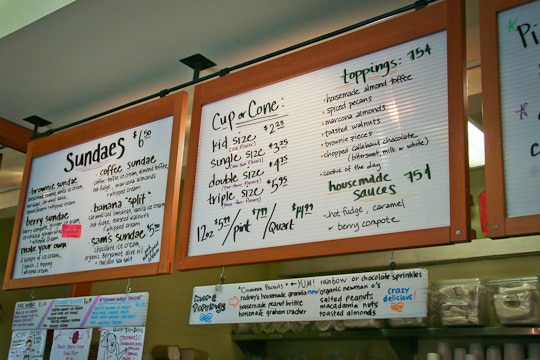 Bi-Rite Market, located across the street and the parent company of the Creamery, is a small grocery store that supports local farms and independent food producers. It's also an anchor for the 18th Street gourmet corridor that I live adjacent to. Their first book, Eat Good Food, made it onto my list of the best of 2011 cookbooks (more than a cookbook, it's a guide to buying produce and meat as well as how to store and cook the food you buy) and I was thrilled to hear the Creamery was putting out a cookbook, Sweet Cream and Sugar Cones as well. Even more thrilling was the fact that AJ and I got into their cookbook. Yep, we got our own side bar, we're that obsessed with their ice cream.
One of the signature sundae's at Bi-Rite Creamery is Sam's Sundae, which features dark chocolate ice cream, a drizzle of Bergamot olive oil, a sprinkle of Maldon sea salt and whipped cream. It sounds odd, the idea of olive oil on ice cream, until you taste it. I took the mandarin olive oil ice cream recipe in their cookbook and adapted it with chocolate chips. The recipe itself sounds a bit fussy, as I melt the chocolate chunks down, add a little olive oil to it, refreezed it, then chopped it into tiny chips again, but it's worth the effort, as the chocolate flakes melts luxuriously in your mouth. I'm all about the mouth feel (get your mind out of the gutter!).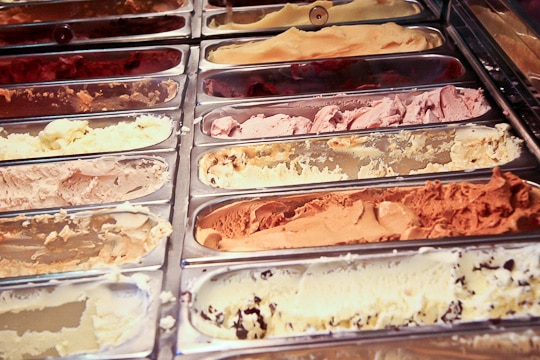 So crack out of the ice cream freezer, buy some top-shelf cream and milk (I prefer the local Straus Family Creamery, a nonhomogenized milk and cream that is also the base that Bi-Rite Creamery and Humphry Slocombe uses, but find the best quality dairy product you have access to, it makes a difference) and enjoy the fresh churned goodness that only home made ice cream can give you. I'm going back for another spoonful as we speak…
If you are visiting San Francisco and are interested in any of the food related shops on the 18th Street corridor, check out my virtual tour on Rama Tours, an iPhone app, where I've included Bi-Rite Creamery, Bi-Rite Market, Tartine, Delfina Pizzeria, Mission Cheese, and 18 Reasons. Download the free Rama Tour app, then purchase the 18th Street Corridor tour (the first one when you search under "title").
Special thanks to Ten Speed Press for sending me a review copy of Sweet Cream and Cones by Kris Hoogerhyde, Anne Walker and Dabney Gough (and for including AJ and me in the book). Though the book was provided by them, I was not compensated for anything I wrote above and all opinions are my own.
Dark Chocolate Chip Orange Olive Oil Ice Cream (naturally gluten free)
By Irvin Lin
Making your own custom chocolate chip flakes seems fussy, but I think it really make a difference. That said, if you don't feel like doing it, just skip that step and chop the chocolate into really small chunks. Try to use the best quality dairy, chocolate, olive oil and oranges that you can as ice cream is a simple dessert that really only has a few ingredients, so each one should shine. Because I use the zest from the oranges in this recipe, I recommend finding organic oranges to cut down on the pesticides that may be sitting on the outside of the oranges. If you do use conventional oranges, just wash them thoroughly in warm water before zesting. Feel free to swap out the orange with a couple of tangerines, clementines, lemons or bergamot oranges if you can find them. Pretty much any citrus would be great in this ice cream.
Initial recipe adapted from Sweet Cream and Cones by Kris Hoogerhyde, Anne Walker and Dabney Gough. Cooling custard method adapted from Jeni's Splendid Ice Creams at Home by Jeni Britton Bauer.
Ingredients
Ice Cream Base
5 large egg yolks
150 g (3/4 cup) white sugar
2 cups heavy cream
1 cup whole milk
1/2 teaspoon fine sea salt
zest from 1 medium Valencia orange
1/4 cup extra virgin olive oil (the more robust the flavor, the better)
Juice from 1 medium Valencia Orange (roughly 3-4 tablespoons)
Chocolate chips
115g (4 oz or 3/4 cup) chopped dark chocolate (I like something between 50 to 60% cacao, but use what you prefer to eat out of hand)
2 teaspoons extra virgin olive oil
1/2 teaspoon coarse sea salt
Instructions
1. Fill a large metal bowl with ice and water and place on a damp towel or silicon heat pad to prevent it from moving. This is going to be your ice bath.
2. Make the base by whisking together the yolks and 75 g (14 cup plus 2 tablespoons) of the sugar in a heatproof bowl. Place the remaining sugar, cream, milk and sea salt in a nonreactive pan and heat on medium high, stirring occasionally to dissolve the sugar and salt, until the cream starts to form bubbles on the edge of the pan, barely simmering. Turn the heat down to low, and scoop about 1/2 cup of the cream out of the pan. Drizzle the hot cream over the yolks, whisking the yolks the entire time you pour the cream into it to incorporate. Repeat with another 1/2 cup of cream. Pour the entire heated yolk mixture back into the pan, and turn the heat up to medium. Whisking constantly, cook the custard until it thickens, coats the back of a spoon and holds a line when you draw a finger across the back of the coated spoon, about 2 minutes or so. Add the orange zest and stir to incoporate.
3. Pour the hot custard into a large gallon ziplock bag and seal it. Submerge the ziplock bag in the ice bath and let sit for 30 minutes under the ice or until the custard is cold. Add more ice if the original ice melts.
4. While the ice cream custard is chilling, make the chocolate chips by first lining a rimmed baking sheet with a piece of parchment paper. Melt the dark chocolate by placing the chopped chocolate in a microwave safe bowl and heating on high for 30 seconds. Stir and heat for another 30 seconds. Stir until melted, heating for additional 15 second intervals until completely smooth and melted (being careful not to overheat). Add the olive oil and stir until incorporated. Pour the chocolate onto the lined baking sheet and spread as thin as you can with a butter knife (or better yet, offset spatula if you have it). Sprinkle with salt and place in the freezer.
5. Once the ice cream custard is chilled, carefully open up the ziplock bag and add the olive oil and orange juice. Close the bag again and "massage" the bag to blend the oil and juice into the custard. Then cut off 1 inch of the corner of the ziplock bag and squeeze the custard out of the bag into your ice cream machine. Freeze according to the instructions of your machine. About five minutes before the ice cream is done freezing, pull the chocolate out of the freezer, chop it into small chips and pour the chocolate into the ice cream machine right before it is done. Let the machine stir the chocolate chips into the ice cream and then turn the machine off. Eat right away (it will be soft) or transfer to a freezer proof container and let firm up in the freezer for 4 hours or overnight then serve.
Makes 1 quart of ice cream.