This Brussels sprout recipe has Pancetta, Candied Pecans and Parmesan and is super easy to make! (Jump directly to the recipe.)
My partner and I are obsessed with Brussels sprouts which is ridiculous because growing up I hated them. Well, to be fair I don't think I really hated them so much as I hated the idea of them. My mom rarely made them but all my friends seem to hate them so I followed along like the lemming child I was. And to be fair, back then, it seems that Brussels sprouts were boiled, overcooked, soggy and smelled like old socks. But all of sudden about five or ten years ago, they came back into vogue. Upscale restaurants discovered them and suddenly Brussels sprouts were the hot new vegetables. And, inevitably, there is already a backlash. But I don't care because these Brussels sprouts recipe with Pancetta, candied pecans and Parmesan are a winner in my book. They are beyond any trend!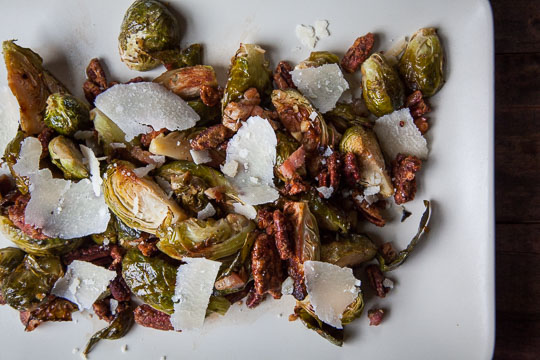 Recently I read in a list on List App (remember the new social media network I'm currently obsessed with?) by Bon Appetit magazine that they are "over" Brussels sprouts. I can only shake my head at that sort of thing. Sure vegetables come in and out of vogue. Remember wasabi mashed potatoes of the 90s? Remember how every blog out there had a recipe for kale chips 3 or 4 years ago? Sure vegetables and dishes can have their heyday. But don't hate the ingredients, just hate the folks that churn out the same thing over and over again. Or don't even hate them, because lets face facts, sometimes a classic is a classic for a reason.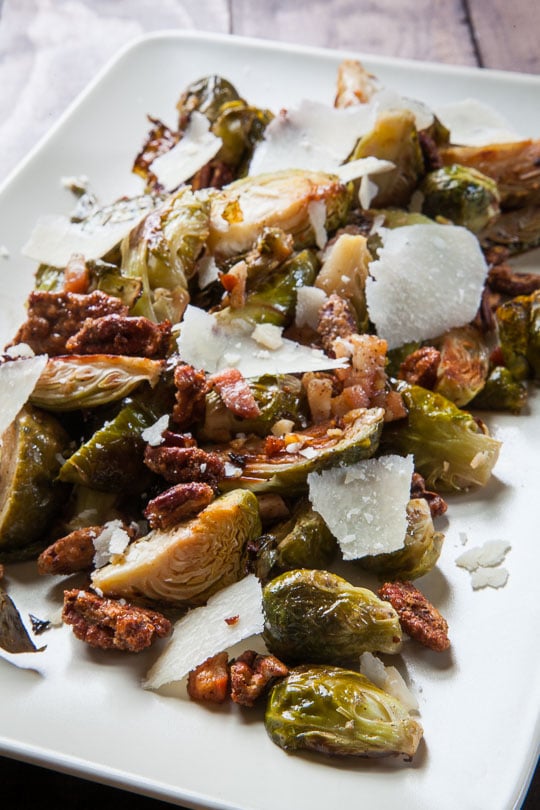 Take this Brussels sprouts recipe here. They have all the elements of the sort of dish that Bon Appetit probably hates. The dash of fish sauce that gives them an underlying umami savoriness. The roasting of the Brussels sprouts with the pancetta, for that burst of salty pork goodness. And then sprinkling of sweet candied spiced pecans that just scream Autumn. If I served these next to a pumpkin spice latte and ended with a red velvet cupcake I would have the perfect trendy overplayed grouping of food. But screw trends! This is the sort of dish that I can just face plant myself into. I'll probably be serving up a version of this at Thanksgiving, and you should too. Trends come and go but classic dishes like these Brussels sprouts are forever.
Brussels Sprouts Recipe with Pancetta, Candied Pecans and Parmesan Shavings
By Irvin Lin
This easy roasted Brussels sprouts are a ridiculously good. If you don't have fish sauce, a really smelly Asian condiment, you can skip it and use 1 tablespoon of soy sauce instead and reduce the salt to 1/2 teapsoon. But I highly recommend getting some if you can. It can be stinky to use but you really can't really taste it in the end and it gives the Brussels sprouts a little punchy umami depth.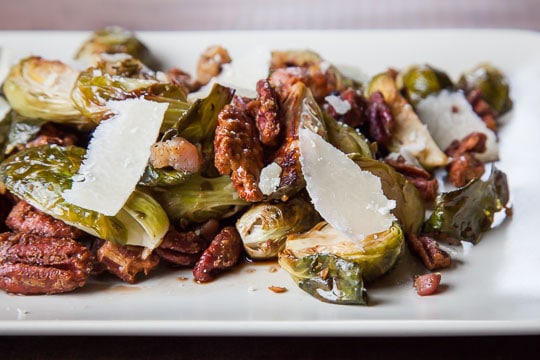 Ingredients
2 1/2 pounds Brussels sprouts, large one cut in half
4 ounces Pancetta, diced
5 medium garlic cloves, minced
1 1/2 tablespoons olive oil
1 tablespoon fish sauce
1 teaspoon kosher salt
1 teaspoon fresh ground pepper
1 cup candied pecans (recipe found here)
Parmesan cheese wedge for garnish
Directions
1. Preheat an oven to 450ºF.
2. Place the Brussels sprouts, pancetta, garlic in a large bowl. Sprinkle the olive oil, fish sauce, salt and pepper over the sprouts and toss with a large spatula to coat.
3. Pour the coated vegetable and pancetta onto a large rimmed baking sheet. Roast in the oven 20 to 30 minutes, turning and stirring once while roasting, until the Brussels sprouts are charred.
4. Remove from oven and add the candied pecans. Shave some Parmesan cheese on top with a carrot peeler. Serve immediately.
Serves 4 to 6 people.
If you like this Brussels sprouts recipe, check out my recipe for Brussels sprouts, fingerling potatoes and juniper berries.
And check out these other Brussels sprout recipes from around the web:
The Cookie Rookie's Pear and Blue Cheese Roasted Brussels Sprouts
Heartbeet Kitchen's Orange Glazed Brussels Sprouts with Butternut Squash
Gimmie Some Oven's Gnocchi with Brussels Sprouts, Chicken Sausage and Kale Pesto
Naturally Ella's Brussels Sprouts and Eggs
Cookin' Canuck's Cinnamon Roasted Brussels Sprouts with Toasted Almonds