This easy biscuits and gravy recipe uses bacon and cheese in the biscuits along with sage and thyme in the sausage gravy, making it a great brunch dish! (Jump directly to the recipe.)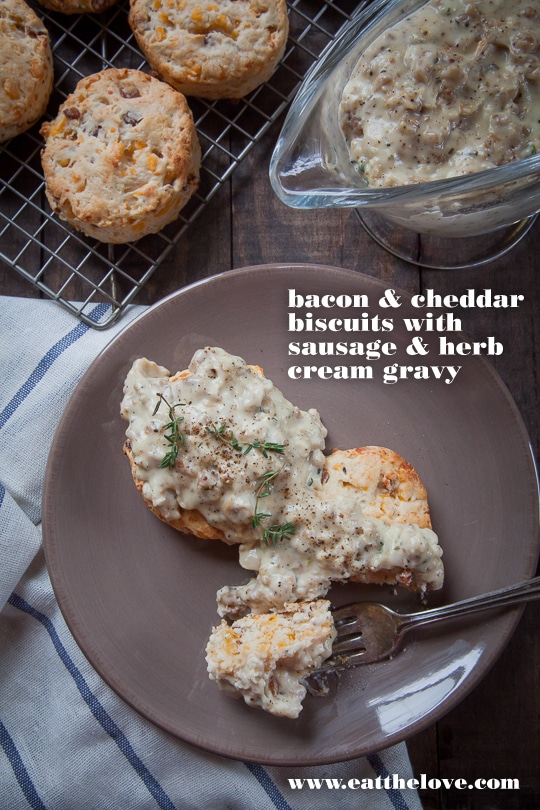 This post was sponsored by Bisquick. I'm teaming up with Bisquick to bring you fun and innovative recipes using Bisquick. I was compensated for this post and for developing the recipe. However all opinions below are completely my own and not endorsed by Bisquick.
It's not the electric third rail of Southern cooking (that would be cornbread) but biscuits and gravy is pretty high up there in terms of opinions of what should and shouldn't be done. When I asked my friends on Facebook about the cream gravy for said dish, they had opinions. LOTS of opinions. And everyone had their own take on it. From going all out and adding herbs and fancifying it, to the straightforward, no-frills bacon grease, flour and milk with salt and lots of pepper.
Turns out gravy is almost as polarizing as other traditional Southern dishes like fried chicken and cornbread. Being born and raised in St. Louis, Missouri I identified as being from the Midwest, with some southern influences. Strange it may seem, most East coast and West coast folks view Missouri as the south. But ask anyone in the deep south and they'd just sneer at the idea of Missouri as the south. Nevertheless, biscuits and gravy was something I ate at diners all the time in St. Louis; usually after going to the bars, slightly tipsy and always ravenously hungry. Ah youth…when I could dance all night long and eat with abandon.
Once I moved out to San Francisco I ended up shifting to a more "California" style diet of fresh, local, seasonal ingredients and dishes. Mostly because that is what was offered and what everyone else ate, but also because some dishes, like biscuits and gravy, were more difficult to find. Though there are a few decent places in San Francisco that offer biscuits and gravy, I really had to look hard to find them. So when I did have a craving for a food that reminded me of my wild youth, I just had to resort to making it at home.
Bacon and Cheddar Biscuits and Gravy Recipe
By Irvin Lin
This biscuits and gravy recipe isn't difficult. Because I'm not truly southern, I don't adhere to the strict doctrine of making gravy with bacon fat, flour, milk, salt and pepper. I make it with breakfast sausage as well as a touch of rubbed dried sage and fresh thyme, but I've made notes in the ingredients list for those items to be optional if you want. That said, I definitely fancify the biscuits! Bisquick makes biscuit making so incredibly easy that I figure why not go the extra step and add some cheese and bacon! Southern folks may be aghast at this recipe but I stand by it. It's makes for a great brunch dish.
Ingredients
Biscuits
8 ounces (225 grams) bacon, diced fine
2 1/2 cups (350 grams) Bisquick
1 cup (115 g or 4 ounces) grated sharp cheddar cheese
3 tablespoons liquid bacon fat or melted butter
2/3 cup buttermilk
Sausage Cream Gravy
1 tablespoon liquid bacon fat or melted butter
8 ounces (225 grams) breakfast sausage
1/4 cup (35 grams) Gold Medal all-purpose flour
2 cups half and half
1 teaspoon rubbed dried sage (optional)
1/2 teaspoon fresh thyme leaves (optional)
salt and pepper to taste
Directions
1. Preheat the oven to 425ºF and line two baking sheets with a silicon baking pad or parchment paper. Cook the bacon until crispy. Move to a bowl lined with a paper towel. Pour the bacon grease into a heatproof bowl or measuring cup and set aside for use later. No need to clean or wipe out the pan.
2. Place the Bisquick, cooked bacon and cheddar in a medium sized bowl and toss together. Stir the bacon fat or melted butter into the buttermilk then make a well in the middle of the dry ingredients and pour the liquid into the center of the well. Stir together with a large spatula until most of the liquid is absorbed, then gently knead the dough with your hands until all the dry ingredients are incorporated.
3. Roll the dough out into it is 1/2-inch thick, then cut out 3-inch round disks of dough and move them rounds to the lined baking sheet. Bake the biscuits in the oven for 10 minutes or until the edges of the biscuits start to look golden brown. While the biscuits are baking, gather the scraps of the dough together and re-roll the dough out again. Cut out more rounds of dough and place on the baking sheet. Repeat with any remaining scraps. Refrigerate the second batch of biscuits while the first round of biscuits are baking.
4. Once the first round of biscuits are done baking, move the baking sheet to a wire cooling rack and move the second batch of biscuits from the refrigerator to the oven and repeat baking for 10 minutes or until the edges are golden brown.
5. While the second round of biscuits are baking, make the gravy adding the bacon fat or melted butter to the same pan you made the bacon in. Add the breakfast sausage, cooking and breaking it up with a wooden spoon or rigid spatula until they are in small pieces. Once the sausage has browned, sprinkle with flour and cook for 1 to 2 minutes more. Add the half and half a little bit at a time, stirring until the dairy starts to thicken before adding more. Once all the dairy has been added and the gravy is thick, stir in the sage, fresh thyme. Taste and season with salt and lots of fresh ground pepper.
6. Once the biscuits are baked, move them to a cooling rack from the baking sheet. Serve the biscuits with gravy.
Makes 12 biscuits, serves 4 to 6 people.