This zucchini pasta recipe, a summer vegetable recipe of zucchini, corn and tomatoes makes for a great side dish or vegan friendly main course! (Jump directly to the recipe.)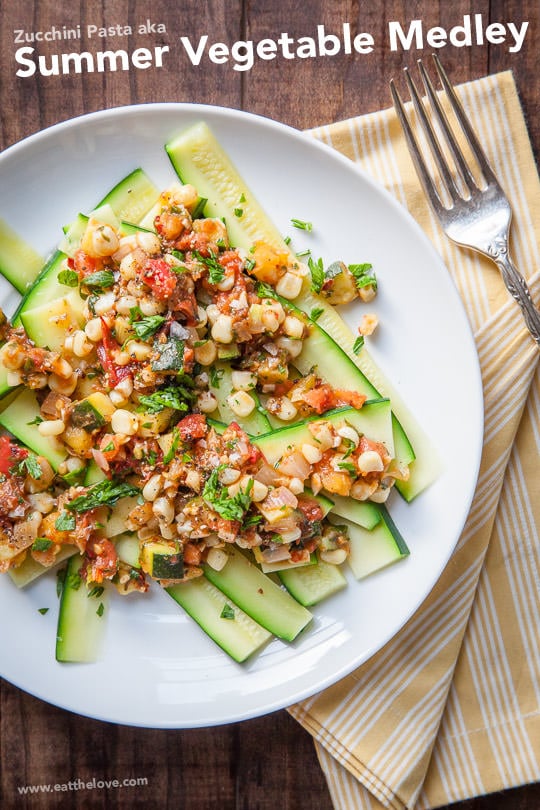 "Why would anyone pick summer squash like zucchini over other vegetables?" exclaimed my friend as the four of us sat in the oversized booth meant for six people. It was getting late and we had waited an extra half hour for our reservations. Though the restaurant had been kind enough to offer us free drinks for our inconvenience that just seemed to exacerbate everyone's hangry attitude. Booze on an empty stomach seemed like a recipe for disaster. I tried to protest that I actually really like zucchini but he just waved his hand and said we should ordering the asparagus instead and the other three in the party nodded their heads in agreement. Sad ubiquitous zucchini was NOT a popular summer vegetable in this group.
"And let's not get started on that ridiculous zucchini pasta thing that I keep seeing all over. That is just wrong." he said, and then firmly grasped his double old fashioned glass and took a hefty swig of whatever trendy cocktail the bar had given him. The large clear square of ice clinked against the side of the glass as he drained the last of the brown fluid in one gulp. I could see the brown kicking in.
The thing was, I couldn't disagree about the zucchini pasta notion. Not that I didn't like the dish, just that it's a terrible name for a relatively benign idea. Present it as zucchini strips or summer vegetable medley and it's fine by me, even fantastic if the summer vegetables are brilliantly ripe, but the minute you add the word "pasta" into the name, it's a total bait-and-switch. I'm looking for a bite and chew that only a piece of starch can give and no amount of quick blanching or thin slicing is going to satisfy that one.
The concrete floors and gray marbled walls got colder as the evening progressed. Dinner was finally served. Large slabs of wood filled the center table with charcuterie, pate and cheese. A big, make that giant, thick slab of a pork chop sat in front of AJ. My friend who found zucchini offensively bland had both the asparagus and the fingerling potatoes in front of him while my other friend had a dish of fried head cheese and a salad of what looked like salami slices (I think they might have been mini beets however) while I had to fat sausages curling up on a bed of saukraut waiting for me to dive into. Broccolini (mistakenly labelled broccoli on the menu) and more asparagus crowded the center of the table and I though to myself that it was good thing we sat at a table meant for six people. I didn't miss the zucchini, though I knew my stomach might regret all the pate I ate that night. After my final bite, after bidding adieu to the group, I vowed to make something more summery and light for my next meal.

Zucchini Pasta Recipe, aka Summer Vegetable Medley
By Irvin Lin
I really hate the term "zucchini pasta" which ruins an otherwise decent dish. I had discovered it's existence in a cookbook by the fabulous Molly O'Neill called A Well-Seasoned Appetite, which I bought when it was first released in hardcover back in 1995. Molly had written one of my all time favorite cookbooks, the New York Cookbook, and in my post-college days as a bookseller at a tiny little independent bookstore in St. Louis, I hand sold numerous copies to customers. Her follow-up was less eclectic and less storydriven than the New York Cookbook but no less enlightening, organizing the chapters and recipes by season, something that was less common back then. I remembered making her zucchini pasta, totally confused as to why it was called that, back in my black and white checkered floored St. Louis one-bedroom apartment kitchen for an ex-boyfriend of mine. The boyfriend didn't last, though this recipe did. I still don't like the name though.
Adapted from Molly O'Neill's A Well-Seasoned Appetite.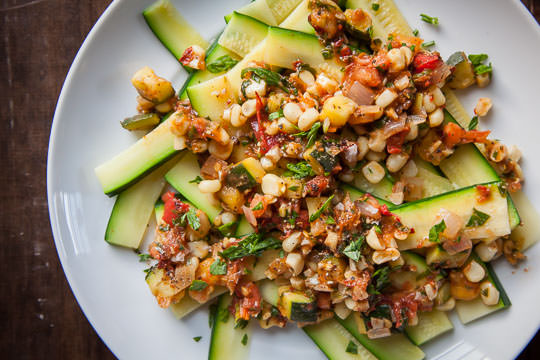 Ingredients
1 medium ear corn, husked
1 tablespoon olive oil
1/2 teaspoon crumbled dried oregano leaves
1 medium zucchini, end trimmed then diced into 1/2-inch pieces
6 cloves garlic, minced
2 medium shallots, diced
3 medium heirloom tomatoes, diced
2 tablespoons chopped fresh parsley leaves
3 tablespoon chopped fresh basil leaves
1 teaspoon sea salt
1 teaspoon coarse cracked black pepper
5 medium zucchini, ends trimmed then halved lengthwise
1/4 teaspoon red pepper flakes (optional)
Directions
1. Bring a large pot filled with water to a boil. Place the corn in the water and cover. Cook 3 minutes, then remove corn from water and let cool on a plate. Liberally salt the water in the pot and cover with lid to keep warm but turn the heat off for now. Once the corn is cool enough to handle, cut the corn off the cob.
2. Place the oil in a large skillet and turn the heat to medium high. Add the oregano to the oil stir until the oil heats up. Once the oil is hot, add the diced zucchini and cook, stirring frequently, until brown about 4 minutes. Add the garlic and shallots and cook for 1 minute. Add the tomatoes, corn, parsley, basil, salt and pepper. Cook for 1 minute longer or until the heated through and the tomatoes start to release juice. Add the red pepper flakes (if using) at this time. Remove from heat.
3. Bring the salted water that you used to cook the corn back to a boil. Slice the zucchini into long thin strips, lengthwise as the water heats up again. This is the "pasta" that I find so offensive in name. Once the water is boiling, place the zucchini strips in the water and cook for 3 minutes. Remove and drain from the water. Place in a large bowl, add the tomato, corn and zucchini sauce to the zucchini strips and gentle toss to coat. Taste to adjust seasonings and serve immediately.
Makes enough for 4 generous side course.
If you like this Summer Vegetable Recipe featuring Zucchini "Pasta", check out some of these other summer vegetable recipes from around the web:
The Merry Gourmet's Balsamic Roasted Summer Vegetables
Eats Well with Others' Late Summer Vegetable Stew with Brown Butter Cornbread
Bran Appetit's Summer Vegetable Bacon Carbonara
Cookin' Canuck's Israel Couscous with Grilled Summer Vegetables
The Slow Roasted Italian's Grilled Summer Vegetable Pasta Salad
Recipe Girl's Thai Summer Salad