These white chocolate peppermint cookies have a great depth of flavor from the brown butter while the salt on top keeps them from being too cloyingly sweet! (Jump directly to the recipe.)
Every year we celebrate the holidays with our annual holiday dessert party right before Christmas and this year I thought I would be crazy trying to throw it all together at the last minute. Instead the party went without any major hiccups and the aftermath, usually a spectacular array of piled dishes strewn across the apartment, with half empty glasses found in the oddest places did not happen. Better still our usual boozehound friends (you know who you are) weren't able to make it to our soiree this year. A mixed blessing as I adore them immensely and they are highly entertaining, but that also meant AJ was not goaded into drinking more than he could hold. Last year's post-party clean up involved both the apartment AND AJ, I was super pleased that I didn't have to take care of AJ as well this year. I baked up a storm of desserts, some that I'll eventually feature in my book, but one in particular that I really loved and that was new this year that I really wanted to share even if the season is over, a white chocolate peppermint cookie with sea salt. (Jump directly to the recipe.)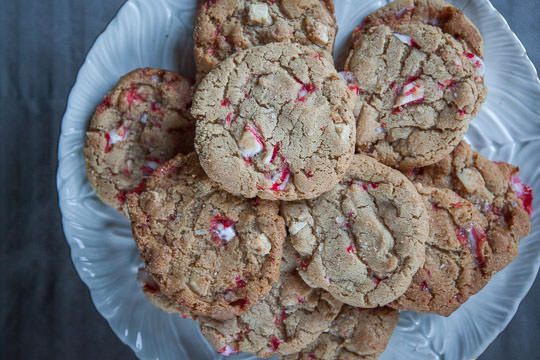 The combination of white chocolate and peppermint is probably not new to anyone who has eaten peppermint bark. But I hadn't considered making it a cookie until I was scrolling through Pinterest and came across Not Without Salt's version of it. I, like most Internet savvy folks, have a love/hate relationship with Pinterest, with it's neverending feed of sumptuous gorgeous photos of unattainable crafts and baked goods. I've been accused of contributing to this problem, creating food that most mere mortals cannot create but I just going to ignore the fact that I am part of the problem and not the solution. After all, MY food isn't hard to make. Especially if I AM making it in my own home. Right?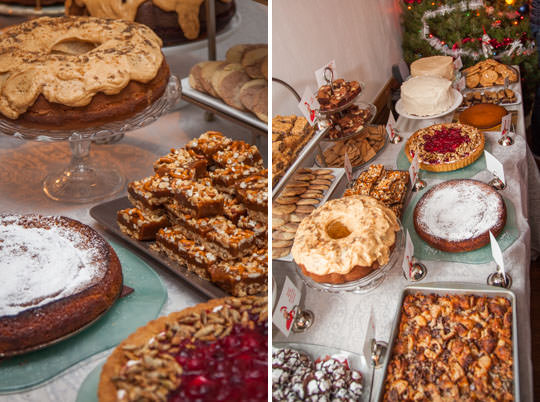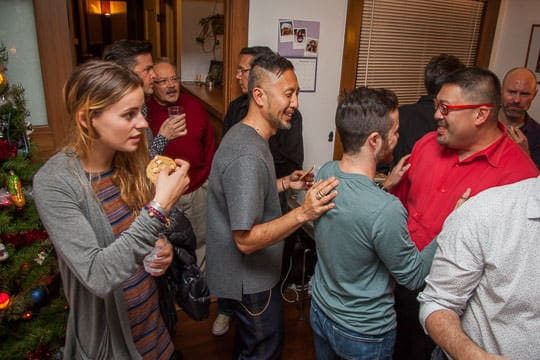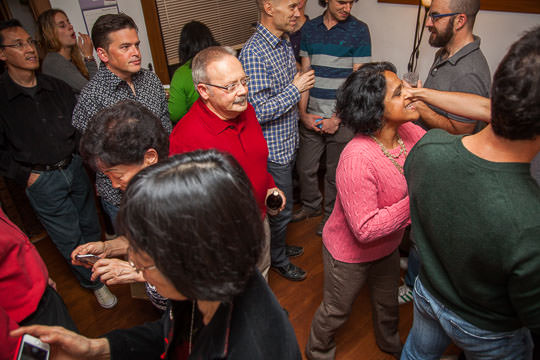 But I digress. The array of desserts that I made for my party probably won't help the cause of me being one of the mere mortals right? My dessert buffet included the following:

The aforementioned White Chocolate Peppermint Cookies with Sea Salt
Congo Bars
Orange and Rum Marbled Cookies
Eggnog Cookies
Red Velvet Cake with Mascarpone Whipped Cream Frosting
Malted Dark Chocolate with Brown Sugar Italian Meringue Frosting
Kahlua and Orange Spice Marbled Bundt Cake with Caramel Frosting
Caramel bars with Pretzels and Peanuts
Speculaas
Apple Slab Pie
Chocolate Croissant Bread Pudding
Cranberry and Honey Greek Yogurt Tart with Pistachio Crust
Smokey Lapsang Souchong Cake w/Caramel Frosting
I also did some gluten free desserts including:
Chocolate Crinkle Cookies
Cheesecake Brownies
Cranberry Butterscotch Cake with Brown Sugar Glaze
Orange Marmalade Swirled Brownies with Caramelized White Chocolate Ganache (gluten free)
Pumpkin Cheesecake (gluten free)
Lemon Carrot Olive Oil Cake (gluten free)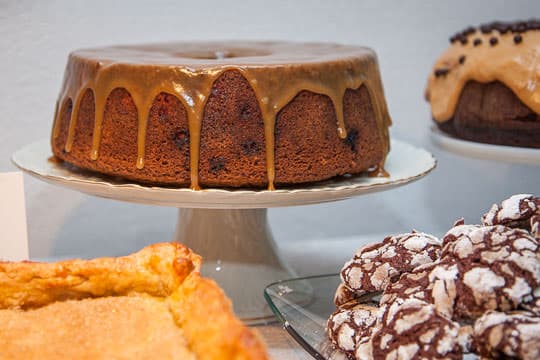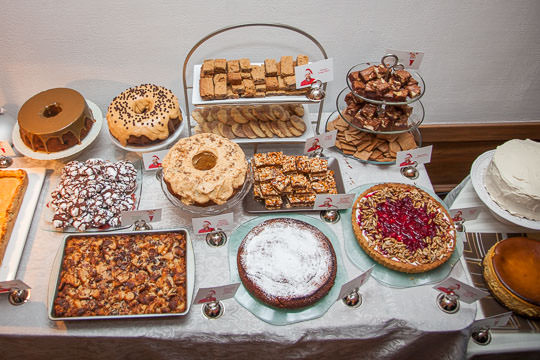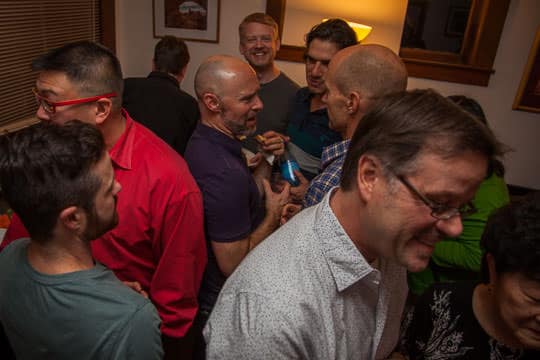 The party was a rousing success. We had a nice spread of cheese from Kerrygold (thank you again for sponsored our party!) as well as a ham that AJ made again. Look back, with the holiday season over and the new year here, I can't wait to see what 2015 has in store for me. Thanks for stopping by here and reading this blog. You guys are the absolute best.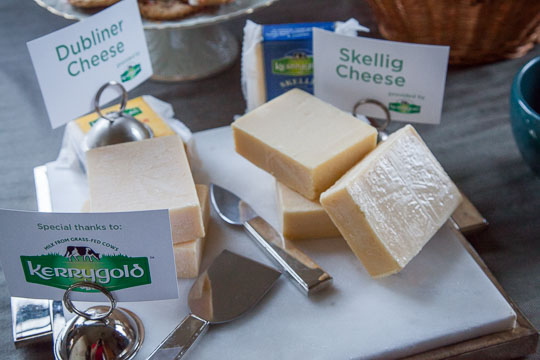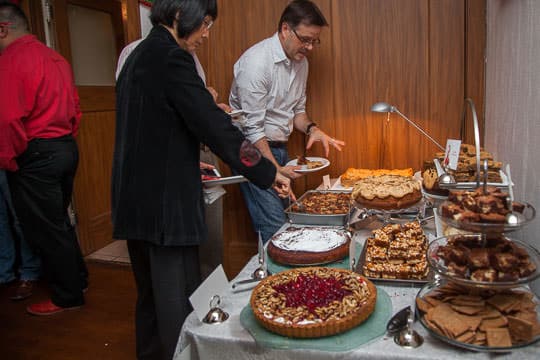 Special thanks to Kerrygold for sending me a samples of Skellig, Dubliner and unsalted butter to bake with! Even though they did send me complementary cheese and butter for the party, I was not compensated for this post or this writing about how awesome their cheese and butter is.

White Chocolate Peppermint Cookies with Sea Salt
By Irvin Lin
These cookies are definitely scream "holiday cookie" with their cool peppermint crunch and sweet white chocolate taste but don't let that stop you from making them even if it's not the holidays (though candy canes might be hard to find – try using those round peppermint candies. The salt on top helps temper the cloying sweetness and the brown butter give them a nice deep caramelized undertone. My friend Steven stayed in our apartment over the holidays while we travelled back to visit AJ's family and ended up eating pretty much all the leftover cookies, later emailing me "Oh dear God, those are good." So there you have it.
Inspired by a recipe from Not without Salt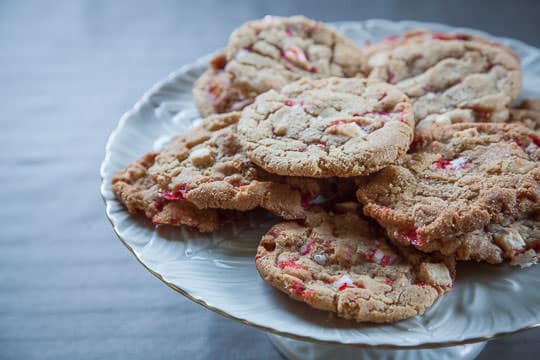 Ingredients
1 box (170 g or 6 oz) of 12 large candy canes or 1 cup of round hard peppermint candies
1 1/4 cup (285 g or 2 1/2 sticks) unsalted butter
1 1/4 cup (285 g) dark brown sugar
1 cup + 2 tablespoons (225 g) white granulated sugar
1 tablespoon vanilla extract
1/2 teaspoon sea salt
2 large eggs
1 1/2 teaspoon baking powder
1 1/4 teaspoons baking soda
3 1/2 cups (480 g) all-purpose flour
2 cups (275 g) chopped white chocolate chunks
extra sea salt for finishing
Directions
1. Preheat oven to 350˚F. Place a silpat or piece of parchment paper on a baking sheet. Unwrap the candy canes or peppermint candies and place them in a freezer quart ziplock bag. Crush with a meat tenderizer mallet or a rolling pin until the candy is in bite size pieces.
2. Place the butter in a large skillet and bring the heat on high. Once the butter has melted completely, lower the heat to medium and stir constantly until the fat solids in the butter start to brown and it smells nutty and fragrant. Turn the heat off and immediately pour the butter into the bowl of a stand mixer fitted with the paddle attachment. Be sure to scrap all the brown bits into the bowl as well. Add the brown and white sugar into the bowl and turn the mixer to medium speed. Mix for 2 minutes until the butter has cooled down (feel the side of the bowl, it's OK if it's still a bit warm but not if it's too hot to the touch).
3. Add the vanilla extract and salt to the bowl and mix for 30 seconds on medium speed. Add the eggs, one at a time, beating to incorporate the first egg before you add the second. Add the baking powder and baking soda and beat to incorporate. Stop the mixer and scrape down the side of the bowl. Add the flour and turn the mixer on slow speed to incorporate. Once a dough has formed, add the white chocolate chunks and the peppermint candy bits and stir on slow speed to incorporate thoroughly in the dough.
4. Scoop out hunks of the dough, and roll in the palm of your hand into the size of a large walnut. Place on the lined baking sheet and flatten slightly to a disk. Sprinkle a heavy pinch of sea salt on each cookie dough disk and then bake in the oven for 12-14 minutes. Let cool on the baking sheet for 5 minutes then move the cookies to a wire rack to cool completely.
Makes 24 cookies.
If you like these White Chocolate Peppermint Cookies with Sea Salt, check out these other peppermint flavored recipes from around the web:
Kevin is Cooking's Marbled Chocolate Peppermint Truffles
Sprinkle Bakes' Peppermint Mousse Cups
Crazy for Crust's Peppermint Ganache Pie
Joy the Baker's Peppermint Pretzel Marshmallow Fudge
Tidy Mom's Vanilla Peppermint Cupcakes