Looking for a Green Bean Casserole recipe using REAL ingredients? Try this vegan, gluten-free, grain-free, paleo-friendly recipe that tastes the best! (Jump directly to the recipe.)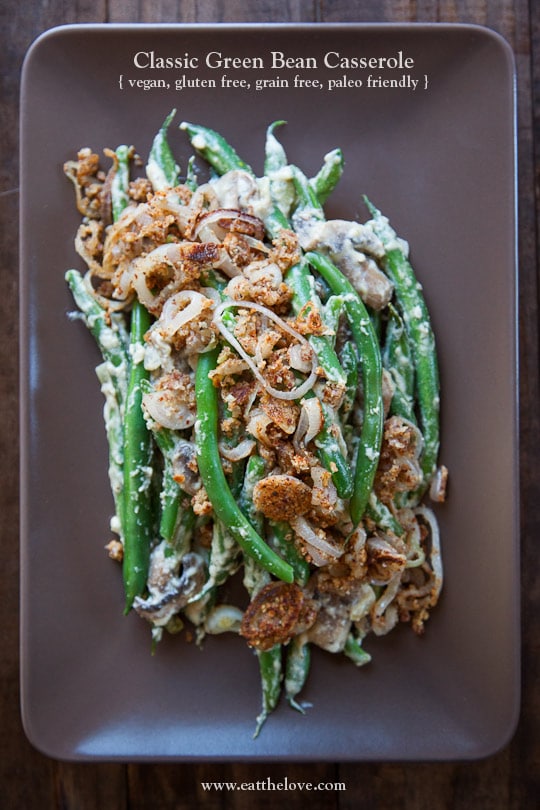 You know that feeling you get when your mom pulls out those drawings you did when you were in junior high and showing them to your friends and loved ones during the holidays? "You were so talented! Look at this!" she'll exclaim loudly, while you try in vain to climb under the sofa to hide. Well that's sort of how I feel when I look at old blog posts of mine. Yet somehow, recipes and posts do pop up, especially when it's seasonal hits like my vegan green bean casserole. Since Thanksgiving is just around the corner, I thought it was time for me to update that specific recipe. It was already a vegan and gluten free green bean casserole, so I thought, since I'm redoing, why not make it grain free and paleo friendly? I know there are tons of people out there could use an allergen friendly and paleo thanksgiving recipe. Not only that, but the shifts I did with the recipe actually make it BETTER. Yep. This is one is a keeper.
If you've read this blog before, you'll know that I don't have many food restrictions. Other than a minor lactose intolerance that I power through when I have a craving for ice cream (though, after recently getting a review copy of Kelly Brozyna's Dairy Free Ice Cream cookbook, that might not be an issue either!) I'm extremely lucky to be able to eat most anything I want. But I also know that many people out don't have the luxury, and that means I often strive to make food that is allergen friendly. But, because I CAN eat gluten, dairy, grains and such, it also means I know those foods taste like. When I develop a recipe it has to stand up to the original. Or, ideally, be better than the original.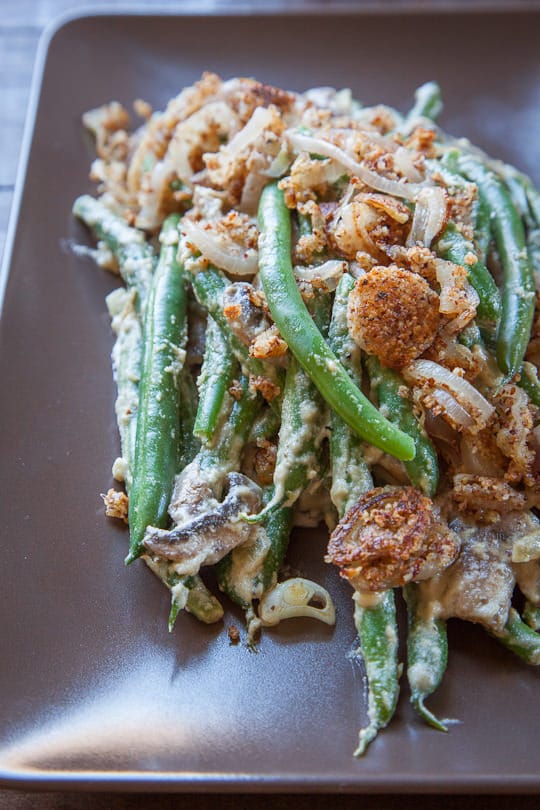 So trust me when I say that this vegan, gluten free, grain free, paleo friendly green bean casserole is good, nay great. Not only is it significantly better than the canned mushroom version (duh) since it's made from real ingredients but it's actually better than the milk and cream version that I had originally based the recipe on. The nuts like cashews and almonds play so well together with the earthy green beans and the mushrooms in this dish. In fact, this recipe pretty much has taken a permanent place in on my Thanksgiving dinner table, a table full of omnivores that eat flour, grains and dairy goods. And, in the mountain of food that gets produced for the celebratory Thanksgiving, it's the one that usually gets finished. How's that for testament to this fantastic dish?
Vegan Green Bean Casserole

, gluten free, grain free, paleo friendly

By Irvin Lin

The classic green bean casserole is part of nearly every Thanksgiving potluck in middle America. This recipe reworks the canned green bean and mushroom soup version into an easy from scratch recipe that is friendly to most people with food restrictions, other than those with nut allergies. Even better though, is that the final dish tastes BETTER than any green bean casserole you have ever had. Truth. Bonus, the dish isn't really a casserole, as it's made on the stove, which frees up room in the oven for other dishes.

There are a few things to note about the ingredients. The cashews need to be raw and need to soak overnight in water, so plan accordingly. The almond meal or flour can be purchased or just take plain unsalted almonds and grind them up into a powder in a food processor. Arrowroot flour is a thickener that is gluten free and paleo friendly. If you don't have any on hand, you can substitute cornstarch, glutinous rice flour or tapioca flour in its place. You can even substitute regular flour if you aren't gluten sensitive.

Revised from a previous post of mine for Vegan Green Bean Casserole, which in turn was inspired by a Cook's Illustrated recipe.
Ingredients
1 cup raw cashews
3 large shallots, sliced into 1/8 inch thickness
1/4 cup almond meal or flour
1 tablespoon arrowroot flour (or cornstarch, see note above for other substitutions)
1/2 teaspoon fresh ground black pepper
1/2 teaspoon kosher salt
7 tablespoons olive oil, divided
10 oz white or brown button mushrooms, sliced
1 medium onion, chopped
6 medium cloves of garlic, minced or pressed
1 1/2 lbs fresh green beans, tips snipped off
3 sprigs of fresh thyme
1 fresh bay leaf or 2 dry bay leaves
1 cup vegetable stock
salt and freshly ground pepper to taste
Directions
1. Place the cashews in a medium sized bowl, and cover them with water until they are completely submerged. Cover with plastic wrap and refrigerate for 8 hours or overnight. Once the cashews have soaked, drain them and rinse thoroughly. Place the cashews in a blender or food processor and add 1/2 cup of water. Process on high speed until pureed into a thick cream consistency.
2. Line a baking sheet with a double layer of paper towels. Place the shallot slices in a medium bowl and sprinkle the almond meal, arrowroot flour, ground pepper, and salt over the shallots. Toss to evenly coat the shallots. Heat 3 tablespoons of oil in a large sauté pan or skillet on high. Once the oil starts to shimmer (but before it starts to smoke) reduce the heat slightly to medium high and add the coated shallots and fry them, stirring constantly, until they are golden brown, about five minutes or so. Once they are golden brown, move them to the baking sheet.
3. Add 2 more tablespoons of oil to the sauté pan or skillet and turn to medium heat. Add the sliced mushrooms and cook, stirring frequently, until they are brown, about 5-7 minutes depending on how thick the mushrooms are. Pour the mushrooms and any accumulated liquid, into a heatproof bowl.
4. Add the final 2 tablespoons of oil to the sauté pan or skillet and turn the heat to medium. Add the onions and cook until they soften about 2-3 minutes. Add the garlic and cook until fragrant, about 30 seconds. Add the green beans, thyme, bay leaves, pureed cashews and vegetable stock. Cook, stirring frequently, until the beans are slightly tender but crisp in the center, about 5 minutes. Add the mushrooms and liquid and continue to cook for another 5 minutes, or until the green beans are tender and the sauce has thickened. Once done, season with salt and pepper to taste. Remove the thyme and bay leaves before plating and sprinkle the fried shallots over the green beans before serving.
Makes 6 servings.
Check out these other awesome green bean recipes from around the web (warning, not all of them are gluten free, vegan, or paleo friendly, but they all sounds pretty darn delicious!):
Nom Nom Paleo's Roasted Green Beans with Fish Sauce
Kalyn's Kitchen's Stir-Fried Green Beans with Lemon, Parmesan and Pine Nuts
Healthy Seasonal Recipes's Green Beans with Walnuts and Balsamic
What's Gaby Cooking's Grilled Green Beans
Barefeet in the Kitchen's Turmeric Roasted Green Beans and Potatoes