Because I'm an extremely famous blogger (no, actually I'm not, but somehow people seem to think I am, and who am I to dissuade them from their delusions), I get to do something fancy pants things like go on press trips, get an occasional review copy of a cookbook or hobnob with famous chefs. However, one of my favorite things to do is to judge contests! I think it might be because I'm naturally an exceedingly judgy person (oh no you did NOT just wear horizontal striped leggings!) and getting to be an official judge just legitimizes the fact that my opinions are correct (really, horizontal stripes in general aren't a good idea, unless you're Twiggy). So when the International Chocolate Salon invited me back to judge their San Francisco salon I immediately jumped to the chance. Going there is always inspirational, and this year was no exception as I found myself whipping up Thyme Flaxseed Rice Crispie Dark Chocolate Cookies inspired by a New Tree chocolate bar.
Unlike last year's chocolate saloon, I knew what to expect and did not attempt to taste every single chocolate on premise. Instead I brought a giant box of sandwich bags and politely informed each vendor that I was a judge and could they just give me one or two sample chocolates to take home and taste. Across the board, every vendor was appreciative, handing me a few samples, thereby letting me taste and take notes at home, judging in private.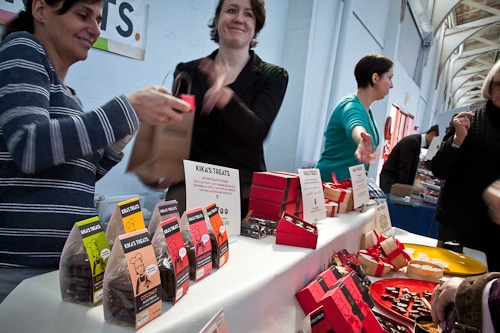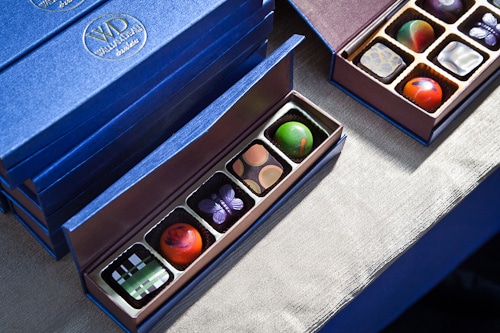 The fact is, with over 50 different vendors there, it's pretty easy to overwhelmed by the selection. I arrived early to make sure that I had enough time to visit each booth before the crowds got there, but even still, by the time I left it was packed with barely any wiggle room. Some vendors even had lines of people waiting to sample and I tried not to pull the "Hey there, I'm someone important" card, but the minute I started to take photos with my big camera, people seem to naturally part for me. Yay DSLR!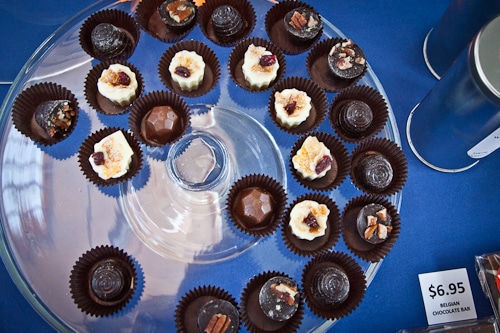 I had invited along my friend Sabrina of The Tomato Tart as my plus one, even though I know she's not a huge chocolate fan (I know! I'm not sure why I'm still friends with her). That said, she does love citrus (like adores it) and so I was sure to steer her toward the citrus inspired chocolate creations. I also ran into Catherine over at Munchie Musings who came down from Sacramento and we ran around at the salon sampling chocolate to our heart content.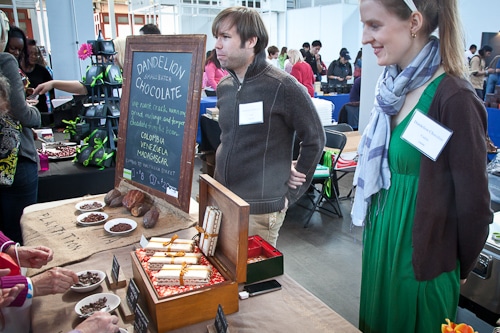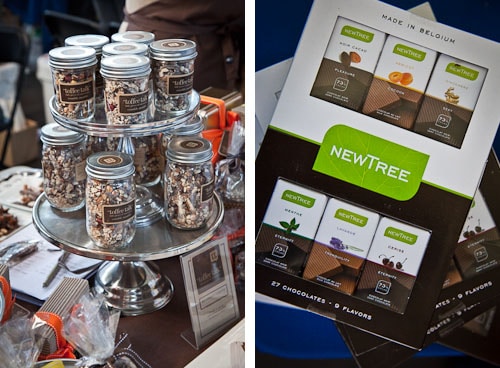 Lately I've noticed a trend of savory herbs and spices sneaking into sweet desserts and New Tree's Thyme Flaxseed chocolate bar is no exception. The grassy thyme in the chocolate really helps bring out the dark woodsy notes of the chocolate without being too overwhelming. I immediately started to think about how I could interpret it into a baked good, and the cookie seemed like a perfect translation. This is a pretty memorable cookie, with the crunch of the flaxseeds and the snap of the sugar coating playing with the moist yet tender crumb of the cookie. I think you'll agree once you taste it that this is a cookie that everyone will judge a winner.
Special thanks to Taste TV for having me as a chocolate judge for their International Chocolate Salon. I was not compensated for the post above and all opinions are mine.
Thyme Flaxseed Rice Crispies Dark Chocolate Cookies
By
Irvin Lin
The unexpected savory note of thyme brings out the deep dark chocolate flavor of these cookies. The crisp outer coating gives way to a burst of chocolate flavor and the slight crunch of the flax seeds, making these cookies a textural win.
Inspired by a chocolate bar by New Tree
1/4 cup buttermilk
2 teaspoon vanilla extract
1 teaspoon dried thyme
230g (8 oz) bittersweet chocolate, chopped into 1/4 -1/2 inch chunks
(280 g) 2 cups all purpose flour
75 g (1/2 cup) dutch processed cocoa powder
2 teaspoon baking powder
1/2 teaspoon sea salt
115 g (1/2 cup or 1 stick) unsalted butter at room temperature
330 g (1 1/2 cups) dark brown sugar
2 large eggs
1/4 cup flax seeds
1 1/2 cups rice crispies
1/2 to 3/4 cup granulated sugar for rolling
1. Preheat the oven to 350˚F. Line a baking sheet with a silpat or parchment paper.
2. Place the buttermilk and vanilla in a small bowl. Crumble the dried thyme over the liquid and stir to let the thyme flavor bloom. Set aside to let the thyme steep.
3. Place bittersweet chocolate chunks in a microwave safe bowl and place in the microwave for 30 seconds on high. Stir the chocolate and microwave for 30 more seconds and stir again. Microwave for 30 seconds more and stir until all the chocolate is melted. If there are still stubborn chunks of chocolate that won't melt, microwave in 15 second intervals, stirring between each, until the chocolate has melted. You can also melt the chocolate in a double boiler if you wish. Let the chocolate cool while you prep the rest of the cookie batter.
4. Place the flour, cocoa powder, baking powder and sea salt in a medium sized mixing bowl. Using a balloon whisk, vigorously stir the dry ingredients until they have achieved a uniform color.
5. Place the butter and brown sugar in the bowl of a standing mixer fitted with a paddle attachment. Cream the sugar and butter together on medium speed until the butter has become light and fluffy about 2 minutes. Add the eggs, one a time, beating the batter on medium until each egg is incorporated before adding the next one.
6. Add half of the dry ingredients and beat on medium speed until incorporated. Add all the buttermilk with the vanilla and thyme to the batter and beat until incorporated. Add the rest of the dry ingredients and beat until incorporated. Add the flax seeds and rice crispies into the batter and turn the mixer on slow, mixing the batter just until the seeds and rice crispies are blended in. Don't overbeat.
7. Grab two large silverware spoons and scoop heaping tablespoons of the dough with one of them. The dough will be very soft. Roughly shape the dough into balls on the two spoons and then drop it into the bowl of sugar. Roll the dough in the sugar, making to coat the cookie dough completely. Place on the baking sheet and repeat with the rest of the dough, placing the cookies 2 inches apart from each other. Bake in the oven for 12 to 14 or until the edges of the cookies start to feel firm and look dry (try not to over bake). Let cool on the baking sheets for 5 minutes and then move to a wire cooling rack.
Makes 48 cookies