"What makes it Tex Mex?" asked a friend of mine when I instagrammed a picture of my Tex Mex Sheet Cake with Sugar Spiced Pecans. I responded back that it was actually a variant of a Texas Sheet Cake, but my friend still seemed perplexed as to what that was, so my description didn't help. Apparently Texas Sheet Cake isn't as popular out here in San Francisco as it is in the Midwest (and, I can only presume, in Texas as well). A potluck favorite in the landlocked states that I grew up in, it's a cross between a chocolate cake and brownie, something made in a large baking sheet pan and that can serve a large number of people. Easy to make, easy to serve, I gave it a little twist, adding Mexican Chocolate spices like cinnamon, nutmeg and a touch (just a touch) of cayenne pepper for kick. I had heard of Texas Sheet Cake from my friend Deb in St. Louis years ago but I had never actually made it (despite having cut out recipes for it for the past 20 years). So I was thrilled to have found a great recipe for it in The Complete Cook's Country TV Show Cookbook, a fabulous cookbook that lists every recipe from all five seasons of the show. The cake seemed like it would go over well at the 18 Reason's DIY Dessert Ice Cream Social I was co-hosting. I wasn't wrong.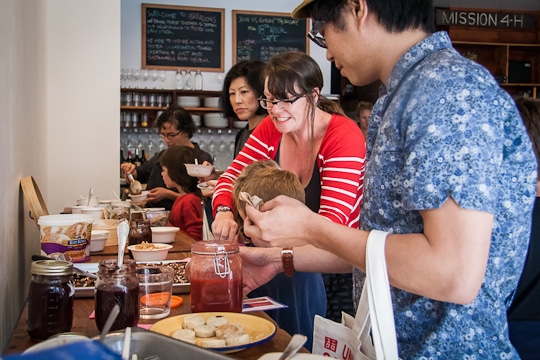 In case you didn't know, four times a year, I help co-host an afternoon of sweet treats, with a rotating theme at 18 Reasons. A few months ago, in mid-September I hosted our annual Ice Cream Social, which is one of our most popular events. The San Francisco folks from all over came with ice cream, toppings and bases for ice cream sundaes. We even had the awesome band Go Kart Mozart jamming away while everyone ate to their heart's content! Yay awesome rockband!
I was insanely impressed with the creative ice cream flavors people were showing up with. Ice cream is fabulous neutral palette that allows you to really be creative with flavors. Certainly artisan ice cream shops all over have discovered this (from Jeni's Splendid Ice Cream in Ohio, to local shops BiRite Creamery, Humphry Slocombe and Mr. and Mrs. Miscellaneous) but I loved seeing what people home churned and brought to 18 Reasons. Concord Grape Sorbet, Fig Ice Cream with Meyer lemon zest, Rocky Road with homemade marshmallows, Ricotta Fig and even a savory ice cream (Parmesan Ice Cream!) made an appearance. Givatreat.com was there giving out scoops as well, with flavors like mango and coconut and lemon sorbet.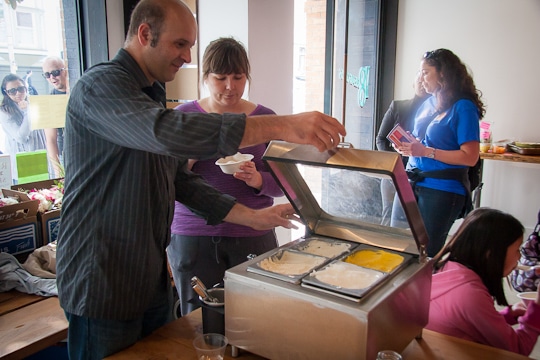 Of course, we had some great toppings to go along with the ice cream. Toppings included Maple glazed pecans, caramel krispies, berry jam sauce, caramel sauce, strawberry sauce with Kaffir lime leaves and Sichuan peppercorn, rosemary almond brittle and thyme walnut brittle. It was hard to not want to add EVERYTHING to your ice cream, but I tried my darndest to at least sample one of each. It's the price you pay for being the co-host.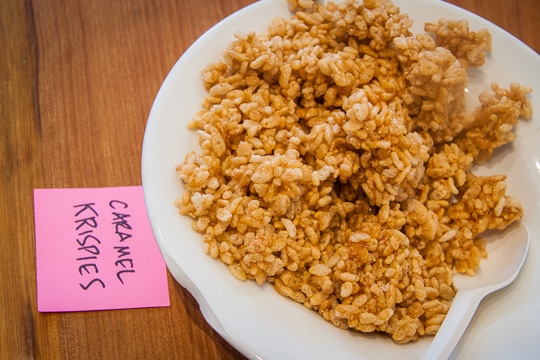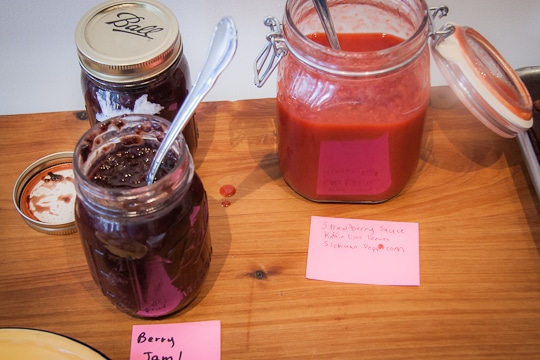 Of course we had a few bases ingredients as well for sundaes. Melanie and her boyfriend Ben had brought Ben's Mom's Delicious Coconut Things which were a chocolate coconut shortbread base (and crumbled topping – it did double duty). Someone had brought a big of carton of cannelés de Bordeaux which had me swooning (I love those) and there were savory cookies as well! I had brought my Tex Mex Sheet Cake, which was nearly devoured by the masses. I don't think I've ever seen of my baked goods go so fast at a DIY Dessert event. I guess there's something to be said about chocolate cake topped with chocolate icing and pecans.
The DIY Dessert Ice Cream Social at 18 Reasons was a definitely success. I'm looking forward to the next one, which will be in December. Our annual Holiday Cookie Swap! Bring three dozen cookies (or more) to share and sample all the cookies there to take cookies home. Because sometimes the best gift is giving something you made with love…and getting something back that someone else made with love.
The next DIY Dessert event will be Saturday, December 8th 2 to 4pm at 18 Reasons. If you are in the San Francisco Bay Area, stop by with cookies or an appetite for sweets!
Special thanks to America's Test Kitchen for providing a review copy of The Complete Cook's Country TV Show Cookbook. Though they did provide a review copy of the book, all the opinions above are my own and I was not compensated for anything I wrote.
Tex Mex Sheet Cake (Texas Sheet Cake with Mexican Chocolate spices) with Sugar Spiced Pecans
By Irvin Lin
Don't be scared of the numerous ingredients in this potluck favorite. A cross between a brownie and a dense fudgy cake, the pecans can be made ahead of time and kept in an airtight container for a day or two beforehand (just be careful you don't snack and eat them all by themselves!). The cake and icing is way easier to make than you might think. Just be sure to make the icing while the cake bakes, so you can pour the icing directly onto the warm cake, as that will make a nice fudgy layer between the icing and cake. You'll notice that there's just a touch of corn syrup in the icing. That's to give the icing a nice gloss. If you are adverse to corn syrup, you can substitute honey in it's place, but keep in mind that the honey will add a slight honey flavor to the icing. Or omit the corn syrup completely if you don't care about the pretty shine on the icing.
Radically adapted from The Cook's Country TV Show Cookbook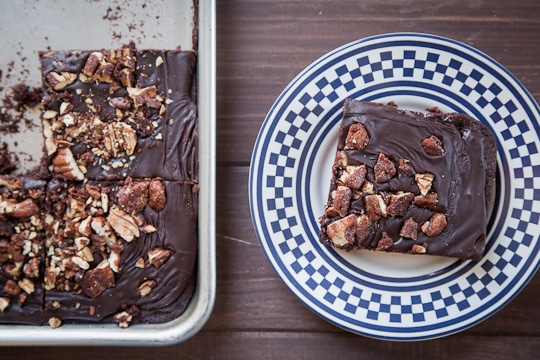 Ingredients
Sugar Spiced Pecans
1 1/2 cups (175 g) pecan halves
1 large egg white
3 tablespoons (35 g) white granulated sugar
3 tablespoons (45 g) dark brown sugar
1 1/2 teaspoon cinnamon
1/4 teaspoon sea salt
1/8 teaspoon cayenne pepper
Cake
2 cups (280 g) all purpose flour
1 1/2 cups (300 g) white granulated sugar
1/4 cup (55 g) dark brown sugar
1/2 teaspoon baking soda
2 large eggs
2 large egg yolks
1/4 cup sour cream
2 teaspoon vanilla extract
8 oz (225 g) dark bittersweet chocolate, chopped into 1/4 inch chunks
3/4 cup neutral flavored oil (like canola or corn)
3/4 cup freshly brewed hot coffee
1/2 cup (65 g) Dutch processed cocoa
4 tablespoons (57 g) butter, unsalted
1 1/2 teaspoon cinnamon
1/2 teaspoon nutmeg
1/4 teaspoon cayenne
1/2 teaspoon sea salt
Icing
1/2 cup (113 g or 1 stick) butter, unsalted
1/2 cup heavy cream
1/2 cup Dutch process cocoa
1/4 teaspoon sea salt
1 tablespoon light corn syrup
3 cups (340 g) confectioners' (powdered) sugar, sifted
1 tablespoon vanilla extract
Directions
1. Make the sugar spiced pecans by preheating the oven to 350˚F. Place the pecans in a medium sized bowl. In a smaller bowl place the egg white and remaining dry ingredients together. Whisk the egg whites with the dry ingredients until frothy and the ingredients have blended together. Pour over the pecans and fold together with a large spatula until the pecans are coated. Pour onto a rimmed baking sheet. Bake in the oven for 8 to 12 minutes or until the pecans start to look golden brown. Keep an eye on the baking sheet, stirring the pecans after 6 minutes to make sure they brown evenly. Let cool on the baking sheet to room temperature and store in an airtight container.
2. Make the cake by preheating the oven to 350˚F if it isn't already at the temperature from the pecans. Spray an 18 x 13 inch rimmed baking sheet with neutral cooking oil. Place the flour, sugars, and baking soda in a large mixing bowl. Using a balloon whisk, vigorously stir the dry ingredients together until they are blended together. Place eggs, egg yolks, sour cream and vanilla extract in a small bowl and beat together with a fork until smooth and well blended. Place the chopped chocolate, oil, coffee, cocoa powder, butter, spices and salt together in a medium saucepan. Cook on medium heat for about 3 to 5 minutes, stirring constantly, until the chocolate melts and the mixture is smooth. Pour the chocolate into the dry ingredients bowl and mix with a large heatproof spatula to incorporate. Add the sour cream & egg mixture and mix to incorporate.
3. Pour the batter into the prepared rimmed baking sheet and spread the batter to the edges of the pan, smoothing it out. Bake for 18 to 20 minutes or until a toothpick in the middle of the pan comes out clean. Don't overbake.
4. About 10 minutes into the baking, chop the pecans and then make the icing. Place the butter, cream, cocoa, sea salt and corn syrup in a medium saucepan and cook over medium heat, stirring constantly, until the butter has melted and the mixture is smooth. Turn the heat off, and stir in the sifted confectioners' sugar and vanilla extract. Once the cake has come out of the oven, while it is still hot, pour the icing over the cake and spread it evenly with a small offset spatula (or butter knife) to the edges of the cake, evenly icing the cake. Sprinkle the pecans over the still warm icing, and gently press down on them to set them in the icing. Let the cake cool to room temperature (about an hour) on a wire rack then move the cake, uncovered, to the refrigerator to cool further for an hour more to let the icing set. Once the icing has set, you can over it with aluminum foil or plastic wrap and keep it in the fridge for up to three or four days, but it's best served in the first couple of days.
Makes an 18 x 13 sheet cake, or 24 3×3 inch square servings.