It seemed the ultimate bait and switch for my friend Amy. She saw my Instagram picture of a Belgian style waffle and immediately thought "THAT LOOKS SO GOOD" but then she read the caption. "Quinoa Goat Milk Belgian Waffle with Double Cherry Maple Syrup" and immediately was horrified. Amy was not having any of those funky flavors in her waffles, she's a straight up buttermilk waffle girl. Which is too bad, because the addition of goat milk and quinoa flour really adds an extra layer of crazy awesomeness to the waffles. Of course I live in bubble called San Francisco, the land of crazy, so what do I know? (Clearly a lot, because the genius of goat milk and quinoa deserves a prize in my book…)
I'm not a huge goat milk person to be honest (though that has certainly changed). Truthfully, I hadn't thought much about goats until my friend Maggy of Three Many Cooks invited me and a few other bloggers up to the Redwood Hill Farm to learn more about their facilities and goats in general. It turns out that goats are insanely cute and the baby ones will snuggle up with you immediately if you pick them up. Pretty much every blogger swooned when this happened and I was able to catch a little bit of it on video.
[vimeo 47436060 nolink]

Immediately smitten with the goats, it didn't take long for everyone to fall in love with Redwood Hill Farm as well. A family owned and run farm for over 40 years, the passion of everyone at the farm was evident the moment we pulled up. From the solar panels (the creamery is 100% solar powered) to the mellow wandering chickens, romping dogs and curious goats, the entire farm gave me that sort of bucolic sunshine happiness that only came from employees and owners that loved what they were doing.
Of course, you can't visit a goat farm without milking a goat, which, it turns out, isn't nearly as difficult as it seems; at least for the first couple of squeezes. I can see it getting old after awhile and I had an extremely difficult time synchronizing my squeezing technique for both hands. Thankfully Shauna of Gluten Free Girl was there to capture my goat milk skill set. I don't think I'll be giving up my day job anytime soon.
[vimeo 47436059 nolink]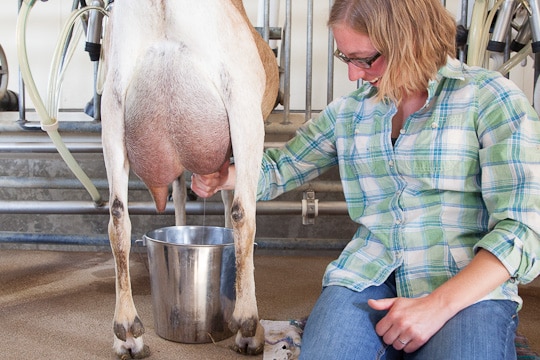 One of the reasons people hate goat milk is the "goaty" funk that they associate with it. That goaty funk comes from the natural bacteria in the milk. It's important to cool the milk down as fast as possible as the bacterial can exponentially increase at room temperature. The faster the milk is cooled, the less goat funk you get, and needless to say, Redwood Hills farm cools their milk immediately after milking the goats.
Of course, the way most people consume goat milk is by goat cheese, and Redwood Hill Farm makes their own award winning cheese from the goat milk including fresh Chevre, raw milk Feta, a Camembert style cheese and even a Cheddar cheese. We were served samples of all the cheese that they made, and I tried each of them, you know, in the name of research.
Redwood Hill Farms is located up in Sonoma, California and occasionally opens up their farm to the public. Bounce on over their website and check out all their products and events.
Special thanks to Redwood Hills Farm for bringing me, along with the other awesome bloggers: Marla from Family Fresh Cooking, Tracy from Shutterbean, Lisa from With Style and Grace, Sabrina from The Tomato Tart, Emma from The Kitchn, Shauna from Gluten Free Girl, and Maggy from Three Many Cooks, for a tour of their facilities and letting us play with their udder adorable goats (you knew I had to put one pun in there didn't you?). Though they provided the transportation and sample of their product for use in our kitchens, I was not compensated for anything I wrote above and all opinions are my own.
This post has been submitted to YeastSpotting.
Quinoa Goat Milk Belgian Waffle with Double Cherry Maple Syrup
By Irvin Lin
Ingredients
Waffle Batter
2 1/2 cups goat's milk
1 package (2 1/4 teaspoons) dry yeast, not rapid rise
115 g (1/2 cup or 1 stick) unsalted butter, melted
2 large eggs, beaten
1 tablespoon honey
1 teaspoon vanilla extract
245 g (1 3/4 cup) all purpose flour
80 g (1/2 cup) quinoa flour
40 g (1/4 cup) cornstarch
1 teaspoon kosher salt
Cherry Maple Syrup
115 g (3/4 cup) fresh sweet cherries, pitted
80 g (1/2 cup) dried sour cherries
1 cup pure maple syrup (don't use cheap pancake syrup)
Directions
1. Make the waffle batter in the evening by first heating the goat milk on the stove until it is just warm to the touch (about 100˚ to 105˚). Basically you just want to cut the chill of the refrigerator, so watch the goat milk on the stove carefully and don't over heat it. Dissolve the yeast and let it sit for 5 minutes to proof.
2. In the meanwhile, beat the melted butter, eggs, honey and vanilla extract together in a medium mixing bowl. Once the yeasted goat milk has proofed add it to the butter and eggs and beat together.
3. In a large mixing bowl add the flours, cornstarch and salt together. Using a balloon whisk, stir the dry ingredients together until uniform in color. Add the wet ingredients to it and stir with a large spatula until incorporated. Cover with plastic wrap and put in the refrigerator overnight.
4. Make the cherry syrup in the evening as well by combing all three ingredients together in a small pot over the stove. Turn the heat to low and cook until the maple syrup starts to form bubbles on the side of the pan. Turn the heat off, cover and place in the refrigerator overnight.
5. The next morning, pull the batter out of the fridge when you wake up and let it come to room temperature as you prep your Belgian waffle iron. You don't have to actually let it come completely to room temperature, but you know let it warm up a bit on the counter. Follow the instructions for your waffle iron and make the waffles (I'm not going to tell you how to do that, if you own a waffle iron, you should already know how). Heat up the cherry syrup on the stove so your not pouring fridge cold syrup on your hot fresh waffles. Serve immediately.
Makes 6 Belgian Waffles or so (depending on the size of your waffle iron I guess)