These easy-to-make pumpkin sage drop biscuits are packed with Autumnal flavor and are perfect to accompany a hearty soup or stew in the wintertime. (Jump directly to the recipe.)
This post is a part of a series of cookbook posts that I'll be running from now through December. I was not monetarily compensated for this post but I did receive this cookbook for free as a review copy. I receive numerous cookbooks throughout the year and only choose to highlight and write about the ones I truly love.
I get a ton of cookbooks in the mail and most of them fall into a few different categories. I get a lot of the quick and easy sort of cookbooks that promise to get a meal on the table in 45 minutes or less, or with 5 ingredients or less. The single subject cookbook (like a book dedicated to cooking with tea or a book all about vanilla) is another popular type of book. But then there are the chef and restaurant aspirational cookbooks. These books are packed full of impossibly beautiful food photographs and recipes with a laundry list of ingredients that require their own specific recipe to create (use 2 teaspoons of carrot oil, recipe found on page 246) that make them beautiful to look at but rarely used. So when I received The Gourmet Kitchen by Jennifer Farley, I was thrilled to find beautiful, sophisticated recipes that were approachable in their direction and ingredients.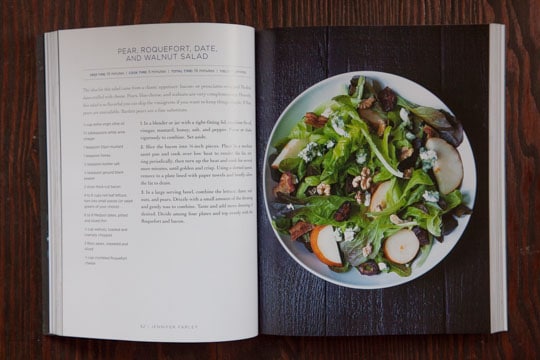 As much as I love a giant coffee table cookbook like those chef and restaurant cookbooks, my coffee table is pretty small. So small in fact, that I can only put two or three cookbooks on it; those books tend to be large Star Wars books. But Jennifer Farley, founder of the blog Savory Simple, found a way to make a beautiful cookbook that I would actually take into the kitchen. Recipes are sophisticated like her Spinach, Artichoke and Caramelized Leek Tart or Pistachio-Crusted Pork Tenderloin with Cherry-Rhubarb Compote but they don't require a ton of time to make or a million esoteric ingredients to track down (or worse to make yourself).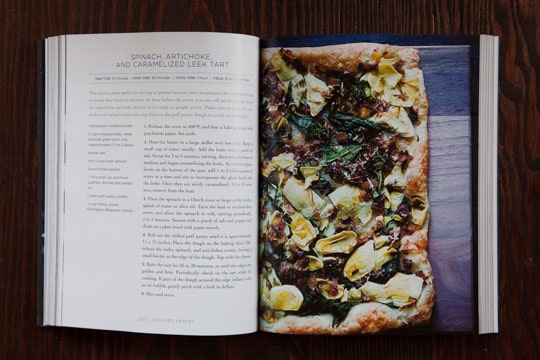 The simplicity of Roasted Radishes with Butter and Parsley, Honey Roasted Carrots with Cumin or Grilled Oysters with Chipotle Tarragon Butter are exactly the sort of recipes that I adore. They are easy to execute but just different enough that I don't feel like I already know the recipe. The Gourmet Kitchen is the sort of cookbook that you'll actually use, not just look at.
Pumpkin Sage Drop Biscuits
Recipe courtesy of Jennifer Farley from her book The Gourmet Kitchen
The combination of pumpkin and sage is a marvelous one. Both help accentuate the Autumnal Fall flavor inherent in each ingredient. This is also a great recipe for those of you who don't know what to do with that extra bit of pumpkin leftover from when you make a pumpkin pie or the leftover sage leaves that you might have if you bought too much sage for the holiday dinner (which always happens to me). Farley suggests serving the with a soup or stew or having them for breakfast with a bit of salted butter and coffee. I'd eat them pretty much any time of day because I love biscuits!
Ingredients
2 cups (280 g) all-purpose flour
1 tablespoon baking powder
1/4 teaspoon baking soda
1 1/2 teaspoon granulated sugar
1 teaspoon kosher salt
1/4 teaspoon ground cinnamon
1/4 teapsoon freshly grated nutmeg
2 teaspoon finely chopped fresh sage
1/2 cup (115 g) unsalted butter cold and cut into 1/2-inch cubes
3/4 cup pumpkin puree (not pumpkin pie filling)
3/4 cup buttermilk
Directions
1. Preheat the oven to 400ºF and line one large or two small baking sheets with parchment paper.
2. In a large bowl, whisk the flour, baking powder, baking soda, sugar, salt, cinnamon, nutmeg and sage together.
3. Add the butter and use your fingers to work it into the dry ingredients until it resembles coarse cornmeal with a few scattered larger pieces of butter.
4. In a separate bowl, whisk the pumpkin puree and buttermilk. Pour into the dry ingredients, and use a spatula to fold together until just combined (less mixing equals softer biscuits).
5. Use an 1/8 cup (2 tablespoons) cookie scoop to portion the biscuits onto the baking sheet; place at least 2 inches apart. Bake for 15 to 17 minutes, until crisp on the outside and tender in the middle.
Makes 19-24 biscuits.