This orange hazelnut cake is a winning combination of flavors in this insanely moist easy-to-make recipe with a lovely nutty texture.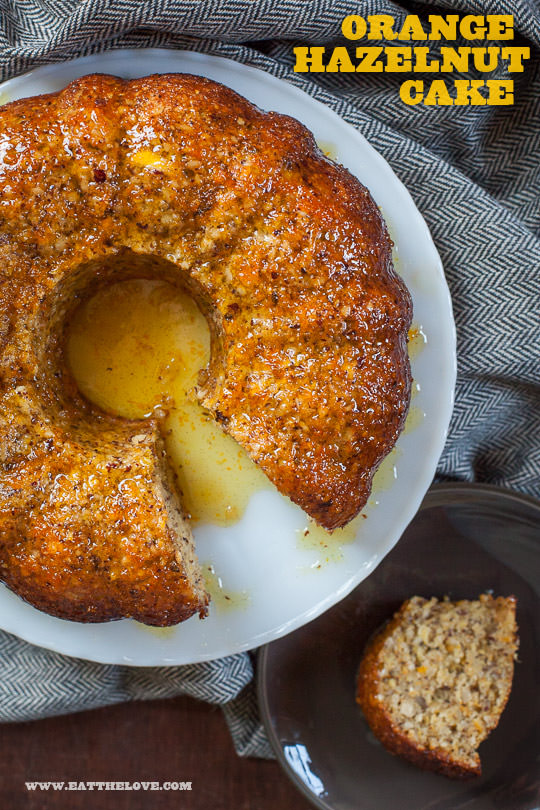 I always say that being a food writer, photographer and recipe developer is both a blessing and a curse. The ability to eat tons of fabulous food, photograph gorgeous meals and learn so much about where our food comes from as well as who makes it is a special privilege that few get to experience. Of course, being forced to wear fat pants and the every expanding waistline is an occupational hazard on the flip side. So with utter joy (a little trepidation) I'm heading up to Portland again to gorge myself at their spectacular Feast Portland event. In celebration of this trip, I made this orange hazelnut cake, since Oregon produces 99% of the U.S. hazelnut crop. (Jump directly to the recipe.)
If you've been a longtime reader, you'll know that I attended Feast Portland last year and reported both in real time (via Instagram and Twitter) as well as on this blog (day 1, day 2, day 3) all the various things that I ate. In truth, I feel like I didn't even scratch the surface of all the fabulous food events that Feast Portland had. I mean, there is only so much a guy can eat! With some of the best chefs of the nation coming to Portland including some of California's finest (Matthew Accarrino of SPQR, Chris Cosentino of Cockscomb and Boccalone, Martin Cate of Smuggler's Cove, Dominique Crenn of Atelier Crenn, Charles Phan of Slanted Door, David Lynch of St. Vincent, Alvin Cailan of Eggslut, Jon Shook of Animal, and Ari Taymor of Alma) as well as chefs from as far as New York (Christina Tosi of Milk Bar, Brad Farmerie of Public, Anita Lo of Annisa), Atlanta (Hugh Acheson of Empire State South), Austin (Aaron Franklin of Franklin Barbecue, Paul Qui of Qui, Philip Speer of Uchi) and Hawaii (Lee Anne Wong of Koko Head Café) I know that I'm going to be fed well. And that's not even touching the amazing local Portland chefs that will be out in droves!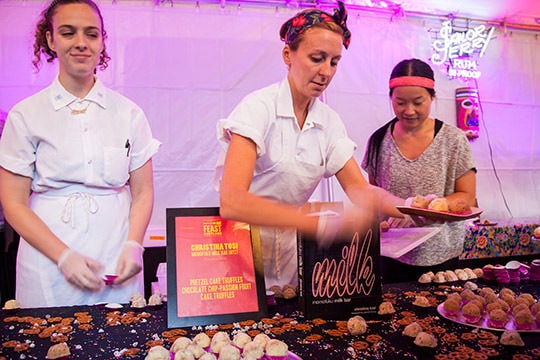 Of course a lot of the various events are already sold out but if you live in Portland there are still some tickets available. These include the Widmer Brothers Brewing Sandwich Invitational (I went last year, it's carb-o-licious), the Oregon Bounty Tasting (too many good things under one tent!), the High Comfort at the Nines (contemporary twists on comfort food – be prepared to roll yourself home afterwards) as well as a few dinners, tasting panels and hands-on classes. If you do make it to the event and you see me stumbling around in a food stupor, be sure to come up and say hello! And if you aren't able to visit Portland this year for the event, follow along with me as I try to eat my weight in pork belly via my Instagram, Twitter, and Tumblr channels. I'll also be blogging about all the event as it happens at the end of the day (at least that's the plan) so check out my posts later this week as the Feast Portland 2014 happens. (Just don't expect too many selfies. My elastic waist pants aren't the most stylish…)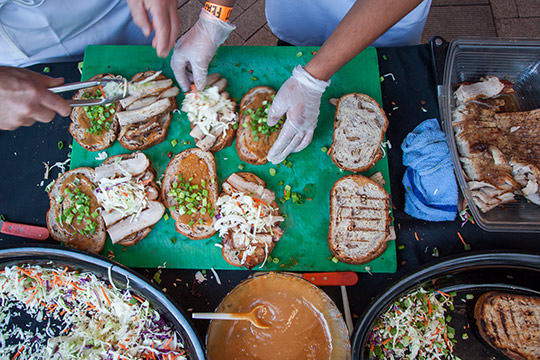 Special thanks to Feast Portland and Travel Oregon for providing travel and accommodations as well as a media pass to the 2014 Feast Portland Event. Though flight, hotel and media pass were provided complimentary, I was not monetary compensated for this post or any other post that I am doing for Feast Portland. All opinions above are my own.
Orange Hazelnut Cake
By Irvin Lin
Orange and hazelnuts are a winning combination in this insanely moist cake. If you can find hazelnut flour, replace the whole hazelnuts with 2 cups of the flour and your cake will be a little more refined with a tighter crumb. That said, I used whole hazelnuts and ground them in a food processor which resulted in a rustic cake with a great nutty texture and chunkiness that I adored. Be sure to make the syrup and brush the entire amount on the cake. It really does add something special. One last note, I used hazelnut oil in my recipe to boost the hazelnut flavor but you can't find it, just use an equal amount of olive oil as a replacement.
Adapted from Sweet Paul's Eat & Make cookbook (which I reviewed in my summer Cookbook Week roundup)
Ingredients
Cake batter
1 large orange (Valencia, Navel or Cara Cara)
2 1/2 cups (340 g) hazelnuts or 2 cups hazelnut flour (see headnote above)
1/2 cup hazelnut oil or olive oil
1 cup (200 g) white granulated sugar
4 large eggs
3/4 cup (105 g) all-purpose flour
2 teaspoon baking powder
1/2 teaspoon kosher salt
Glazing syrup
1/2 cup fresh squeezed orange juice
1/2 cup reserved cooking water (see directions for details)
1 cup (200 g) white granulated sugar
zest from 1 large orange
1/2 vanilla bean or 1 teaspoon vanilla extract or paste
1 tablespoon cointreau (optional)
Special equipment
Bundt pan
Food Processor
Directions
1. Place the whole unpeeled orange in a medium pot and fill with water until the orange is floating. Cover and bring the water to a boil. Cook the orange in the boiling water for 15 minutes, or until it is soft. While the orange is cooking, preheat the oven to 350˚F and grease a bundt pan thoroughly with butter or cooking spray. Place the hazelnuts in a food processor and process until they are crushed. Don't overgrind them into butter however. Empty into a bowl and set aside.
2. Once the orange is soft, remove from the pot and reserve 1/2 cup of the cooking water for the glaze. Cut the orange in half and then quarters. Remove any seeds. Place the orange quarters in the food processor and process until you have a puree. You should have about 1 cup.
3. Place the oil and sugar in the bowl of a stand mixer fitted with the paddle attachment. Beat together until the sugar is moist. Add the eggs, one at a time, waiting until they are incorporated before adding the next egg. Add the flour baking powder and salt and beat to incorporate. Add the ground hazelnut (or hazelnut flour) and beat to incorporate. Add the orange puree and beat to incorporate.
4. Spoon the cake batter into the prepared bundt pan and bake for 35-40 minutes or until a toothpick inserted in the middle comes out clean. Let rest in the pan for 10 minutes then invert and remove from pan onto a wire rack to cool. Once cool enough to handle (but still warm) move the cake to a serving platter or cake stand.
5. While the cake is cooling, make the glazing syrup by placing the orange juice, the reserved water, the sugar and the zest in a small pot. Split open the half vanilla bean and scrape the seeds into the pot, then add the empty vanilla pod as well to the pot. Bring the entire glaze to a boil, then lower the heat to a simmer. Let simmer for about 10 minutes or until the syrup has thickened to a honey consistency. Remove from heat, add the cointreau if using, then brush the warm glaze over the still warm cake. Continue brushing the glaze over the cake, letting it slowly absorb into the cake, using it all up. Serve warm.
Makes 1 bundt cake, serves 12 people.
If you like this Orange Hazelnut Cake, check out these other hazelnut recipes on my blog:
Chocolate Chip Oatmeal Cookies with Hazelnuts
Gluten Free Chocolate Cookies with Nutella, Chocolate Chips, Hazelnuts and Dried Strawberries (Gluten Free)
And check out these other recipes from around the web that use hazelnuts:
Foodie Crush's Hazelnut and Salted Caramel Ice Cream
Kevin and Amanda's Hazelnut Butter Cookies
Very Culinary's Chocolate-Hazelnut Coffee Cake
Lottie + Doof's Hazelnut Financiers
Turntable Kitchen's Hazelnut Hot Chocolate with Minted Whipped Cream