A book signing event at Omnivore Books made me realize that we are collectively better when we gather together and share with each other.
I hadn't really thought about the election results when I had scheduled my launch party. Omnivore Books, a cookbook bookstore here in San Francisco, was crazy busy with Fall book releases and I was just happy they had room on the calendar to host my launch party. We had planned the November 9th event back in July because that was all that was available! But with most of San Francisco reeling from the election results from the night before, I wasn't sure what to expect at my cookbook launch of Marbled, Swirled, and Layered.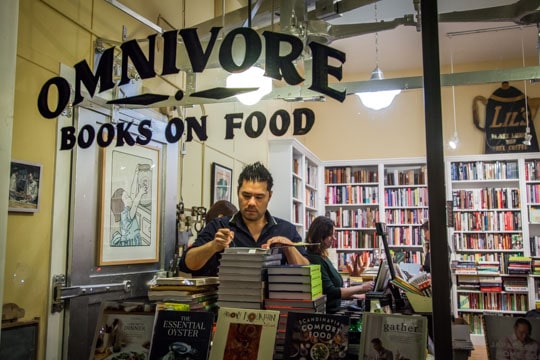 A few days before, I had warned Celia, the owner, that I would be bringing a lot of baked goods to sample at the event, and I did not disappoint with the spread. Baking is the one thing I do when I don't know what else to do. I needed something to calm and soothe me after all the chaos of the week.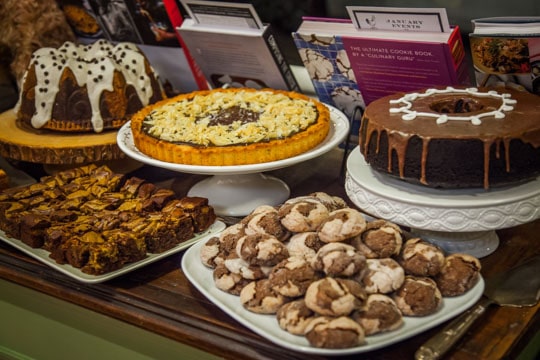 Even if no one showed up, there would be 7 different baked goods for my partner AJ, Celia, her bookseller, and myself to eat. I had baked my cover cake, a marbled bundt cake, a rosemary caramel chocolate potato chip tart, raspberry chocolate cookies, an Arnold Palmer cookie, a strawberry roasted white chocolate brownie and a pistachio swirled brownie. Sure it was a lot for just the four of us, but there's comfort in sweets.
But then people started to show up. And as the night went on, the shop got more and more crowded. Suddenly, nearly every single chair was filled. Then it was standing room only with people still sneaking in as I answered questions about writing my first cookbook and all the trials and tribulations involved. A quick glance over, and I saw the baked goods were being snatched up by folks and I wasn't worried about leftovers; I was worried that I hadn't brought enough food! People needed something to come together for after the events of the night before, and my book was a great excuse.
I looked out to the crowd of folks who came to my event, some with bright shiny eyes that were still not dry from crying all day, and I can't help but love them all even more than I thought was possible. My heart was simultaneously broken apart AND swollen with the love I felt from everyone who showed up. Celia kept on saying how astonished she was by the number of folks that showed up, and how it was exactly what she needed, to see people gather together and eat cake and cookies.
We may be broken as a nation but we can start to heal by being there for each other. And in the following days, when I started to fall down the dark tunnel of depression or get trapped in the black hole of Facebook, I thought of that evening, when my friends rallied to come out and support me. It's a small little thing, nothing earth shattering when you think about it. My cookbook, filled with recipes to make marbled cakes, layered caramel chocolate tarts and swirled brownies, isn't going to solve our country's problems. But my food and cookbook brought folks together when we all needed to be together the most. And though I continue to struggle with the direction this nation is taking, I know there are no easy solutions. We need to ask difficult questions and we need to have uncomfortable conversations with people who are close to us. It's too easy to hide in our bubble behind the computer screen, reading our curated social media feed that is tailored to our own viewpoints. But maybe, with the lure of a slice of cake or a couple of cookies, those conversations can happen in real life where these discussions need to be.
I'm doing a number of signings, events and baking demos here in the San Francisco Bay Area and Sacramento as well as a baking demo in Chicago and a signing event in St. Louis (at the awesome bookstore that I used to work at!). I would love to meet you and talk in real life. Here's a list of events and place you can meet me at. I hope to see you there.
FRIDAY, November 18, 7-8PM
BOOKS INC. Santa Clara
2712 Augustine Dr #120, Santa Clara, CA
SUNDAY, November 20, 3-4PM
DOG EARED BOOKS
489 Castro St, San Francisco, CA
TUESDAY, November 22, 7-8 PM
GREEN APPLE BOOKS
w/Alanna Taylor-Tobin author of Alternative Baker
506 Clement, San Francisco, CA
SATURDAY, November 26 4-5 PM
MRS. DALLOWAY'S LITERARY AND GARDEN ARTS
2904 College Ave, Berkeley, CA 94705
SATURDAY December 3, 1-3PM
DIESEL, A BOOKSTORE
The Cookbook Extravaganza w/Heidi Gibson and Nate Pollock, authors of Grilled Cheese Kitchen
2419 Larkspur Landing Circle, Larkspur, CA 94939
(If you live in Los Angeles and would like to pick up a signed book from Diesel, a Bookstore in Brentwood, please contact their Brentwood store at 310-576-9960 to place an order before December 3rd. Books will be signed at the Larkspur store and sent to the Brentwood store.)
THURSDAY, December 8, 6-8PM
in SACRAMENTO
AVID READER AT TOWER
1600 Broadway, Sacramento, CA 95818
SATURDAY, December 10, 11AM 
MACY'S SAN FRANCISCO UNION SQUARE
Baking Demo and signing
Cellar Kitchen (lower level), 170 O'Farrell Street, San Francisco
TUESDAY, December 13, 6:30pm
in CHICAGO
READ IT & EAT
Baking Demo and signing
2142 N Halsted St, Chicago, IL 60614
THURSDAY, December 15, 7pm
in ST. LOUIS
LEFT BANK BOOKS
399 Euclid Ave, St. Louis MO 63108