Did you know that being me is extremely difficult? Sure I have the burden of being stunning handsome, charming, witty and very gregarious when I need to be (a skill I picked up when I worked retail… I could upsell like no one else in the B. Dalton Bookstore at the local mall where I worked in college). But I also get asked to judge events like the Taste TV Chocolate Salon that happened last month. An afternoon of chocolate, chocolate and more chocolate (with a little vodka and wine thrown in) it was pure decadence. So much so that I pretty much had my fill of chocolate and swore that I would not eat any chocolate for at least a month. Of course, this vow was quickly broken when I got home and decided to eat a bit of chocolate that I had bought for AJ. That bit ofchocolate inspired this fabulous chocolate creation of mine: Marbled Dark and White Chocolate Genmaichai (green tea with toasted rice) Brownies.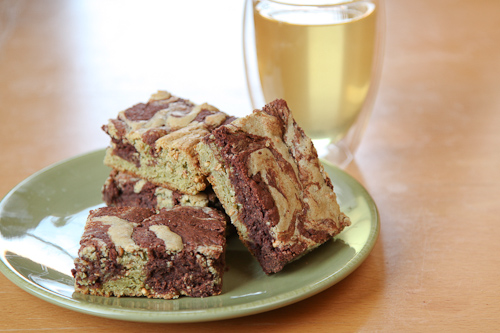 But what an event it was! I know you feel sorry for me, being forced to go to each and every booth and tasting at least one sample of chocolate from the vendor. Hey I was a judge, I had an obligation to give them all a fair shot! And there were some pretty amazing chocolates there. Gorgeous luscious chocolate with some fantastic flavor combinations, I was forced to taste and taste and taste. I'll admit that it was hard for me to judge what was good, what was great and what was stellar. And though I could write about each and every item, I don't want to bore you. Instead, I'm just going to let some of the pictures do the talking.
In the end, after tasting all the chocolate (there were over 50 stations sampling), I bought one single bar of chocolate for AJ. Jade's chocolate, flavored with genmaicha tea – roasted rice and green tea flavored milk chocolate. And I'm not even a big milk chocolate fan but the combination of a sweeter chocolate and green tea was just inspiring.
With the San Francisco Food Blogger Bake that just happened last week (OMG was that just last weekend? How is that possible?), I decided to create a number of things to raise money, including a brownie inspired by Jade's genmaicha chocolate bar. Every single piece I brought to the bake sale sold and the super talented blogger Stacie over at The Flirty Blog who came to volunteer picked up one and wrote about how much she loved it.
I plan on posting specifically about the bake sale (yes, I'm so behind!), but I wanted you all to have this brownie first. Enjoy.
Marbled Dark and White Chocolate Genmaichai (green tea with toasted rice) Brownies
Genmaichai is a green tea that has toasted brown rice mixed into it. Sometimes called "popcorn" green tea, because some of the brown rice will "pop" when toasted, traditionally genmaichai was made by poorer people who used brown rice as filler for the more expensive green tea. Nowadays the tea is enjoyed by everyone who loves the toasty rice flavor in the green tea. Making toasted brown rice is super simple and mixing it with the white chocolate and matcha green tea powder gives the white chocolate marbling a wonderfully vibrant green against the dark chocolate brownie base.
Matcha green tea can be found at speciality Japanese grocery stores or online. I used a culinary quality one. Barley flour can be found at natural foods and specialty stores as well. It adds an illusive depth of flavor to the brownies and compliments the green tea. However if you can't find it, just substitute with the same amount of all-purpose unbleached white flour.
1/4 cup uncooked brown rice
200 g (7 oz) bittersweet chocolate
250 g (2 1/4 sticks, 18 tablespoons) salted butter, divided
150 g (3/4 cup) brown sugar
4 large eggs, divided
1 teaspoon vanilla extract
250 g (1 2/3 cups) all-purpose unbleached flour, divided (2/3 cup 100 g for dark chocolate, 1 cup 150 g for green tea)
50 g (6 tablespoon) barley flour, divided (25 g, 3 tablespoons each)
200 g (7 oz) white chocolate
150 g (3/4 cup) white sugar
1 teaspoon baking powder, divided (1/2 teaspoon each batter)
2 teaspoon matcha green tea powder
1. Place the brown rice in a dry sauté pan and turn the stove to medium heat. Shake the rice around the pan until the rice starts to turn golden brown, and some of the kernels of the rice "pop" out of the bran shell, about five minutes (not a of rice will "pop" so don't worry if the majority of the rice is still closed). Do pay close attention to the pan, as the rice can go from golden brown to burnt black quickly. Once the rice is golden brown, pour the rice into a heat proof bowl and let it cool as you prep the brownie batter.
2. Preheat an oven to 350F. Prepare a 9" x 13" by lightly spraying it with cooking oil, and then lining it with a piece of parchment paper, making sure that the paper hangs over the edges by a couple of inches.
3. Chop the white chocolate into small 1/4" pieces and place them in a large microwave safe bowl. Add half of the butter (9 tablespoons or 125 g) and microwave for 30 seconds on high. Take the bowl out of the microwave and stir with a fork. Place back in the microwave and turn it on for 30 more seconds on high. Stir again and repeat if necessary, until the chocolate has melted. Be careful not to overheat the chocolate. Better to microwave until there are still some soft bits of chocolate left and then stir for awhile until all the chocolate is melted.
4. Add the white sugar and stir with a fork until incorporated. Add the remaining 2 eggs, one at a time, until incorporated. Add 150 g (1 cup) of all-purpose flour, 25 g (3 tablespoons) of barley flour, remaining 1/2 teaspoon of baking powder, matcha green tea powder and the toasted brown rice. Stir until incorporated. Set aside while you prep the dark chocolate.
5. Chop the bittersweet chocolate into small 1/4" pieces and place them in a large microwave safe bowl. Add half of the butter (9 tablespoons or 125 g) and microwave in the same manner as you did for the white chocolate, until melted.
6. Add the brown sugar and stir with a fork until incorporated. Add the remaining 2 eggs, one at a time and stir until incorporated. Add the vanilla extract and stir until incorporated. Add 100 g (2/3 cup) of all purpose flour, 25 g (3 tablepoons) of barley flour and 1/2 teaspoon of baking powder and stir until incorporated.
7. Spoon the green tea/white chocolate batter and the dark chocolate batter into the prepared pan, alternating batters throughout. Then take a butter knife and swirl it around, marbling the batters. You don't want to marble too much and blend the batters together, but you want to move the batter around enough to create a pretty pattern.
8. Bake for about 25-30 minutes, or until a toothpick in the middle of the pan comes out clean. Try not to overbake the brownies as they will become dry.
9. Let the brownies cool in the pan the remove them by grabbing the parchment paper overhang and lifting directly up and out of the pan. Cut into squares and serve.