This Honey Fried Chicken recipe is a Mississippi style fried chicken full of sweet crunchy and chewy batter around a tender juicy chicken wing! (Jump directly to the recipe.)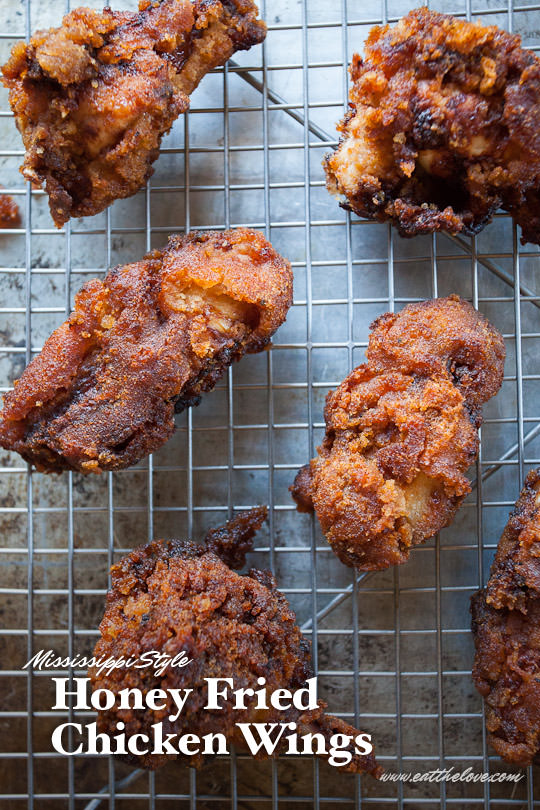 The minute I received the book Southern Fried by James Villas I knew it was for me, so much so that I had to include in one of my winter cookbook roundup and offered it up as a giveaway! So when Chicken Wings Week came around, I immediately picked it up for inspiration, which lead to me discovering Mississippi style honey fried chicken. How could I have never heard of this before? Had I known of it's existence, I would have made AJ stop on our road trip across America just so I could taste it. Instead, AJ and I just drove right through Alabama and Mississippi to New Orleans. Thankfully I was able to whip up a batch of it at home, based on James Villas recipe (which, in turn is based on a Craig Claiborne recipe). Yep, it was as good as it sounds.
Now I've got a weakness for fried chicken in general. Anyone that knows me in real life knows that if fried chicken is on the menu, I'll probably order it. So it makes sense that I'm going to include a recipe for American fried chicken during Chicken Wings Week. What I wasn't expecting was how great the end result is when you add a honey to the batter.
Wings, as most of you know, are the perfect piece of chicken to fry, especially broken down into drummette and flat pieces. Well, at least in my opinion. It's all about the skin to meat ratio, and the small nibbly pieces make sure that there's plenty of skin. But the honey fried chicken batter? It just brings it to another level. Crispy, chewy, sweet and just a little tangy kick from the vinegar, these suckers are a keeper for sure.
Be sure to visit Eat the Love all this week. I'll be posting a new chicken wings recipe each day from Monday, January 20th to Friday, January 24, 2014.
Honey Fried Chicken
By Irvin Lin
The addition of honey and fruit vinegar (I went with raspberry but feel free to use whatever fruit vinegar you have on hand) creates a dense batter that is sweet, tart as well as crisp and chewy at the same time. Because the honey caramelizes fast in the hot oil, be sure not to fry too many chicken pieces at once and stir the pot or fryer frequently so it doesn't stick to the bottom and burn. Otherwise, serve the chicken immediately when it's hot or at room temperature. Don't cover it though, as it'll lose it's crispness.
Adapted from Southern Fried by James Villas who adapted it from Craig Claiborne.
Ingredients
1 cup honey
1 1/2 cup (210 g) all-purpose flour, divided
1/4 cup (40 g) whole wheat flour
1 tablespoon + 1 teaspoon sea salt, divided
2 teaspoon fresh ground black pepper, divided
1 1/2 teaspoon ground thyme
1 1/2 teaspoon rubbed dried sage
1/2 teaspoon ground nutmeg
6 tablespoons red raspberry vinegar (or another fruit vinegar of your choice)
1/4 cup warm water
1/4 cup (35 g) cornstarch
2 lbs of chicken wings, broken down into drummettes and wings, tips discarded or saved for stock
Oil for frying
Special equipment
Dutch oven
Deep frying thermometer
Wire mesh spoon, spider skimmer or heat proof tongs
Rimmed baking sheet
Wire rack
Directions
1. Place the honey, 1 cup of the all-purpose flour, whole wheat flour, 1 tablespoon of the salt, 1 1/2 teaspoon of the pepper, thyme, sage, nutmeg, vinegar and water in a large bowl. Stir until a smooth batter forms (it will be thick). Place aside and let the batter stand for an hour.
2. Meanwhile mix the remaining 1/2 cup all-purpose flour, 1 teaspoon sea salt, 1/2 teaspoon black pepper and cornstarch in another small bowl. Dip the chicken wings into the dry ingredients and place on a baking sheet to dry.
3. Once the batter has sat for an hour, pour enough oil in a large heavy Dutch oven to bring it to 1 1/2" deep. Heat the oil to 350˚F. While the oil heats up, line a rimmed baking sheet with paper towels and place a wire rack over it. Once the oil had heated, take about 1/3 of the chicken wings and dip in the batter, letting excess batter drip off of it as you remove it from the bowl. Carefully place it in the hot oil, making sure not to crowd the pot with too many pieces.
4. Fry the chicken wings for 8 minutes, stirring frequently and turning over the pieces until they are deep golden brown. Move the done wings to the wire rack and repeat with the remaining chicken pieces, until they are all fried. Serve immediately or at room temperature.
Makes 12-16 medium-sized wings, enough for 4-6 people as appetizers.
If you like this honey fried chicken recipe, check out these other fried chicken recipes from around the web:
Use Real Butter's Buttermilk Fried Chicken
Gluten Free Girl's Tokyo Fried Chicken
Food Republic's Mexican Fried Chicken
Life's Ambrosia's Cajun Fried Chicken Wings
Jun Blog's Ad Hoc Fried Chicken