I feel like I've been talking about cookbooks forever here on Eat the Love, but this is my third and final roundup! Part of the reason I've had to split my cookbooks up into three different roundups is that sheer amount of awesomeness in all the books that were released this fall. This final roundup quite possible has some of my favorite books from the season. And to top it all off, I'm giving away FOUR books as well to one lucky reader! Stick around or scroll down to the end of this post to learn how to win Baking Chez Moi by Dorie Greenspan, The Pizza Bible by Tony Gemignani, Holidazed by Jerry James Stone and Mexico the Cookbook by Margarita Carrillo Arronte! [This giveaway is closed!]
Dorie Greenspan is everyone's best friend. Or least that's how it feels when you read her cookbooks. Warm, inviting, friendly, when I open up any of her cookbooks I feel like I'm getting a huge hug from her. Her latest Baking Chez Moi is no different. With comforting desserts like Philadelphia blueberry-corn tart, brown butter peach tourte and cherry crumble torte every recipe seems designed to invoke a satisfying sigh, a delightful grin and a happy warm feeling of love. If I had time I'd work my way through every recipe but since I don't I'll be content to just earmark the three dozen or so recipes to try out when I have a moment to spare.
I've been obsessed with The Pizza Bible by Tony Gemignani ever since I've gotten it. With the first 40 pages dedicated to "Pizza Master Class" ranging from descriptions and explanations of ingredients (even brands of flour and tomato products!) to making and working the dough, the book is absolutely thorough in its education. With recipes for pizzas like Mastunicola (a classic of Naples) to global inspired like Greco or Parisian to US regional pizzas from the more popular New Yorker style, to the acclaimed Chicago style to lesser known Detroit Red Top and St. Louis style this book has it all. After getting my baking steel, my partner AJ and I have been making pizza nonstop and this has been my go-to cookbook for various types.
My pal Jerry James Stone of the blog CookingStoned released his Holidazed cocktail cookbook late last year and it was too late for me to include in my 2013 roundup so I'm talking about it now! His festive and fun book features some cheeky cocktails, along with some cheeky language and a few naughty (and nice) photos as well. Recipes for spiced apple toddy, cranberry & rosemary white Christmas sangria and butternut squash bourbon flip all sound perfect for those long exhausting evenings with the dysfunctional family! A short chapter on little nibbly things and treats featuring recipes like martini deviled eggs, pomegranate and lime popsicles and grilled fig salad also means you won't be short on ideas for what to serve at familyi functions either!
The exhaustively researched and beautifully produced Mexico: the Cookbook by Margarita Carrillo Arronte is weighty. And I don't mean that in a physical sense (though at 700+ pages it certainly is that). I mean it takes on the cuisine of a whole country as diverse as Mexico and tries to capture it in one book. Luckily it seems to succeed with chapters devoted to everything from meat to eggs to sauces to rice and beans. Recipes like short ribs in chili and coffee sauce, fish wrapped in banana leaves and pumpkin empanadas, Mexico: the Cookbook is perfect for those looking to explore Mexican cuisine beyond tacos and guacamole. With clear concise recipe instructions as well details on which region inspired the recipe and preparation/cooking times Mexican food at home seems suddenly easier than I previous thought.
Last year I did the 12 cookies of Christmas where I posted 12 cookie recipes in a row. This year I haven't posted a single cookie recipe but that's OK. I have Holiday Cookies, a collection of the prize winning cookie recipes from the Chicago Tribune. With over 100 recipes that ended up finalists in their annual holiday cookie contest, there are more than plenty of cookie recipes to feed Santa. And his helpers. And friends. And family. With cookies like ginger spice delights, hazelnut coffee oatmeal cookies and triple-chocolate walnut cookies, these recipes with short little family stories of how they came about are ones you can make year round not just for the holidays!
When your bread ends up being served at French Laundry, arguably the best restaurant in America, you know it's good. Kathleen Weber started baking bread and selling it as a side project when her first fine-dining customer ended up being Thomas Keller of The French Laundry. Fast forward 20 years and now she owns Della Fattoria Bread. Her cookbook with the same name as her company is an insight of how she came to become one of the premiere bread bakers in America (according to Bon Appetit, as well as her loyal customers) as well as an instruction manual on understanding the secret language of bread. From recipes on classics like sweet baguettes and pain au levain batard as well as dinner rolls and hambuger buns to breads like aborio rice bread and seeded wheat bread boule, this cookbook is designed for those experienced cooks who have always thought bread baking was an mystery or for the bread baker who wants to expand his/her repertoire.
When I describe the food that Bar Tartine serves my non-food obsessed friends usually look at me like I'm crazy. The food is…interesting sounding. At least that's what one person said to me. But once you've had a taste of their food you understand that it's one of the most exciting restaurants here in San Francisco. With Eastern European, Japanese and Scandinavian influences, the flavor profiles skew toward bitter, fermented, cured, salty and umami. Half of the Bar Tartine book is dedicated just to culinary techniques for creating components used in the restaurant like pickles, vinegars and syrups. The other half are recipes ranging from soups like black garlic and lentil or chilled beet with coriander and yogurt, shared plates like buckwheat dumplings with parikas sauce and Brussels sprouts with dried tuna and tonnato sauce this is a magical book and a must have for all those who are adventurous in the kitchen.
I was surprised to hear that Dana Cowin, editor-in-chief of Food and Wine magazine was a terrible cook! So it only made sense that she find the best teachers that she could (you know, people like Jacque Pepin, Michael Chiarello and Mario Batali) and had them show her what to do in the kitchen. The end result, Mastering My Mistakes in the Kitchen is like having those chefs in the kitchen with you, giving you tips and tricks on how to make the best food possible. With plenty of side bars and call outs to help you in the kitchen, recipes like chicken stir fry with celery and peanuts (taste the soy sauce before you use it because the older it is, the more concentrated it is), Mexico City shrimp (remove the pan from the stove before the shrimp are done and let the residual carry over heat finish them) and green beans with arugula and lemon pesto (don't use a super punchy flavored olive oil for the pesto or it'll overpower the herbs) are now within everyone's reach. Even the editor-in-chief of one of the most popular food magazines out there!
I'm not sure when I become obsessed with Iceland. Perhaps it was in high school when I started listening to The Sugarcubes but all I know is that the tiny island in Scandinavian has always fascinated me. With the explosion in Nordic cuisine becoming popular (I blame Rene Redzepi of Noma for that one) it was only a matter of time before there was a book released about Icelandic cuisine. The cookbook North by Gunnar Karl Gislason and Jody Eddy fills that niche with aplomb! With stunning photography and fascinating stories interspersed between ambitious dishes like dried trotters, pickled onions and hay-smoked mayonnaise; tea-poached skate, braised kale, shallot puree and skyr; and crispy oats cooked in beer with malt cream this book is pure armchair travel via culinary adventure.
A few years ago I was in New York hanging out with a bunch of food bloggers and I made the mistake of asking them for recommendations on where to go for food. Once I diligently took notes of all the places to check out (I had two days there and I think I would have to eat every two hours to maybe get through a third of the laundry list or recommendations) I noticed that nearly everyone I asked suggested I check out a new bakery that had just opened up in SOHO called Dominique Ansel Bakery. Back then he had not released his creation of the Cronut™ yet. Fast forward a few years and now EVERYONE knows him and his world domination pastry. For those who don't live in New York or aren't willing to wait in line for one, his cookbook The Secret Recipes is available. Lest you think the Cronut™ is the only reason to buy the book, there are plenty of awe inspiring recipes in the book, including black and blue pavlovas, chocolate pecan cookies and his DKA (Dominique's Kouign Amann) which was his signature pastry before his other pastry took over that reign. With each recipe listing difficulty (chocolate pecan cookies are beginner level, the Cronut™ is advanced) as well as the stunning photos in this book, this is the perfect book for anyone who loves baking and want to try their hand at some innovative professional level desserts.
For those who are completely uncomfortable with the idea of baking desserts at all, Jane Hornby is here to rescue you. I've been a long time fan of her books (having given her book What to Cook and How to Cook It to friends of mine who haven't a clue what to do in the kitchen) and her latest What to Bake and How to Bake is fabulous. With step-by-step instructions and photographs, the classic recipes she meticulously details 50 recipes like malted milk chocolate birthday cake, peanut butter cookies and lemon glazed ginger cake. All the recipes seem sound rock solid familiar as well as rock solid in execution and instructions, making this the perfect cookbook for the tentative home baker that doesn't know where to start.
I know I say this a lot about the books I've featured in my roundups but Alexandre Gauthier: Chef, La Grenouillère is NOT like most cookbooks. First off, with its exposed binding and lack of book spine, this book look like an art project more than an everyday cookbook. Secondly the recipes almost seem secondary to the spectacular photography that dominates the book. With over 250 pages of photographs of food, landscape, people and atmospheric environment this is book is a sumptuous photo essay of a leading chef in new French cuisine. Though some of the recipe (listed in the back, ingredients strictly in weight not volume and often requiring specialty kitchen equipment) border on absurdly surreal, you can't deny the innovative creative vision of Chef Gauthier. This is not the book you pick up to make a casual weeknight dinner. This is the book you pick up to be visually inspired by and to live vicariously through.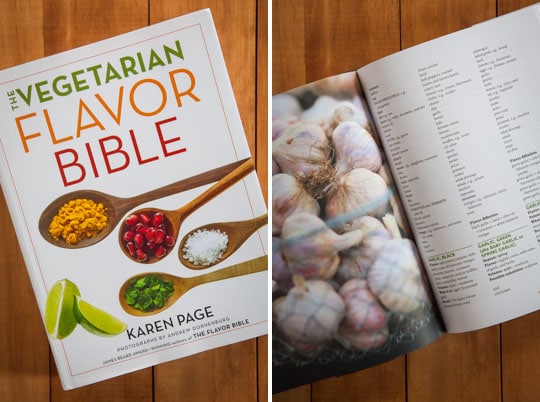 I'm going to just come out and say that every single person who loves making their own food should own The Flavor Bible. I've long championed the book that shows what flavors combined well with other flavors, so I was excited to hear Karen Page and Andrew Dornenburg were releasing a sequel of sorts called The Vegetarian Flavor Bible focusing on vegetarian and vegan ingredients. This isn't a cookbook in a traditional sense, but rather a reference guide for ingredients developed by interviewing chefs and asking them what their favorite ingredient combinations are. Included this time are also nutritional information for ingredients including protein, carbs and fat percentages. With more specific specialty ingredients listed like various fiddlehead ferns, maca root and Bragg liquid aminos this book is a must have reference for anyone (vegetarian or meat eating) looking to create their own delicious dishes in the kitchen.
I have an utterly hilarious story that tangentially relates to Yigit Pura, winner of the first season of Top Chef Just Desserts but sadly I am not allowed to write about it here on the blog. You'll just have to ask me in person. That said, I was keenly anticipating his first book Sweet Alchemy, Dessert Magic and it lives up to its name. With chapters focusing on ingredients (eggs, butter, sugar) the recipes are both subtle contemporary twists on classic desserts. Orange-scented waffles with "toffee"; Spring berries and bing cherries macerated in raspberry and red verjus sauce; and lemongrass and ginger ice cream all sound modern yet approachable. Sweet Alchemy is a great contemporary dessert cookbook for those looking for the sophisticated and familiar at the same time.
I'm not a huge fan of single subject cookbooks but there's something about a brownie that makes me want to basically abandon all reasoning and gorge myself. So when Extreme Brownies by Connie Weis arrived on my doorstop I felt like I had to give it a chance, despite the single subject misgivings. Thankfully I did, because I would never have discovered some pretty awesome brownie recipes like her tuxedo brownies (with a layer of marshmallow fluff), her snickering brownies (with layers of nougat, peanut butter caramel and chocolate glaze) and her caramel stuffed sea salt brownies which sound insanely good. Though Connie does rely on a lot of store bought prepared ingredients (peanut butter cups, candied caramels, marshmallow fluff) and I'm more of completely made-from-scratch type of guy I can appreciate the easy approachable way that most people take when it comes to making food. Not everyone is as insane as I am about that sort of thing right?
My friend Michael owns every single issue of Saveur magazine and I'm supremely jealous of his collection. One of my all time favorite food magazines, Saveur is known for their stunning photography, in-depth long form essay stories and authentic recipes from cultures familiar and foreign. And though their new book The New Classics Cookbook doesn't have as many amazing photos as the magazine nor does it have their signature long form essays, it's the closest thing to my friend's collection that I'm going to get. With 1000 recipes ranging from chicken fried steak with sawmill gravy to aloo gobi, lebkuchen, this cookbook is a trip around the world, culinary style. I'm looking forward to the trip!
[THIS GIVEAWAY IS CLOSED]
I'm giving away a copy of Baking Chez Moi, The Pizza Bible, Holidazed and Mexico the Cookbook to one lucky reader! All you need to do is leave a comment below telling me what your favorite cookbook was this year! Or, if you didn't buy any cookbooks this year, tell me what cookbook you WISH you had gotten this year! Did I miss any in my roundups that you love? Did you agree with me and absolutely love one of the books I featured? Let me know and you could win a copy of these four amazing books!
The Fine Print
By leaving a comment below to enter, you are agreeing to the Official Rules.
▪ NO PURCHASE NECESSARY
▪ VOID WHERE PROHIBITED
▪ You must be over the age of 18.
▪ This contest is only open to U.S. Citizens. Sorry non-US people!
▪ The contest starts as of today, and will run until Friday, December 19th, 2014, 9am PST.
▪ The combined retail value of everything is about $149.89.
▪ The winner will be chosen by a randomly selected comment. All comments will be numbered and I will use Random.org to pick a random number.
▪ The number of eligible comments below determines the odds of winning.
▪ If there's a problem with contacting the winner, I reserve the right to award everything to someone else randomly chosen. So in other words, make sure you type in your correct email address if you want the membership and respond within a week to me when I contact you or I'll give everything to someone else.
▪ The prize is being delivered directly from the publishers except for Holidazed which I am sending directly to you. If they have not delivered the prize to you within three weeks of me notifying you of winning, please reach out to me again and I will do follow up to make sure everything is OK. Please keep in mind we are all human and things happen. I will do everything within my power to make sure the prize is delivered in a timely manner.
Special thanks to Agate Surrey, Andrew McMeels, Artisan, Ballantine Books, Chronicle Books, Cooking Stoned, Ecco, Harper Collins, Houghton Mifflin Harcourt, Little Brown, Phaidon, Simon & Schuster, Stewart Tabori & Chang, Ten Speed Press and Weldon Owen for providing review copies of the books featured above. I was not compensated for the post above and all opinions above are completely my own. And extra special thanks to Cooking Stoned, Houghton Mifflin Harcourt, Phaidon and Ten Speed Press for providing copies of your books to giveaway to one reader. You guys seriously are awesome!