Being obsessed with cookbooks is absolutely relative. When I think about the number of cookbooks I have versus the average person I'm probably bordering on hoarder level. But when I think about some of my friends who have thousands of cookbooks I feel like my stack of books are just a drop in the bucket. Cookbook insanity is really very relative if you ask me, and when I'm forced to pick which ones to highlight during the holidays it's always a tough call. awesome giveaway of FOUR books for one lucky reader! Stick around or scroll to the end of this post to learn how you can win a copy of Flavor Flours, Blue Chair Cooks, My Portugal and Unichef. [This giveaway is closed!]
I've long said that once you start baking with whole grains and ancient grains and get out of the rut of wheat flour, your baked goods will explode with flavor. It's like painting all your life with the color white only to discover a whole new palette of colors once you start exploring different flours. So it only makes sense that I utterly adore Alice Medrich's new book Flavor Flours which champions this exact idea! I've been anxiously awaiting this book ever since I chatted with Alice about it a few years ago at Omnivore Books, a local cookbook bookstore. With chapters on the different alternative flours history, what their flavor affinities are (teff flour goes well with chocolate, oat goes well with dried fruit) and how to store each flour, this is the reference guide for anyone looking to stretch themselves a little bit in the kitchen. With reinvented classics like lemon tart using corn flour, banana muffins with sorghum flour and dark and spicy pumpkin loaf with buckwheat flour, you'll open your eyes to the wide world of whole grains and nut flours. I just hope you have storage space in your cabinets because if you're like me, your flour collection after getting this book will soon start to revival your cookbook collection.
When local jam and preserves company Blue Chair released their first book, I was utterly smitten with it. I not only loved the recipes they created as well as the easy instructions on how to can but I adored the photography in the book! Their second book Blue Chair Cooks with Jam and Marmalade doesn't disappoint. A massive compendium of dishes and meals using jams and preserves as the ingredient, this book is perfect for the serial DIY preserver who stacks their jams and jellies on the shelf with the knowledge that they'll never get through all of those preserves by just eating them on toast. With recipes like chicken "tagine" with turnips & apricots, apple pumpkin pie with tomato jam, and Finnish meatloaf served with lingonberry jam, this is the perfect follow up cookbook to their first one. How else am I suppose to know what to do with those six jars of aprium strawberry jam from this summer?
I try not to use the word "luscious" too much when it comes to food photography but the dishes featured in My Portugal by George Mendes really does make me question if there is a better description. Too many chef created cookbooks feature one miniscule bite of food perfectly plated in the middle of the enormous hand thrown rustic plate. This is not one of those books. The pork belly and clams with pickles pot actually looks like a reasonably serving for two people (or one really hungry person I guess) while the coconut-saffron cauliflower and broccoli is something I want to dive into RIGHT NOW. Though the photography is beautiful this book is something someone who is comfortable in the kitchen will actually use. Sure there are one or two recipes that require professional kitchen supply ingredient those recipes are really the exception to rule where fresh produce and quality meat and aromatic spices and herbs are used to pull the flavors of Portugal forward to your home.
I'm always a bit dubious when I see charity cookbooks come out, as they often seem rather subpar in their execution. However I love the collection of recipes in Unichef compiled from influential chefs that came together to help support UNICEF, the international organization that focuses on helping children in need across the world. A veritable who's who of famous chefs ranging from Anthony Bourdain to Jamie Oliver to Wolfgang Puck and more the recipes all seem incredibly accessible without being dumbed down. Giada de Laurentiis' gives us vegetable parmesan while Eric Rippert includes baked eggs with ratatouille. Hugh Acheson explains how much he loves vegetables with is fall salad of cauliflower, butter lettuce, Brussels, radish, currants & carrots with cider vinegrette and Mario Batali submits his bucatini all'Amatriciana a dish his grandmother used to make. With biographies and stories from the chefs, 100% of the royalties from the book are directly donated to the U.S. Fund for UNICEF.
The list of Baked books keeps growing longer and longer with Matt Lewis and Renato Poliafito pumping out more and more Baked books. Their latest, Baked Occasions, takes the calendar of holidays, popular and ridiculous and creates recipes for each of them. From the ultimate birthday cake for the Baked bakery birthday to blood orange tiramisu for the Ides of March to chocolate chip hush puppies for national dog day (did you even know there was a national dog day? I didn't!) there seems to be awesome recipes for nearly every celebration. But even if the calendar of treats seem over the top (I mean it IS a Baked book, so there's a bit of over-the-top sheen to everything they do right?) the recipes are spot on delightful with classic treats updated the Baked way, such as nutella chip cookies, while some of the more out there desserts are still pretty tasty sounding like the red wine chocolate cupcakes with chocolate glaze. A year of treats, the Baked way, isn't a bad thing at all!
I'm going to go out on a limb and say that Flour + Water is one of my all time favorite restaurant concept cookbooks. Though I've enjoyed food from the restaurant in the past, reading the recipes in their cookbook, coupled with engaging stories about each meal or dish and how they came about makes me fall in love with their food all the more. But, more than the stories (which I love) and the beautiful photography (which make me crave carbs more than anything else) are the recipes. The glorious accessible and easy to follow recipes. These are recipes that I can see myself making over and over again, corzetti with sausage, clams and fennel; toasted farrow garganelli with short ribs, hazelnuts and radicchio, ricotta and tomato torteletti in brood (tomato water). These are the sort of fine dining Italian dishes that sounds fancier than they are to make. The kind of meals you can serve to company or just have at home yourself. This is the sort of cookbook you can go back to over and over again, just to read curled up in your couch or standing at your kitchen counter as you get lost in the rhythm of rolling out fresh pasta. This is a book that everyone who loves food needs in their home.
I'm all for eating on a budget (despite common misconceptions, food writers like myself aren't really rolling in the huge amounts of money) so when I got a copy of Jessica Fisher's Good Cheap Eats, based on her popular blog of the same name, I was pretty excited to dive in and see what she has to offer. With 200 recipes that don't break the bank and with lots of tips on what dishes you can make ahead and what dishes keep, this is the sort of cookbook for those folks who still wants to eat great but don't have a huge disposable income (in other words, most of us!). With no-frill recipes like beer-marinated grilled steak, meaty lasagna with Asiago béchamel and Cajun shrimp and sausage rice along with family/entertaining friendly fun ideas like how to make your own burrito bar as well as handy sections on how to tell if your meat is done or how to stretch your budget, this book is ideal for college students who are ready to graduate from instant ramen to families watching their budgets.
I'm going to call it like it is: Rick Rodgers, the author behind The Big Book of Sides is the Joyce Carol Oates of cookbooks. I mean every six months there is a cookbook with his name on it and they are not insignificant books either. With over 450 recipes for sides this book does NOT mess around (and apparently Rick had 75 more recipes that he had to cut because of space!). From coconut-lime rice to whole wheat, cheddar and sage drop biscuits to spinach with garlic chips to latkes with chives sour cream (though I might argue that I can totally make a meal just with latkes, making them less a side dish and more a main) this is the sort of resource cookbook that everyone who has a large family or loves to entertain needs on their shelf.
I've never eaten at Brown Sugar Kitchen, the soul food restaurant right across the Bay Bridge over in West Oakland though I've been lucky to sample their food at various different food events here in San Francisco. Having met Tanya Holland, the executive chef many times I was thrilled to hear her cookbook Brown Sugar Kitchen was coming out. From her amazing Creole shrimp and chicken gumbo to her fabulous macaroni and cheese to the new Southern classic fried chicken and waffles, these recipes are solid and warm like you expect them to be. I love the idea of serving waffles with apple cider maple syrup and her fast sautéed collard greens sounds quick and refreshing versus the long cooked tradition. I'll eventually make my way over to the restaurant but in the meanwhile, I'll be pretty happy to make her bacon, cheddar and green onion biscuits at home.
It seems like everywhere I turn, another friend or friend of friend discovers that their body doesn't play well with gluten or dairy. Thankfully Silvana Nardone is here to the rescue! With her new book Silvana's Gluten Free and Dairy Free Kitchen, Silvana has recreated some classic dishes like blueberry swirl muffins, crispy fried chicken and nachos mac and cheese which all sounds pretty darn tasty even for those of us who can tolerate gluten or dairy. With clear and easy instructions (as well as little details like how long the recipe takes to prep and cook) this is a great book for those families with special dietary needs looking to get a meal on the table that everyone can eat and enjoy on a weeknight.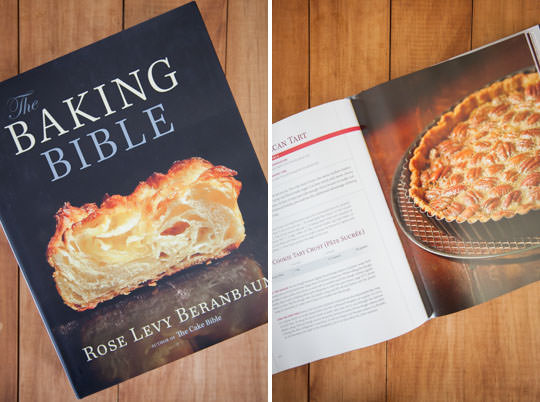 Rose Levy Beranbaum is known for her exhaustively tested cookbooks that are in nearly every home and professional baker's home and the The Baking Bible is no exception. Tackling nearly every baked good, from cakes to pies to cookies and breads, this book is a professional pastry course at a fraction of the cost. From rustic desserts like the blueberry buckle or the perfect peach galette to the more finished pink pearl lady cake with fondant or the prune preserve and caramel cream cake roll, the information packed into the comprehensive book is invaluable if you love to bake. Think of The Baking Bible as a reference guide and textbook to baking but one that you'll actual use, not just leave on the shelf.
Charlie Phan's Slanted Door is one of the very first fancy fine dining restaurants that I ate at here in San Francisco and I still have fond memories of it. Though they've moved twice since their first incarnation (my favorite of them all, though it may just be the memories I have from that space and the people I ate with) they still deliver some of the best modern version of Vietnamese food I've had. Though some restaurant driven cookbooks rely on high end restaurant grade ingredients or ridiculous preparation, The Slanted Door cookbook recipes all seem relatively easy to make even for those not familiar with Asian cooking, and the ingredients can mostly be found in a well stocked grocery store (though you may have to do a trip to an Asian grocery store to find some of the specialty ingredients like Shaoxing rice wine or fish sauce). With classic signature dishes like shaking beef, vegetarian imperial rolls and steamed halibut with ginger lime broth as well as more contemporary takes on Vietnamese dishes like Vietnamese fisherman's stew, grilled rack of lamb with tamarind sauce and roasted lobster with butter herb dressing this is a cookbook that you can grow with as you get more comfortable making Vietnamese food at home.
One of my biggest regrets in our road trip across American that I took with my partner two years ago was not dining at Husk, Sean Brock's restaurant in Charleston, North Carolina. We stayed in an adorable (and strangely reasonably priced) hotel right across the street from it but at the time we were watching our budget and Husk seemed too much a splurge. Though we ate well in Charleston, flipping through Heritage, the new cookbook by Chef Brock makes me realize that we probably missed out on one fabulous meal. This book is as much a coffee table book with gorgeous photos of the food and the low country where the food is sourced as it is a series of biographies of the farmers and food producers that provide the ingredients that make Chef Brock's restaurants Husk and McGrady's so fantastic. Oh and there are the recipe too. Some are more time consuming than others (48 hour pork rinds? Oh my!) but the others are easier than you think (grilled chicken wings with burnt scallion barbeque sauce; cracklin' cornbread; and slow-cooked pork shoulder with tomato gravy, creamed corn and roasted baby Vidalias). This isn't your typical southern cuisine cookbook, this is fine dining at it's best.
[THIS GIVEAWAY IS CLOSED]
I'm giving away a copy of Flavor Flours by Alice Medrich, Blue Chair Cooks with Jam & Marmalade by Rachel Saunders, My Portugal by George Mendes and Unichef to one luck reader! All you need to do is leave a comment below telling me what your plans are for the holidays! Are you traveling to visit family? Are you staying home and hosting a giant holiday party? Are you ignoring everything and avoiding Christmas music like it's the plague? Tell me your plans and you could win a copy of these four amazing books!
The Fine Print
By leaving a comment below to enter, you are agreeing to the Official Rules.
▪ NO PURCHASE NECESSARY
▪ VOID WHERE PROHIBITED
▪ You must be over the age of 18.
▪ This contest is only open to U.S. Citizens. Sorry non-US people!
▪ The contest starts as of today, and will run until Wednesday, December 17th, 2014, 9am PST.
▪ The combined retail value of everything is about $150.
▪ The winner will be chosen by a randomly selected comment. All comments will be numbered and I will use Random.org to pick a random number.
▪ The number of eligible comments below determines the odds of winning.
▪ If there's a problem with contacting the winner, I reserve the right to award everything to someone else randomly chosen. So in other words, make sure you type in your correct email address if you want the membership and respond within a week to me when I contact you or I'll give everything to someone else.
▪ The prize is being delivered directly from the publishers. If they have not delivered the prize to you within three weeks of me notifying you of winning, please reach out to me again and I will do follow up to make sure everything is OK. Please keep in mind we are all human and things happen. I will do everything within my power to make sure the prize is delivered in a timely manner.
Special thanks to Andrew McMeel, Artisan, Ballantine Books, Chronicle Books, Glitterati, Harper Collins, Harvard Common Press, Houghton Mifflin Harcourt, Stewart Tabori & Chang, Ten Speed Press, for providing review copies of the books featured above. I was not compensated for the post above and all opinions above are completely my own. And extra special thanks to Andrew McMeel, Artisan, Glitterati and Stewart Tabori & Chang for providing copies of your books to giveaway to one reader. You guys are awesome!
[This blog post has affiliate links, which means if you click through to purchase a book, I get a small percentage of the sales, at no cost to you. If you are uncomfortable with this, feel free to go directly to Amazon.com and search for the book or item of your choice.]