Looking for the perfect fresh mint chocolate chip ice cream recipe? Check out this fabulous recipe using fresh mint leaves & no egg yolks! (Jump directly to the recipe.)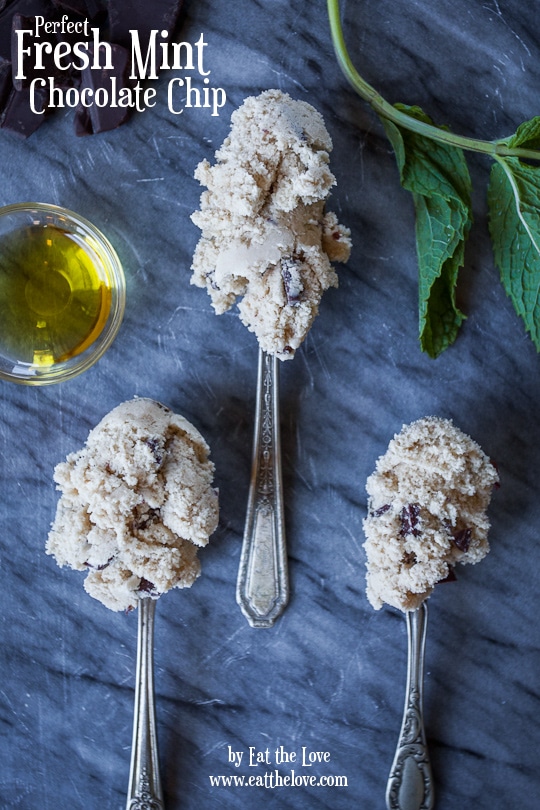 Even though I'm lactose intolerant, I suffer through it for ice cream. It's one of my big weaknesses, and it doesn't help that I live in a city that is full of fantastic artisan ice cream shops. From the old school Mitchell's to my neighborhood BiRite Creamery, to the hipster Humphry Slocombe to the retro futuristic liquid nitrogen made Smitten Ice Cream, to the signature booze inspired scoops at Mr. and Mrs. Miscellaneous to the homey handmade Three Twins frozen delights, San Francisco rocks the ice cream shops over pretty much anywhere else I've been. But every now and then, when I visit elsewhere, I fall in love with a flavor that I have a hard time finding in San Francisco. That's what happened when I was down in Los Angeles recently and had Sweet Rose's signature Fresh Mint Chip. It was good, startling good actually, but I knew I could improve on it. Channeling my Cook's Illustrated mojo, I developed the Perfect Fresh Mint Chocolate Chip Ice Cream (which I humbly submit to you guys as the best ever).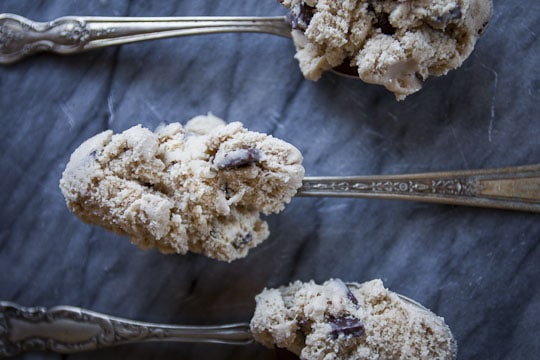 I've always had a love of mint and chocolate. Growing up, obviously the green mint chocolate chip was what I requested on the rare occasions we went for ice cream at the big chain ice cream shops (my parent's weren't the "going to get ice cream" sort of folks). As I got older, I discovered that if the mint chocolate chip WASN'T green, it meant it was fancy mint chocolate chip. Even as a kid, I loved me something fancy. But once I tasted fresh mint at Sweet Rose's, all bets were off. Fresh mint was where it's at, anything made from the mint oil or extract (though certainly easier to make) tasted cloyingly like candy. The herbal green flavors of the fresh mint went so well with dark chocolate, I'm not sure if I could go back to the extract/oil flavored stuff (green or not).
So I did what any typical food blogger/recipe developer does when confronted with an issue about food – I looked for the perfect fresh mint ice cream recipe. Yep, I did my research. David Lebovitz steeps his mint in a hot egg yolk custard as did the fresh mint recipe at the Oregonian. Sweet Rose's cold steeps their mint while Jeni's Splendid also does a cold steep – but no egg yolks. Epicurious had you hot steeping and then sitting in the whole egg custard for way longer that I felt comfortable (the mint leaves brown after while, making the custard brown as well). And my beloved BiRite Creamery actually uses peppermint oil (oh how could you?). Most of them had added plain chopped chocolate to the ice cream or making your own chocolate chip that just involved melting them and drizzling the chocolate into the cold ice cream. I knew I could do better.
Coming up with the perfect fresh mint chocolate chip ice cream wasn't hard, but it did mean that I had to take what was out there and composite together. I opted to go with Jeni's Splendid's Ice Cream's method of no egg yolk because I didn't want the egg yolk fat to dull the bright freshness of the real mint leaves. I used a combination of hot steeping and cold steeping to really get a mint punch (if you only use a hot steep or you hot steep too long, you risk losing the bright herbal flavor AND the mint turns brown which in turn turns the ice cream slightly brown). I also adapted BiRite's method of making chocolate chips by adding olive oil to the chocolate, thereby lowering the melting point of the chocolate so when you eat the ice cream you aren't left with cold chunks of chocolate in your mouth after the ice cream melts away. After channeling the spirit of Cook's Illustrated/America's Test Kitchen, I had finally made the perfect Fresh Mint Chocolate Chip Ice Cream. Now I just need a cute hand drawn illustration of it, as well as long unrelated story based out of Vermont to make it all complete.
Perfect Fresh Mint Chocolate Chip Ice Cream
By Irvin Lin
It takes a lot of fresh mint to get enough mint flavor into the ice cream (eating something cold like ice cream will dull the flavor even more). Because of that I use a LOT of fresh mint, and do a double steep. Once when hot, to maximize the mint extracts, and once cold to keep the mint flavor fresh and herbal. I also made my own chocolate chips by melting them first and adding olive oil. By spreading the melted chocolate thin AND by adding the olive oil (which lowers the melting point) the chocolate melts in your mouth super fast, which means you don't have the ice cream gone and a mouth full of chunky cold chocolate chips. Finally a touch of honey helps keep the ice cream smooth (the natural invert sugar in honey prevents ice crystals from forming) and subtly boosts the herbal earthiness of the fresh mint.
Ice Cream base method adapted from Jeni's Splendid Ice Cream at Home and Chocolate Chips method adapted from BiRite Creamery's Sweet Cream and Sugar Cones cookbook.
Ingredients
Ice cream base
2 cups whole milk, divided
1 tablespoon + 1 teaspoon (10 g) cornstarch or tapioca starch/flour
3 tablespoons (45 g or 1 1/2 oz) cream cheese at room temperature
1/8 teaspoon sea salt
1 1/4 cup heavy cream
1/2 cup (100 g) white sugar
3 tablespoons (70 g) honey
2 cups (80 g) fresh mint, divided
Chocolate chips
3/4 cup (115 g or 4 oz) chopped dark chocolate (something you like to eat out of hand)
2 teaspoon extra virgin olive oil
Special Equipment
Gallon Ziplock Bags
Ice Cream Maker
Rimmed baking sheet
Parchment Paper
Directions
1. Make the ice cream base by first mixing 2 tablespoons of milk with the cornstarch or tapioca starch in a small bowl. Place the cream cheese and salt in a heat proof medium bowl and mix together. Fill a large bowl with ice and water.
2. Place the remaining milk, cream, sugar and honey in large pot. Roughly Tear apart by hand half of the mint and toss it into the pot as well. Bring the entire mixture to boil and lower the heat to a rapid simmer, cooking for 4 minutes. Remove from heat and slowly drizzle in the milky cornstarch/tapioca starch while stirring with a whisk. Place back on the heater and bring back to boil, cooking on rapid simmer until thickened, about a minute. Drizzle a little bit of the hot milk into the cream cheese, whisking to dissolve the cream cheese. Continue drizzling and whisking, until all the cream cheese is dissolved and all the milk has been added. Let sit in the bowl for 20 minutes for the mint to steep. Pour the ice cream base through a colander into a gallon ziplock bag, straining out the mint, pressing down on the solids once you're done to get all the flavor you can from the mint. Seal the ziplock bag and submerge in the ice water.
4. Once cool (30 minutes) tear up and add the remaining fresh mint. Let steep overnight (for at least 8 hours) and then strain out the mint and freeze according to your machine instructions.
5. While the ice cream is freezing in the machine, make the chocolate chips by first lining a rimmed baking sheet with parchment paper. Melt the chocolate by placing it in a microwave safe bowl and heating it in the microwave for 30 seconds. Stir and microwave again for 30 seconds. Repeat for another 30 seconds and stir. Repeat for additional 15 seconds if you need to. Add the olive oil and stir to incorporate. Pour the melted chocolate onto the parchment paper and spread the chocolate as thinly as you can (I grabbed ahold of the parchment paper tightly, and just tilted the baking sheet left and right to get the chocolate thin and spread out). Place the baking sheet with the chocolate in the freezer for 15 minutes then remove and chop up into small chips. Add the chips to the ice cream in the last two minutes of freezing.
Makes 1 quart of ice cream.