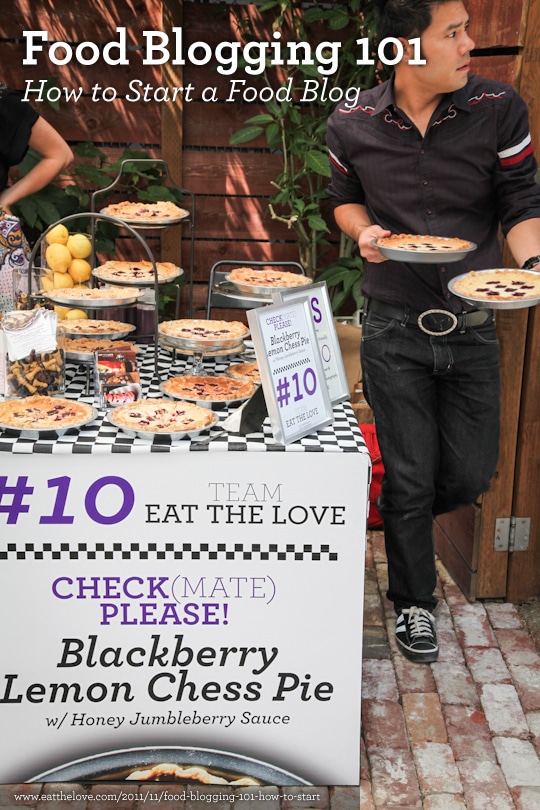 Even though my blog has only been around for less than two years (I started March 2010) people seem to think I know what I'm doing here. Because of this, I keep on getting asked the same questions by numerous people. How do I start a food blog? Do you have any advice for me as a new blogger? What do I need to do to have a successful food blog? After attending two back-to-back food blogging conference (Foodbuzz Fest here in San Francisco and International Food Blogging Conference in Santa Monica) I figure it was time I wrote up something about the basics of food blogging – or least what I have been able to figure out so far. Consider this a food blogging conference Cliff's Notes version – significantly cheaper than going to the conference, without the exhaustion of staying up late and drinking with other food bloggers that shall remain nameless.
The holy trinity of food blogging is gorgeous food photography, wonderful writing and rock solid recipes (clearly this only applies to recipe based food blogs, not restaurant review food blogs – they only have to worry about the first two). If you can nail these three things, you've about 95% there. How do you achieve them?
Gorgeous food photography: You don't need an expensive camera but you do need to know what you are doing (Martha Stewart Everyday Food has even used some iPhone pictures in their publication). There are a number of excellent resources & tutorials out there, but in a nutshell, don't use the built-in front flash on your camera to photograph your food and style your food so it looks appetizing.
If you are at a total loss, a beginning jumping off point is to check out the numerous "food porn" sites like foodgawker, tastespotting, serious eats' photograzing or tasteologie. Just pick an image you love and try to figure out how to reproduce it (not just with the props and the styling of the food, but also with the lighting, shadows and how it's composed). Pay attention to that light, and how it hits your food and what direction the shadow is falling. Is the shadow harsh or soft, is the light diffuse or the light hard and there are highlights on the food? The more you start to notice how the light works, the better you will be at controlling it and controlling the outcome of your photograph.
Now I'm not one to encourage blatant copying (and keep in mind that those sites have a very specific "look" to them – which means they often look the same), but the exercise of trying to reproduce a picture that you have fallen in love will teach you a HUGE amount about photography and about light. A lot of pro photographers will tell you that you aren't necessarily shooting a subject, you're photographing light and how that light hits the subject. Once you understand that, you're halfway there.
Also keep in mind that the more you shoot, the better you get at it. The better you get at it, the better you will be able to find your own visual voice by discover what you like and don't like. The most important thing though is to keep on shooting.
Wonderful writing: Just as I mentioned visual voice, creating your own voice in your writing is even more important. Numerous books have been written about this (including the specific-for-food writers book Will Write for Food by Dianne Jacob) but the best advice anyone can give a writer is to just write. Do it often and do it a lot. The more you write, the more you'll establish your own voice. It sounds simplistic, but writing is a craft and like everything else, you get better at it the more you do it.
In addition to writing a lot, read a lot – and not just food writing. Don't get me wrong, all the cookbooks you own are fantastic to read, the Best Food Writing series is a great compendium of food related pieces, Molly Wizenberg makes me feel like she's the best friend who lives the life I wish I lived and M.F.K. Fisher deserves the praise that W. H. Auden once said about her: "I do not know anyone in the United States who write better prose." but reading books outside the food world and especially outside the food blogosphere will give you a completely different perspective.
I used to read a lot, way more than I do now (when did reading a book become a luxury in my life?) and every time I read something by Sarah Vowell or Haruki Murakami I am transported by the stories they tell. It's what I strive to do with my own writing and this blog, to bring my readers, even for a short time, to a place where they can taste, feel, and experience the food I've made and why I've made it, all in their mind. Hopefully this mental journey will inspire them to actually take the time to make the recipe that I created. As a food blogger I try to build a trust with my readers, after all I'm asking them for their time – to read my blog, to make my recipe, to eat what essentially is my food – and that's asking a lot. Time is precious. I can only hope it's worth it for them. Find a writer or author that you love, that can transports you and study why and how they do it. Your writing will grow in leaps and bounds.
Rock solid recipes: The first time a reader commented that they made my recipe I was startled. What? People are reading my blog? More importantly, they are actually MAKING my food? Turns out they were. Then I got nervous. Writing recipes is an art form and most people don't know that.
A wonderfully written recipe can tell a story just as much as the blog post itself. Don't believe me? Bounce on over to Dorie Greenspan's site and read any of her recipes. You'll instantly be teleported next to her from the beginning, where she describes squeezing the cookies for an apple crumble into her hands, trying not to crush them too much but failing at that task, all the way to the end where she spoons the leftovers of the apple crumble out of the pan directly from the fridge in her mouth.
There are, of course, some basic rules about recipe writing. Always list the ingredients in the order they are used in the recipe, write out the words tablespoons and teaspoons (instead of tbsp and tsp) so as to avoid confusion for the reader, and be as precise as possible (is it light brown sugar or dark brown sugar you need for the recipe?). Both Justin Schwartz of Just Cook NYC (a senior cookbook editor at Wiley) and Dianne Jacob (editor and writing coach) have excellent posts on how to write a recipe like a pro.
Finally, test the recipe if you can. Most bloggers don't have time for this, but the difference between some of the top tier food bloggers and everyone else is that their recipes work. They don't just post a recipe that they've made once, they often make it twice or three times before they finally settle on the exact ingredient list and methodology for it. I know I've tested some of my recipe four times before finally pushing them up to this blog. Why the obsessive compulsiveness? It all goes back to the trust your trying to build with your readers. If a reader makes one of your recipes, and it fails, why would they come back to your blog? It's a leap of faith in the first place for your readers to try a new recipe by a new blog that they have never visited before. Don't let that leap of faith fail, because you'll never get that reader back.
The other 5% of food blogging: That's what all those other session topics you see at food blogging conferences are about. SEO (Search Engine Optimization), Social Media/Networking, branding and platform developing, working with brands and PR companies, monetization of your blog, etc. They are all great topics, but they aren't things beginning bloggers should worry about.
Here's the thing that I probably should have said in the very start of this post and the ONE THING that I want every beginning food blogger to know. Don't be afraid of starting your blog – just do it. All that stuff I wrote above about the holy trinity of food blogging, that sounds all daunting and scary? Just ignore it.
Why? Because no one will read your blog in the beginning.
This sounds sad but it's not and here's why. When you start a blog no one will know about it (other than your friends and family that you told about it). Your friends and family will love it, they'll be supportive, they'll write comments like "I love your blog!" "Go you!" "That looks so yummy!" and you'll be thrilled that someone left at least one comment (even if it's your mom or best friend).
You'll learn as you go. The beginning of a blog is a time to experiment, take bad photos on a tilt, make mistakes and just write about whatever the heck you want to write about. It's a time for you to discover what your voice is (both through photos and through writing) and it's a chance figure out what sort of things you want to make and blog about. You'll grow during that time, you'll go through that ugly adolescent stage before blossoming, and eventually you'll find your path. Trust me, we ALL went through that ugly stage – just browse some of my earlier posts. It's not pretty (could I use anymore exclamation points?).
What you DO NOT want to happen to your blog is Child Actor Syndrome. You don't want your blog to become the Diff'rent Strokes of food blogs. You all know what I mean. Your blog becomes a success, you land a book deal, it gets turned into a movie, you write a second book that gets panned by the critics and flops and then…um what happened to that person? Huh. No one seems to know, not even google. I'm not meaning to pick on that one particular person (I highly doubt she'll see this post but if she does, I really hope she leaves a comment and tells me what's going on in her life, I'm really curious) – I'm just trying to illustrate that when someone gets thrust into the spotlight prematurely it can have consequences.
I'm as guilty of wanting "blogger success" as everyone. I distinctly remember sending a twitter direct message to a new blogger friend of mine, after only blogging for six months, and complaining that I didn't have any readers. He politely DMed me back and said "Don't worry, you'll get them…" and then promptly unfollowed my whiny ass. I don't blame him (I've since publicly shamed him into following me again) but I've learned my lesson.
In fact, I will go one step further than he did and tell you this. You never "get readers" – you "earn readers" and there's a difference. Getting readers is like getting a good grade in school, it doesn't happen. Most people blame the teacher when they fail, but those who actually work hard and study their asses off, they understand that a grade is never given, it's earned.
Which leads me to my final piece of advice for beginning food bloggers. Please, don't beg other food bloggers to read your blog – and don't steal other people's recipes. I think that last part goes without saying but still it has to be said. Imagine going to a party where you only know the host and a complete stranger comes up to you and says "Hi there. Please go and read my book that I just wrote. It's on the internet and it's free. I called the novel Memoirs of a Geisha." If you're like me, you'll probably take a step backwards and hope the crazy person just walks away (of course, if you're like me, that crazy person will latch onto you and try to talk to you for the rest of the night – oh the stories I could tell about being a crazy person magnet).
I'm TOTALLY guilty of doing this as well (the first part, not the stealing – please, I have SOME morals). I remember launching my blog and immediately emailing a few of the big blogs I followed, hoping to get my name out there (hey, maybe they'll add me to their blogroll?!?). The best-case scenario, they ignored my email (hopefully they have forgotten by now), and the worse case, they put me on their spam filter and I just burned a bridge that I could have created down the road.
People are busy. The bigger your blog is, the busier that blogger is going to be. You may have a fantastic amazing incredible blog, but if you out-of-the-blue email me, tweet me or facebook me something like "Hey look at my awesome blog: www.sexybakerbunny.com" I'm either going to ignore you, block you or (if you catch me in a bad mood) report you as spam. Because that's what it is, unwanted spam.
Instead, like you would at a party, engage that blogger in a conversation. Read their blog, and leave a comment that is well thought out and adds to the conversation. I'm not talking "That angel food cake looks so yummy!" sort of comment. Instead, I'm talking about "Wow, I love that you made your angel food cake in a square pan instead of a traditional round pan. My grandma used to use square angel food cake pans and I've never seen anyone else do that. It totally makes me nostalgic for her angel food cake, though she always served it was raspberries and told me her secret ingredients was a touch of grand marnier in the batter. Also a little cream of tartar to stabilize the egg whites. Now I'm getting all verklempt thinking about grandma. Thank you for the trip down memory lane."
Now your comment doesn't have to be as ridiculous as mine (I'll be honest, I just wanted to use the word "verklempt" in a post – so there you go). But you get what I'm trying to say. Write something that shows who you are, and that shows how connected you are with the blog you are reading. Once you've engaged with the blog, you'll have a much better chance of having that blogger click through to see who you are, and what your blog is all about. Importantly, if the comment section has a space for your website, that's where you need to put it, not in the body of the comment itself. That's liable to make you look like spam.
This, of course, works across the board on Facebook, Twitter and all the other social media. Engage in a conversation, talk with the person – as if they were a person – and you'll have a much high success rate in getting them to visit your blog. Once they go to your blog, your gorgeous photography, wonderful writing and rock solid recipes will charm them. Right?
In the end, realize this: starting a food blog isn't hard. In fact, there are numerous places like wordpress.com and blogger.com that allow you start a food blog in less than 10 minutes, absolutely for free. Sure you can go the self hosted route and get a wordpress.org site (always recommended) but I'm of the opinion that anything that gets you up and running is a good thing. Just go in and do it. That's the best advice anyone can give you.
For more resources about food blogging visit Food Blog Alliance and Food Blog Forum both of which have some pretty invaluable posts and articles about food blogging. For resources and inspiration about food photography, peruse White on Rice, Tartelette (Helen Dujardin by the way wrote the excellent book Plate to Pixel – a must for any food photographer), Matt Bites, Penny De Los Santos and Wright Food (who has some fantastic "how to" posts), as well as the articles that professional food photographer Andrew Scrivani has written for the New York Times.