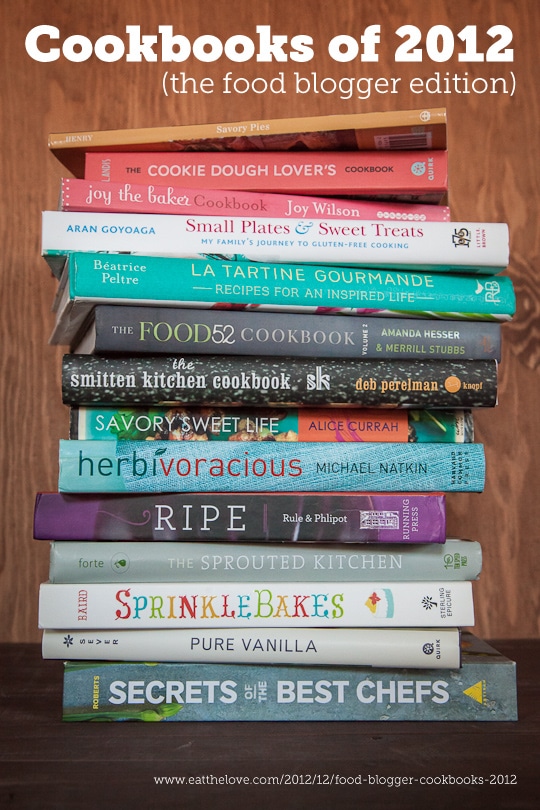 This year has found me acquiring more cookbooks than any previous year in the past, much to my partner AJ's chagrin. As I slowly quickly run out of room in our tiny apartment (I've maxed out storing them under my desk, which means I'm now storing books in my closet) I look at my stacks and realize that my favorite 2012 cookbook list is way too long. With that in mind, I decided to arbitrarily break the list into two posts. Today's list is composed of cookbooks published by food bloggers, while the second list, to be posted on Friday, will be all the other cookbooks. Of course, some of the people who appear on my Friday post have food blogs, but since I view them as more established food writers first and foremost, I have decided to include them in there instead. In addition, three publishers have generously allowed me to do a cookbook giveaway for one lucky reader – details at the end of this post!
I adore Cheryl Sternman Rule of 5 Second Rule and when I heard she was teaming up with photographer Paulette Phlipot to do a cookbook, I couldn't wait to see the results. Turns out I wasn't disappointed. Ripe, a cookbook on produce, broken down by color, is not only gorgeous, but has Cheryl dry wit and personality as well as super approachable recipes. I love flipping through the book and looking at all the bright colored vegetables and fruits, reminding me that there are more than just green vegetables like broccoli and asparagus for dinner.
Full disclosure, before I start gushing about how much I love Shauna Sever's book Pure Vanilla, I have to admit that she's a dear friend of mine. In fact, her blog Piece of Cake, is subtitled "the next door baker" and I really wish she did live next door to me. We'd bake together, chat and gossip all about that certain food blogger that we all love to hate (you know who we're talking about right?). But alas, Shauna lives across town in a neighborhood that I rarely frequent. Thankfully her blog, and her current cookbook, Pure Vanilla is my ersatz companion. Full of brilliant recipes highlighting vanilla (see that Twinkie Bundt Cake up there? Genius!) and chock full of information, it's high time that vanilla got in the spotlight.
Michael Natkin's Herbivoracious is one of the few vegetarian based cookbooks I have that doesn't scream "vegetarian food!" at me. In fact, you'd hardly miss the meat with hearty dishes like Crispy Polenta Cakes with White Beans and Morels or Middle Eastern Rice and Lentil Pilaf. Taking cues from cuisines around the world, Michael's book makes the foreign accessible and the unfamiliar easy to understand.
Though not quite a food blog, but rather a food community, Food 52 has a number of food bloggers as part of the site, and their weekly contests held to see what the best recipes are around a seasonal theme is engaging. Volume 2, based on those contests, is both inspiring and enlightening, with cooking tips from the author of the contest, the editors and the community at large. This is what sharing is all about.
I wrote about Sara and Hugh Forte's The Sprouted Kitchen cookbook when I adapted their shortbread oatmeal cookie. The rest of the cookbook is just as lovely, full of recipes that make me immediately want to go into the kitchen and start making food. More than that though, I sort of wish I knew Sara and Hugh personally, so they could invite me over and have them make me their food. Sadly I'll just have to make do with their cookbook.
Alice Currah's Savory Sweet Life is the sort of book that you can go to again and again. With simple ingredients that you can easily find in your cupboard, it's basically the opposite of everything I write about (Kamut flour! Goat Milk! Pomegranate Molasses!) but I love Alice for that exact reason. Easy to make and easy to eat, Alice's book is as friendly and loveable as Alice is in real life.
Lindsay Landis of Love and Olive Oil wrote the ultimate book for those who love cookie dough more than the cookie itself, the Cookie Dough Lover's Cookbook. A recipe that shows the versatility of cookie dough as an ingredient (yes it's egg free, so safe to eat!), the dishes sounds exactly like the sort of thing that is most everyone's favorite guilty pleasure.
My pal Greg Henry of Sippity Sup just released his first book Savory Pies and I'm insanely excited to check it out. As a pot pie fanatic, the idea of a cookbook dedicated to savory pies makes me so happy. The fact that he threw in wine pairing to go along with most dishes makes it all the more awesome.
La Tartine Gourmande by Beatrice Peltre is the sort of book you want to live in. I wrote about it when I adapted a recipe for my fruit nutty crumble, but as I dove more into the book, I realized that not only is a collection of wonderful recipes, but it's a chance to view the world through Bea's eyes. From growing up in France, to her travels around the world and landing in Boston, I feel like I know Bea, her family, and who she is even more.
If I get one more email from a friend of mine telling me to check out the New York Times article on Deb Perelman's Smitten Kitchen cookbook, I swear I'm going slap someone silly. But despite the fact that my well-meaning friends ("Irvin, you should totally write a cookbook like this woman did!") drove me crazy and had set me up to dislike the book (even though I love Deb and her blog) I had to grudgingly admit that the Smitten Kitchen book is pure Deb. The Smitten Kitchen cookbook is warm, friendly, and easy to follow with step-by-step instructions and without gimmicks or tricks.
Aran's photography on Canelle et Vanille has made many a reader swoon with envy and her book Small Plates & Sweet Treats will make those readers pass out with lust. Gorgeous microgreens scattered carelessly over a prosciutto and crushed bean puree on toast wedges, all plated on a floral patterned plate and vintage fabric napkin. It's the inspirational template for many a food blogger's food photographs, but what sets Aran apart is that not only the stunning photography, but the fact that her recipes are easy to make, actually something you want to eat, and not just pretty to look at. The fact that she cooks gluten free is just the brown butter glaze on that superfine brown rice & hazelnut flour bundt cake.
Joy Wilson of Joy the Baker is everyone's best friend. Sassy, kooky and fun, her recipes, blog and cookbook pretty much makes me smile everytime I read it. I wrote about her cookbook when I adapted her coconut banana cream pie and my friends basically swooned over it when I presented it. With easy to make recipes and basic staple ingredients, her cookbook is exactly what you would expect from her.
If Joy is the easy-to-understand and simple-to-make weeknight baking blogger, Heather Baird of Sprinkle Bakes is the weekend-project DIY-dessert- sculpture blogger that I adore. An artist who has changed her medium from oil paints to fondant and buttercream, Heather's cookbook is full of step-by-step instructions on how to make her creations, as well as chapter on color theory and how to create sculptural desserts at home.
Adam Roberts of The Amateur Gourmet is living the dream. From former law student to full time food writer, he just wrote the book that pretty much every food blogger wish he or she had the chance to do. Secrets of the Best Chefs. Adam interviews and cooks with 50 of the top chefs around the country, learning directly from them and bringing their recipes and techniques home with him to share with everyone else in this book. Full of wit and wisdom, this is a cookbook that everyone should have on their shelf.
Of course, there's a list of books by food bloggers that I didn't get this year but I wish I did. Perhaps they'll be waiting for me under the Christmas tree? These include:
What Katie Ate: By Katie Quinn Davies
Aida Mollenkamp's Keys to the Kitchen
Muy Bueno Cookbook by Yvette Marquez-Sharpnack, Veronica Gonzalez-Smith and Evangelina Soza
Food in Jars by Marisa McClellan
Tiny Food Party! By Teri Lyn Fisher and Jenny Park
The Brokeass Gourmet Cookbook by Gaby Moskowitz
Not So Humble Pies by Kelly Jagger
Now for the giveaway! Harvard Common Press, Quirk Books and Running Press have all generously agreed to let me run a giveaway to accompany this post. I'm giving away a copy of Herbivoracious by Michael Natkin, Pure Vanilla by Shauna Sever and Ripe by Cheryl Sternman Rule and Paulette Phlipot to one lucky reader! It's a triple cookbook giveaway for you! All you have to do is leave a comment below and tell me what food blogger out there needs to write a cookbook in 2013. I love discovering new blogs and I want to know what blogs you love! And no brown nosing and tell me that you want me to write a cookbook. I want to know about other blogs!
To get bonus entries, follow me on Facebook or tweet about this contest with a "Win all three cookbooks: Ripe, Herbivoracious and Pure Vanilla at @eatthelove's blog. http://bitly.com/winCookBook1" and then come back here and leave a comment telling me you followed me on Facebook or tweeted out about the contest. If you don't leave a comment below about Facebook or the tweet, I won't know so be sure to come back and leave separate comments about what you did.
The fine print – PLEASE READ
By leaving a comment below to enter, you are agreeing to the Official Rules.
▪ NO PURCHASE NECESSARY
▪ VOID WHERE PROHIBITED
▪ You must be over the age of 18.
▪ This contest is only open to U.S. Citizens. Sorry non-US people!
▪ The contest starts as of today, and will run until Wednesday, December 26th, 9am PST.
▪ The retail value of the 3 books combined is $72.90.
▪ The winner will be chosen by a randomly selected comment. All comments will be numbered and I will use Random.org to pick a random number.
▪ The number of eligible comments below determines the odds of winning.
▪ If there's a problem with contacting the winner, I reserve the right to award the 3 books to someone else randomly chosen. So in other words, make sure you type in your correct email address if you want the membership and respond within a week to me when I contact you or I'll give the books to someone else.
▪ The books will come directly from the publisher, so if you win, let me know when it arrives or if it doesn't, and I'll be sure to hassle the appropriate people.
This giveaway is closed. Thank you for participating!
Special thanks goes to Artisan Books, Harvard Common Press, Hyperion, Knopf, Little, Brown and Company, Quirk Books, Roost Books, Running Press, Sterling Epicure, Ten Speed Press, Ulysses Press, and William Morrow for sending me review copies of their books. Though I received review copies of their books, I received no monetary compensation from them and was under no obligation to write about them. All opinions stated above are my own.
And extra special thanks goes to Harvard Common Press, Quirk Books and Running Press for providing books for this giveaway. You guys are awesome!
Come back tomorrow for an actual recipe (something that has been sadly lacking in the past few weeks on the blog, sorry about that!) and Friday for part two of the cookbook list, which may or may not also include an awesome three-book giveaway attached to it as well. 😉
[This blog currently has a partnership with Amazon.com in their affiliate program, which gives me a small percentage of sales if you buy a product through a link on my blog. If you are uncomfortable with this, feel free to go directly to Amazon.com and search for the item of your choice.]