It's President's Day weekend, and AJ and I made our one exception to our Social Moratorium and went on ski trip organized by our awesome friend Felisa. Our friends, many of whom we have not seen in ages, usually set up an annual ski trip and AJ and I loath to miss out on the fun. That said, this trip was going to be a little different, as it would be the first time that we had children along. How would the dynamic shift when all our friends with toddlers and babies came along? Better, worse, just plain different? Turns out it was awesome in a totally different way. And, of course, I decided to make dessert for our group. Deep dark chocolate pudding seemed appropriate. The group seemed to agree.
We headed up to Sacramento on Thursday, to hang out with my brother, sister-in-law and the awesomest niece ever. Sadly we couldn't spend the night at their place, as they have a cat and AJ is insanely allergic, but we had a great dinner at Magpie Caterers, where Sydney, my niece, was a rockstar and ate nearly everything placed in front her, including duck ragu gnocchi, crispy pork belly, ribeye, and some interesting roasted vegetables (their description not mine). I also ordered a selection of sautéed greens, because I'm a sucker for greens. Sydney did not partake of them, as apparently she has an aversion to green foods (okay, so she's a rockstar lite, but we're working on that one).
Friday we woke up insanely early and drove over to South Lake Tahoe. We had every intention of heading to North Lake Tahoe to go skiing, but AJ wasn't feeling all that great, and we decided to play it by ear for skiing. Since our group had a cabin down in South Lake Tahoe, we headed there. After grabbing lunch, AJ rallied and we got a half day of skiing in at Heavenly.
That said, going skiing after not doing anything physical for a year (no gym, no running, nothing) is not a smart move. Getting my ski legs back after a year of not skiing was tough. And painful. So very painful.
We met up with our friends in our giant awesome house that we rented afterwards. It was a smaller group the first night (two kids, seven adults), and we stayed up late waiting for our friends Rita and Damon who were driving up from LA. Sadly, due to several mishaps (including broken chains and a flat tire) they were waylaid in Gardnerville, Nevada for the night.
The next day we spent some awesome time with kids sledding in the fresh snow; two feet of fresh powder from the storm that kept our friends Rita and Damon from arriving. For both kids, it was the first time they had experienced snow and they loved it. Of course the parents, as well as AJ and I, had a pretty great time.
Our friend Felisa had bought groceries ahead of time and actually made food for our giant group (best camp counselor ever!). By the time we got back from sledding, two more couples had arrived, bring the total up to three kids and eleven adults. We originally had two more adults and a child who were planning on coming up, but they had to cancel at the last minute due to illness.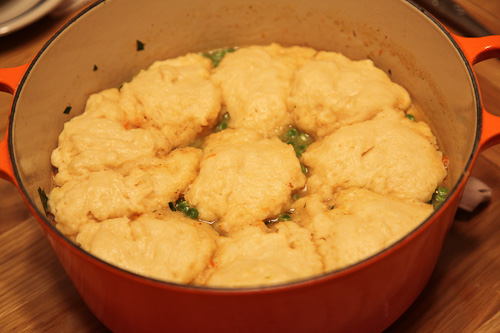 Felisa, of course, rocked the food, making chicken and dumplings (or mushrooms and dumplings for the vegetarian in the house), along with roasted Brussels sprouts and salad. For dessert, I had brought up some faux-reos (faux oreos) which I'll be blogging about soon, as well as some rice crispy treats. Everyone, of course, has been eating them throughout the weekend, but no one seemed mind eating them again for dessert. The crazy evening ended with us playing cards – Euchre. We're a wild bunch!
The next day AJ and I hit the slopes a little less sore , with our friends Rita and Damon who had finally made it, and it was amazing. Rita and Damon said that the fresh packed powder, crystal clear weather and stunning views was worth the flat tire and the-near-abandoned-by-the-roadside-experience that they had getting to Tahoe. I kinda agreed, though we didn't have to go through the ordeal they did to get to Tahoe. Gorgeous doesn't really do the mountain justice. Our suffering from Friday was totally worth it, as our ski legs had returned and we found ourselves carving up the mountain on packed powder on the black diamond runs of Heavenly (okay, we actually only went on one black diamond, and it was the easiest black diamond ever, so we skied it three times so we could say we did black diamonds – and because it was so much fun).
Dinner that night was lasagna (two versions, Italian sausage as well Mushroom and Spinach) courtesy of Felisa again. I love my friends. They feed me! They entertain me. They are awesome.
For dessert, I had made that deep dark chocolate pudding. This stuff is good. I haven't made it in awhile, but for some random reason, we had extra egg yolks in the house (people who know me, know this almost NEVER happens) and chocolate pudding seemed like the perfect way to use up the egg yolks AND for a great ending of an evening after skiing.
People loved the pudding. Like LOVED the pudding. I believe there was spontaneous applause when I served it, but to their credit, they also applauded my friend Felisa's dinner (which totally deserved it, because it was insanely tasty).
But make this pudding. Really. It's rich, I won't lie to you, so a little bit goes a long way. But once you taste the pudding, you'll understand why it's worth the effort to make. People swooned, people swore allegiance to it, and people declared that it was the best pudding they had ever tasted.
I'm pretty partial to it myself. And when you make it, you'll realize it really isn't that hard to make. And it's so very very worth it.
Whilst making this pudding, I listened to the screams and laughter of little children. The best soundtrack ever.
Deep Dark Chocolate Pudding (naturally gluten free)
Adapted from In the Sweet Kitchen: the Definitive Baker's Companion by Regan Daley
Super dark, amazingly rich, don't be fooled by it, you only need to serve this in small portions. I serve it with a dollop of slightly whipped cream but you really don't need to get that fancy. The chocolate pudding is awesome all by itself. Do plan ahead though, as you need to give the pudding time to chill overnight to firm up.
1 cup white sugar
1/4 cup cornstarch
1/2 cup natural cocoa powder (not dutch processed)
1/8 teaspoon salt
1 cup of heavy cream, divided
4 large eggs yolks
2 cups of whole milk
1 1/2 teaspoon of vanilla extract
4 oz of bittersweet chocolate, chopped into 1/4 inch squares (if you want this to be gluten free, make sure your chocolate is gluten free)
1. Place the sugar, cornstarch, cocoa powder and salt in a large heatproof bowl, placed on a silicon heat proof pad or a damp towel (to keep the bowl from sliding around) and whisk vigorously together to blend. Add 1/2 cup of heavy cream and whisk to make a thick paste. Add the egg yolks to the paste and stir vigorously to incorporate them.
2. Place the remaining 1/2 cup of heavy cream and the 2 cups of whole milk into a large heavy pot or dutch oven. Bring the milk and cream just to a boil (when the sides of the pot start to form bubbles, turn off the heat). Slowly pour the milk and cream into the chocolate paste while whisking constantly and then stir until the mixture is smooth.
3. Once the milk and cream is incorporated into the chocolate paste, rinse out the pot (but don't bother to wash it) and then pour the pudding mix back into the pot. Cook the pudding over medium heat for about 5 to 7 minutes. The pudding should never hit boiling point, so if it does, turn the heat down. However, the pudding might start acting funky (it might start to look chunky, but keep going, it'll smooth out). Once the pudding hits a consistency of mayonnaise, it's done cooking.
4. Take the pot off the heat and stir in the chopped chocolate until incorporated. Spoon the pudding into 6 to 8 serving bowls, cups or mugs and refrigerate for at least 6 hours. If you like the pudding to have the old school "skin" on it, just stick the into fridge as is. If you want to avoid the skins, place plastic wrap on the surface of the pudding and refrigerate that way.
5. Take the pudding out about an hour before you serve it. You want it chilled but not refrigerator cold (you'll taste the chocolate more if it isn't super cold). Serve with lightly sweetened whipped cream if you want to.