A new, easy-to-make classic, the cranberry pie, will make every holiday season bright and cheery when it's served up! (Jump directly to the recipe.)
This post is a part of a series of cookbook posts that I'll be running from now through December. I was not monetarily compensated for this post but I did receive this cookbook for free as a review copy. I receive numerous cookbooks throughout the year and only choose to highlight and write about the ones I truly love.
Dessert folks tend to be split between the cake lovers and the pie lovers. And though I will profess to love ALL desserts (other than rice pudding which is a post for another time), secretly I will always pick pie over cake. Thankfully I am not alone in this opinion and no one is better equipped to understand than my friend Kate McDermott who wrote the Art of the Pie.
I absolutely love my friend Kate, who I met years ago at a food writing conference. We chatted about blogging and food writing, and bonded over our love pastry crust and pies. Kate teaches Pie Camps around the country, where she gently guides thousands of people in the art of making pies. To her, pies are life, and the passion and desire comes through in her book.
Though I've never had the pleasure of taking one of her pie camp classes, reading her books is the next best thing. Yes, you can pick up the book, turn to a recipe and make something delightful. But reading it is like hanging out with Kate, warm, inviting and comforting. If you're the sort of person who loves to read a book like a novel, the stories and anecdotes in Art of the Pie are exactly the sort of thing that you would adore. I do.
Cranberry Pie
Courtesy of Kate McDermott
I'll admit it has never occurred to me to make a cranberry pie, even though I adore cranberries. Every year, I buy a couple of bags of cranberries to not only make cranberry sauce but also to add it to other desserts like pies and cobblers. But I love the idea of making an entire pie of just cranberries! Bonus, cranberries have a lot of pectin in them, so they thicken the pie a lot by themselves, which is why there is less starch in the filling.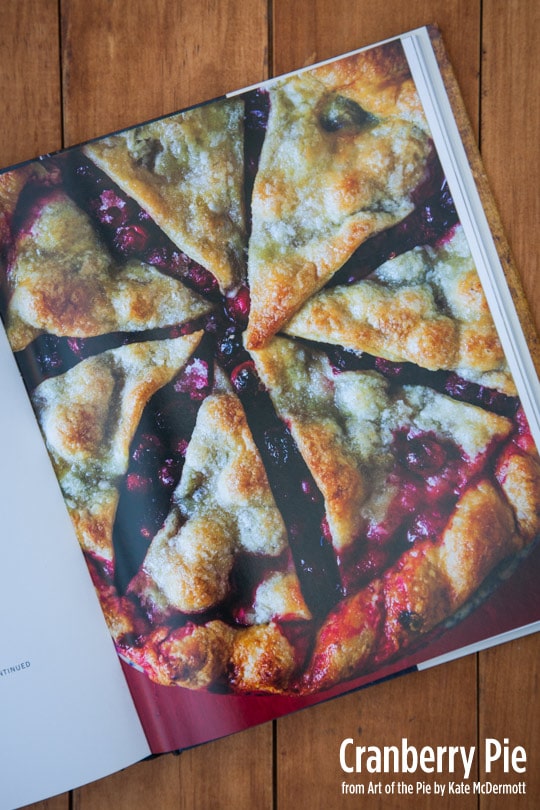 Ingredients
Pie crust
2 1/2 cups (365 g) all-purpose flour
1/2 teaspoon kosher salt
8 tablespoons (115 g) unsalted butter
8 tablespoons (115 g) vegetable shortening
1/2 cup ice water, plus 1 to 2 tablespoons more as needed
Filling
1 quart (4 cups or 400 g) whole cranberries
1 1/4 cups (250 g) white granulated sugar
2 1/2 teaspoons cornstarch
1/8 teaspoon nutmeg
1/4 teaspoon salt
1/2 teaspoon orange zest
1/2 cup (60 g) chopped walnuts (optional)
2 tablespoons unsalted butter, cut into 1/4-inch chunks
Topping
1 egg white beaten with 1 tablespoon cold water
1 to 2 teaspoons white granulated sugar
Directions
1. Make the pie crust by putting all the ingredients but the water in a large bowl. With clean hands, quickly smoosh the mixture together, or use a pastry blender with an up and down motion, until the ingredients look like cracker crumbs with lumps the size of peas and almonds
2. Sprinkle ice water over the mixture and stir lightly with a fork. Squeeze a handful of the dough to see if it holds together. Mix in more water as needed.
3. Divide the dough in half and make two chubby discs about 5 inches across. Wrap discs separately in plastic wrap and chill for an hour.
4. Once chilled, roll one of the discs out on a well floured clean surface. Fit in a shallow pie pan. Place 3 cups of the cranberries in a food processor and pulse until they are slightly chopped. In a medium bowl, place the chopped and remaining whole cranberries, sugar, cornstarch, nutmeg, salt, zest and optional walnuts and mix well. Pour the cranberry filling in the pie shell and dot with the butter.
5. Roll out the remaining dough, lay it over the fruit and cut 5 to 6 vents on top, or cut strips and make a lattice top. Trim excess dough from the edges and crimp. Chill the dough for a minimum of 1 hour before baking.
6. Lightly brush some of the egg white wash over the entire pie, including the edges. In an oven preheated to 375ºF, bake on the middle rack for about 40 minutes. When there about 10 minutes of bake time left, open the oven, pull the pie out, and quickly and evenly sprinkle the top of the pie with the sugar. Close the oven, bake until the crust is just golden, or until you see steady bubbling coming between the vents.
7. Remove the pie from the oven and cool completely before serving.
Makes 1 9-inch pie.