I've been obsessed with cookbooks for YEARS, even before I started my blog and so obviously writing my own cookbook, Marbled, Swirled, and Layered has been a dream come true. But the blessing and curse of having a cookbook come out this particular year was made apparent when I started looking at all the other fantastic cookbooks released in 2016. This year was a banner year for amazing cookbooks. Here, in no particular order, is part 1 of my favorite cookbooks of 2016.
Soframiz by Ana Sortun and Maura Kilpatrick is gorgeous and full of flavorful Middle Eastern dishes. Though occasionally the ingredients list calls for difficult to find items, I love discovering new dishes, ingredients and flavors that I am not familiar with. I can't wait to dive into this book.
London and British food has come a long way since when I last visited England, back in 2004. The London Cookbook by Aleksandra Crapanzano has over 100 recipes showcasing the variety and breadth of one of the most exciting food cities right now. I'm also slightly bias, but my friend Sang An shot the photographs for the book and they are gorgeous!
I adore Molly Yeh of My Name is Yeh and so it was a given that I would love her book Molly on the Range. I just didn't expect to love it as much as I did! With stories from her incredibly rich life to her beautiful photography and her brilliant recipes, this book deserves to be in the kitchen with you as well as in the living room or bedroom, as you curl up and read it like a novel.
Eat in my Kitchen by Meike Peters is one of those unpretentious cookbook books that I just want to bring into the kitchen and cook from cover to cover. With warm and inviting photographs and approachable but interesting recipes, this is the perfect gift for a friend who loves to cook but isn't quite ready to attempt any of the aspirational high-end restaurant chef cookbooks out there.
Cook Korean by Robin Ha is adorable and informative at the same time. A comic book cookbook, each page is bursting with colorful illustrations showing you how to make Korean food. Perfect as a whimsical present for friends that love Korean food, or love comics or love both!

Butter and Scotch by Allison Kave and Keavy Landreth combines two of my favorite things, cocktails and baked goods. The perfect hipster cookbook gift for your favorite Brooklynite (or one that just wishes they lived in Brooklyn) I love how they also provide instructions and photos on how to make the more intricate desserts.
If you are more of a fruit dessert person (versus those folks who love chocolate and caramel) do yourself a favor and pick up Sweeter Off the Vine by Yossy Arefi. This book, packed full of recipes for all season using fruit, these, cakes, pies, ice creams and preserves, will be one you'll be reaching for all year long.

The Vanilla Bean Baking Book by Sarah Kieffer is not only gorgeous to flip through but will become your go-to cookbook for all the classic desserts that you crave. From classic blondies and brownies to soon-to-be classics like olive oil sugar cookies and pear chocolate galettes, this cookbook needs to be in everyone's library if you love to bake.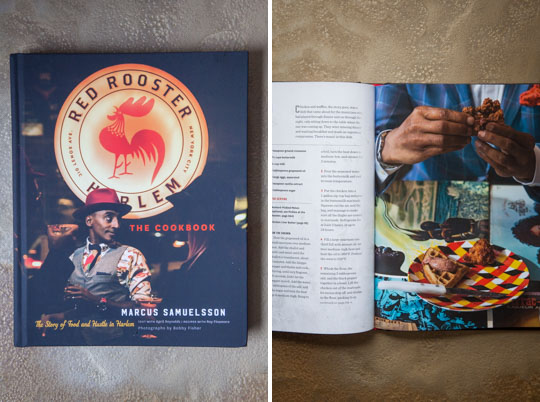 The Red Rooster Cookbook is comfort food at it's best. And I'm not just talking about the recipes. Not only is it a great read, with stories about how Marcus Samuelsson made it in Harlem, but it's filled with fabulous recipes and stunning photography. Not only if Samuelsson a celebrated chef, but he's a great writer that will help you out in the kithen with his vast knowledge.
Samarkand by Caroline Eden and Eleanor Ford is the sort of cookbook I adore. The recipes are from Central Asia which gives you a blend middle eastern recipes and influences like Turkey, Russia, Korean and Jewish cuisines. Most recipes mostly uses with ingredients you can find in your pantry or the grocery store but broaden my own culinary palate with recipes I never thought about making at home.
One to Five by Ryan Scott is an ingenious cookbook that takes one basic recipe, ingredient or technique and gives you five different recipes to make from it. I love the idea of simplifying cooking and Scott, a celebrity chef, does it perfectly. The recipes are easy to make, but never dull and the food sparkles with vibrant flavors.
The Rye Baker by Stanley Ginsberg is exactly what it sounds like. Rye bread is pervasive in nearly all cultures (who knew?) and Ginsberg dives deep into it. For those who love baking bread or want to explore other flours beyond wheat and whole wheat, The Rye Baker is the book for you.
Food for Friends is nearly too hip for me with it's super cool vibe and ultra fun format. But I do adore love entertaining, and Linnea Johansson may be the next book I reach for when I throw a party. Easy recipes, fun ideas and super cool stories means even if I can't entertain like she does, I can live vicariously and pretend I have enough space to throw parties in my apartment like Johansson does.
I've been looking for a good Cuban cookbook and ¡Cuba! by Dan Goldberg, Andrea Kuhn, and Jody Eddy has come to the rescue. Vibrant and colorful, like I can only imagine Cuba is (it's on my list of places I can't wait to visit) I could stare at this book forever. This book would be comfortable sitting on your kitchen counter in use or on your coffee table.
Classic German Baking by Luisa Weiss is exactly what you expect it to be. Filled with German desserts and baked goods, Weiss, who writes the blog The Wednesday Chef, explores German baked goods extensively. For those who are looking for recipes beyond the classic French or American desserts, this book is for you.
Nearly every professional chef will tell you that the number one problem most folks have when the make food is they don't season enough. Salt seems to be answer to ALL problems on the cooking competition shows but what happens when you can't have any salt? Thankfully my friend Jessica Goldman Foung is here to the rescue with her book Low So Good. Packed with recipes and tips on how give your dishes the most flavor possible WITHOUT salt, this book is invaluable for anyone who needs to be on a salt restrictive diet or just looking to limit their salt intake. And even if you have no issues with salt at all, this book is great for the tips and tricks that Foung gives you on making punchy and flavorful food.