On Wednesday, I wrote about how I ended up getting more cookbooks than I have any previous year because of how many awesome ones that were released in 2012. So many, in fact, that I had to break my list into two, one for food bloggers and one for the rest of the cookbook world. It's an arbitrary break, and in fact, some of the people on part two of my cookbook list actually have food blogs but I chose to include them on this list because I view them as authors who have a food blog as opposed to food bloggers turned authors. As I alluded to before, I also have another giveaway for you all (I know I'm going giveaway crazy here on Eat the Love. It's just that I love to give presents to people in December). Three publishers have generously allowed me to do a cookbook giveaway for one lucky reader – details at the end of this post! 
The book that seems to be on everyone else's best of 2012 list is Jerusalem by Yotam Ottolenghi and Sami Tamimi. It's no wonder, as it's not only a gorgeous book, but the recipe are easy to understand and the measurements are in volume as well as US and metric weights, which I whole heartedly approve of. It also happens to have my new go-to recipe for basic hummus. Every time I show it to my friends, even those that don't cook, they get utterly absorbed in the book, which is saying something.
Cook's Illustrated is one of the gold standards of rock solid fail proof recipes. Exhaustively researched and tested over and over again, I know that any recipe that I use from them will flat out work. So when they told me they were releasing a book called The Science of Good Cooking, I knew it was going to be a classic. I participated in a Google+ Hangout with Associate editors Dan Souza and Molly Birnbaum from America's Test Kitchen, the people behind Cook's Illustrated (or is it the other way 'round? I can't remember which one came first). Along with a few other food bloggers, we chatted about how the book came about, and what prompted them to write it as well as a few cooking demos. Not only does The Science of Good Cooking have over 400 recipes but it breaks down and explains the reason why certain things happen in the kitchen and what you can do to better control your ingredients while cooking and baking with 50 simple concepts. A definitely must have book if you are interested in becoming a better cook in the kitchen, or if you are just interested in the why behind the delicious.
Alice Medrich is the queen of chocolate so when I found out she was releasing a cookbook on easy and quick recipes, I knew it had to find it's way onto my shelf. Sinfully Easy Delicious Desserts lives up to its name with dead simple and fast recipes that are still company worthy. I found myself flipping through the cookbook wondering why I bother with creating my ridiculously long and complex recipes when Alice is creating equally beautiful dishes with basic ingredients and simple instructions. It's also helps my friend Sang An did the photography for the book. I love it when I personally know talented people! Alice, by the way, happens to have a food blog, though she posts rather sporadically. Alice you gotta post more!
Nancy Baggett's Simply Sensational Cookies is a fine companion to Alice Medrich's book. As the title says, the cookie recipes in the book are not only streamlined and simplified for contemporary tastes but they really are vibrant and punched full of flavor. I own a lot of cookie cookbooks, but this one that I'll be consulting with a lot. I especially love how each recipe is also labeled in terms of difficulty (super easy, extra easy, easy, fairly easy, fairly complicated). Brilliant! Nancy, by the way, has a wonderful food blog called Kitchen Lane, and I considered putting her book in my part 1 list of food bloggers, but ultimately put here on this list instead because of her training and background as a journalist. Simply Sensational Cookies was also photographed by the fabulous photo team Todd and Diane of White on Rice Couple.


The Bouchon Bakery cookbook by Thomas Keller and Sebastien Rouxel isn't quite the diametric opposite of Alice's or Nancy's book, though you might expect that by the man behind The French Laundry and its cookbook. Gorgeously photographed, with step-by-step instructions, the book borders on coffee table food porn, but as I dove into it more, I realized that a chunk of the recipes are doable. Of course I'm not scared of rolling up my sleeves so I'll leave it up to you on whether you would actually bring the tome into the kitchen and accidentally get flour or butter on it. Some people can be rather precious about their cookbooks but I'm not one of them. One thing to keep in mind, because of who wrote the book, the measurements are all in weights, though there are some volume measurements equivalents as well. The addition of volume measurements is nice, as most home cooks don't have a scale that will measure out 3.6 grams of baking soda (it's 3/4 teaspoon by the way). However you'll notice that the eggs are only listed by weighed, not listed as "1 large egg" – something that people might find offputting. For me, it just means that the authors want you to start out with the exact ingredient amounts so that you can replicate at home the recipe as close as possible to the Bouchon  Bakery version; something I wholeheartedly approve of.
In the three times that I have visited Seattle I have never made it to the Dahlia Bakery and after getting The Dahlia Bakery Cookbook I sorely regret it. The recipes not only seem approachable and comforting, but they also seem to elevate basic desserts with a contemporary twist. Simple silk chocolate pie gets a pecan crust, traditional apple pie gets a hot buttered rum filling, old fashioned molasses cookies gets updated with fresh ginger. Every turn of the page reveals a familiar dessert slightly updated for a contemporary palate. No wonder celebrity chefs seemed to flock to the bakery. Next time I'm up in Seattle it's on my go-to list!
I have a giant food crush on Nigel Slater, so when Ten Speed Press finally released part two of his magnum opus cookbook under the title Ripe, I was thrilled. A beautiful companion to his book on vegetables, Tender, Ripe focuses on fruit and what to do with them and what ingredients pair well with each other. Like Tender, Ripe is focuses on Nigel's garden and often the varieties that he mentions are specifically British and occasionally not available in the US. Thankfully the US editors highlighted the ones that are available in the US but it still saddens me when I read about all the produce that I can't get ahold of. Apparently I just need to take a trip over to England soon. In the meanwhile, I'll just flip through Ripe, stare at the sumptuous photographs and pretend I'm having tea with Mr. Slater.
Third in their series of classic American baked goods cookbooks is Baked Elements from the Brooklyn based bakery Baked. This time Matt Lewis and Renato Poliafito break down their recipes into ten different classic ingredients (chocolate, pumpkin, peanut butter) while coming up with fantastic classic recipes, each with their own updated twists. A hipster masculine take on baking, the photography, by Tina Rupp who has photographed their previous two books, is both charmingly graphic and color coded for fun.
The term "whole grain" used to signify crunchy granola twigs and sticks that hippie ate. But with the slow food movement and the new approach to finding superfoods, whole grains are having their moment in the spotlight. Whole Grains for a New Generation by Liana Krissoff not only makes whole grains easy to understand, but makes them actually sound like something you would want to eat. There's nothing hippy about shredded pork with smoky fruit sauce on min corn cakes (which also happens to be naturally gluten free) or wild rice soup with kabocha squash, kale and coconut milk (gluten free AND vegan). For those looking to expand their culinary palette with whole grains, this book is perfect for you.
Peter Reinhart is the bread baking expert so I was thrilled to hear that he was tackling the difficult task of baking both gluten free and sugar free. His new book with Denene Wallace, The Joy of Gluten Free, Sugar Free Baking is perfect for those who are looking for low carb treats that are gluten free or diabetic friendly. The recipes do rely heavily on nut and seed flours so if you are allergic to those, you may want to steer clear of the book. However, for those who are diabetic, the low carb, low sugar recipes are pretty awesome, and for anyone avoiding grains it's worth checking out.
I was initially skeptical of a book about root vegetables, but when I took a look at Roots by Diane Morgan, I was sold. Not just sold, but I was in love! Gorgeously photographed by Antonis Achilleos, the book not only acts as a reference for pretty much every root vegetable out there ranging from the common (carrots, potatoes) to the lesser known (malanga, crosnes) it also provides beautiful recipes for all levels (some 225 of them!). Apparently root vegetables are also a viable sustainable farming crop as they pack more nutrition than other produce per unit of land. Who knew? I didn't.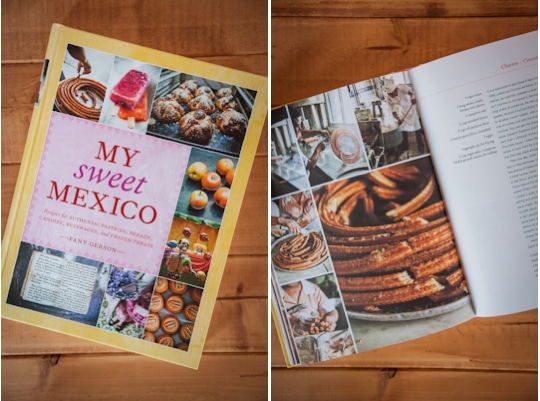 I'm a sucker for pretty much any dessert or baking book out there but I especially love books that focus particular ethnic desserts that I'm not super familiar with. Take for instance My Sweet Mexico by Fany Gerson. Sure I know churros (I do live in San Francisco) and I've wandered into the occasional panaderia in my neighborhood to pick up the conchas blancas (those rolls encrusted with the lined white sugar topping). But to make those at home? I wouldn't know where to start. My Sweet Mexico not only authentic recipes for those familiar Mexican sweets, but a whole slew of other desserts that I didn't even know existed. I can't wait to start baking!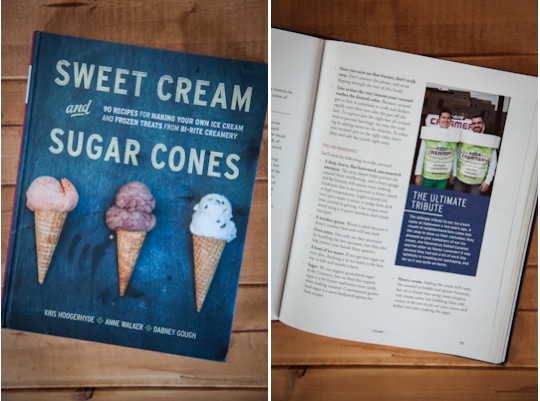 I've written before about Sweet Cream and Sugar Cones, the Bi-Rite Creamery cookbook by Kris Hoogerhyde, Anne Walker and Dabney Gough when I made an olive oil orange chocolate chip ice cream. The scoop shop holds a special place in my heart. Sure we live a block away from it and I pretty much take any visitors I meet up with to San Francisco to get a scoop of salted caramel (or if they are feeling adventurous, honey lavender). But my dedication to the store goes beyond convenient location. AJ and I once dressed up as Bi-Rite cartons for Halloween and subsequently ended up in the cookbook. That's how much we love that place, and how much they love us. Oh yeah, and the recipes, they're totally worth every dairy calorie. Trust me on this one.
This list, of course, isn't exhaustive. There are a number of books that I never got, but hope to appear on Christmas day via the fat man with the red suit. These include:
Japanese Farm Food by Nancy Singleton Hachisu
Burma: River of Flavor by Naomi Duguid
Pie it Forward by Gesine Bullock-Prado
Humphry Slocombe Ice Cream Book by Jake Godby and Sean Vahey
Canal House Cooks Every Day by Christopher Hirscheimer and Melissa Hamilton
Mastering the Art of Southern Cooking by Nathalie Dupree and Cynthia Stevens Graubart
Vietnamese Home Cooking by Charles Phan
The Back in the Day Bakery Cookbook by Cheryl and Griffith Day
A Girl and her Pig by April Bloomfield
Faviken by Magnus Nilsson
In Season: More than 150 Fresh and Simple Recipes from New York Magazine by Rob Patronite and Robin Raisfeld
Hubert Keller's Souvenirs by Hubert Keller and Penelope Wisner
Now for the giveaway! Ten Speed Press, America's Test Kitchen, and Artisan have all generously agreed to let me run a giveaway to accompany this post. I'm giving away a copy of Jerusalem by Yotam Ottolenghi and Sami Tamimi, a copy of Cook's Illustrated The Science of Good Cooking and a copy of Sinfully Easy Delicious Desserts by Alice Medrich to one lucky reader! It's a triple cookbook giveaway for you! All you have to do is leave a comment below and tell me your favorite cookbook of this year. It could be one I listed above, or (better yet) one that I didn't list but I should have! I know there have to be a bunch that I didn't even know about, and I'd love to find out about them.
To get bonus entries, follow me on Facebook or tweet about this contest with a "Win all 3 cookbooks: Jerusalem, Science of Good Cooking, & Sinfully Easy Delicious Desserts at @eatthelove's blog. http://bitly.com/winCookBook2" and then come back here and leave a comment telling me you followed me on Facebook or tweeted out about the contest. If you don't leave a comment below about Facebook or the tweet, I won't know so be sure to come back and leave separate comments about what you did.
The fine print – PLEASE READ
By leaving a comment below to enter, you are agreeing to the Official Rules.
▪ NO PURCHASE NECESSARY
▪ VOID WHERE PROHIBITED
▪ You must be over the age of 18.
▪ This contest is only open to U.S. Citizens. Sorry non-US people!
▪ The contest starts as of today, and will run until Friday, December 28th, 9am PST.
▪ The retail value of the 3 books combined is $100.95.
▪ The winner will be chosen by a randomly selected comment. All comments will be numbered and I will use Random.org to pick a random number.
▪ The number of eligible comments below determines the odds of winning.
▪ If there's a problem with contacting the winner, I reserve the right to award the 3 books to someone else randomly chosen. So in other words, make sure you type in your correct email address if you want the membership and respond within a week to me when I contact you or I'll give the books to someone else.
▪ The books will come directly from the publisher, so if you win, let me know when it arrives or if it doesn't, and I'll be sure to hassle the appropriate people.
This giveaway is closed. Thank you all who entered!
Good luck! Special thanks goes to America's Test Kitchen, Artisan, Chronicle Books, Stewart Tabori & Chang, Ten Speed Press, Wiley and William Morrow for sending me review copies of their books. Though I received review copies of their books, I received no monetary compensation from them and was under no obligation to write about them. All opinions stated above are my own.
And extra special thanks goes to Ten Speed Press, America's Test Kitchen, and Artisan for providing books for this giveaway. You guys are awesome!
[This blog currently has a partnership with Amazon.com in their affiliate program, which gives me a small percentage of sales if you buy a product through a link on my blog. If you are uncomfortable with this, feel free to go directly to Amazon.com and search for the item of your choice.]