I swear every year that I am going to stop with the cookbooks. But honestly I can't help it. In fact, on my desk right now is a stack of cookbooks that is threatening to topple over, right on top of my shiny new Macbook Air. Which normally I would be horrified at the prospect, but I love my cookbooks and my Macbook Air is under warranty right? Though I guess explaining to the genius bar guy that a mountain of books fell on the computer would be a little awkward. That said, instead of doing my usual MASSIVE cookbook roundup like I've done in the past, I'm going to do something a little different. I present to you Cookbook Week here on Eat the Love. For the next five days I'll be featuring five cookbooks per post, for five days in a row. 25 books in all. Yeah, that's a lot of cookbooks, but trust me when I said I tried to whittle them down to less and I couldn't. BEST OF ALL, each post will include a giveaway for one of the cookbooks I feature in the post. So swing by and visit this here blog each day this week for a chance to win a cookbook. For today's giveaway, stick around to the end of this post for a chance to win David Lebovitz' My Paris Kitchen. [This giveaway is closed!].
Of course, I'm not one to play favorites with cookbooks, but David Lebovitz has always been a long time favorite cookbook author (and blogger) of mine, even before I started this blog. Funny, witty and intelligent, his recipes are rock solid and his personality shines through in each story. My Paris Kitchen doesn't disappoint with warm anecdotes, beautiful photography and sage advice on how to navigate the craziness of living in Paris. I immediately made his caramel pork ribs recipe when I got the book (they were as fantastic as they sounded) and can't wait to dive into some of his other classic French dishes like cassoulet, croque-monsieur and steak frites. Completely with stories and side trips interjected between recipes and chapters, as well as gorgeous photography of Paris and France, this is the sort of cookbook that belongs both in the kitchen as you cook your way through it, and in the bedroom, as you're curled up under the covers reading it before you fall asleep dreaming of your French adventure.
Journeying beyond the French kitchen to Arabic cuisine, Nadia Zerouali and Merijn Tol's Under the Shade of Olive Trees is a whimsical cookbook with a lighthearted design that belies the strength of its content. Focusing more on ingredients and the pantry items needed for Arabic cuisine, the recipes are grounded in accessibility and ease. Though the recipe occasionally need a specific ingredient that can only be found at specialty grocery store (harissa, rose water or sumac), most of the ingredients and recipes can be made with common household ingredients or ones that can be found at the well stocked grocery store. The recipes aren't fussy nor are they groundbreaking but they are solid and approachable without be intimidating, the perfect introduction to this sort of cuisine.
I can't talk enough about how much I adore my friend Karen Solomon. Sure she's the queen of the DIY aesthetic, making her own kimchi and canning her own jam, but let's face it, I live in San Francisco. EVERYONE I know does that sort of thing. But Karen does it with such aplomb and down-to-earth appeal that I can't but help want to shake my head in agreement when I run into her at a local acclaimed restaurant and she says "the kimchi here is good…but you know…mine's better." Her latest book Asian Pickles is a testament to her working knowledge of preserving food, with chapters broken down into countries like Japan, Korea, China, India and Southeast Asia. Not only are there recipes for various version of pickles and preserved vegetables from all over Asia but Karen gives recipes for various sauces, pastes and other ingredients used in making these pickles, like gochuchang (Korean spicy fermented red chile paste), xo sauce and Huy Fong's chili garlic sauce (which she affectionately calls "cock sauce"). And yes, there are a dizzying array of kimchi recipes (Napa, Stuffed Cucumber, Water, Rolled Mustard Greens and more) included in the book.
When I talked to the publicity person about the book Dim Sum by Janice Wong and Ma Jian Jun she told me she wish her fingers were nimble enough to make the folds in the dim sum. She was only sort of joking, as most of the recipes look totally doable, though a number of them might need more flexible fingers (or some good old fashioned practice). What sets this book apart from other dim sum books out there though is how the dim sum is categorized and broken down by the skin and flour used to wrap each dumpling or bun. The subtitle to the book is "a flour-forward approach to traditional favorites and contemporary creations" and it couldn't be more accurate. Too many books out there have you using prepackaged dumpling wrappers or rice sheets to make dim sum. This book tells you exactly how to make the dumpling skin from scratch, what ingredients are necessary and precisely how it should be made. The book is NOT for the lazy or for those looking for a shortcut however. Some of the ingredients may be difficult to source if you don't have access to an Asian grocery store. But if you are looking for a book that delves deeper into contemporary dim sum, and how to make professional level dumplings this is the book for you. One more thing, all the ingredients listed are in grams and milliliters so be sure you have an accurate scale, as volume measurements are not included at all.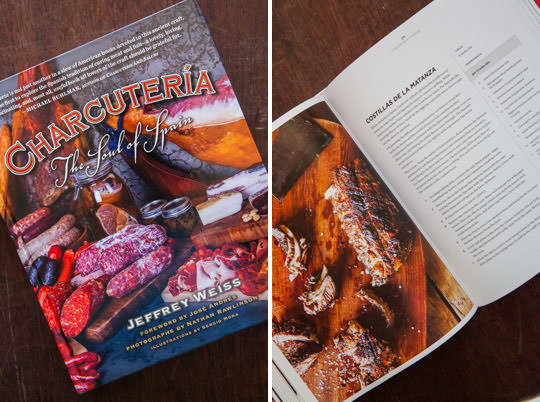 The charcuteria of Spain tends to be overlooked compared to Italian and French but Charcuteria, the Soul of Spain is here to rectify that. An extensively researched book that not only explores and explains Spanish butchery and meat-curing, but also gives recipes for dishes as well as instructions on preparation techniques. With lavish photographs, adorable illustrations and a culinary history of curing meat and butchery in Spain, Charcuteria is one of those books chocked full of stories AND information. A large book, one that could easily be viewed as a coffee table kind, it had me plotting on how I can start hanging legs of pork and building a curing chamber in my tiny one bedroom apartment. Somehow I don't think my partner would approve however. So I'll just read about making Jamon Ibérico and just dream of a day when I'll have my own curing room. Right next to my walk-in closet filled with my bakeware and kitchen equipment and the library room with organized by subject cookbooks.
Ten Speed Press has generously offered to give away a copy of David Lebovitz' My Paris Kitchen to one lucky reader. To enter the giveaway, just leave a comment below and tell me what city or country you'd love to visit and eat your way through! Personally I've never been to Paris (I'm still awaiting that personal invite David, hint hint) so that's top of my list. [This giveaway is closed! Thanks for participating!]
The fine print – PLEASE READ
By leaving a comment below to enter, you are agreeing to the Official Rules.
▪ NO PURCHASE NECESSARY
▪ VOID WHERE PROHIBITED
▪ You must be over the age of 18.
▪ This contest is only open to U.S. Citizens. Sorry non-US people!
▪ The contest starts as of today, and will run until Monday, August 25, 2014, 9am PST.
▪ The retail value of My Paris Life is $35.
▪ The winner will be chosen by a randomly selected comment. All comments will be numbered and I will use Random.org to pick a random number.
▪ The number of eligible comments below determines the odds of winning.
▪ If there's a problem with contacting the winner, I reserve the right to award everything to someone else randomly chosen. So in other words, make sure you type in your correct email address if you want the membership and respond within a week to me when I contact you or I'll give everything to someone else.
▪ The prize is being delivered directly from Ten Speed Press. If they have not delivered the prize to you within three weeks of me notifying you of winning, please reach out to me again and I will do follow up to make sure everything is OK. Please keep in mind we are all human and things happen. I will do everything within my power to make sure the prize is delivered in a timely manner.
Special thanks to Agate Surrey, Gatehouse Publishing, Stewart Tabori & Chang and Ten Speed Press for review copies of the books in this post. Though they provided the books complimentary, I was not monetarily compensated for this post and all opinions above are my own.
This blog currently has a partnership with Amazon.com in their affiliate program, which gives me a small percentage of sales if you buy a product through the links above (with no added cost to you). If you are uncomfortable with this, feel free to go directly to Amazon.com and search for the book yourself and purchase it that way.