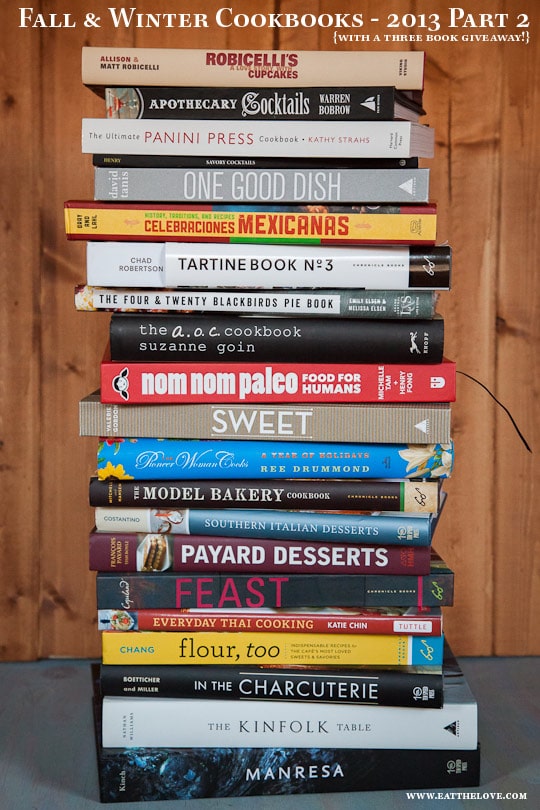 So I'm going to say something I never thought I'd say before. Publishers of cookbooks, please stop releasing fabulous, gorgeous, brilliant books. PLEASE. Because I'm running out of room for all my cookbooks and you keeping on putting out new ones that are MUST. HAVE. If you remember a few weeks ago, I published a list of cookbooks that I really loved from the fall/winter 2013 season. Well here's part 2 of that list, and like last time, I'm giving away THREE cookbooks. More details and what books I'm giving away at the end of this post! [This giveaway is no closed!]
I've never been a cupcake hater, not like some people. But does the world need yet another cupcake cookbook? Normally I would have said no, but then I got a copy of the Robicelli's a Love Story with Cupcakes by Allison and Matt Robicelli and I was proven wrong. Sure they have a few familiar flavored cupcakes like Carrot Cake, Tiramisu and S'mores, but they also have a whole lot of more fun cupcakes like their Betty White (brown sugar sour cream cake with lingonberry), The Iona (port, pear and olive oil) and the Dom Deluise (pistachio, ricotta cannoli inspired). With lots of swearing, stories about their hilarious lives and tons of recipes for cupcakes that I actually would want to make and eat, this cookbook is one that I'll be keeping on my shelf, front and center.
As much as I personally don't drink much, I can appreciate a good cocktail. So when Apothecary Cocktails by Warren Bobrow landed on my doorstep I took one look at it and thought I'd totally drink that. And that. And that one too. I loved the idea of healing herbs and bitters used in cocktails, something that seemed lost in the history books of cocktails. And it also helps that the cocktails Herbal Sleep Punch, Lemon Balm Gin and Tonic, and Roasted Tomato and Chili Bloody Mary all sounds like something that I would actually drink.
Appliance cookbooks are kind of a tricky one. First you have to have the appliance itself (I don't), but then you have to be willing to say that you will use that appliance enough to actually justify buying a cookbook around it. But Kathy Strahs' The Ultimate Panini Press Cookbook is the sort of cookbook that turns that philosophy on it's head. Flipping through the book and looking at recipes like Grilled Flank Steak Fajitas, Grilled Salmon with Old Bay Aioli and Chorizo and Potato Grilled Hand Pies I kind of wonder how I ever survived without a panini press all my life. Clearly she's out to maximize her panini press, and even if you don't have one, this book is pretty inspirational when it comes the ingenuity of what one can do with a simple appliance that is oft neglected.
One of the issues I've always had with cocktails (you know, other than the fact that I can't really process the alcohol because of my stupid Asian genes) is that they tend to be WAY. TOO. SWEET. But Greg Henry is here with his Savory Cocktails cookbook. Organized into chapters like Sour, Spicy, Herbal and Umami, the recipes use bitters and savory ingredients like black lava seas salt, celery and horseradish root. They also have awesome names like Hanky Panky, The Long Goodbye and Better with Bacon. Bacon? Sign me up!
One Good Dish by David Tanis is one of those small beautifully casual cookbooks that I can actually see myself making something out of. Not that I don't love my huge coffee table cookbooks. You know the ones I'm talking about, with the daunting list of ingredients and recipes for ingredients (36 hours to make 3 quarts of duck stock so I can use two teaspoons in my recipe? Sure I'll do that!). But One Good Dish is the antithesis of that. 100 recipes, all easy to make, perfect for after work dinners. Polentina alla Toscana sounds all fancy until you start reading the ingredients and it's a basic polenta thickened soup with kale and fennel. Warm French Lentil salad is the sort of dish that sounds comforting on a cold evening (especially since it has pork belly in it) and Swiss Chard al Forno is basically mac and cheese with cheese with the mac. I know what I'm having for dinner tonight!
I'm going to be honest with you that the first thing that comes to mind when you say Mexican food to me is carne asada burrito. Blame the fact that I live in the Mission district of San Francisco where you can't go a block without passing two or three tacquerias. But Celebraciones Mexicanas by Andrea Lawson Gray and Adriana Almazan Lahl clearly shows that Mexican cuisine goes way beyond the burrito and taco (both of which, I actually DO know is not really common Mexican food. I'm not THAT ignorant). With chapters on various Mexican holidays as well as the history of the food and recipes, this book is a fascinating exploration of the culinary culture that is oft overlooked by most people (like myself). Sopa de Tortilla (Tortilla Soup), Tamales de Frijos (Bean Tamalas) and Buñuelos con miel de Piloncillo (Street Fritters with Piloncillo syrup) all sounds like things that I can't wait to make at home. And yes, there's even a recipe for how to make my Carne Asada.
I'm insanely lucky that I live two blocks away from Tartine Bakery, a bakery that people travel across the city (and country) just to visit. In fact my partner AJ just went there this afternoon to pick up a loaf of sesame bread for sandwiches. But for those who don't live in San Francisco there's Chad Robertson's Tartine Book No. 3. I've always been a HUGE advocate of using whole grains and ancient grains in my baked goods not only for the nutritional boost but for the flavor that is gives. This book takes that thinking further with fabulous recipes like Buckwheat Nori Crispbread, Sprouted Kamut bread and their popular Chocolate Rye Cookies (which inspired my chocolate double rye cookies). With gorgeous photographs and simple instructions on how to work with these overlooked flours, this book is a must for anyone who's looking to expand their baking palette beyond all-purpose and whole wheat.
When people ask me what my favorite thing to bake is, I usually have to think about it. But the eventually answer I give is usually a pie. So when I heard that The Four and Twenty Blackbirds Pie Book was coming out, I couldn't wait. Written by Emily and Melissa Elsen, owners of the Brooklyn pie shop, the recipes are broken down seasonally, with innovative flavors like the Apple Rose Pie, Sweet Corn Custard Pie, Sour Cream Raisin Pie and Green Chili Chocolate Pie. But fear not those who are not as as adventurous, there are plenty of regular apple, plum, pear and peach pie recipes featured as well. Beautifully shot the pies ooze and beckon with each turn of the page. I can't wait to dive in!
My friend Annelies raved about Suzanne Goin's Sunday Suppers at Lucques cookbook when it came out so I was eager to see what all the fuss was about her follow up, The A.O.C. Cookbook. Straightforward flavors with a sophisticated restaurant touch, the one issues I have with this book is I'm don't know what to make first. Seriously. I want to make EVERYTHING. The Nectarine Blackberry Galette with Buttermilk Ice Cream sounds so basic but SO good (why is it is wintertime now?). The Grilled Chicken with Fresh Garbanzos, Corn and Chile-Cumin Butter sounds brilliant (someone tell me where I can get fresh garbanzo beans though) and her Sweet Potato with Bacon, Spinach and Romesco recipe makes me think to myself, why did I ever make Sweet Potatoes any other way? This is a restaurant cookbook that you will ACTUALLY make food from.
I absolutely adore Michelle over at Nom Nom Paleo. I'm not paleo myself, far from me, I love my wheat and grains too much. But that doesn't mean I don't love learning how to make dishes with REAL ingredients, which is the basis of her Nom Nom Paleo Food for Humans cookbook. Broccoli Bagna Cauda, Eggplant "Ricotta" Stacks, and Peruvian Roast Chicken all sounds like food that most people would want to eat, regardless of any dietary restrictions. On top of that, Nom Nom Paleo is utterly adorable with it's whimsical cartoons and just plain fun sidebar commentary. And, having hung out with Michelle and her husband, I can attest to the fact that the cartoon versions of them look just like they do in real life!
When you title you book Sweet, you better deliver the goods. And boy does author Valerie Gordon do that. A self taught baker Gordon opened up her shop in Los Angeles nearly ten years ago and now she's got three locations serving up all sorts of various pastries and such. The luscious elegant photographs draws you in but the recipes like Apricot-Basil Cream Galettes, Blackberry-Mango Curd Pie, and her Champagne Cake will have you coming back to the book to make dessert after dessert. Someone get me my fat pants now STAT!
The Pioneer Woman probably needs no introduction to anyone who reads food blogs (or watches the Food Network). But here's the thing I love about Ree. She's exactly what you would expect her to be like in real life. Easy going, funny and sassy. Her latest cookbook A Year of Holidays is no different. With step-by-step instructions with photos on how to make each dish, this book is perfect for those who are a little bit scared of the kitchen OR wants to make a dish that they KNOW will work in the kitchen. When I showed the book to AJ, someone who doesn't make much food in the kitchen, his first reaction was "Why does she need to show me how to add teaspoon of salt?" Then his second reaction was "I could TOTALLY use this cookbook." 'nuf said. Now I just got to get AJ to make me her Chimichurri Shrimp, Spicy Whiskey BBQ Sliders or Chipotle Chicken Chili.
Sometimes people try to hard with their recipes. I know I do. I have to give it a twist or a crazy flavor or use a wacky ingredient. But there are reasons why some recipes are CLASSICS. The Model Bakery Cookbook by Karen Mitchell, Sarah Mitchell Hansesn and Rick Rodgers got it right. With recipes for Blueberry Muffins, Plum Galette, and Cinnamon Rolls, these are classic recipes are just some of the straightforward non-fussy items everyone should know how to make. And make well. I can't wait to put away my grains of paradise and my dried raisins grown by monks on the hillside of the Himalayas and get into the kitchen with this book and make myself some Sticky Buns.
I grew up in a family that didn't quite understand region cuisine. Well, let me step back and say they didn't understand anything that wasn't Chinese cuisine. American food was steak (well done) and Italian food was pizza (usually from a chain) or spaghetti. As I got older I started to realize that not all food can be pigeonholed so easily and countries, especially large ones, have regional specialties. No country seems to exemplify that more than Italy. Southern Italian Deserts by Rosetta Costantino takes idea of regional specialties further by exploring the sweets and treats from Calabria, Campania, Basilicata, Puglia and Sicily. With recipes like Pere Mast'Antuono Imbottite (Ricotta Filled Baked Pears), Pezzetti de Cannella (Little Cinnamon Cookies) and Torta de Pistacchio (Pistachio Cake) I swear I want to pull a Eat Pray Love and run over there to NOW to eat until I pass out. But since I can't afford the airplane ticket (or the elastic waistband pants that I would have to switch to) I'll stick with baking from this cookbook now and then.
If you want to learn from a master, there's no one better to learn from than Francois Payard. His cookbook Payard Desserts is the textbook and let me tell you it's cheaper than going to pastry school. Not every dish is difficult or challenging but don't expect to find any dump and mix one-bowl recipes. Instead, his inspirational flavor combinations (Szechuan Peppercorn Anglaise, Lemon Basil Sherbert, Peach Soup with Crystallized Lavender) had me excited to get into the kitchen and play. Each dessert is broken down into components, and let's be honest, there are a lot of components to them (sometimes restaurant food is meant to be eaten only in a restaurant not to be made at home). But the directions are clear and surprisingly approachable which means you can make one component for your own use in your own dessert. I love that. I also love that he included grams and ounces in the ingredients list. You KNOW I love using my scale when I bake.
I sort of want to live in the book Feast by Sarah Copeland. Beautifully shot, the vegetarian recipes are as vibrant and warm as the photographs themselves. Barley Risotto with Radishes, Swiss Chard and Preserved Lemons screams to be eaten on a cool evening (which, lets face it, is pretty much every evening here in San Francisco), while Carrot Soup with Chives and Popcorn sounds satisfyingly delicious. And where has her Radish, Enoki, Tangerine and Avocado Salad been all my life?
I'm an idiot when it comes to cooking ethnic cuisine in the kitchen. So when my friend Katie Workman told me that there was a cookbook coming out called Everyday Thai Cooking and that it was brilliant and that everyone should get it, I perked up. Katie Chin's cookbook is about accessible and her recipes looks inviting. Though you might have to buy a few specialty ingredients (fish sauce, lemongrass, galangal root) mostly the ingredients are things you have in your pantry or can get at the common grocery store. Tom Yum Gai (Hot and Sour Chicken Soup) seems totally makeable, while her Pad Thai looks like something you could whip up after work. And I'm totally crushing on her Larb recipe (Spicy Thai Salad with Minced Pork). I'm tossing my Thai take out menu now that I have this book!
I adored Joanne Chang's first book Flour, so it makes sense that I would love her second book Flour, Too. I wasn't wrong. With more straightforward, solid recipes, this book is focuses on the savory side of her four café's in Boston. Smoky Tomato and Potato soup, Farmers' Market Salad with Buttermilk-Chives Dressing and Buttermilk Fried Chicken, these recipes are the sort of thing you want to eat and make at home.
A month ago I was invited to join a "meat club" where I ended up making sausage for the afternoon. The inspiration was In the Charcuterie by Taylor Boetticher and Toponia Miller, the people behind The Fatted Calf. And what a book to inspire, for those who love their meat. The book claims to be about sausage making, salumi, pates, roasts, confits but what it really is an instrument to teach you all about using every bit of the animal that you can. With diagrams on how an animal is broken down and how to use each part (and I mean EACH and EVERY part) this book is comprehensive without being overwhelming. From Rabbit Porcetta to how to make and stuff sausage like Bockwurt to making your own Pepperoni, this is the book to own if you want to learn more about your meat.
I was all set to hate The Kinfolk Table by Nathan Williams. I expected it to be precious and twee and full of washed out photos of people that I couldn't really relate to. And it is all that, but it's also the sort of book that you fall in love with as well. Profiling different people, from restaurateurs to photographers to financial analysts, this is a different sort of book. Not quite a cookbook, not quite a lifestyle book, The Kinfolk Table is more a collection of portraits with recipes attached. Sure the cold austere beauty of each photograph seems unattainable for most of us. But that doesn't mean flipping through the book and learning that a menswear designer and furniture designer in Copenhagen's favorite dish is Duck on Japanese Rice with Fresh Danish Green Peas and Wasabi Mayo isn't utterly fascinating. I'll probably never been hip enough or deadpan enough to make it into a Kinfolk magazine spread but that's ok. I have their book and can grin from ear to ear as I look at all the folks holding up their dishes in delicate grey-blue light.
Manresa by David Kinch is big. Both physically and metaphorically. It's an imposing book, beautiful to look at and slightly daunting to take in (and hold). But if you look closer you'll see the beauty of the book. Sure each recipe is a "project" but they are projects that you might, possibly, do one of these days. Make your own finishing salt like David Kinch does? Sure there's a recipe for that. Turns out 10 gallons of clean sea water makes about 1 1/2 lbs of salt. Who knew? Other recipes are probably beyond your and my reach, unless you happen to know a butcher than can source Japanese roe-deer or a forager that can get you red-veined dandelion leaves. But the careful thought, the incredibly photography and the articulate careful thought that went into each dish and each ingredient makes this book worthwhile. More than other coffee table cookbooks, this one book is something I would read in bed, as well as lay on the coffee table. That is, if I could lift it up while lying down.
[This giveaway is now closed!]
Now for the giveaway! I'll be giving away one copy of Sweet by Valerie Gordon, The Ultimate Panini Press by Kathy Strahs and The A.O.C. Cookbook by Suzanne Goin to one lucky reader! All you need to do to enter is leave a comment below and tell me what cookbook is on your Holiday Wish List! If you want to follow me on Google+ to get another entry, you can do that too, just follow me and leave a comment telling me you followed me there (or if you already follow me there, just let me know that as well in an additional comment. That counts!).
The fine print – PLEASE READ
By leaving a comment below to enter, you are agreeing to the Official Rules.
▪ NO PURCHASE NECESSARY
▪ VOID WHERE PROHIBITED
▪ You must be over the age of 18.
▪ This contest is only open to U.S. Citizens. Sorry non-US people!
▪ The contest starts as of today, and will run until Saturday, December 28, 2013, 9am PST.
▪ The combined retail value of the book is $89.95.
▪ The winner will be chosen by a randomly selected comment. All comments will be numbered and I will use Random.org to pick a random number.
▪ The number of eligible comments below determines the odds of winning.
▪ If there's a problem with contacting the winner, I reserve the right to award everything to someone else randomly chosen. So in other words, make sure you type in your correct email address if you want the membership and respond within a week to me when I contact you or I'll give everything to someone else.
▪ These book will be coming directly from the publisher, which means, I can't guarantee that I'll get it to you in a timely fashion. If you haven't gotten the book from the publisher in a few weeks, please email me again and I'll check with the publisher. Sometimes things take a bit of time.
Special thanks to Artisan Books, Harvard Common Press, and Knopf for providing these books as giveaways. Special thanks to Altamira Press, Andrew McMeels Publishing LLC, Artisan Books, Chronicle Books, Fair Winds Press, Grand Central Life & Style, Harvard Common Press, Houghton Mifflin Harcourt, Little Brown and Company, Ten Speed Press, Tuttle Publishing, Ulysses Press, Viking Studio and William Morrow for providing review copies of these books. Even though I was provided review copies of these books for this post, I wasn't monetarily compensated for this post and all opinions are my own.