If you're looking for a list of the best cookbooks of 2018, here's part 2 of some of my favorite cookbooks I've received this year. (check out part 1 if you haven't already!)
Last week I shared a bunch of cookbooks that came out in 2018 that I loved. But those were only part of the list! Here's the remaining list of cookbooks that I got this year that I just adore. And even with this large stack of books, there are more that I wish I had a chance to look at and review. Sadly I haven't looked at every cookbook released this year, so a few are on my "wishlist" which is at the bottom of this blog posts as well.
[disclaimer: All cookbook links below are affiliate links to Amazon]
Alaska from Scratch by Maya Wilson is one of those "armchair" travel cookbooks that is equally at home in your living room, as you read it curled up in a comfy chair as well as in the kitchen. I'm lucky to have visited a small part of Alaska (the panhandle) but it's a HUGE state (twice the size of Texas) and I barely scratched the surface. Thankfully Maya is there to help guide you and show you how gorgeous the state is, along with the beautiful food that she makes. Recipes are accessible and enticing like King Crab Pasta with Homemade Sourdough Bread Crumbs and Quinoa and Egg Enchilada Skillet. You'll find yourself torn between staying seated in your chair, reading about life in Alaska and wanting to jump and start cooking right away.
Dorie Greenspan has this magical way of making EVERYONE feel like they are her best friend. Her latest book Everyday Dorie is an ode to how she actually cooks at home on weeknights. Simple and easy-to-make, with classic Dorie sophistication, this is the sort of book that makes you want to cook your way through it. Every. Single. Recipe. Expect gems like Bourbon Roasted Pork Loin, Sheet Pan Balsamic Chicken Thighs with Baby Potatoes and Mushrooms, and Pasta with Shrimp, Squash, Lemon and Lots of Herbs to become your new go-to favorite weeknight meals.
I was lucky to get a preview of Nicole Weston's Perfectly Creamy Frozen Yogurt cookbook and I was sold. With a secret technique to making creamy (not icy) frozen yogurt, as well as flavors that range from basic vanilla and chocolate to ginger cardamom and caramel coconut cookie, this book is the one book you need if you like frozen yogurt. Also included are fun recipes for desserts to make with the frozen yogurt like the Chocolate Malted Bombe, brownie baked Alaska and Banana Split Layer Cake. I can't wait to get churning in the kitchen!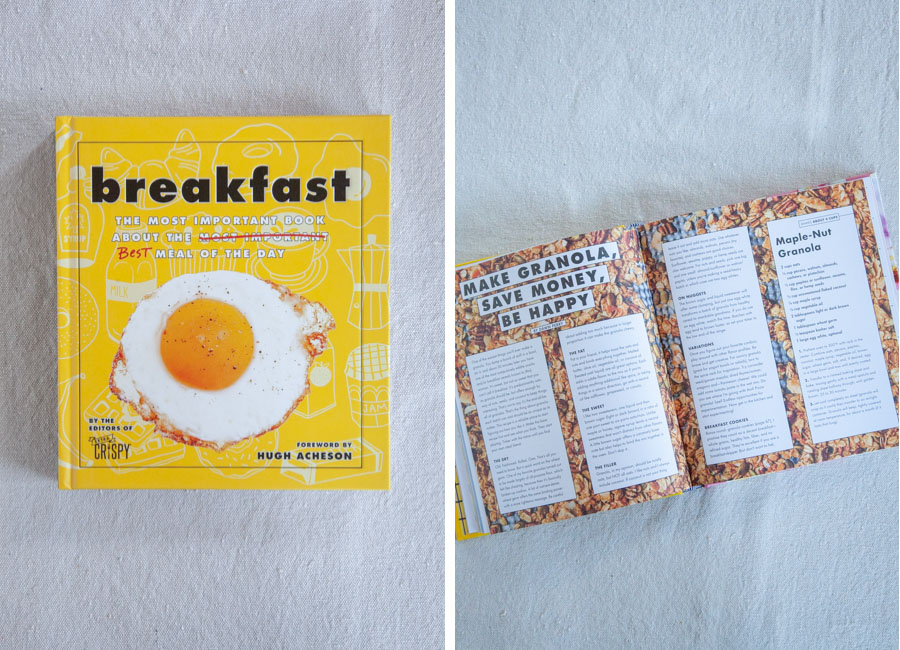 I didn't know what to expect from the editors of Extra Crispy when they released their Breakfast cookbook. What I did NOT get was a compilation of boring recipes on how to make eggs, bacon and hash browns. Instead I got a sassy book on food that is associated with the morning meal. Think Candied Bacon, Flamin' Hot Cheetos Bloody Marys, and Shibuya Honey Toast. Interspersed are articles and stories about breakfast and breakfast adjacent topics (I found the rating of the 11 fancy butters to be eye opening, with the #2 butter being hailed as the Beyoncé of Butter.) For sheer entertainment value alone, you need this book. Also for the Waffle-Crusted Buffalo Chicken Tenders recipe. Someone make me those NOW!
Secrets of the Butcher by Arthur Le Caisne isn't a cookbook in the sense that it's a compilation of recipes. It is, however, a brilliant book on meat of all sorts. From explaining what those various cuts of beef, mean to illustrated examples of various winged game (quail, duck, pheasant) to the anatomy of a knife this book is an excellent resource for all things meat as well as how to cook that meat. If you are omnivore that wants to explore more options beyond beef, pork and chicken or if you just want to understand those types of meat more (there are examples of the best 16 chickens in the book) this is the book for you.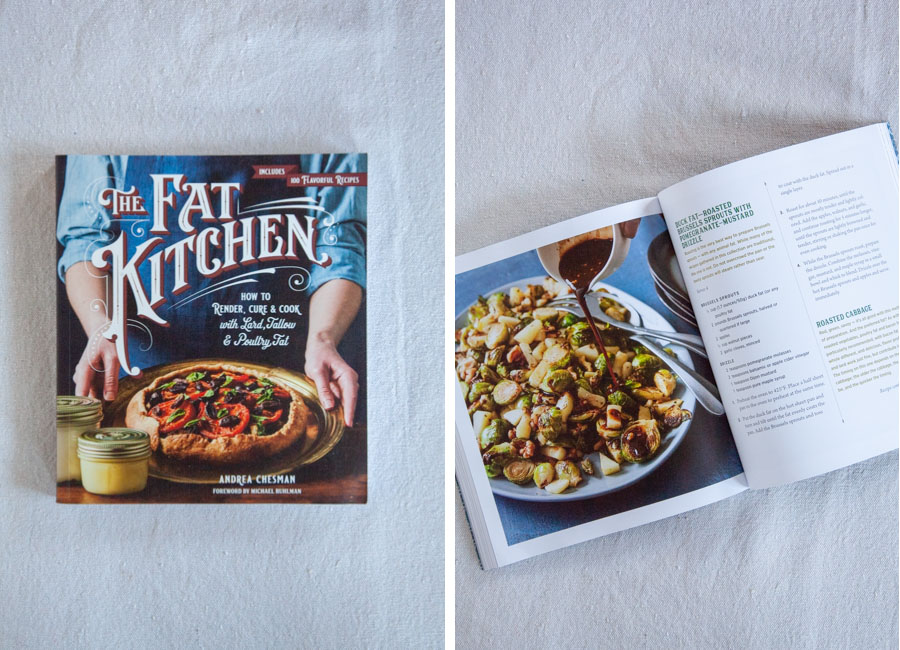 Moving from meat to fat, The Fat Kitchen by Andrea Chesman is an exploration of cooking with animal fat, including lard, tallow, suite and poultry fat. I have loved using lard in my pie crust but this book focuses on different animal fats and what they bring to each recipe. All the classics recipes are here, from matzoh ball soup to spicy and extra-crunch southern fried chicken to Chinese scallion pancakes. But there are some lesser known gems, including carrot cake made with leaf lard or cranberry-braised red cabbage. The front matter though, is what sets this book apart. Instructions on rendering fat from nearly every animal, including deer and bear as well as curing and storing the fat will make this a reference book for those who love using animal fat.
I've been obsessed with A Common Table by Cynthia Chen McTernan ever since it came out. Cynthia's blend of Chinese and Southern heritage mixes with her husband's Korean-Irish heritage and his childhood in Hawaii. From there you have an innovative blend of recipes that are inviting and comforting. From Kimchi-brined spicy chicken biscuits to bulgogi burgers to spicy gochujang eggs in purgatory this is the sort of food that makes me excited. As I turn the page, I find myself exclaiming "I want to make that!" "I want to eat that!" "That looks so good!" and adding more and more bookmarks post-its to all the pages. ALL. THE. PAGES. Get this book.
I don't talk about it much, but I do have an obsession with music. I used to be a DJ in college and my musical collection is a bit out of control. So when I got my hands on the book Booze and Vinyl by Andre Darlingon and Tenaya Darlington I immediately questions why I hadn't thought of such a great idea. Listing 70 great albums (ranging from the 1950s to today) along with appropriate cocktails just makes so much sense. The Saturday Night Fever soundtrack obviously pairs with a Harvey Wall banger and a Tom Collins, while The Smith's The Queen is Dead deserves a Royal Pimm's Cup and a cocktail called Obituary. This is the ultimate hipster book and I for one am not ashamed to own it.
I am convinced that Gesine Bullock-Prado is magic. She's written some pretty amazing cookbooks in the past, but Fantastical Cakes pretty much lives up to the name. From how to make mirror glaze (those super shiny glazes that have taken over Instagram) to yellow cake mix cakes (from scratch of course) to a simple PBJ cake, this cook book has everything cake related, high and low. Expect some recipes to have a few components (or maybe more than a few), which means a little more time is involved, but nearly every recipe seems doable for mere mortals that aren't magical. And for those who aren't up to the task of assembling a professional looking cake, each component can be made on it's one and enjoyed for what it is. Gesine thoroughly explains how to make things work, as well as tips and tricks on making the most of your effort.
Because I live in a tiny one-bedroom apartment it's hard (actually pretty impossible) for me to formal dinner parties. Which is why I've embraced casual dinner events here, with folks grabbing some food and sitting where ever they can (often on a random chair floating in the middle of the living room). So a cookbook like Bring It! By Ali Rosen is exactly the sort of cookbook that I need in my life. The cookbook is packed full of simple recipes that you can bring to potlucks, picnics or have at casual entertaining events. I love the idea of Tahini Lamb and Rice as a potluck dish (which uses stewing meat which is cheaper than other cuts of lamb). The Spicy Brussels Sprouts Tart sounds like something that I would make for myself as well as bring to a potluck. The recipes all seem vibrant and easy to make but complex in flavor, which is my favorite combination.
Though there are a ton of restaurant cookbooks that get released each year, I'm a little wary of most of them. I've been burned before by a great looking cookbook from a fancy pants restaurant where the ingredient list is a mile long and the instructions go for 10 pages. If I (someone who likes to cook and has experience in the kitchen) won't make your recipe, I doubt most folks will. But once I laid my eyes on the Bestia cookbook by Ori Menashe and Genevieve Gergis with Lesley Suter I knew it was a winner. The recipes are decidedly "chef-y" with multiple components. But the ingredients are rarely impossible to get for the home cook (and when they are less common, easier to find substitutions are offered) and the instructions are detailed without seemingly overly complicated. The Saffron Corn with Dried Shrimp seems genius in their flavor combinations. The Salsa Verde Pizza with anchovies seems awesome in all the right ways. And I can not wait to make the Meatballs with Creamy Ricotta, Tomato Sauce and Braised Greens with Preserved Lemon. Sure, there are a few recipes that I probably won't make at home (I'm looking at you slow-roasted suckling pig) but overall this is an actual restaurant cookbook that I'll be using in the kitchen.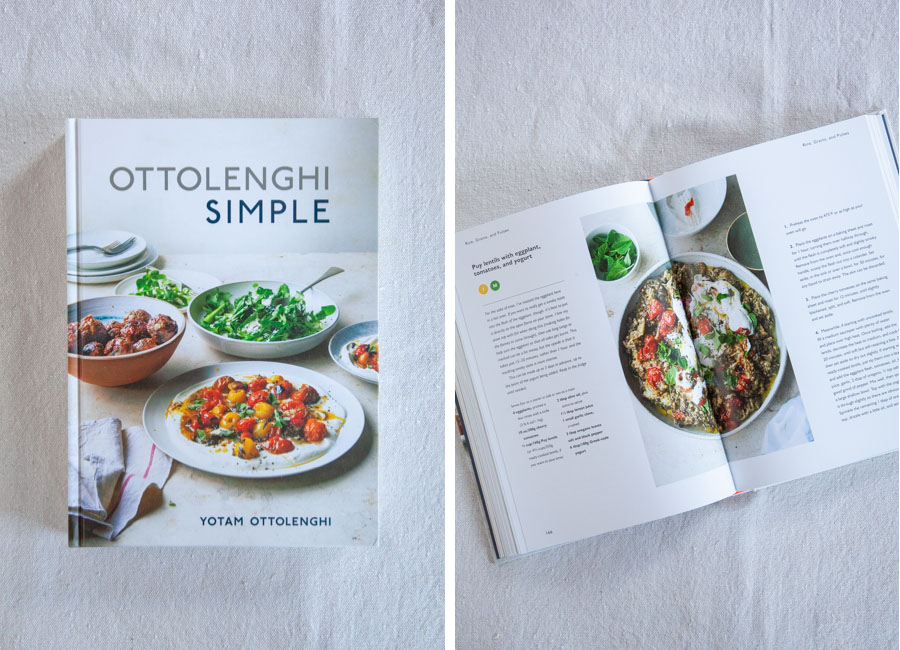 I've been a longtime fan of Yotam Ottolenghi (as is pretty much everyone else in the world) so I was anxiously awaiting his new book Ottolenghi Simple. It's the opposite of his previous cookbook Nopi, which was more restaurant chef-focused. Instead this book focuses on recipes and dishes that are easy to make and packed full of flavor. More than that, it's a go-to book for those weeknight meals and easy dinners that you'll find are your favorites. I love that each recipe is also coded to let you know what to expect, with codes letter S meaning "short on time", M for "make ahead" or E for "easier than you think". Roasted baby carrots with harissa and pomegranate seems like winter comfort food for me, while the lamb meatloaf with tahini sauce and tomatoes is something that AJ and I would absolutely adore. I expect to be turning to this cookbook time and time again.
There are a number of cookbooks that came out this year that I wanted to include on this list but I didn't get a copy of. I'm hoping that Santa brings them to me for Christmas! These include Home Cooking with Kate McDermott, Season by Nik Sharma, Secrets of the Southern Table by Virginia Wills, Israeli Soul by Michael Solomonov And Steven Cook, Rose's Baking Basics by Rose Levy Beranbaum, Red Truck Bakery by Brian Noyes with Neven Martell, Japan: the Cookbook by Nancy Singleton Hachisu and How to Eat a Peach by Diana Henry. Maybe I'll do a follow up list after the new year on books I get?
Special thanks to Black Dog & Leventhal Publishers, Chronicle Books, Houghton Mifflin Harcourt, Oxmoor House, Rodale Books, Running Press, Storey Publishing, and Ten Speed Press for providing review copies of their books. Though I was provided review copies I was not paid for this post and all opinions above are my own.