It's been one of those weeks. I went to two different conferences, back to back. All day Thursday, as well as the morning and early afternoon of Friday, I attended the awesome Dieline Package Design Forum. Then from 5pm to 10pm on Friday (yep, I only got a 3 hour break in-between) as well as all day Saturday and most of Sunday I attended or went to the FoodBuzz Fest and related events, including co-leading a session on social media with the amazing Stella of Brave Tart (don't worry there'll be a recap of that as well, along with some stuff we didn't get to during the session). On top of that I had two major deadlines for projects, meaning I was rushing home to work after the conferences, working until 3am, then crashing to try to get a little bit of sleep before I went back into conference mode. I met a ton of people, ate a ton of food and drank more coffee than I have all year long to stay away through it all so I wouldn't miss a thing. My throat is incredibly sore from talking nonstop. So what did I do after it was all over? I went into the kitchen and baked me some cookies. Caramelized Cornflake Lemon Poppyseed Cookies – gluten free to boot.
You would think I would be exhausted after all of that. But somehow, after getting dinner with AJ – who I haven't seen in about a week, I found myself browsing through some of my cookbooks, flipping through some of my new ones, looking at some of the old ones that I never use, and contemplating baking something. Caramelized cornflakes from the Momofuku  by David Chang. Lemon zest shortbread cookies from the Cookies for Kids' Cancer: Best Bake Sale Cookbook by Gretchen Holt-Witt. French lemon poppyseed pound cake from the Flour by Joanne Chang. It was all churning in my head.
Turns out after talking about food all weekend long, and eating food all weekend long, what I REALLY wanted to do is make food. It's the sort of thing that seems pretty obvious, but why is it that with all the food blogging conferences that I've been too, and with all the food blogging conferences out there, there doesn't seem to be any breakout sessions where food bloggers, people who LOVE to make food, are actually making food with each other?
Now I'm not talking cooking demos, I've seen plenty of those, and I appreciate them. But I'm talking getting in the kitchen, rolling up your sleeves, wearing and apron (if you're the sort of person that wears one, I'm not) and getting dirty. Chopping, stirring, sautéing, mixing, baking, canning, jamming, whatever your calling, whatever your love. Why aren't we making food together in these conferences?
Perhaps the logistics are too difficult. Or perhaps these food blogging conferences DO exist out there, I just don't know about them. Either way, as much as I love talking about social media (and let me tell you I can talk about social media until the cows come home) or food photography (yeah yeah, I know I'm need to move that dial away from "P" and start shooting in manual) or writing with an authentic voice (actually this one is true, and can't be said enough), the reason I blog is because I love to make food. Isn't that the driving passion for most food bloggers?
Here's the thing. These cookies I just made up on the fly – I wouldn't have been able to do it without influence and power of my fellow food bloggers out there. They're the sort of cookies that are truly made from the love of my bloggers, cobbled together BECAUSE I'm a food blogger.
Take for instance the cornflakes that I used. They came from my friend Annelies who works over at Attune Foods. She's awesome, and her products are awesome and she gave me a couple of boxes of cereal to just play around with. I ended up developing a few recipes for her company over there, and I had some leftover cornflakes for these. Oh yeah, did I mention I met her at the first Food Blogger Bake Sale a couple of years ago, when I had just been blogging for about a month? She's been my BBFF (blogger best friend forever) ever since.
Or how about the fact that I recently fell in love with quinoa flour, mostly because I try to bake with the gluten free ratio rally once a month, and used quinoa flour for my lemon cornmeal pancakes? That combination of flavors is excellent in a pancake, but lemme tell you, they rock in a cookie form. The gluten free ratio rally is a directly result of gluten free bakers wanting to bake together (even if it is virtual).
The thing is, the only time I've actually ever baked with another food blogger, is when I went up and visited my friend Shauna of Gluten Free Girl and the Chef. She and I worked together on a few thing, including soft pretzels. We did a good first run, then volleyed emails back and forth, virtually baking with each other until we got it right. It was so much fun. One of these days we are going to do it again.
So these cookies, they are truly from the love of my food bloggers out there. I love you all. Thanks for coming here to San Francisco and talking with me and eating with me and running around town with me. I can't wait until the next time we meet. Which might be next weekend, as I'm off to L.A. for the IFBC conference in Santa Monica. Anyone want to make food with me down there?
The caramelized cornflake recipe I used for these cookies is adapted from the original Momofuku cookbook – by David Chang. Christina Tosi, the pastry chef at Momofuku, developed the recipe for the caramelized cornflakes and has recently published a pastry cookbook called Momofuku Milk Bar. She'll be visiting San Francisco, talking and signing books over at the fantastic Omnivore Books on Wednesday, November 9th at 6pm and doing a book signing at William Sonoma in Union Square on November 10th at 6pm. If you are in town, go check her out!
Erewhon Cornflakes are naturally gluten free and without any additional sweeteners. Attune foods provided me samples to play with, but I did not receive any compensation from them and was under no obligation to write about them. All opinions are my own. Feel free to use any other brand of cornflakes that you want, but try to find plain cornflakes, not the sweetened or frosted kind, as they are too sweet.
Caramelized Cornflake Lemon Poppyseed Cookies, gluten free
This recipe is produces nice soft and slightly crumbly cookie, with lots of lemon zip to it. The caramelize cornflakes and poppyseeds give the chunky cookies a surprise crunch and texture, while the cornmeal and quinoa work together to give the cookie a little earthy depth. You definitely don't need to be gluten free to enjoy these treats.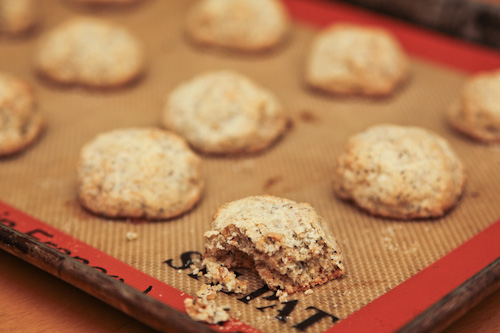 Caramelized cornflakes
60 g (1 cup) cornflakes
15 g (2 tablespoons) nonfat instant dry milk powder
15 g (1 tablespoon) granulated white sugar
3 g (1/2 teaspoon) sea salt
42g (3 tablespoons) unsalted butter
Cookie dough
100 g (1/2 cup) yellow or white cornmeal
100 g (1/2 cup + 2 tablespoons) quinoa flour
60 g (1/4 cup + 2 tablespoons) sweet rice flour (sometimes called glutinous rice or mochiko flour)
50 g (1/4 cup + 1 tablespoon) cornstarch
1/2 teaspoon sea salt
2 tablespoons poppy seeds
2 teaspoon finely grated lemon zest (about 1 medium lemon)
2 tablespoon lemon juice (about 1 medium lemon)
2 teaspoon chia seeds
135 g (1/2 cup + 1 tablespoon) white granulated sugar
113 g (1/2 cup or 1 stick) of unsalted butter at room temperature
2 tablespoon honey
1 teaspoon vanilla extract
1 large egg
1 cup of caramelized cornflakes
3 to 4 tablespoons of granulated white sugar for rolling the cookies in
1. Preheat the oven to 300˚F and line a baking sheet with a silpat or piece of parchment paper. Make the caramelized cornflakes placing the cornflakes in a medium size bowl and crushing them slightly with your hands (squeeze them once or twice – that's it, don't over crush). Place the milk powder, sugar and sea salt in a small bowl and stir with a fork to blend. Melt the butter and then drizzle it over the cornflakes, tossing to coat. Then sprinkle the dry ingredients over the cornflakes, tossing to coat.
2. Pour the coated cornflakes onto the lined baking sheet and spread out to form an even single layer. Place in oven and bake for 10 to 12 minutes or until the cornflakes start to turn golden brown. Let cool on the sheet. Turn the oven up to 350˚F.
3. While the cornflakes are baking, make the dough by place the cornmeal, quinoa flour, sweet rice flour, cornstarch, poppy seeds, and lemon zest in a medium sized bowl. Using a balloon whisk, vigorously stir the dry ingredients together, until they are well blended and uniform in color. Pour the lemon juice into a small bowl and add the chia seeds.
4. Place the sugar, butter and honey in the bowl of a standing mixer fitted with the paddle attachment. Cream the butter and sweeteners on high speed until fluffy. Add vanilla extract and beat in. Add the egg and beat in. Scrape the lemon juice and chia seeds into the butter and beat in. The mixture will look curdled but don't worry, it will smooth itself out when you add the dry ingredients.
5. Scrape down the sides of the bowl with a large spatula and then add the flour to the butter. Beat on medium speed until the dry ingredients are incorporated in. Add the caramelized cornflakes and, using a large spatula, fold the cornflakes in, trying not to crush them too much.
6. Spoon out heaping 1 tablespoon amounts of dough and roll the in your hand to form a ball about 1" in diameter. Roll them in sugar and then place them on a silpat or parchment paper lined baking sheet about 2 inches apart from each other.
7. Bake in the oven at 350˚F for 14-16 minutes or until the tops and sides of the cookies start to turn golden brown. Let them cool on the baking sheet for a few minutes before moving them to a wire rack to cool completely.
Makes 24 cookies.